TomTom GO 720 Portable Car Navigation System Review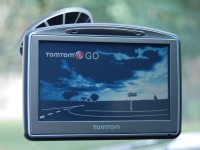 TomTom GO 720
Summary
Product Name: GO 720
Manufacturer: TomTom
Review Date: October 19, 2007 23:37
MSRP: $ 499
4.3" widescreen 16:9 format LCD (WQVGA: 480*272 pixels)
CPU 400 MHz, 64MB RAM
2GB internal flash memory
SD card slot compatible with SD and MMC cards (cards not included)
High sensitivity GPS receiver
RDS-TMC traffic compatible
Integrated FM transmitter
Bluetooth®
Battery lithium-polymer (up to 5 hours operation)
Optimized integrated microphones and speaker for high quality hands-free calling functionality
Dimensions: 4.65" x 3.27" x 0.94"
Weight: 7.75 oz./0.49 lbs.
Pros
Big, bright touchscreen
Accurate maps
Great software for updates & add-ons
Cons
A few small interface quirks, such as canceling a route
Gear Corner Review
If you haven't checked out the latest portable GPS offerings, you are missing out.  In the last couple of years, the technology has really reached a saturation point that has brought in-car navigation to the masses, and the prices continue to fall while features and quality rise.  TomTom is one of the leaders in portable GPS units, and I was thrilled at the chance to review one of their latest offerings, the GO 720. 

The TomTom GO 720 is a complete portable car navigation system that comes with everything you need, and is ready to go right out of the box.  I have tried several units over the past year, and the TomTom ranks very high on my list of must-have GPS systems.  It was quick and simple to get up and running, and that is a huge factor with this type of gear.
I live in a small coastal community, and trust me, traffic is just not an issue here, so you might wonder what I would want with a GPS in my car.  Well, I am the type of GPS user that wants to have one for my vacations and business trips, and the occasional drive around the area I live in to an address that I am unfamiliar with.  If you have never had a modern GPS in your car on a road trip to an unfamiliar town, you have no idea how this thing will change your life.  Whether it's finding a friend's house or a restaurant, a GPS will let you get around in a new city as if you have lived there all of your life. 

It just so happened that my review period fell right around the dates of the Audioholics State of CE Union event in Clearwater, FL.  I had decided to drive and bring my entire family along for a trip to Universal Studios in Orlando after the event.  It proved to be a perfect 5-day workout for the TomTom, as my trip would take me from South Carolina to Florida and back, all the while navigating to restaurants, shopping centers, hotels, theme parks, and even a dirt road here and there.
Features & Operation
Right out of the box, I was impressed with the form factor.  A large 4.3" touchscreen with one single power button on the top makes for a very slick, slim, and easy to transport unit.  The tapered rear is only about an inch deep at it's thickest point (the center), and here you will find a small speaker just below the spot where the unit connects to the included windshield mount.   

In the past, windshield mounts have been a major weakness of GPS units I have used.  They are usually flimsy and often fall off the windshield, usually at the most inopportune moments.  Not the case with the TomTom.
As I unpacked the box and found the mount, I was worried.  It is very slim, with a modest sized suction cup.  Easily the simplest mount I have encountered with a GPS.  But much to my surprise, it turned out to be a thing of beauty.  It is simple to slide the 720 on or off of the mount.  I have had zero problems with it in either my truck or my wife's minivan, and it easily adjusts and stays exactly where you put it.  Kudos to TomTom for taking something so often overlooked and making it work! 

Also included in the box is a car charger, a documentation pack including a software CD, and finally, a home dock with a USB cable for syncing to your computer and desktop charging.  And I am happy to report that unlike competitor Garmin, TomTom is fully compatible with the Apple Macintosh OS!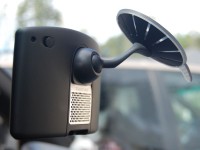 Getting back to the design of the unit, TomTom has incorporated some really nice features.  Most of the connectors are located on the bottom of the unit, and the car adapter uses a USB plug connector, which cuts down on the number of different jacks.  There is a TomTom connector, which is used for the optional RDS-TMC Traffic Receiver, and an audio out connector.  There is also an SD card slot, which can be used for optional maps.  There is also a recessed reset button, which I am happy to say I never had to use during my evaluation period.  Also on the rear of the unit in the top left corner, there is an external antenna connector.

The included TomTom HOME software installed without problems on my MacBook Pro and was very easy to understand.  I quickly downloaded the latest updates, and then updated the GO 720.  There are plenty of options in the software allowing you to purchase subscriptions to weather & traffic information, but my favorite was one for people in Europe - the "Buy Safety Cameras" option.  See the photo for details on this - you have to love technology vs technology!

The GO 720 has pages of menu choices via the touchscreen.  Rather than methodically walking you through the myriad of options and features, I am going to tell you about my real-world experience using it on my trip, which I think will give you a better feel for how the unit functions. 

The Real World
Our trip would take us from our underground secret lair in a small coastal South Carolina community to Jacksonville, FL, where our good friend and fellow Audioholic Tom Andry lives.  But before I could leave town, I needed to take our pooch to the dog-sitter.  (I know, I know, insert Paris/Tinkerbelle joke here)  The lady from our church who was keeping the dog asked if I knew where she lived, and I had her give me directions (just in case), but also her street address so I could test the TomTom.  She was only a few miles from our house, but in a neighborhood off the beaten path, and she actually lives on a dirt road (okay, you are NOT allowed to insert a South Carolina joke here...).  In my driveway, I powered up the GO 720 and once the unit had locked in the satellites, I punched in her address.

One thing I noticed about the TomTom in comparison to other GPS units I have used is that it powers up and finds the satellites very fast - noticably faster than others.  I can usually be punching in a destination in 30 seconds or less from the time I turn it on.

It only took a few seconds to calculate a route, and it informed me that the route would include dirt roads. 

I backed out and hit road, following the turn by turn instructions from the Australian female voice (I had chosen in the setup options) whom I had named "Claudia."  [Note:  It turns out I may be wrong - I think the voice option was British, not Australian - but she sounded like an Aussie to us...]  One thing I immediately noticed was that the TomTom map was actually accurate in my neighborhood.  I have previously used both Garmin and Magellan GPS units, and neither had my small subdivision properly mapped.  So I was off to a great start.  The 720 guided me straight to her house without any problems, exactly as I would have driven it myself, dirt roads and all.  Of course, this was a pretty simple test, without much room for error. 

After dropping Tinkerbell at Paris' house, I hit my first snag, and one of my few complaints about the device.  I could not figure out how to cancel or quit the navigation to the location I had punched in.  Other units I have used have had what to me was an obvious way to cancel or quit navigation, and just have the unit map your location as you go.  For whatever reason, I could not find this on the TomTom.  In fact, it wasn't until I sat down to write my review, a week later, that I found out how to do it.   I was convinced it had to be in there, and it was - just not as obvious as I felt it should be.  It was hidden a few touches deep in the system, a button called "clear route."  Even if you argue that this should be obvious, I will argue that it is not.  I would suggest that this be called "cancel navigation" or something similar.  Even so, it is four "clicks" deep, and then it asks "Clear route?  (Yes or No)," which brings us to five touches before it is done.  I think this should be much more obvious, quicker and easier to get to.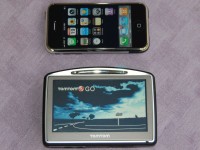 Once we hit the road, I knew I had another challenge in that there is no easy way to get to I-95 from our small town.  And I typically end up using back-road type routes to get to places, which I was confident the GPS would not choose.  After you have touched "navigate to" and punched in your destination, you are asked "What type of route should be planned?" and given a choice of fastest (default), shortest, avoiding freeways, a walking route, a bike route, or a limited speed route.  I typically chose fastest, and the unit would then calculate the route (generally takes only 2 or 3 seconds in town, less than 10 for a more complicated or longer route) and give you a zoomed out view of the mapped route along with the mileage and estimated drive time.  You can choose to view the details or find an alternative route, or touch "done" and begin driving. 

If you deviate from the directions, which I was doing quite a bit early in my journey, it will immediately recalculate after a missed turn or exit and either create a way for you to get back to the path it had mapped, or find you a new route.  It also seemed to learn routes I would take on short (one hour or so) repeat journeys I regularly make on back roads, and if I began a trip to that location again it would use "my" way.

It appears TomTom has sold some advertising, as I would notice Shell or Chevron logos over gas stations on the map as I passed by them either on the interstate or in cities.

Once we hit I-95, things were pretty quiet with the GPS.  The logistics of our trip to Florida dictated that we take two vehicles to Jacksonville, and leave my truck at Tom's house while we drove on to Clearwater Beach in the minivan.  Although I had been to Tom's house in Jacksonville before, I did not remember how to get there.  Since Tom was out of town and his wife was at work, we decided to stop somewhere for lunch before dropping the truck. 

Since we don't have a PF Chang's in South Carolina, we decided that would be a good lunch option.  As we approached Jacksonville, I asked the TomTom to navigate to a POI (point of interest) "near you."  I then selected "restaurant," then "find" where I punched in the name.  It found the Chang's almost immediately, and I selected it and chose fastest route, and we were on our way.  Claudia led us through one of the most intense thunderstorms I have ever driven through straight to the restaurant.  I could hardly see the road, much less the street signs, so I just listened to her turn-by-turn instructions and followed.  After some garlic noodles, spicy shrimp and mongolian beef, we jumped back in the vehicles and punched in Tom's address, and we were off.  We dropped my truck at Tom's house and I searched for a POI, this time NOT choosing "near you."  It asked for city and state, and after choosing Clearwater Beach, I chose hotels and then "Hilton."
This was probably the only time the TomTom gave me what I considered a bad route.  To be overly analytical about it, it was probably right, but real world and common sense told me otherwise.  The TomTom wanted me to drive south and then west through Orlando and on to Tampa, which would have put me right smack in Orlando (downtown and Disney/Universal on I-4) traffic at 5:00 on a Friday afternoon.  Looking at a map and talking to friends who knew better, I felt I should head west towards Gainesville and then pick up I-75 south into Clearwater Beach.  In defense of the TomTom, it is quite possible that actual distance would have dictated going on to Orlando from where I was, but I preferred to avoid that certain traffic jam and take the bypass on back around Jacksonville to head west, which is what we did.  Claudia fussed a bit and kept trying to get us to turn back, but after a while I just re-routed the TomTom to a city along 301 (the highway I was taking) to get her calmed down.  Once there, I went back to "recent routes" and chose the Hilton in Clearwater again, and she figured out the route I intended and we got back on track with the GPS. 

"Recent Routes" is one of my favorite buttons on the GO720.  A very quick and simple way to return to your hotel or a favorite restaurant while on a trip.
Again, I think this was a great example of where there are times (with any GPS) that you need to use common sense or opinion when there are options and the GPS chooses one you disagree with.  I had experienced this many times in the past with other GPS software, but this was the only major routing disagreement I found with the TomTom. 

The Audioholics event was a blast, and we stayed up too late on Saturday enjoying the great dinner and entertainment.  But true to our promise to take the kids to Universal on Sunday morning, we were loaded up and in hitting the road by 7AM.  I pulled out the GO 720, punched in Hard Rock Hotel, and we were off, with Claudia calling the shots.  Although the TomTom has a customizable display, I kept the standard readout visible showing me trip time, remaining distance, and arrival time.  I just love this stuff.  It is amazing how accurate this information really is.  If you get caught in a traffic jam, the time adjusts accordingly.  The computer is constantly calculating your speed and distance to give you good info, and I found it to be right more often than not.  And the voice (Claudia) is very accurate in telling you to turn or exit at just the right time.  She would even tell me which lane to get in after a turn or when I would take an exit, so I was ready for the next turn.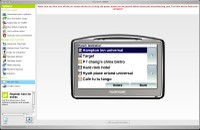 Without any problem, we made it to Orlando and had a great couple of days at Universal.  At night we would hop in the van and punch in a restaurant or shopping destination, and drive like we knew where we were going.  Whether it was Cafe Tu Tu Tango, Target, or a gas station, the TomTom took us there with ease, even when we made on-the-fly adjustments to our destination.  I also like the fact that if you exit for gas or make a stop somewhere along your route, the unit does not freak out.  It lets you know you are off course, but then waits to see what you do.  So if, for instance, you stop for gas right off of the interstate, it stays quiet while you fill up.  Once you pull out of the station, it calmly tells you to turn right or left to get back on the interstate.   Other units I have used will continue to beep or a voice keeps saying "make a U-turn" or some nonsense that makes you want to turn it off or throw it out of the window. 

Another fun feature, that actually works like it should (don't laugh, I see way too many consumer devices that claim to have a "feature," but you have to be a rocket scientist or very lucky to figure it out), was the Bluetooth pairing.  I paired my iPhone with the GO 720, and whenever I would hop in the car and turn it on, it would let me know during start up it found my phone.  If a call came in while I was driving, I could answer it from the touchscreen of the TomTom without ever touching my iPhone.  The speakerphone built into the TomTom worked well in the minivan, although not so well in my old trusty (read:  loud) Toyota T-100 that has over a quarter of a million miles on it.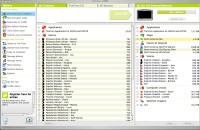 I was also able to load some family photos from my iPhoto library onto the 720, in case I ever wanted to have an impromptu slide show for my passengers.  Other features include iPod connectivity (with an available cable, sold separately) as well as a built-in FM transmitter so you can play your iPod, or MP3 tunes you have loaded onto the 720, through your car's stereo.  You can even record your own voice for navigation instructions, although I can't imagine why when you can have "Claudia" constantly giving you instruction with her wonderful accent.  The TomTom HOME software gives you access to all kinds of updates, as well as user-updates and corrections to maps that have been verified by TomTom.  You can also download additional POI's and maps, as well as traffic and weather services.

Conclusion
I had a great experience with the TomTom GO720.  It takes about 2 hours to fully charge the internal battery, and on our full day of travel, we easily got 6-8 hours of continuous use before having to use the car adapter.  The software is multi-platform and easy to set-up and use, and during my evaluation period there were at least two available updates via TomTom HOME.  TomTom has made it easy for users to update the software, which should mean that the few complaints I have with the unit have a great chance at being addressed and improved.

While the GO 720 is chock-full of features, at the end of the day you want a GPS to be easy to use and to get you where you need to go.  This is where the unit impressed me the most - it handled the most basic, yet most important function very well.  Be it small town/larger city; dirt road/interstate; hotel/restaurants - it was almost always accurate and chose the right path.  Bottom line was that I could trust it, and that is what you should look for in a GPS.   

If you are in the market for a GPS system for your car, this unit should rank high on your list.  I have already recommended it to several friends, and will probably end up purchasing one for myself.

The Score Card
At Audioholics Gear Corner we give you a quick but comprehensive look at consumer electronics from several different categories. All products in the Gear Corner have been individually evaluated through hands-on testing by our reviewers in order to give you a quick but detailed overview that we hope will help you in your purchasing decisions.
| | | |
| --- | --- | --- |
| The Price: | Bargain | |
| | About right | |
| | Pricey | |
| | | |
| --- | --- | --- |
| Display: | Too small | |
| | Just about right | |
| | GI-NORMOUS | |
| | | |
| --- | --- | --- |
| Is it Easy to Use?: | If you have a pulse | |
| | It helps to be a bit geeky | |
| | Not unless you are a rocket scientist | |
| | | |
| --- | --- | --- |
| Category: | Auto | |
| | Handheld portable | |
| | Marine | |
Confused about what AV Gear to buy or how to set it up? Join our Exclusive Audioholics E-Book Membership Program!