TrekStor Vibez MP3 Player Review
TrekStor Vibez MP3 Player Review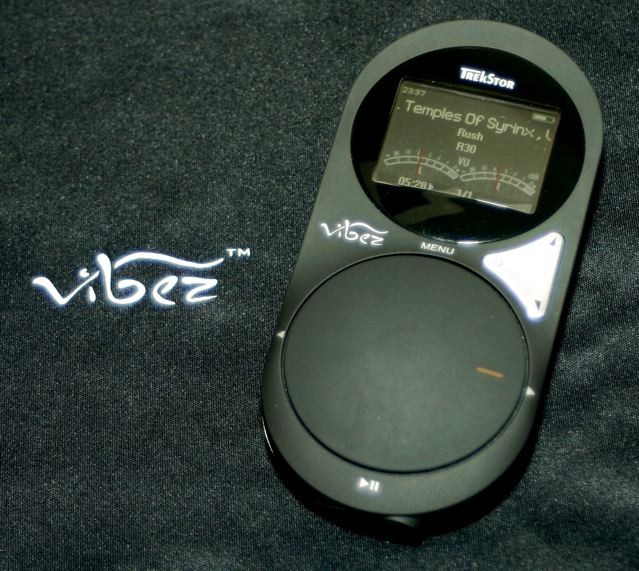 TrekStor Vibez MP3 Player
It seems the market continues to be flooded with portable MP3 players chasing the iPod.  And although Apple dominates the market share, their popularity encourages competition, and with competition comes choice, which is always a good thing.  Germany's best-selling brand of digital portable media players, TrekStor, has introduced their first hard drive based MP3 player for the US market, and it is large capacity portable called the Vibez.

Design & Operation
What happens when the Germans design things?  In my opinion, they look great.  TrekStor commissioned one of Munich's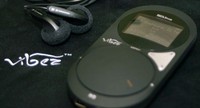 top design studios for the Vibez, and it definitely stands out from the pack.  The resulting design resembles a sleek candy-bar style wireless phone more than it does a portable MP3 player.  The front of the unit is black, with two large "circles" dominating the design - a screen on top, and a huge scroll wheel under it. 

Let's start with what I don't like.  The top circle is not a round screen, but a round plastic "disk" that contains a traditional screen masked in a rectangular black border.  This plastic disk/screen is glossy, which invites glare.  The rest of the front unit, including the scroll wheel, is a very cool, rubberized matte black.  The glossy plastic disk just detracts from the otherwise sleek and elegant appearance of the device. 


The rear of the Vibez is a stainless steel (think iPod) easily removable cover (definitely NOT iPod) that allows access to the battery and accessory slot.  The entire unit is rounded and curvy, and looks pretty cool.  At the bottom of the unit is the headphone and USB jack, and a loop for attaching the included neck lanyard.  There is also a silver triangular button between the two circles that controls the volume and power on/off.

The screen is a 1.5" color TFT that feels small for the size of the device.  I would rather have seen a larger screen than the round, plastic circular design used to mask the small screen.  Inside the Vibez is a chipset from US-based SigmaTel, as well as the company's new 1" hard drive, which has a considerably smaller footprint than the current 1.8" drives found in many other players.  Using the smaller drive enabled TrekStor to include a slot for an optional FM tuner card.   Later this year, TrekStor will offer another card for video playback.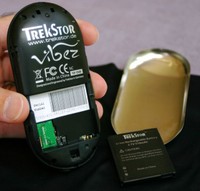 The card slot is located behind the removable and replaceable Lithium-ion battery, all of which is accessed by popping off the stainless steel rear cover.   Again, this design is very similar to many wireless phones I have used.   In fact, the battery seems almost identical to the one in my Nokia.  This is a huge selling point for the Vibez.  Talk to any iPod owner who's battery has died, and you will see how welcome this easy to access, replaceable battery feature is.   TrekStor offers replacement batteries for $29.99, and the battery is rated for 20 hours of playback per full charge.   Recharging takes approximately 3 hours.
I asked TrekStor why the FM tuner card as an extra?  Why an additional $20?  The response was that not everyone wants or needs the tuner, so they would rather cut that cost and pass the savings on to the consumer.  Fair enough, as pricing becomes tight for this kind of product, and shaving $20 off of the MSRP $239.99 of the 12GB model I tested will be welcomed by many consumers.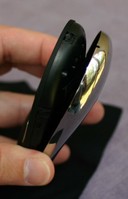 Included in the package I found the Vibez, the Lithium-ion battery, a USB 2.0 cable, a line-in cable, a neck strap, a pair of Sennheiser earbuds, a software/driver CD, and a micro-fiber cleaning cloth.  I was able to hook the Vibez up to my Mac via the USB cable and it immediately popped on the screen as an attached disc, which meant easy drag-n-drop for music.  You can also use it as a 12GB standard USB storage device.
The player supports many popular formats including MP3, WMA, WAV, OGG and FLAC.  Also supported are WMA DRM 9 & 10, so that rented songs from Napster TO GO! or even WMA lossless formats from sites such as MusicGiants can be played without a problem.

TrekStor touts the included earbuds from Sennheiser as being something special, but I have to admit, they do nothing for me.  I just do not like earbuds - I have never found a pair that were comfortable or sounded good.  So while the Sennheiser logo looks cool on the earbuds, they are still, well......earbuds.  This is not a complaint about the Sennheiser earbuds specifically, just earbuds in general.  Enough said, end of earbud soapbox.  But can I add the word earbud to this review one more time?   I will try.  This might be a record - at least for a paragraph on, well.....earbuds.   (Got it!)

Another great feature takes playlists to the next level.  TrekStor calls it DJ.  When in the Music Library menu, scroll down to DJ, and you will find choices such as "Entertain Me!" which plays a selectable time limit (incremental from 15 minutes to unlimited) of songs from your most played music.   "Memory Lane" plays tracks that have not been played during the last (select from 1 day, 1 week, 1 month, etc.).  Or how about "Forgotten Gems," which plays songs that have not been played in the last (select days, months, years).  I found these to be very inventive, fun ways to name and choose shuffle functions and create fresh playlists on the fly.
The software on the Vibez is pretty cool - there are some great features that I actually enjoyed, which is saying something, because honestly, not many MP3 players have "wowed" me.  For example, while listening to songs you can have the screen display twin VU meters.  Talk about retro!  I had to fire up 2112 by Rush to test this feature out, and it was awesome.   (No school like the old school!)

Another cool feature that adds to the 20 hour battery life is a buffer that is built in to the system, that can store up to two hours of music, which cuts down on the time it takes to access your music.  The system also allows crossfading of songs, which is much more fun than dead air between them.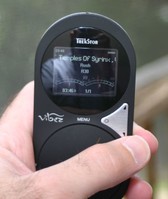 The Vibez allows recording from the built-in mic for voice memos, and also allows line-in recording from other audio sources.  There is a built-in image viewer for JPEG files that includes a slide show function, and also a digital clock.
Using the TrekStor was a mixed bag for me.  The design is cool and has a familiar fit in your hand, much like a cellphone.  You can control it one handed, navigating with your thumb.  But as cool as it looks and feels, I quickly found out that the big scroll wheel requires a very precise click.  You can assign functions to the MENU (up) and PLAY/PAUSE (down) click buttons, but often when I tried to click the center of the wheel, I actually made a "left" or "up" click.  While I got better at it the longer I used the Vibez, it suffers from an over-sensitive scroll wheel and it is way too easy to make a bad click.  Another complaint I have is the redundancy of the volume controls - with the silver triangle dedicated volume up and down button, it seems redundant to have the scroll wheel act as a volume up and down button as well, or vice versa.  I think they could do without the silver button and re-locate the power switch, or at least make it smaller.  I am also not crazy about the size of the Vibez, considering it is primarily an MP3 player.   There are much smaller options on the market, and many players this size and at this price offer built-in video.

Conclusion
Overall, I like the TrekStor Vibez.  It is cool - packed with features and loads of disk space for carrying around your MP3's, or better yet a large selection of lossless format digital music.  While the menu system is easy to navigate, using the magnetically mounted scroll wheel is not.
I would recommend the Vibez for music junkies who want style and capacity that has cross platform drag-n-drop simplicity on their computers.  The 12GB version has a MSRP of $239.99.  The 8GB version is $219.99.  A little pricey, but I guess you are paying a premium for the German design, as a 30GB iPod has more storage, built-in video and a much larger screen starting at $249.

Price:  $239.99
pricey!

Media:
audio-focused

Form Factor:
medium

Styling:
cool

What's great about it?  easily replaceable & inexpensive battery
What's not-so-great?  finicky scroll wheel


Specs:

8 or 12 GB
PC software
Mac & PC compatible
USB 2.0
2.5 oz.
1.97"(W) x 4.1"(H) x .7"(D)
For More Information
TrekStor GmbH & Co. KG
469 Atlantic Ave.
East Rockaway, NY  11518
888-887-3578
www.trekstor.us


About Audioholics Gear Corner
Welcome to the Gear Corner, where we give you a quick but comprehensive look at consumer electronics from several different categories. All products in the Gear Corner have been individually evaluated through hands-on testing by our reviewers in order to give you a quick but detailed overview that we hope will help you in your purchasing decisions.

Confused about what AV Gear to buy or how to set it up? Join our Exclusive Audioholics E-Book Membership Program!
Recent Forum Posts: