Creative Aurvana X-Fi Noise-Canceling Headphones Review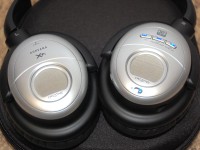 Creative Aurvana X-Fi Noise-Canceling Headphones
Summary
Drivers:  40mm Neodymium magnet
Frequency Response:  20Hz-20kHz
Impedance:  450ohms (on), 72ohms (off)
Sensitivity (1kHz):  105dB/mW (on), 95dB/mW (off)
Noise Reduction Level:  20dB
Gold Plated Plugs
Oxygen-free copper cables

Pros
Comfy memory foam ear cushions
X-Fi Crystalizer function improves music & podcasts
Effective noise-canceling
Cons
Expensive!
Bulky & heavy full-size headset
Gear Corner Review
If you travel as much as I do, a great pair of noise canceling headphones should be standard equipment.  On long flights, the droning bottom-end noise from the aircraft's engines can be incredibly exhausting.  Wearing a pair of noise-canceling headphones for the majority of a long flight will reduce this effect dramatically.  For my frequent trips to China, they are a critical part of my carry-on arsenal. 

I have tried several brands, with varying results.  Not only do I want a quality set of headphones for noise-cancellation, but more importantly, I want great sound quality for my iPod, movies on my laptop, and the in-flight movies.  Creative recently sent me their Aurvana X-Fi noise-canceling headphones to evaluate, and after a few flights and some time to listen to them, I can tell you that they worthy contenders if you are considering taking the plunge.
Design & Features
The Aurvana X-Fi's are an over-the-ear type set of headphones, so they are not exactly compact.  But they fold neatly into a semi-hardshell zippered case that also has room for my first-gen iPod nano, as well as the 1/4" stereo adapter, dual plug airplane adapter, and 5-foot extension cable, all of which are included (except for the nano!) 

I love the inclusion of the dual plug airplane adapter - it saves you having to pay $2 for those cheap airline headphones you need to watch the in-flight movies!
The headphones consist of a pair of 40mm Neodymium drivers, surrounded by silver and black plastic casings with very comfy ear cushions.  The foam in the ear cushions and headband seem to be the memory-foam type, and they are easily the most comfortable headphones in this genre I have used.  There are silver acoustic grilles on the outside of each earpiece that conceal the microphones used in the noise-cancellation technology, and Creative claims that this design allows for optimum sound pick-up so as to increase the accuracy of the noise-canceling technology. 

On the right earpiece you will find a volume adjustment, an on/off switch, and controls for both the noise-canceling and X-Fi circuitry.  There are three buttons for your sonic options, and each has a blue indicator light that comes on when pressed.  The "NC" button activates the noise-cancellation.  The "X-Fi Crystalizer" button turns on the X-Fi processing said to improve the sonic quality of MP3 files, and the "X-Fi CMSS-3D" button is said to transform a stereo movie soundtrack into surround sound. 

X-Fi processing is purported to improve the quality of MP3 audio.  The "X-Fi Crystalizer" is designed to restore the highs and lows that are lost during compression of the audio file, while the "X-Fi CMSS-3D" was developed to take stereo signals and create the impression of a multi-channel soundtrack when listening to in-flight movies or DVDs. 

The included cable is approximately five feet in length, and has a straight stereo mini-plug on one end (that plugs into the right earpiece) and a right-angled stereo mini-plug on the other end, which not only fits standard jacks, but also the ubiquitous skinny jack on Apple's iPhone, which saves people like me from having to purchase an adapter.  Creative also includes a five foot extension cable, which is nice when you need a little space or if you are using the headphones with your receiver at home. 

The noise-canceling feature reduces ambient noise around you by 20dB, and it works really well.  It primarily reduces lower frequencies, such as the rumble of a jet engine or train.  But sitting in my office while working on this review, I was surprised at how much noise was filtered out when I turned it on.  Things you would not think about, such as the heating and air system in my office, or traffic passing by outside, contribute to the noise pollution we have all become accustomed to.  Quite often on flights, I do not want to listen to music or a movie, so I just unplug the cord from the headphones and turn on them on to enjoy my little private sanctuary of solitude.  Sitting here with them on in my office, I found the same peace.
Listening Impressions
Well, with all that technology, how did they sound?  For starters, I tested them against a very comparable pair of Jabra headphones, and quite honestly I could not detect a winner between the two in the noise canceling ability (without music).  Both of them worked very well - much better than the noise-canceling ability of models costing less than $100 that I have used.  But the Creative 'phones had an edge when it came to listening to music, and when you throw in the X-Fi processing, you have more sonic options to choose from.  


The first thing I noticed when listening to the AV Rant podcast was that the X-Fi Crystalizer button clearly boosts the bass in the musical intro to the show.  If I kicked in the CMSS-3D button, both Dina & Tom's voices took on an unnatural quality, almost an echo or slight reverb.  I quickly switched that off, but the Crystalizer button added a richness to both voices that created a real "radio-voice" quality. 

I found the same held true for music.  I listened to an old Amy Grant track, "Ask Me," and found that the CMSS-3D button created a soundfield similar to what you would experience with the theater or arena DSP modes employed on your a/v receiver.  Amy's voice just expanded as the effect kicked in, and there was suddenly a lot more space in the recording. 


I used Vienna Teng's "Homecoming (Walter's Song)" to determine if the noise-canceling circuit caused the audio quality of music to deteriorate, as has been the case with other headphones I have used.  The song opens with a simple piano melody, quiet drum beat, and her delicate vocals.  I could not hear any discernible difference when I turned the NC button on and off.  The ambient noise was decreased, but in my quiet office I was pleased to not hear any degradation of the music.  Next was the Crystalizer button, which again added warmth to both the vocal and the mellow kick drum.   And it didn't strike me as a phony or processed improvement, but a pleasant and welcome one.  Leaving the Crystalizer on, I switched on the CMSS-3D and found again the expanded sonic space.  But I found it to be a bit too processed for my taste.  I tried several combinations of the three buttons on and off, but overall kept coming back to the Crystalizer, whether I had NC on or not.  It consistently provided an improvement  to my listening experiences. 


So as not to disappoint my rock 'n roll readers, I cued up some Garbage.  The intro to "Vow" provided an interesting demonstration of the CMSS-3D button.  Without the processing, the guitar in the intro of the song pans hard left and right, creating a very cool sonic effect.  If I turned on the CMSS-3D, this effect was dramatically reduced (a bad thing) as it became more of an "airy" effect, and much of what the producer intended was lost.  Once again, the Crystalizer added a welcome improvement to the fidelity.
I watched the pilot for the TV series Jericho on my iPhone, anxious to see if the CMSS-3D button would created that touted "truly cinematic sound" from the stereo soundtrack.  My overall impression is that it does not.  While it certainly "expands" the sound a bit, for my taste I like the soundtrack better without the added spaciousness and reverb.  I can see how in some cases or for some personalities this might be an interesting effect, but I found the same results with movies and TV shows that I did with music and podcasts - turn on the Crystalizer, turn off the CMSS-3D.  Your mileage may vary...
Conclusion
Many of you audioholics out there are chomping at the bit to jump all over me about the poor quality of MP3's and the seemingly contradictory discussion above of improving the fidelity with processing, etc.  To you I would say, lighten up.  Take it all in context.  Yes, MP3 files lack the fidelity you enjoy from a CD at home on your big rig.  But the Creative Aurvana seeks (primarily) to improve the sonic experience of using your iPod in noisy environments, and the X-Fi processing succeeds in doing this, even if it is through electronic processing.  And after all, aren't we looking for an improved listening experience?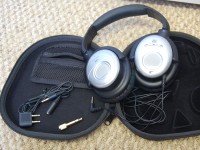 The Aurvana X-Fi is a great product that accomplishes its intended purpose.  The noise-canceling technology works well, and the X-Fi processing improves most recordings.   The Creative Aurvana X-Fi headphones are a huge sonic improvement over earbuds, even without the noise-canceling or X-Fi effects.  But, you pay a price.  These are heavy, full-sized headphones.  It's a trade-off that is worth it in some situations, such as when you travel.  But for day-to-day use, you might not want to lug them around.  You also pay a price when you purchase them.  At $299, these are not cheap.  You are paying a premium for the X-Fi technology.
The X-Fi Crystalizer circuitry improved the fidelity of everything I listened to, and I always used it when listening to the Aurvana X-Fi's.  The noise-cancellation is a must-have on long flights.  The combination of the two is a winning one, if you can afford it.

The Score Card
At Audioholics Gear Corner we give you a quick but comprehensive look at consumer electronics from several different categories. All products in the Gear Corner have been individually evaluated through hands-on testing by our reviewers in order to give you a quick but detailed overview that we hope will help you in your purchasing decisions.
| | | |
| --- | --- | --- |
| The Price: | Bargain | |
| | About right | |
| | Pricey | |
Confused about what AV Gear to buy or how to set it up? Join our Exclusive Audioholics E-Book Membership Program!