Wi-Ex xBoost YX510 Wireless Extender Review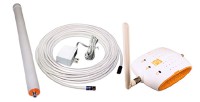 Wi-Ex zBoost YX510
Summary
Product Name: zBoost YX510 Wireless Extender
Manufacturer: Wi-Ex
Review Date: December 15, 2008 04:06
MSRP: $ 399
zBoost for the Home and Office – Product Specifications: YX500-CEL, YX500-PCS, YX510-Dual Band
 
 
At 1900 MHz (PCS)
                                                             Uplink                                         Downlink
Frequency                                           1850 – 1910 MHz                        1930 – 1990 MHz
PCS Bands                                          ALL: A,D,B,E,F & C
Network Format                                   CDMA, GSM, TDMA, GPRS, EDGE, 1xRTT, EVDO, HSDPA
System Gain                                        50dB                                           58dB
Composite Output Pwr Limit - EiRP    +24 dBm                                      +13 dBm
Antenna - Signal                                  3.5dBi Colinear; F-type female
Antenna – Base Unit                           0dBi whip; TNC male
Cable Loss                                          3.5dB (50 feet of 75Ω, 3000 MHz RG-6)
 
At 800 MHz (CEL)
Uplink                                         Downlink
Frequency                                            824-849MHz                               869-894MHz
CEL Bands                                           ALL: A, B, A' & B'
Network Format                                    CDMA, GSM, TDMA, AMPS, GPRS, EDGE, 1xRTT, EVDO, HSDPA
System Gain                                         50dB                                            56dB
Composite Output Pwr Limit - EiRP    +26dBm                                      +10dBm
Antenna - Signal                                  3dBi Colinear; F-type female
Antenna – Base Unit                            0dBi whip; TNC male
Cable Loss                                           3.3dB (50 feet of 75Ω, 3000MHz RG-6)
 
 
Both CEL and PCS
 
Base Unit RF connectors                     F-type female and TNC female
Wall Supply Input                                100-240VAC 50- 60Hz
Power Consumption                            2W standby, 5.5W max signal
System Certifications                           UL, FCC Parts 15 & 24 (PCS), FCC Parts 15 & 22 (CEL), Industry Canada
Base Unit size and weight:                  5" x 7" x 2" - 12 oz.
Operating Conditions                           Indoors Use Only 5° to 40°C (40 to 105°F)
Coverage (open areas)                        4-5 signal bars at roof antenna; 60' diameter at 3-4 bars inside; over 2500 sq ft circle
 
 
Handles all PCS or CEL protocols and includes multiple patent pending technologies to provide low-cost coverage while continually adapting to signals to prevent interference and remain transparent to the wireless network. Provides an indicator if the antennae are positioned improperly, but will NOT suffer damage or interfere with the Carrier Network.


Pros
Improves reception
simple set-up
Cons
will not help if you can't mount antenna in a location with good reception
Gear Corner Review
Cell phones are a major part of most of our lives every day.  We love them when they work, hate them when they don't.  I am confident that I am not the only one who has actually thrown their device across the room in frustration as it drops a call or cannot get a signal.  Do you have an office or home with dead spots?  Do you have to walk out to the back porch to make calls?  Have I found a product for you.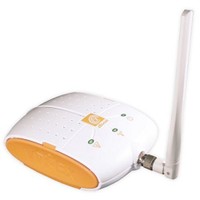 The zBoost YX510 wireless extender from Wi-Ex allows you to extend the range of your mobile phone by creating a repeater type setup in your home or office.  While it won't solve all problems, if you can receive a signal around outside of your home or office but not inside, this product can possibly change your (technical) world.
The device is very simple.  In the box you will find a 35 foot section of white RG-6 cable, a white antenna that looks like a piece of PVC pipe, and the base station, which looks like a wireless router or a cordless phone base station.  The base station has an included power adapter. 

Not only is the device simple, but so is the concept.  Find a spot outside of your home such as your back porch, or an area near a window and mount the antenna.  Run the RG-6 into your home to the base station, and plug it all in.  Once you power up the base station, you should see an improvement in your signal.
Field Tests
I had mixed results with the zBoost.  I started with a friend's house who has very sketchy service when inside, and often has to walk outside to talk on his Treo.  Since we were not ready to start drilling holes and running cable, we tried the antenna both on the back porch, and then upstairs on a front porch.  We just ran the cable across the floor down to the den where we plugged in the base station.

Although we noticed a little fluctuation in the signals on our phone, overall we could not detect a huge difference.  We tried both locations, but could not determine a clear improvement.  I left the setup at his house for a week, so he and his wife could try to determine whether or not they noticed a difference.  At the end of the week, Dan brought the unit back to me and said they had decided that there was not enough difference to justify a permanent installation.
In fairness, we probably did not take the time necessary to find the ideal spot around the perimeter of the home that would have produced the best possible reception.  Even when outside of his home, the reception is still a bit spotty, and this product cannot make a good signal out of no signal.  Placement of the antenna is critical, and if is not mounted in an area with a strong cell signal, you will likely not see any improvement indoors where you have the base station.
For my second test, I took the unit to a friend's store.  Connecting Point is an Apple authorized reseller, and I know that inside of the store (located in a small strip mall) there is ZERO service for those of us with AT&T (read:  iPhone) phones.  Since the owner has an iPhone, this kinda stinks, and I figured this product would be the answer to his problem. 

I clipped the antenna under the windshield of my truck, parked just in front of the store and ran the cable straight into the front door to the base station, which I had installed towards the back of the store.  Once I turned it on, the magic happened.
My iPhone went from ZERO bars of service to THREE-FIVE bars of service.  Although the signal fluctuated, it never dropped below 3 bars.  This was a huge improvement.  I usually have at best a 50% chance of receiving or making a call in the store.  The entire hour or so that I was there, I had no problems with signal.  Incoming and outgoing calls were no problem.

Conclusion
The zBoost is a simple product aimed at solving a huge problem.  It is incredibly practical, and will be a (techie) answer to many people's prayers and frustrations.  It is so simple that almost anyone can set up and install it in less than an hour.  It's also very affordable - the model that I tested (YX510) works for both Cellular and PCS frequencies (it is NOT compatible with Nextel) and has an MSRP of $399, but can be found for less than $300 on the net.  

The company makes several different versions (some as low as $125) for different types of phone service.  They also make portable versions for road warriors, and heavy duty versions for larger office setups.  Make sure that you have a signal in a place that you can mount an antenna, and you should feel confident that the product will bring you a very noticeable improvement in your phone's reception.

The Score Card
At Audioholics Gear Corner we give you a quick but comprehensive look at consumer electronics from several different categories. All products in the Gear Corner have been individually evaluated through hands-on testing by our reviewers in order to give you a quick but detailed overview that we hope will help you in your purchasing decisions.
| | | |
| --- | --- | --- |
| The Price: | Bargain | |
| | About right | |
| | Pricey | |
| | | |
| --- | --- | --- |
| Recommended For: | Acoustic/folk/bluegrass | |
| | Rock/country | |
| | Classical | |
| | Jazz | |
| | Home theater | |
Confused about what AV Gear to buy or how to set it up? Join our Exclusive Audioholics E-Book Membership Program!