Miglia TVMini HD Review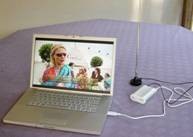 Miglia TVMini HD
Product Name: TVMini HD
Manufacturer: Miglia
Performance Rating:
Value Rating:
Review Date: October 31, 2006 18:00
MSRP: $ 199.95
Host Interface: USB 2.0
Host Connector Type: USB A Type
TV Tuner: ATSC, free to air digital TV broadcasts
ClearQAM, Free digital cable TV broadcasts
Resolution: Standard definition (480i), 480p, 720p, 1080i (EDTV/HDTV)
Antenna Connection: Antenna or cable
(for cable broadcasts, check with your provider)
Recording Formats: Unmodified original broadcast stream. Commonly MPEG-2

Power: Powered by USB 2.0 bus. No external power supply is needed
Compatibility:
Mac with USB 2.0 Connectivity
G4/500 or higher, Intel processor
Mac OSX 10.4.x compatible
DualG4, DualG5 or CoreDuo Processor
required for 1080i display
Dimensions:
3.8" x 2.7" x 1.1" (98mm x 68mm x 28mm)
Weight: 10.6 ounces (300g)
Warranty: 2 year warranty
Pros
HDTV on your laptop or desktop
One-click export to iPod
Supports resolutions of up to 1080i
Does not modify or reduce quality of digital video stream
Cons
Not available for PCs
Not compatible with paid digital cable or satellite services
Signal is location-dependant (as with all antenna systems)
Miglia TVMini HD Introduction

In the small box you will find the TVMini HD HDTV USB 2.0 Device, which is a small, brushed aluminum curvy box about the size of a pack of cigarettes, a CD-ROM with the Eye TV software and PDF guide, a remote control with 2 AAA batteries, a portable TV antenna, a slick little microfiber carry bag for the device, and a white USB 2.0 cable. The device weighs about 4.5 oz, and is aluminum with white plastic finish.
The front panel has a large IR receiver for the remote, and blue light indicators for channel lock and USB. The rear has a USB port and a standard cable TV input. I tested the unit with my laptop, and found it to be very portable and easy to throw in my backpack with my other gear.
Confused about what AV Gear to buy or how to set it up? Join our Exclusive Audioholics E-Book Membership Program!