JBL L880 Floorstanding Speakers Review
JBL L880 Floorstanding Speakers Review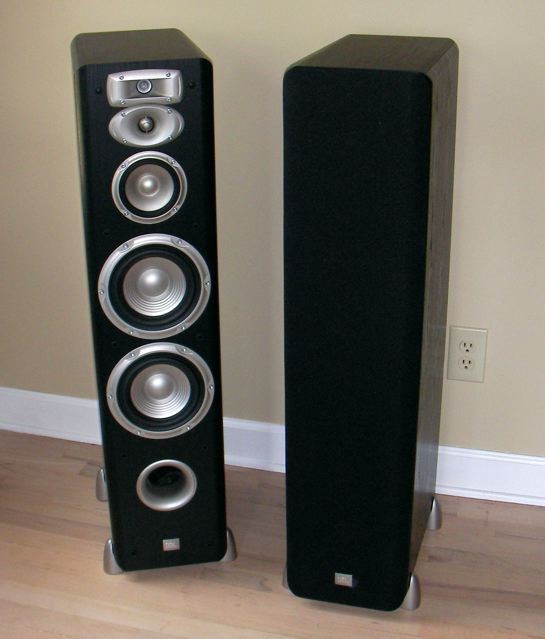 JBL L880 Speakers
JBL has been making big speakers for decades. I can remember entering my freshman college dorm for the first time and hearing rock music shaking the door of a guy's room at the end of a hall - it was like he had a small concert PA in there! Actually, he had some beefy JBL speakers being powered by a big Pioneer amp. Those speakers provided all of us on the hall with great music, night and day, whether we wanted it or not. One thing I remember - they always sounded great.

This year marks JBL's 60th anniversary as a speaker manufacturer, and over the years they have provided innovation after innovation for professional applications such as live concert sound, THX movie theater systems, and recording studio monitors. They have constantly trickled down pro-audio technology into their consumer products. The company's Studio L series is one such example, and I recently auditioned a set of their L880 tower speakers.

Features & Listening Impressions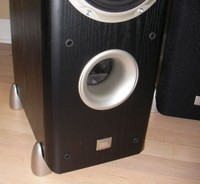 The L880s are big, heavy, rock and roll-looking speakers, weighing in at 54 lbs. each and standing 39" tall. They are available in Cherry, Beech or Black Ash (the color I tested). The cabinet is built from 1/2" MDF that is well braced inside, making for a very sturdy floorstander. There are four plastic feet to keep the tower stable, and they are silver. JBL ships spikes that can be screwed in to the bottoms for use on a carpet. Also included are rubber feet for use on hardwood floor. The silver plastic feet feel cheap and in my opinion detract from the overall appearance of the speaker - of course those of you who like futuristic styling may disagree. The silver-on-black will certainly match up well with many flat panel displays currently on the market.

There is also a goofy sticker on the rear of each speaker - a large sticker, which has a speaker falling on a little stick man with some wordy warning about the dangers of tower speakers becoming unstable in an earthquake. To me, this deserves some ridicule. If I am spending this much cash on a pair of speakers, I don't want some lousy sticker slapped on the rear of the cabinets warning me about them falling. I don't recall a lot of earthquakes in New York - which is where JBL seems to be based...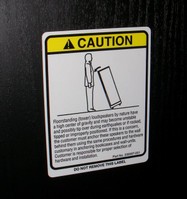 The grill is constructed of a thin, flexible plastic that is covered in black fabric. It has plastic nubs that easily grab the speaker and overall works well. With the grill in place, the speakers look like your typical modest black floorstanders (save for the silver feet). But when you remove the grill, you are treated to an astonishing array of silver and white drivers that have a decidedly over-the-top appearance against the black cabinet. There are dual 6" cones with cast aluminum chassis and heavy magnets, a 4" midrange cone driver, a 1" pure-titanium dome tweeter in a cast aluminum chassis and finally, to "top" it all off, a 3/4" mylar dome tweeter for "ultra-high" frequencies. So as for appearances, with the grills on they look like any other black tower speaker. But if you want to impress your college buddies before even turning on any music, take the grills off.

With a big tower speaker like this, I expect to hear big sound - pounding bass, ear-splitting volumes, etc. What caught me off guard with the L880's was the mid and upper end. These speakers have almost an airy quality to the top end. I popped in Imogen Heap's Speak For Yourself disk and at times felt that vocals were coming from behind me - and yes, I was in 2-channel mode. While part of this comes from the masterful mix of the record, the magical timbre of Heap's vocal really shone through with these top-loaded speakers.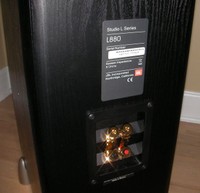 The bottom end delivers plenty of thump - JBL rates the L880 to handle 200 watts, and although my reference Rotel receiver is only rated at 75 watts per channel, I have no doubt the JBL's can handle it without any problem. I expected to only want to listen to rock music on these speakers, but found myself enjoying classical just as much. These are very musical speakers that warrant serious consideration if you are shopping for stereo towers.

When used as the mains in my 5.1 setup, they were more than capable of handling any explosion I threw at them. I especially enjoyed the huge soundstage they produced from my favorite movie scores. I found them to be a very well rounded speaker for use in a big room. They will have no problem filling a huge great room or theater with sound, but don't write them off as just another set of super-sized, loudmouth speakers. They perform well at any level, and the longer I listened to them, the more I realized how pleasing they are across a broad spectrum of movies and diverse musical styles.

Conclusion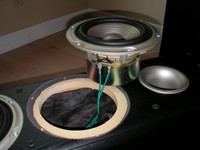 The L880's list for $1400/pair. At this price level, you have many choices in the marketplace, including speakers with more interesting cabinet finishes and styling. Not to mention speakers that won't have a warning sticker slapped on the back as if they were a forklift. But that is not to say that this is not a great speaker. In fact, I would go as far to say that JBL has brought a very high quality speaker to the mass market with this offering, and you will not have to visit some snobby high-end boutique to find it. What you get for your money is a robust floorstanding speaker that is solid and will perform like a recording studio monitor. If you are in the market for a pair of towers, take a listen to the JBL L880's and see what you think.

Price: $1400/pair
pricey!

Style:
tower

Recommended for:
rock/country
folk/bluegrass/acoustic rock
jazz
classical
home theater

what sounded great? Jet
what sounded not-so-great? not much


Specs:
Woofer: Dual 6" cones
Tweeter: 1" dome & 3/4" dome
Midrange: 4" cone
Frequency response: 30Hz to 40kHz
Sensitivity: 91 dB
Maximum input power: 200 w
Crossover frequency: 700Hz, 5000Hz, 20kHz
Exterior dimensions: 8 3/4"(W) x 39"(H) x 14 3/4"(D)
Weight: 54 lbs. each

For more information:
JBL Consumer Products
250 Crossways Park Drive
Woodbury, NY 11797
516/255-4JBL
www.jbl.com

Welcome to the Gear Corner, where we give you a quick but comprehensive look at consumer electronics from several different categories. All products in the Gear Corner have been individually evaluated through hands-on testing by our reviewers in order to give you a quick but detailed overview that we hope will help you in your purchasing decisions.

Confused about what AV Gear to buy or how to set it up? Join our Exclusive Audioholics E-Book Membership Program!