StudioTech SP-36 Speaker Stand Review
StudioTech SP-36 Speaker Stand Review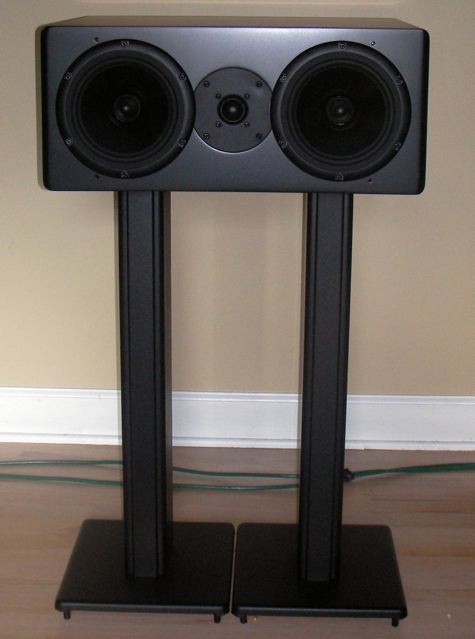 SP Series
I am constantly changing out surround speakers, and my permanent setup in my theater (mounts that hang from under a shelf across the rear wall of the room) is not easy to swap out, so to me the answer for testing was a set of 36" speaker stands in the rear and/or sides of the room. For these I chose StudioTech's SP series, which is a single pillar, all steel model, offered in 24", 30" and 36" sizes.

The SP-36's arrived in a nondescript cardboard box, packed with styrofoam and wrapped in plastic. The design is simple, and therefore so are the contents of the box - top plates, pillars, bottom plates, hex screws (and tool), gold-colored carpet spikes, small plastic discs to protect your hardwood floor from the spikes, rubber bumpers for the speaker platform, and wire clips to help you with cable management.
One screw connects each plate - the base plate on bottom and speaker stand on top. Everything threaded together perfectly. I then screwed the spikes to the bottom of the base plate and affixed the self-stick bumpers to the platform on top. Five minutes per stand and you are good to go. The stands are treated and finished with a durable black powder coat finish.
Although assembly was very simple and straightforward, I did find a few things worth making note of. When I was assembling the second stand, I noticed that the steel pillar has a seam. It is barely noticeable, but if you look closely you will see it. With that being the case, I was sure to position it facing the rear of the stand before tightening things down. I went back to the first stand, and sure enough, the seam was there, but not facing the rear, so I loosened the screws on the top and bottom and adjusted it, then tightened things up a bit. I also found that laying the stand on a flat surface such as a table made lining up the top and bottom plates a snap.
This is a beefy, solid stand that could easily support the biggest of bookshelf speakers - each stand is rated to hold a speaker up to 50 lbs., and I believe it. The top of each pillar has a hole that allows you to fill it with lead shot or sand for further dampening and stability. The top plate measures 6" x 6", and the base measures 9" x 10".
Ultra Series
It is odd to me that you don't see many dedicated single stands made for center channel speakers - I have always ended up using two stands pulled together.
I was also in need of a center channel speaker stand, so I requested a pair of US-24's from StudioTech's Ultra series. The Ultra's combine a pair of 2" x 2" steel pillars (which can also be filled with sand or shot) with hardwood veneer panels for a furniture appearance. I chose black ash, but they are also offered in a rosewood or cherry finish. You can order a wood sample kit for $5 if you are unsure which finish to choose.
Assembly is similar to the SP's, with the Ultra's there are two screws per plate, and the plates are a bit larger. The speaker platform measures 8" deep by 7" wide, and the base plate measures 10" x 12". The spikes are not as large as those on the SP series, but the Ultra's come with rubber-nubbed feet that you can use for hardwood or tile floors if you choose, which I did because I am.
After moving them into my theater, I immediately noticed that for many small to medium sized center channel speakers, just one of the Ultra's oriented wide would work just fine, but since I had a large center channel speaker at the time of this writing, I used both to make sure it was stable.
Conclusion
The Ultra's look nice with the wood trim, and are very stable. They are priced a bit higher than the SP's, but the choice really comes down aesthetics. Both styles are rock solid, and look great. It is up to you decide which will be right for your application. Both sets of stands come with a lifetime warranty.
SP-36: $129.00/pair
US-24: $199/pair

StudioTech, Inc.
800-887-8834
www.studiotech.com
Confused about what AV Gear to buy or how to set it up? Join our Exclusive Audioholics E-Book Membership Program!
Recent Forum Posts:
birdonthebeach posts on May 24, 2007 18:50
gbenfield, post: 271489
You said the speaker stands could be filled, just curious if you filled them for this review. Any general comments on whether filling speaker stands makes any noticeable difference in performance.
I did not fill them for this review (have you seen the cost of gas these days?!), but I do have my Lovan rack filled with sand. It makes for a much more solid and heavy stand, for sure, and cuts down on vibrations from the sub being transmitted to your gear. So in the case of my rack, it is a good thing that I recommend.
Think of it this way - if you thump the stands they sound hollow - almost a ring. But if they are filled, the thump is dead sounding.
I will probably end up filling these stands once I am not moving them around so much.
gbenfield posts on May 24, 2007 15:20
Fill'er up

You said the speaker stands could be filled, just curious if you filled them for this review. Any general comments on whether filling speaker stands makes any noticeable difference in performance.
Post Reply