Aperion Intimus Concert 533HD Speakers Review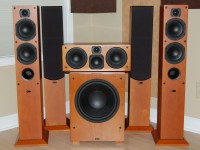 Aperion Intimus Concert 533HD
Summary
Product Name: Intimus Concert 533HD
Manufacturer: Aperion Audio
Review Date: September 20, 2007 15:17
MSRP: $ 2379.00
| | |
| --- | --- |
| 533-T Tower | |
| Frequency Response | (+/- 3dB) 70-20,000 Hz, (+/- 6dB) 42-22,000 Hz |
| Impedance | 5-10 Ohms |
| Sensitivity | 89 dB |
| Recommended Power | 50 - 200 Watts |
| Amplifier Power | N/A |
| Tweeter | 1" Silk Tweeter |
| Midrange | Dual 5.25" Poly Mid-Woofers |
| Woofer | Dual 5.25" Poly Mid-Woofers |
| Driver Configuration | 2.5-Way |
| Enclosure Type | Front Ported |
| Dimensions | (including Base) 38.5" H x 9.25" W x 10.75" D |
| Weight | 38 lbs. |
| | |
| --- | --- |
| 533-VAC Center | |
| Frequency Response | 80 Hz to 20 kHz |
| Impedance | 8 Ohms |
| Sensitivity | 88 dB |
| Recommended Power | 50-150 Watts Per Channel |
| Amplifier Power | N/A |
| Tweeter | 1" Silk Tweeter |
| Midrange | 4" Poly Midrange |
| Woofer | 5.25" Poly Mid-Woofer, 5.25" Poly Passive Radiator |
| Driver Configuration | 3-Way |
| Enclosure Type | Passive Radiator |
| Dimensions | 7.33" H x 19" W x 8" D |
| Weight | 20 lbs. |
| | |
| --- | --- |
| S-12 Subwoofer | |
| Frequency Response | 20 Hz-180 Hz |
| Impedance | N/A |
| Sensitivity | N/A |
| Recommended Power | N/A |
| Amplifier Power | (Continuous):250 Watts, (Maximum): 400 Watts |
| Tweeter | N/A |
| Midrange | N/A |
| Woofer | N/A |
| Driver Configuration | 12" PVA Subwoofer |
| Enclosure Type | Rear ported |
| Dimensions | 20.5" H x 15" W x 21.5" D |
| Weight | 66 lbs |
Pros
Very musical character
Smooth tonal match across all speakers
Sub blends very well with system
Excellent for music and home theater
Cons
Center channel speaker blinked a tad with hard rock
Pedestal aesthetic may not appeal to everyone
Gear Corner Review
When shopping for a home theater speaker system, many consumers head straight for the local big box store.  Others will visit an audio/video specialty store, or maybe a boutique or "mom & pop" offering high end products.   But there is another place that has become common for consumers looking for quality and value in speakers, and that is the internet.  The advent of internet shopping has not only given us Amazon and eBay, but also some internet direct companies that produce excellent products that are priced right.  

When shopping for speakers, Aperion Audio is one of those companies that should be high on your list.  From the minute you point your browser to their homepage, you will find quality.   I think they have one of the better websites I have seen.  It is easy to navigate, and is chock full of information and resources. 

I had a few conversations with VP of Marketing John Wandersheid, and we quickly decided that the Intimus Concert 533HD system would make for an interesting and appropriate review.   Within a few days the FedEx truck pulled up and unloaded six sizable boxes and my garage was full.  By the end of the day, I had made room in my theater for the speakers and was bringing them into the house.
Setup & Build Quality
From the moment you open the box, you will be impressed with Aperion.  The speakers were all double boxed, with robust foam dividers that "floated" a box within the outer box.  Once I cracked the seal of the interior box, I found more foam inserts holding the speaker in place, which was contained in a dark blue velvet sack with a satin interior and gold rope drawstring.  This sack was wrapped in a clear plastic cover.   There is basically zero chance of these speakers being damaged in transit.  It is easily the best packaging I have encountered for a set of speakers, and it really builds excitement as you unpack the system.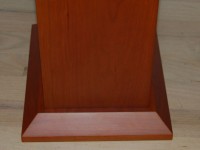 The Intimus Concert 533HD is unique in that it is comprised of four tower speakers, with a traditional horizontal center speaker and stand-alone powered subwoofer.  The towers were not as large as I expected.  I had a friend over helping me unpack the system and we were discussing the fact that even though we usually read the measurements of speakers online, we still tend to form a mental idea of the size of the speaker from the photos on the website.  We both laughed at how much smaller the towers were than we had expected from the photos.  They have more of a square footprint than rectangular, which you typically find in floorstanding towers.  And speaking of the footprint, the towers have a pedestal at the bottom that acts as a stabilizer.  While my friend did not like the aesthetic of it, I did.  And they keep the speaker very stable, without any wobble at all.  Think of the towers more as high-end bookshelf speakers on matching stands, and you get the idea.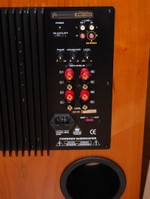 My review samples were finished in a Cherry veneer that was very high quality, much more so than some of the big-box brand speakers that cost as much or more than the Aperions.  The grills are very high quality and had sturdy wooden frames, and fit snugly into the speakers with a satisfying snap.  They have a gracefully curved bottom that adds a stylish touch to what would otherwise be another rectangular, black fabric speaker grill.
The four Intimus 533-T tower speakers stand 38.5" tall and are 9.25" wide and 10.75" deep.  They weigh a respectable 38 lbs., and have one set of 5-way binding posts on the rear.  They are front ported and house a pair of 5.25" drivers and a 1" silk tweeter.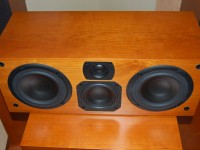 The Intimus 533-VAC center channel is a good-sized center that has twin 5.25" woofers (one active driver and one passive radiator), a 4" midrange driver, and a 1" silk dome tweeter.  It is a passive radiator design, and measures 19" wide by 8" deep by 7.33" tall, weighs 20 lbs. and has one set of gold 5-way binding post speaker connectors on the rear. 

The Intimus S-12 subwoofer was every bit as big as expected, yet not stupid big.   Again, the beautiful cherry veneer makes for a gorgeous speaker, and I knew right away it would fit well in the front right side "sub spot" of my listening room.  (It did.)   I was really impressed with this sub.  The massive Intimus S-12 powered subwoofer is ready to handle the most demanding low frequencies from your music and movies, with a frequency response of 20 Hz - 180 Hz, and is very solid standing 20.5" tall by 15" wide and 21.5" deep.  It weighs in at 66 lbs.  The 12" driver is front facing, and has a rear port.  The control panel on the rear sports an on/off/auto power switch, a level control and a phase control.  If you want to control the crossover from the sub, it has a dial adjustable from 40 - 250 Hz.  There are both speaker and line level (LFE) stereo inputs and outputs.
Listening Tests
If you look at this system on Aperion's website, you will see that they recommend it for music.  I like this, because it seems that most manufacturers tend to design their speakers for movies these days, with music as an afterthought.  This system is clearly designed with music - and in particular - multi-channel music, as its primary focus.  And my testing proved this to be true.  While the system handled movies well, it really shone when listening to my favorite multi-channel music discs. 
There was a very smooth tonal match across all speakers, and vocals were precise through the front center speaker.  I heard excellent balance between the subwoofer and main speakers. There was a very authentic musical quality to the speakers across a wide variety of musical styles.  We especially enjoyed the airy upper end exhibited when listening to live recordings, which conveyed a sense of realism that you would experience in a concert hall.

I was especially pleased with how well the S-12 sub blended with the other speakers, especially when it came to music.  I typically have to spend quite a while dialing in the subwoofer in my room, and especially find that most 5.1 speaker systems do not easily transition from music to movies.  But the Intimus Concert HD system came out of the box sounding very nice, and it did not take long to find the right level and crossover setting for the sub.  

My torture disc, the multi-channel DVD-Audio version of Blue Man Group's The Complex, revealed some of the limitations of the system.  Things started out well with some of my favorite tracks, including the opener "Above" which builds slowly, adding layer upon layer to the different speakers around the room before reaching a full chorus that fills the room with sonic delight.  They also performed very well during my favorite track on the disc, "Your Attention," which has an amazing breakdown of drums at the bridge that will push the throat of any speaker system.  But during track 9, "The Current," the vocal in the center channel began to break up a tad in the chorus at high volumes.  The soundstage collapsed a bit during songs such as this one with heavy metal guitar riffs and a busy mix.  But this was the exception, certainly not the rule during my listening tests.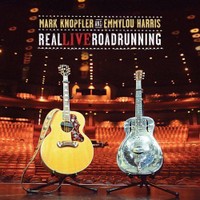 But the Intimus system shone like a diamond on material such as Mark Knopfler and Emmylou Harris' Real Live Roadrunning.  On "Song For Sonny Liston," Knofpler's Les Paul sounded incredible, with every nuance of texture you would expect from such a guitar in a master such as Knopfler's hands.  Quite possibly my favorite Dire Straits tune of all time is "Romeo & Juliet," and Knopfler's performance of this gem is one for the ages on this disc.  The Aperion's allowed every subtlety of his performance to be heard, and I found myself lost in the beauty of the song.  From the pleasing twang of the dobro at the beginning through Matt Rollings' delicate piano parts taking the song home, the Intimus system provided sheer musical bliss.   

For movies, I popped in my THX sampler disc and watched clips from Aliens, X-Men, and Indiana Jones, as well as several THX trailers.  The beefy S-12 subwoofer provided plenty of tactile bass that shook my room, and dialogue remained clear through the 533-VAC center channel even when chaos filled the other channels in the room. 

And just for kicks, I thought I would see how this system Aperion recommends for music would handle the massive bass sweeps in The Last Mimzy.  I found this new-agey vibed "family" film to be average at best, but there is some serious low end happening in the LFE channel.  The system had no problem with this, as the sub was clearly up to the task.  The score sounded great, too, and the overall stage presented by the Intimus Concert 533HD system was big and very pleasing.
The system seemed a bit thirsty to me, and not quite as efficient as other speakers I have auditioned in my room.  This is not to say that they were hard to drive.   I had no problem driving them with a Yamaha RX-V661 receiver, nor did my Emotiva MMC-1 blink while pushing the Intimus system to it's limit.   But I noticed I had to turn it up a little more than with other speakers to reach the same levels.
Conclusion
I thoroughly enjoyed my time with the Intimus Concert 533HD system.  It displayed an authentic musical quality whenever I listened to music, both stereo and 5.1 sources.  Its size does limit its performance, as was the case with hard rock material such as Blue Man Group, but overall I found it to be an outstanding set of speakers.  The idea of having four tower speakers in a room had me thinking that you would only want to use such a system in a large room, but this is clearly not the case.  The system performs like a high quality set of matched bookshelf speakers, but the towers give you built-in pedestals.  If you are a music-first type of person, this would be a great choice for your 5.1 setup.  It handles movies well, and really shines when you listen to your favorite music. 

The Score Card
At Audioholics Gear Corner we give you a quick but comprehensive look at consumer electronics from several different categories. All products in the Gear Corner have been individually evaluated through hands-on testing by our reviewers in order to give you a quick but detailed overview that we hope will help you in your purchasing decisions.
| | | |
| --- | --- | --- |
| The Price: | Bargain | |
| | About right | |
| | Pricey | |
| | | |
| --- | --- | --- |
| Category: | Bookshelf | |
| | Tower/Floorstanding | |
| | 5.1 System | |
| | Subwoofer | |
| | PC/multimedia/cube | |
| | | |
| --- | --- | --- |
| Recommended For: | Acoustic/folk/bluegrass | |
| | Rock/country | |
| | Classical | |
| | Jazz | |
| | Home theater | |
Confused about what AV Gear to buy or how to set it up? Join our Exclusive Audioholics E-Book Membership Program!