My CEDIA Swagger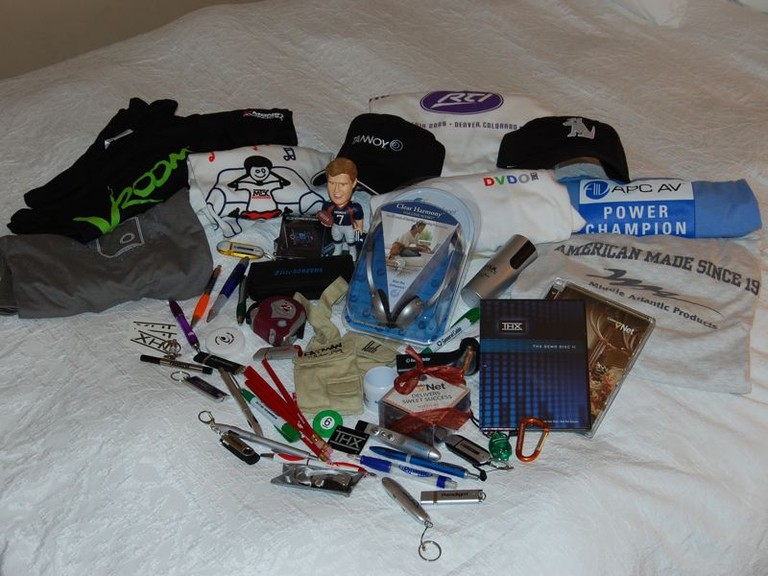 2008 CEDIA Expo swag
I love to roam the floor every year at the CEDIA Expo.  This year was no exception, and once again I found myself on a plane to Denver, Colorado, to attend the 2008 show with Tom, Gene and Clint for Audioholics.  Denver is a great town for the Expo, with perfect fall weather and a great downtown area surrounding the Colorado Convention Center.  Our hotel is about a mile from the convention center, so every morning we have a great walk through downtown to get to the show.  Since I am partial to Jamba Juice, I inevitably drag the guys by each morning for a big smoothie to start the day before we roam the floor.  We check in at the press lounge, which always has food and drink, and plot our attack each morning.  Then it is off to the show floor to mingle with the masses as we canvass the floor in search of stuff.  Armed with our cameras, pads and pens, we begin the process of going booth to booth gathering info on all the new offerings.  There has been plenty of coverage already about the technology and gear on display, so I thought I would tell you a little bit about the other side of our experience at CEDIA this year.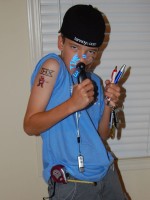 As you know, we not only gather data while on the trade show floor, but possibly more importantly, we gather SWAG.  This year was no exception, and we quickly found our Lowepro bags filling up with the usual flashdrives, pens, pencils and t-shirts.  But we always have a little contest amongst ourselves to find the best swag on the floor.  This year there were a few standouts, and even a few clear winners in the giveaways.  The THX demo disc is always a favorite, and they did not disappoint, unlike their peers Dolby and DTS - neither of which had demo discs at CEDIA this year.  Two different vendors gave away tape measures (a hit with the custom installer crowd, no doubt).  Dolby had a special event that Gene attended and he was given a John Elway bobble-head!   (We are in Denver, after all)  Colorado vNet offered small packages of home made chocolate candy from the Rocky Mountain Chocolate Factory, and it was insanely better than the trick-or-treat style candy available in just about every other booth.  CablesToGo gave away a small personal fan that has LED's on the blades that spell out messages advertising their RapidRun line - very cool indeed!  I think our favorite item (and the unofficial winner of the best swag contest) was Elite Screens, who gave us a combo laser pointer/PowerPoint presentation remote.  I had a blast from my room's window tormenting drunken convention attendees down on the street who were stumbling back to the hotel on the sidewalk below...
Another important part of our annual trek to CEDIA is the food.  And no, I don't mean the stuff they have in press lounge for lunch, or the free continental breakfast at the hotel.  For dinner every night, the Audioholics gang rolls LARGE.  Our late nights of posting and long days of walking miles around the convention center are rewarded each night with excellent food.  And this year our resident foodie, Mr. Tom Andry, was in charge of choosing the restaurants.  We were joined by the RBH guys on Thursday night at Sushi Sasa.  The food was amazing, and the sushi just kept coming and coming.  Friday night the Emotiva guys joined us for fine dining at Sullivan's Steakhouse.  Lots of wine, huge steaks and great sides.  Tom knew it was my birthday and that my favorite foods are steak and shrimp.  So I had a huge ribeye with a few shrimp covered in a scampi sauce on top.  Saturday night Gene had left us, so Tom, Clint and I went back to one of our favorites from last year - restaurant Kevin Taylor at the Hotel Teatro.  It was an amazing meal and a great wind-down from several days of work.  There is no shortage of great restaurants in Denver, and every night dinner has been a big event.  I need to get home and go on a diet...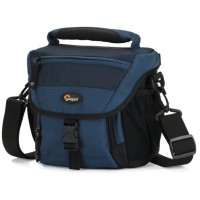 As much fun as it all sounds, we do work hard.  We typically stay up until 3 - 4 AM every night writing and posting, before getting up around 8 to start all over again the next morning.  And walking around on a trade show floor for 7-9 hours takes its toll, especially considering we are toting around press kits, notebooks, swag, and cameras.  This year, Lowepro was kind enough to provide each of us with camera bags, which proved to be excellent additions to our daily attack of the show floor.  Gene chose the Nova 140 AW, which sports a large central compartment with movable dividers large enough to accommodate full digital SLR kits.  The interior is constructed of soft protective material specifically designed to protect sensitive digital cameras. A front access pocket provides safe and accessible storage for batteries, small accessories and other necessities. Memory card pockets on the inside front lid ensure cards are protected and available for quick changes.  The Nova 140 offers the ability to carry by hand with its soft, padded handle; by shoulder with its adjustable and removable shoulder strap with non-slip grip, or as a beltpack with its built-in belt loop.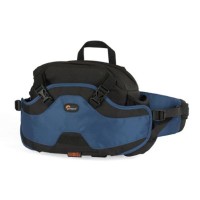 Tom, Clint & I chose the new Inverse 100 AW beltpack.  This is a fanny-pack style case that can accommodate a digital SLR with an attached lens, as well as a flash, extra lens, and other accessories.  The pack has side mesh pockets that we used for our water bottles (we all live in the humid south, so staying hydrated in the dry Denver altitude was critical).  We loved these packs.  It was great to have our hands (not to mention shoulders & backs) free from strain as we walked and walked and walked the massive show floor every day.  I could easy swing the pack around my waist and pull the double-zippered top open and grab my camera for a shot when needed.  There was plenty of room for the CDs & thumb drives (digital press kits) and other stuff we accumulated every day.  Both the Nova and Inverse series include Lowepro's 360° All Weather Cover which enables photographers to access their camera bag with the cover on and still continue working despite harsh weather. Fortunately for us, it didn't snow or rain... lol. Check out Lowepro online - we love 'em.

Next year CEDIA moves to Atlanta.   I'm still scratching my head on this one.  So as not offend our Atlanta readers, I'll refrain from further comment other than to say, I am gonna miss Denver.  We hope you have enjoyed our CEDIA Expo coverage as much as we have enjoyed bringing it to you.  Hop on to the forums and let us know what you think.

cbraver posts on September 09, 2008 07:34
GlocksRock, post: 453181
just curious as to why this is in the gaming section, instead of the general section? Well you can send me some of those flash drives if you don't need them, I'll take a couple off your hands, as well as a couple pens.

Maybe there should be a CEDIA SWAG giveaway contest.
Probably because us gamers are the only people that would care about that pile of crap.
jamie2112 posts on September 08, 2008 23:48
He he he I liked the middle part too. Good eats abound…. we will get the reviews later after they all hit the gym for a week….
gbenfield posts on September 08, 2008 23:40
I like the part in the middle when he starts feeling a little guilty and has to make us feel like they actually worked - in between all the eating and gathering of the SWAG!
birdonthebeach posts on September 08, 2008 19:05
GlocksRock, post: 453199
I've never been to an audioholics party But I wish I could make it to one.
Come on down to Florida next month!!!
GlocksRock posts on September 08, 2008 13:02
I've never been to an audioholics party But I wish I could make it to one.
Post Reply
Confused about what AV Gear to buy or how to set it up? Join our Exclusive Audioholics E-Book Membership Program!