Lowepro CompuDaypack & CompuRover AW Backpack Review
Lowepro CompuDaypack & CompuRover AW Backpack Review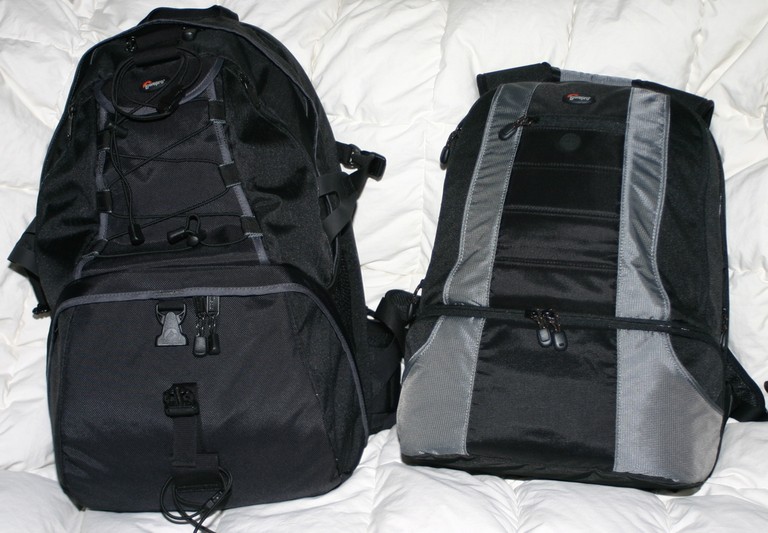 Lowepro CompuDaypack
Introduction
Being an Audioholic does not limit us to audio and video.  We all love gadgets and gear.  And I would guess that if you are reading this, chances are you have a camera and probably a laptop computer.  I always travel with both.   And when your Audioholic team travels to trade shows such as CEDIA and CES, we are all armed with digital cameras and laptops - often on the show floor so we can capture and post as much of the action possible.

Such was the case at the most recent CES in Vegas, where I was cruising the halls with my laptop bag and my digital SLR bag weighing me down.  When I passed by the Lowepro booth, I stopped in for a look at how I might consolidate, and I am glad I did.
On display were camera bags of every size and shape, ranging from small point and shoot pouches to full size professional photographer rolling cases and hardshells.  A few months after the show, Lowepro called me to follow up on and offered to send me a couple of combination backpacks to evaluate.   I gladly accepted, and a few days later a pair of backpacks arrived - the consumer-friendly CompuDaypack and a pro-quality CompuRover AW.  For the past month I have been alternating between the two and found both to be well-constructed bags, each with their own sets of pros and cons.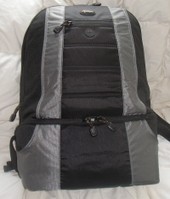 CompuDaypack - Design and Build Quality
The CompuDaypack is a basic notebook & camera backpack that will accomodate most 17" laptops as well as a digital SLR with attached lens (105mm or less) and 2-3 more lenses and/or flash.  There is a zippered upper compartment that can hold power cables and personal items, and a zippered front pouch near the top for your MP3 player.
The inside of the portable music player pouch is large enough for a full size iPod or candy-bar styled cell phone, but not much else.  There is a a rubber headphone port on the front that you can thread your earbud wire through so you can keep the player safely zipped up inside.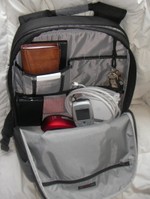 The large front zippered compartment has 3 interior zippered pockets, a key clip, several slots for pens & pencils and two other pockets, one sized perfectly for business cards.  This compartment only zips from left to right.

The rear computer compartment is padded all around and provides ample protection for your laptop without requiring a padded sleeve.  There is a slotted pocket on the inside front of this compartment that will hold a thin stack of papers or a legal pad or two.  This compartment has a dual zipper so it can be opened from either side.
The lower camera compartment has dual zippers and when fully unzipped is held up by a gusset that keeps the camera and gear from dropping out if opened while on your back.  The interior padded camera section has velcro compartments with adjustable padded dividers that you can arrange according to your equipment.  The entire padded section can be removed from the pack, giving you an extra storage area in the pack if you are traveling without your camera gear, which is a great feature.   It is secured by velcro on the bottom and sides.
The CompuDaypack is offered in three colors, including Burnt Orange/Black, Leaf Green/Black, and the Slate Gray/Black that I received.  The harness has a padded handle in the middle near the top, which I constantly used when grabbing the pack to move it across the room.   The two adjustable shoulder harnesses, each with an attachment loop for adding pouches or other accessories.  The back of the pack is well padded with Lowepro's DryFlo channel ventilation system, which helps keep your back cool when it is hot outside.
This pack was comfortable even when fully loaded, and made for a nice compact traveling office for day to day use.   For business trips, I would need a larger pack with a bigger front compartment.   There are two side pockets, but they were so small that I consider them to be unusable.  

CompuDaypack - Complaints and Suggestions
The MP3 pouch is only lined with microfiber on the rear of the pocket.  The front inside of the pouch is nylon.  My only thought is that they assume you will be using an iPod with the scratch-prone stainless steel back, but you still would want to protect the front screen, so I would suggest to Lowepro that they line the entire pouch as I have seen in most other similar products.

The large upper compartment is roomy enough for your power adapters and cables, but not quite large enough for a standard sized magazine or notebook due to the camera compartment underneath it.  Even though the computer compartment does have a slot for folders and papers, I would like to see the front compartment accommodate this as well.  A dual zipper on this compartment would be nice, as many times I had it over my shoulder and would swing the pack around to unzip, only to realize the zipper was located on the other side of the pack.  Finally, as I stated before, the side pockets are only useful for style - I would rather see an expandable water bottle pouch.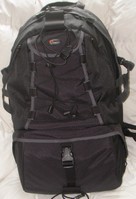 CompuRover AW - Design and Build Quality
The first thing I noticed about the CompuRover was it's size and weight.  This is a large backpack that is pretty heavy even when empty.   But it is very well constructed, and includes a removable waistbelt, contoured shoulder harness with several loops for attachments, heavy padding for your laptop and on the back and harness, and compression straps on the sides.  This bag leans decidedly towards pro gear and use. 

The CompuRover AW comes in black, and is a great looking backpack.  The camera compartment is located on the lower half of the pack, and unzips to reveal a fully removable padded insert with velcro dividers than can be positioned to fit your gear.  It will accommodate a digital pro SLR with lens attached, as well as 2-4 more lenses (as large as 80-200 mm), or a pro flash and accessories.   The fact that it can be removed is a very cool feature, and one that I put to use on a couple of occasions.   I had a quick overnight business trip and I was not taking my SLR, so I pulled out the camera compartment and used the large pouch to pack a pair of shoes, a change of clothes, and all of my toiletries.   Everything fit nicely in the big pocket.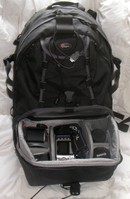 Lowepro thought things through by making the waistbelt  removable too.  Only on a hike or long outdoor trek would I want the big, cushioned waistbelt on the pack.  And since I have not taken said hike or trek, I removed it when it arrived and have not been using it.  Leaving it on would only add weight and it would get in the way.

Another great feature for all of you shutterbugs is the built-in drop-down tripod holder on the back.   This unique feature is built right into the design.   When you look at the compression strap on the front of the pack (I often used it to carry my jacket), there what appears to be a pocket flap that has a velcro closure.  If you open it and then pull the flap down and out from under the zig zag elastic strap, you now have a small pouch that reaches to the bottom of the pack.  Put your tripod in the pouch and cinch it tight through the zig zag cord, and there is another elastic cord near the top that you can tighten around the top of your tripod.  Very slick solution for the photographer that needs to carry around a tripod!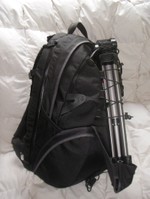 There are two zippered triangular pouches on either side of the tripod holder that are not very large - you could fit your iPod and some headphones, or maybe some extra batteries and a candy bar, but not much else.  Inside the main front compartment you will find a fold-out memory card pocket with a velcro flap, and two pouches on the rear of the compartment - one zippered water resistent, one that is mesh with an elastic cinch cord.  There is a removable zippered pouch in the mesh pouch.  There is also a key clip hanging from the top of the compartment.  While it is roomy, it is not quite large enough to hold magazines and notebooks without bending the edges at the top.  It will handle books, your cords, power supply and odds and ends without a problem.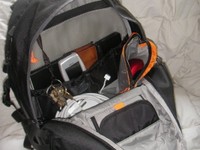 The laptop compartment is accessed by a side zipper that is water resistent.  The zipper stretches almost the entire length of the pack, which makes it easy to store even a 17" notebook computer.  I also used it for magazines and papers that I did not want to fold in the front pocket.  The computer pouch is padded well on all sides and the bottom. 

The coolest feature of the CompuRover AW is the AW part.   Hidden on the bottom seam of the pack is slit that is secured with velcro.   If you open it up, out comes the All Weather cover for the pack.   It is like having a built-in raincoat!  It stretches over the entire pack, and has an elastic drawcord that cinches tight to completly cover the pack in case you get caught hiking or traveling in a downpour.   It is quick and easy to use, and when you are done just stuff it back into the secret compartment.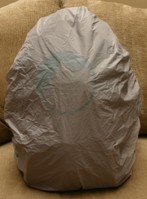 When I first received the CompuRover AW, I could not find the All Weather Cover.   Only after close inspection did I realize that what I thought was a seam on the bottom of the pack was actually a hidden pocket containing the cover!

CompuRover AW - Complaints and Suggestions
Overall the CompuRover AW is a great combination backpack.   It is very large and heavy, though, and for my every day use is not practical because of the size and weight.   It is better suited to overnight trips or adventure travel.  My suggestions for improvement are similar to those for the CompuDaypack.  I would like to see a larger upper compartment, water bottle holder on the side, etc.
Conclusion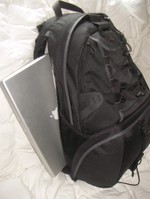 Both bags are very well made and reasonably priced.  Despite a few minor complaints, the CompuDaypack is great combo bag for a student or for someone without much gear beyond their notebook computer and SLR camera, flash and spare lenses.  I liked this bag and used it more often than the larger CompuRover AW, especially for day-to-day commuting to my office in town.
The CompuRover AW is a great pack for the more serious photographer who needs to carry a big load of heavy gear.  It would also be a great choice for someone who loves adventure travel.  I found it to be large enough for quick overnight trips when I only needed my laptop, a small digital camera, and a change of clothes.
More and more people are purchasing digital SLR cameras and laptops today, taking a virtual photography studio with them wherever they go.  One of these backpack combos might be right for you.  Lowepro products are extremely well-made, and available at major online retailers, as well as through electronics and camera stores.  You will likely find me roaming the next CES or CEDIA floor with one of their bags across my shoulder.
For More Information
Lowepro
1003 Gravenstein Highway North Suite 200
Sebastopol, CA 95472
About Gear Corner
Welcome to the Gear Corner, where we give you a quick but comprehensive look at consumer electronics from several different categories.  All products in the Gear Corner have been individually evaluated through hands-on testing by our reviewers in order to give you a quick but detailed overview that we hope will help you in your purchasing decisions.

Confused about what AV Gear to buy or how to set it up? Join our Exclusive Audioholics E-Book Membership Program!
Recent Forum Posts: