Sierra Sound iN Studio 5.0 Smart Speakers Review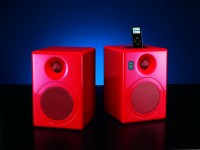 Sierra Sound iN STUDIO 5.0
Summary
Built-in 50 Watt Dynamic Bi-Amp
1" Magnetically shielded natural silk tweeter
5" Magnetically shielded paper cone
Tuned Port for vibrant bass response
Auto On/Off, powers up with signal, off without signal
Dock your iPod, Sync, Charge
RCA input
Mini Jack input
S-video output
Infrared remote control
Auxilary power input
Headphone output
High gloss finish
Frequency Repsonse 50 hz-22kHz
Input Impedence 10k ohms Unbalanced
Solid 5/8" MDF construction
Dimensions: 7 1/4" Wide x 8" Deep x 10 3/4" High\
Weight 23.3 lbs


In the Box


One Pair Amplified Speakers
Infrared Remote
Mini Jack - RCA Cable
S-Video Cable
USB Cable
AC Power Cable
Universal Dock Adaptors
Owner's Manual
Foam Pad Feet
Pros
crispy highs
powerful and loud
deep bass response
they come in Ferrari red!
Cons
off-axis, highs diminish
can be a bit boomy in some setups
remote is very cluttered
auto-on feature slow to react to signal
Gear Corner Review
To call the Sierra Sound iN Studio 5.0 speaker system an iPod speaker system would be to miss the point entirely.  This is a very well-built, great looking pair of bookshelf speakers that happen to be powered, and also have a built-in iPod dock on top.  After living with these speakers in variety of locations around my home and office for several weeks, I found plenty to write about.
Design & Features
These are gorgeous speakers.  Offered in black, white or Ferrari Red, I ask you, is there really a choice?   As I unpacked them, I could almost hear the ferocious whine of Kimi Räikkönen's F2008, with it's 2.4 liter eight cylinder engine screaming around Fiorano at 19,000 rpm.   The cabinets are constructed from a composite material that is finished in a high gloss that looks wet - they are great looking speakers.  As I fired them up for the first time, I had the eerie sensation that the ghost of Enzo Ferrari, the man that inspired the sense of style and design embodied in the the Prancing Horse logo was sitting in the room with me enjoying the music....
But Sierra Sound has gone way beyond looks in the design of this 50 watt Dynamic Bi-Amped speaker system.  The iN Studio 5.0 system is full of well thought out features, such as a built in iPod dock on top of the right channel speaker as well as a USB port on the rear, which means you can not only charge and play your tunes, but you can also sync them with your connected computer.  The rear plate of the speaker also contains a power outlet, especially useful if you want to plug in an Apple Airport Express to allow wireless streaming to the speakers from your iTunes library.  There is also both a mini-jack stereo input and a stereo RCA input, as well as an S-Video output to pass video from your iPod.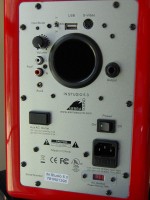 We now take a moment to return to a gripe you have heard from me before, and that is my soapbox about crappy, plastic, tiny remote controls that are so prevalent today, especially with iPod speaker systems.  I am convinced that there is some little factory in China churning out these cheap little white plastic remotes.  There are SIXTEEN little round buttons, all the same size, on the included remote.  Yes, it is white plastic, and it is terribly chintzy.  About the size of a first gen iPod nano, you have seen this remote elsewhere.  I counted FOUR of them in my daughter's room that belong to various devices we have collected over the past year or so.  It works fine, of course, but is just a pain to use.  I would much rather see a remote more fitting for the excellent build quality of the speakers it is built to control.   In fact, give me a remote with a little weight to it, with just a few buttons.  Heck, I'd take volume up/down and power, with a totally cool design over this junk any day.   Okay, rant over.  I just don't like the remote, especially with such a gorgeous pair of speakers.
Listening Impressions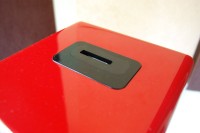 The first thing you will notice about the Sierra Sounds is the bass, which is ridiculously powerful.  So powerful, in fact, that when I first unpacked them at my office and set them up on my desk, I thought I had a defective pair.  For a couple of days I could not find a spot in my office that didn't produce a horribly boomy, ringing low tone across a variety of music.  I actually called Sierra Sound and discussed it with them, and they offered to send me out a new pair in case for some reason these were not performing properly.  But I wanted to spend more time with them, because I had been experiencing mixed results with different music.
I also wanted to play with placement, so I tried them on my desktop flanking my monitor, then on my credenza against the wall behind me, and finally on pair of StudioTech SP-36 speaker stands in the middle of the room, in front of my desk.  I still was getting poor results.  I even had another Audioholics reviewer come by office take a quick listen, and he immediately agreed that the boominess was just horrible.   I could not escape this weird tone, that most music would at some point visit during a song.  I soon began to wonder if there could be some strange conflict between the design of these speakers and my small, rectangular office.  In the past, I had only used satellite speaker systems on my desktop, with a powered subwoofer living on the floor, or smaller computer-style speakers.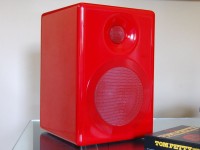 Only after taking them home and setting them up in my teenage daughter's room did I decide that there was nothing wrong with the speakers, as they actually sounded great.  So great, in fact, that my daughter announced to me that she was keeping them.   (I quickly explained that they were not mine for her to keep, but I digress...)
I then moved the speakers into my main theater, and was impressed with how well they filled the room.   These speakers obviously want some space, and by that I mean that they do not seem well suited to sit on your desk right in front of you.  Your mileage may vary, but I hated these speakers on my desk and loved them in a more traditional "bookshelf speaker" type setup.  Let me be clear - they sounded great in my big listening room!   I was shocked at how much power and volume they produced here (no wonder my daughter loved them!).

I spent an extended period in this room listening to my nano shuffle through a wide variety of music, and it was incredibly enjoyable.  The highs are really crispy and defined, while the bass was just shockingly big.   A hair boomy at times, overall it provided a really warm and full tone that filled the room with no problem.  I could totally see a dorm room or small apartment use an iPod, TV, and these speakers for a really satisfying and economical entertainment system.  I did find the axis of the tweeters to be a bit limited.  Move too far off axis, and the frequency response on the high end dropped off noticeably.
As for sonic highlights of my listening session, I found that the iN Studio 5.0 system provided an excellent rendering of Kathleen Edwards' airy, breathy vocals on the title cut from Asking for Flowers. 

Vocals again were the star in Patty Griffin's "I Don't Ever Give Up", with splendid detail and authenticity that I never get from iPod speaker systems that have come in for review.  Few can sell a song like Ms. Griffin, and she shines on this track from her recent release, Children Running Through.  


Easily my favorite record of the year, Consolers of the Lonely by The Raconteurs provided a nice test of some rock music with the title cut.  Be it the power chords, the tight vocal harmonies, or the rock solid groove of the drums, this track is just slammin'.  The speakers were borderline boomy on this track, with the bass not quite as tight as I would like.   Plenty of bass, but a tad loose for my taste. 

I could hear every bit of source recording noise in Kacy Crowley's "Kind of Perfect".  But I don't really consider this a negative - it is actually the kind of detail not always present in speakers of lesser quality.  The mid and upper end of this speaker is pretty revealing, lending a live feel to this song.  But here again, the sparse bass was a bit boomy on this poorly recorded track.
Conclusion
If you love you some bass, these are speakers for you.  They can fill a room with toasty warm tones, and will play very loud.  The highs are very crispy, especially if you are at ear level with the tweeters.  The iN Studio 5.0 speakers from Sierra Sound are filled with features and input options as well, and would work very well for someone who has a small apartment with a display and iPod, looking for a full and rich sound system to add to the equation.  They are a great addition to any room in the house where you want to add big sound, but don't want to set up a traditional stereo system. 

This was a tough review for me.  Overall, I really like these speakers.  But their strength can also be their problem - bass.  They are a remarkably big sounding speaker, and at times the bass is just a bit out of control.  I love bass, but as soon as a bass tone goes bad, it ruins the whole thing for me.  I found that the Sierra Sound system sounded really great once I brought it into my home, after struggling with it on my desk at the office.  The speakers are feature packed, well-built, and are remarkably robust.  Priced at $299, they also represent a great value for powered bookshelf speakers.

The Score Card
At Audioholics Gear Corner we give you a quick but comprehensive look at consumer electronics from several different categories. All products in the Gear Corner have been individually evaluated through hands-on testing by our reviewers in order to give you a quick but detailed overview that we hope will help you in your purchasing decisions.
| | | |
| --- | --- | --- |
| The Price: | Bargain | |
| | About right | |
| | Pricey | |
| | | |
| --- | --- | --- |
| Category: | Bookshelf | |
| | Tower/Floorstanding | |
| | 5.1 System | |
| | Subwoofer | |
| | PC/multimedia/cube | |
| | | |
| --- | --- | --- |
| Recommended For: | Acoustic/folk/bluegrass | |
| | Rock/country | |
| | Classical | |
| | Jazz | |
| | Home theater | |
| | | |
| --- | --- | --- |
| Styling: | Boring | |
| | Nothing special | |
| | Gorgeous | |
| | Unique | |
Confused about what AV Gear to buy or how to set it up? Join our Exclusive Audioholics E-Book Membership Program!