Impact Acoustics 6x2 Component Video Matrix Selector (Model# 40697)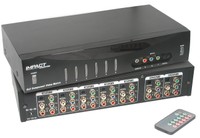 Impact Acoustics Model 40697
Summary
• Dimension: 13 ½" (L) X 7" (W) X 2 ¾" (H)
• Weight: 4lbs.
• Audio Input: 3Vp-p
• S/N Ratio: 65dB
• Audio Input Impedance: 10kO
• Note that unit does not convert L/R audio to TOSLINK or TOSLINK to L/R audio
• Video Component Input Impedance: 75O
• Video Bandwidth: [email protected]
Pros
Easy to set up
Easy to use
Priced right
Gear Corner Review
It seems that HDMI is all the rage these days.  Everything has HDMI - projectors, flat panel displays, DVD players, cable & satellite boxes, and don't forget the a/v receiver with HDMI switching.   But what about those of us with older technology?  I don't know about you, but I enjoy my high-def through good old-fashioned (and CHEAP) component cables!  My Sony projector does NOT have HDMI, so I am component all the way.  But a funny thing happened when I brought home my $98 HD-DVD player several weeks ago.  I realized I was out of component inputs on my Emotiva pre-amp/processor.  And I certainly did not want run another 25 ft. component cable to my projector.  It was time for a video switcher, and I knew that Impact Acoustics would have a solution for me.
A quick check of the Audioholics 2007 Consumer Excellence Award for Video Systems/Distribution revealed that solution to my problem would be the Model 40697 Impact Acoustics 6x2 Component Video Matrix Selector.   With it, I can run up to six inputs into a single component input on my pre/pro.  Not only that, the unit has a remote control to make switching easy.  I was convinced that this product would solve my problems.
Design & Features
The small rectangular box fits easily on top of your existing components, and is not quite as wide as the typical cable box or dvd player.  The dimensions are 13.5" W x 7" D x 2 3/4" H.  It weighs about 4 pounds and has a DC 12V input jack on the rear for the included power adapter.  The rear of the unit has 5 inputs and 2 outputs.  Each input/output includes a set of component video jacks, audio L/R jacks, and a TOSLINK optical audio jack.  They are all clearly labeled and spaced enough to make hookup a breeze.  There is an additional input (INPUT 6) on the front of the unit, which is really great for hooking up the occasional video camera or video game without having to climb behind your rack.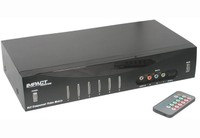 Also on the front panel is a mode button, that lets you select between inputs and outputs.  This button is illuminated, and the color designates which output you are controlling.  Each of the 6 input selection buttons are also illuminated for the same reason.  Finally, rounding out the front panel is the power button which turns the matrix switch on and off. 
Included with the 6x2 Component Video Matrix Selector is a slim little credit card style infrared remote that allows complete control of the switcher.  It features discrete commands which make programming macros into your universal remote very simple. 
Setup & Use
My Emotiva MMC-1 preamp/processor has 3 component inputs (DVD, SAT, VID 1).  I currently have them filled with my Rotel DVD player (DVD), my DirecTV Tivo receiver (SAT), and my Time-Warner HD DVR (VID 1).  My goal for this review was to add my new Toshiba HD-A2 HD-DVD player to the mix, as well as find a way for the kids to easily hook their X-Box (which normally lives upstairs in the playroom) into the system from time to time.  I also wanted to be able to re-program my Harmony 1000 universal remote control to handle the new gear without anyone in the family having to know how to operate (or even be aware of) the new video switcher. 
Although I could have routed all of my HD sources into the switcher and out to only one of the inputs on the Emotiva, I decided to keep things simple with my setup and to run Output 1 from the switcher to my DVD component input on the pre/pro, and leave my SAT and VID 1 inputs as is with the broadcast sources.  I hooked up my Rotel DVD player to INPUT 1 on the switcher, via component and TOSLINK connections, and hooked up my Toshiba HD-DVD player to INPUT 2 the same way.  I decided to hook the X-Box up to the front panel (INPUT 6), again using component video and TOSLINK for audio.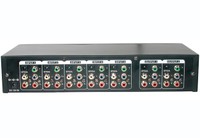 As you would hope with a product such as this, there is nothing complicated here - I just turned on the power, and pushed the button for INPUT 1, 2, or 6, and was able to watch whichever source I wanted without having to change the input on my pre/pro.  It was that simple.  But if you have a dual-output setup, the switcher is up to the task, allowing you to easily choose which source goes where.  You can send a different source to each of the two outputs, or the same source to both.  Controlling this is accomplished via a clever lighting system built in to the clear input buttons on the front panel.  The mode button and each of the input buttons have 3 colors that operate as follows:  Green will route the selected input to Output 1.  Red will route the selected input to Output 2.  Orange will route the selected input to both outputs.  Similarly, the remote is color coded (although not illuminated).  There is a green line of six numbered input buttons, and a red line of six input buttons.  Pushing the appropriate button (number) will route the chosen source to  Output 1 or 2 accordingly.  
The remote is a great feature, and should not be understated.  The discrete on and off buttons, for example, allow for easy setup of a macro on your universal remote (as I mentioned above).  Further, I easily found the unit's codes when setting up my Harmony remote for the new configuration, and I had no problems once I had updated the programming.  I simply added both the HD-DVD player and the Impact Acoustics video switcher to my "devices," and created a one-button macro for "Watch a HD-DVD."  I then updated the macro I already had for "Watch a DVD" to include powering on the video switcher and selecting INPUT 1, and that was that.
Conclusion
The 6x2 Component Video Matrix Selector (Model# 40697) is another excellent "solution" product from Impact Acoustics.  These guys make rock-solid products that are priced fairly and work very well.  The video switcher looks good, is very easy to set up and operate, and works exactly as it should.  Keep in mind that my review setup does not show off the full capabilities of this product.  If you have high-def displays in both your bedroom and den, for example, you could use the switcher to route different video to both.  The kids could be playing with their new Nintendo Wii in the den, and you could send your HD-DVD player video to your bedroom.  So this is an incredibly versatile unit that can be used in several different applications.  At $179.99, it is a great deal no matter how simple or complex your setup.
The Score Card
At Audioholics Gear Corner we give you a quick but comprehensive look at consumer electronics from several different categories. All products in the Gear Corner have been individually evaluated through hands-on testing by our reviewers in order to give you a quick but detailed overview that we hope will help you in your purchasing decisions.
| | | |
| --- | --- | --- |
| The Price: | Bargain | |
| | About right | |
| | Pricey | |
| | | |
| --- | --- | --- |
| Recommended For: | Acoustic/folk/bluegrass | |
| | Rock/country | |
| | Classical | |
| | Jazz | |
| | Home theater | |
| | | |
| --- | --- | --- |
| With This Gadget, You Will Be the Envy of: | Anyone who sees it | |
| | Your IT guy from work | |
| | Your buddies | |
| | The soccer mom down the street | |
| | | |
| --- | --- | --- |
| Build Quality: | Flimsy | |
| | Poor | |
| | Rock-solid | |
| | Average | |
| | Furniture-grade | |
Confused about what AV Gear to buy or how to set it up? Join our Exclusive Audioholics E-Book Membership Program!