2007 Consumer Excellence Award Winners
2007 Consumer Excellence Award Winners
2007 Consumer Excellence Awards
The consumer electronics industry is awash with an influx of new products. Each year it seems that every manufacturer is on a quest to outdo all others in a race to integrate more features and advanced technologies into their products. The prestigious Consumer Excellence (CE) Awards program recognizes the most advanced and forward-thinking products in crucial CE categories. Awards are given to products which serve consumers directly and also those products which serve to improve the business and success of the custom installer. The CE Awards is a clear benchmark award for the products which will make an impact in the coming year.
Category: Accessories
Accessories > Remote Controls

Company: Niles Audio Corporation
Product: iRemote TS Control Remote
MSRP: $1,299.95
www.nilesaudio.com
Niles' iRemote TS is an easy to use system control remote with color touch screen. The iRemote TS is an elegant user interface which will operate the award-winning IntelliControl® ICS whole house distributed audio/video system and automate sophisticated home theater systems. It employs ultra-reliable ZigBee® 2-way wireless technology to provide users with all the necessary metadata to scan, select and play program material from menu-based digital sources, like the iPods®, music servers, HD Radio™, XM® and Sirius® satellite radio, from their whole house audio/video system.
Accessories > Power Conditioners w/UPS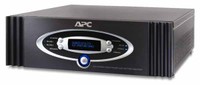 Company: American Power Conversion (APC)
Product: S20 Power Conditioner / UPS
MSRP: $1,999
www.apcc.com
The APC AV S20 Power Conditioner with Battery Backup (S20BLK) is the world's first high performance audio-video power conditioner with battery backup that can be monitored and managed via a web browser or serial port. Designed for the custom design and installation market, this 1250 watt unit provides surge protection, isolated noise filtering, voltage regulation and pure sine wave battery backup for high performance audio-video systems. The S20's built-in web server and RS-232 serial port provide installers multiple ways to control and monitor the unit and the components plugged into it.
Accessories > Power Conditioners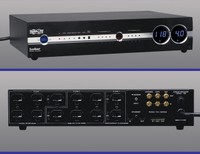 Company: Tripp Lite
Product: HT7300PC Isobar
MSRP: $499.95
www.tripplite.com
The HT7300PC Isobar Audio/Video Power Conditioning Center protects audio/video systems and enhances home theater equipment performance and lifespan. With a 5700-joule surge protection rating, the HT7300PC safeguards connected A/V components from damage due to power surges and spikes on the AC, phone/modem, Ethernet and coaxial lines. It filters disruptive EMI/RFI line noise for crisper video and fuller audio. Four sequenced, IR-controllable AC outlets allow sensitive equipment to power up and down in an orderly way, assuring safe 'soft starts' and shutdowns. Tripp Lite also provides $150,000 lifetime insurance for all connected components.
Category: AV Distribution

AV Distribution > Signal Distribution Products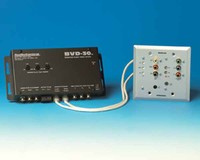 Company: AudioControl
Product: BVD-30/BVR-30 Active Balun
MSRP: $750
www.audiocontrol.com
The BVD-30 and BVR-30 use AudioControl's Active Balanced Technology to send HD video (1080 capable), 3 channels of audio, and control signals over 1000 feet of Cat-5 without signal loss, degradation, or interference. This allows you to separate your components from your display device. You can even hide the cable box for the bedroom TV in the basement!
AV Distribution > Splitters & Switches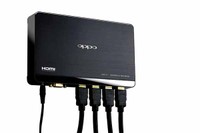 Company: OPPO Digital, Inc.
Product: HM-31 HDMI Switcher
MSRP: $99
www.oppodigital.com
The three input ports of HM-31 are prioritized. The OPPO HM-31 automatically selects a high priority port when the device connected to that port is turned on. The OPPO HM-31 is also designed with custom installation in mind. It features a RS-232C remote control port and an external IR input port. Custom installers can easily integrate the HM-31 into their integrated home theater control systems. In addition to table-top positioning, the HM-31 can be wall-mounted or hidden behind other equipments.
Finalist: MonoPrice HDX-402 4x2 Matrix HDMI Switcher

AV Distribution > Audio Systems/Distribution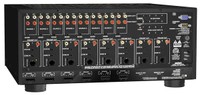 Company: Xantech Corp
Product: MRAUDIO8X8CTL 8-Source/Zone DA
MSRP: $3200
www.xantech.com
The MRAUDIO8X8CTL is an eight-source, eight-zone audio distribution amplifier that allows the control and distribution of eight separate source components to eight different zones (six with built-in amplification of 35W/channel), with the capacity to expand to up to sixteen zones of control and distribution. It allows control of source components through both bidirectional RS-232 and IR.
AV Distribution > Video Systems/Distribution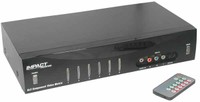 Company: Impact Acoustics
Product: 6x2 Component Video Matrix Switch
MSRP: $179.99
www.impactacoustics.com
This HDTV selector allows simultaneous routing of any of six source devices to two separate TV/monitors or one source to two TV/monitors. With this device a user can connect all of their HDTV products at once. This switch offers six component video, stereo audio and optical digital audio TOSlink inputs. It switches all of these inputs to either of two outputs, with audio following video. An included remote or front panel buttons can be used to select the picture displayed on either of two plasma, CRT, LCD or projection televisions with complete independence.
AV Distribution > Wireless AV Systems/Distribution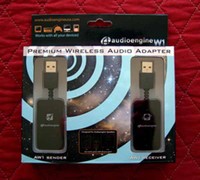 Company: AudioEngine Corp
Product: W1/AW1 Wireless System
MSRP: $149
www.audioengineusa.com
The Audioengine W1 (AW1) provides premium wireless transmission for all your music. Transfer music wirelessly from any audio device or computer to your Audioengine powered speakers or stereo receiver. The AW1 system consists of 2 parts, the "sender" (transmitter) which plugs into the headphone/line-out jack on your laptop or digital audio player and the "receiver" which plugs into the input on your powered speakers or stereo receiver. Full 48KHz PCM digital stereo support is provided and this is a USB bus-powered and USB audio device.
AV Distribution > Home Control Remote Systems


Company: Control4
Product: C4-HC300-E-B Home Controller
MSRP: $699
www.control4.com
The Control4® Home Controller HC-300 is the central building block for a smart home, making it easy for anyone to add intelligent control to a home at a truly affordable price. An HC-300 replaces on average more than four traditional remotes and delivers easy navigation and operation through a single universal Control4 system remote control. It offers multiple infrared and serial connections and video sensing for easy home theater integration. Supporting Ethernet, WiFi, and ZigBee mesh networking and expansion through two standard USB 2.0 ports, the Home Controller HC-300 is capable of controlling multi-room music, smart lighting, advanced temperature control, security, and many other home automation sub-systems, all with the same remote.
AV Distribution > Whole House AV Systems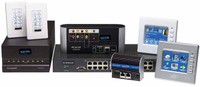 Company: Netstreams LLC
Product: DigiLinX
MSRP: $8500
www.netstreams.com
DigiLinX IP-Based Multi-Room Audio/Video Solution is the first and only system in the world that can distribute multiple streams of uncompressed high definition video and/or audio over CAT5e, while providing synchronized delivery of multiple streams to all points on the network. DigiLinX can also convert audio or video from analog or digital sources (tuner, CD player, etc.) into "packeted" network streams in real-time. To distribute uncompressed video in real time over a gigabit TCP/IP network, NetStreams incorporates PerfectPixel technology, which provides 100% accurate picture replication; while its patent-pending StreamNet technology ensures the reliable transmission of synchronized audio, video and control packets across the network.
Confused about what AV Gear to buy or how to set it up? Join our Exclusive Audioholics E-Book Membership Program!