Holiday Sales Frenzy - HD-DVD Players as low as $99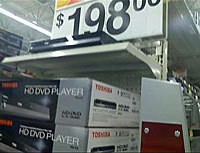 Retailers begin fight for holiday dollars
Wal-Mart kicks off HD price wars before Black Friday
Over the last week or so, reports that Wal-Mart was stocking the Toshiba HD-A2 just below the sub $200 mark tricked in, spurred by blurry photos of said stock in various A/V forums.  More recently, Wal-Mart has confirmed the rumors for the November 2 price drop, but the rumors have spurred action from other retailers as well.
High Def Digest: Wal-Mart Stocks Sub-$200 HD DVD Player
High Def Digest: Circuit City, Amazon Join $198 HD DVD Player Club (UPDATED)
Daily Tech: Why Wait for Wal-Mart; Circuit City Lists Toshiba HD DVD Player for $197.99
Circuit City and Amazon.com, looking to get the jump on Wal-Mart, lowered their asking price for the HD-A2 price before the Wal-Mart price was to take effect.  As the actual holiday season draws near, more retailers may begin to move on price, and some retailers may potentially introduce further reductions, in fact, it appears already to be happening:
DVD Town: Wal-Mart HD-DVD TV ad and $ 98.87 player
Wal-Mart: Secret in Store Specials
Not to be outdone, Wal-Mart is now offering a Friday only special with the HD-A2 for only $98.87, so for those who can wait and can make it to the Friday sale, an HD-DVD player can be had for not much more than all but the cheapest crap DVD players.  Toshiba is still offering five free HD-DVDs on HD-DVD player purchases through February 28, 2008 and the $98 player qualifies.
But now Sears is entering the fray:
DVD Town: Toshiba A3 HD-DVD Player with 7 Movies: $169.99
Sears is offering the third generation replacement for the HD-A2, the HD-A3, for $170 on Black Friday.  The third generation player also offers the on going five free HD-DVDs with purchase but also includes 300 and Bourne Identity packaged with the player for a total of seven movies.  Sears' offer may not be the lowest player price, but for consumers who would prefer the latest player generation, the extra cost is offset by the additional software.
With Sear now intertwined with K-Mart as Sears Holdings, this is an interesting development when coupled with recent announcements that K-Mart is not going to continue carrying Blu-ray players due to price.
Beta News: Kmart Dumps Blu-ray Due to Price
High Def Digest: Kmart Goes HD DVD; Toshiba Says Recent Price Cuts Retail-Driven
Toshiba says that the retailers have initiated the recent price activity and that the MSRP, which strongly implies the wholesale price that retailers pay, remains unchanged.
It will be interesting to see what sub $200 Toshiba players mean to the Chinese made Venturer HD-DVD player originally anticipated to be the first $200 HD-DVD player, which has not even hit store shelves yet.  Second tier manufacturers are going to have to limbo lower still.  Perhaps before the holiday dust settles, we may see players with MSRPs of $150 or lower.
The HD-A2 and HD-A3 are the entry level HD-DVD players offered by Toshiba and both support full interactivity and picture in picture features via HDi, Ethernet Internet connectivity to download additional movie special features and to simplify firmware updates, and support 720p/1080i resolutions.
Some general criticism has been made of this player models for not supporting 1080p resolution that is available on the latest, higher end HDTVs, but it is really a moot point on several levels.
The majority of retailers who are engaged in the HD-A2 price war typically cater to more mainstream consumers to whom they sell 720p/1080i HDTVs.  Every HD-DVD release to date has been at 1080p resolution, so for consumers who have 1080p capability but have been staying out of the war for cost, a good 1080p HDTV or scalar will more than adequately deinterlace 1080i.  There is no loss of detail or any sort of down resolution from 1080p to 1080i, all the 1080p detail is still there, the picture simply needs to be reassembled.
At these prices, the HD-A2 is competitive with many upscaling SD DVD players.  Consider that the HD-A2 is actually a good upscaling DVD player with HD-DVD capability to boot.
Audioholics: Toshiba HD-A2 HD DVD Player Review
The reality is that at present, both HD optical disc formats represent miniscule sales when compared to SD DVD as is the installed base of compatible players.  If either of these formats are to survive and become established before the next big innovation comes along, someone is going to have to sell hardware and software for these formats at prices that mainstream consumers won't balk at.  This is how a product becomes mainstream: when the majority of consumers consider the product to be worth buying for the asking price.
Competition is good.