Are You Buying an HD-DVD Player This Christmas?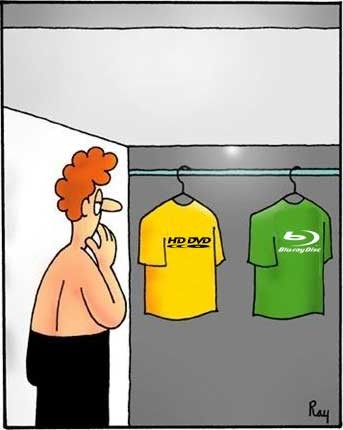 Decisions... Decisions... Decisions...
There are a myriad of news articles around the web pontificating upon the possibility of additional price drops and a dominant victor in the high definition DVD (HD-DVD) format war come Christmas. At Audioholics, it's our opinion that it's just business as usual and there will be no clearly defined winner. But with that said, it's you - the consumer - who will help determine the truth.
So we've set up our own little poll to gauge interest in new HD-DVD purchases this Christmas. We'd like you to participate.

What we're interested in are people who do not already have an HD DVD or Blu-ray player. These are people who are either not interested, or who are salaciously drooling over the prospect of making a purchase around Christmas time.

We want to know if you're waiting it out, hoping the format war eventually picks a clear winner, or if you've already made up your mind and are simply biding your time until Christmas when you will take your shot and select your own winner.
There are numerous factors in the decision-making process, and we're aware of all of them. For example:
Paramount and Dreamworks Animation signed an exclusivity deal to release their titles on HD DVD and not Blu-ray (at least not here in the states). Tilt: HD DVD
Warner Bros maintained its position that it will continue to be format-neutral and support both HD DVD and Blu-ray discs in the near future. This despite an apparent (though denied) attempt by Paramount to get them to HD DVD-exclusivity. If you remember, Warner was initially HD DVD camp until it decided to manufacturer Blu-ray Discs as well. Tilt: Blu-ray

Target (Tar-zhay) announced earlier this year that it would carry standalone Blu-ray players, but that was quickly squashed by the HD DVD Group who claimed this was merely an end-cap deal that amounted to an exclusive advertising package. Tilt: Blu-ray

Both camps went on a one-upsmanship campaign to give away tons of discs with new players. This deal applied to PS3 as well. The Blu-ray Disc Association offered 5 free discs while Toshiba countered (via Amazon.com) with 8 free discs. Panasonic jumped in with 5 additional discs... you get the idea. Tilt: Both

Both the Xbox 360 and PS3 underwent price reductions and feature enhancements to further entice users to grab on to the new formats. The Xbox 360 finally added a digital HDMI output and the PS3 dropped down to a more "attainable" $499. Further price reductions by both are speculative but hopeful around November. Tilt: Both
Venturer, a Canadian company known for its low-priced electronics, has announced it will release n HD DVD player in time for Christmas that will be priced "even cheaper than Toshiba's current low-priced HD-A2, which sells for around $250." This may or may not be the "cheap Chinese player" rumored about earlier this year. Tilt: HD DVD

Who will win the format war? We know but if we told you, you wouldn't believe us. Actually, we have told you and most people still don't believe us. In either case, we're interested in your purchasing plans this Christmas. Tell us what you're going to do and help us write our next editorial about the real winner this holiday buying season.