Denon AH-C551K In-Ear Headphones Review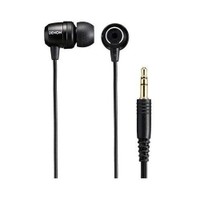 Denon SH-C551K earphones
Earpiece Type:  Binaural

Diaphragms:  11mm

Input impedance: 16 ohms

Sensitivity: 104dB

Frequency range: 15Hz ~ 24kHz

Connector:  1/8" Gold-plated aluminum

Weight:  0.19 oz

Standard Warranty:  1 Year Limited

In the box:
    •    3 sizes of earpads
    •    Hard shell carrying case
    •    Extension cable with L-Plug connector   

Pros
Amazing bass
Great value (street price)
Denon quality
Cons
Standard plug does not fit iPhone jack
Do not stay in (some) ears very well
Short cable too short, extension cable too long
Gear Corner Review
The Denon AH-C551K represents the middle of the pack of Denon's recently introduced line of in-ear headphones.  Denon brings their reputation for high fidelity to the table with these in-ears that feature an 11 mm Nedodymium magnet driver that provides fantastic bass response.  While they sound great, the fit will depend on how well you tolerate earbud-type headphones.
Design & Features
The AH-C551K earbuds sport a Canal-type design (said to minimize sound leakage) that uses barrel-shaped rubber pads for a "custom" fit.   Denon includes 3 different sized pairs of these pads that will, in theory, allow you to find that perfect fit for your ears.  As I have stated many times before, I must not have normal ears, because I could not find a comfortable fit - but more on that later. 

The Denon's are meticulously packaged, and in the box you will find the earbuds themselves, which come with a 20" attached cable, along with an extension cable that extends the length by 31".  Unless you are using your iPod in an armband holder or have a shuffle clipped to your collar, the standard length will probably be too short.  With the extension cable, I found the length to be too long.  Also included is a small, oval shaped semi-rigid case finished in black microfiber, with a full wraparound zipper.   It is very compact, easy to carry in a pocket or store in your backpack's iPod pocket.
The earpieces are made of machined aluminum, and have an open port that helps to adjust the sound pressure balance in front of and behind the diaphragm.  They are very solid, and the aluminum makes them impervious to cracking under normal use.  As is usually the case, the build quality is impressive and what you have come to expect from Denon. 

Getting back to the subject of comfort, I am admitting to you that I do not find any earbuds comfortable.  Nor do they usually fit my ears properly - I usually end up with sore ears or earbuds that just will not stay seated in my ears.  With the Denon's, I experienced the latter.  I tried all of the included sizes of rubber pads, and eventually landed on the smalls, but they just would not stay in my ears.  On a short 2 mile jog, they fell out of my ears seven times (I counted).  For me, this is unacceptable and unusable.  Many people have good luck with earbuds, and if you are one of those people than you will likely be able to find a good fit, which should result in a good seal.  But if you are someone who struggles with earbuds, I suggest you look for earmolds or what I would term ear-plug type in-ear headphones.  While they do not achieve total isolation, they do a decent job - considerably better than stock earbuds.
Listening Impressions
The key to a great experience with the AH-C551K's is getting a good seal in your ear.  Once properly seated and sealed in your ear canal, I was able to experience impressive bass response and good detail in the music.  There is no question that it doesn't take much to improve upon Apple's lousy stock earbuds, but the Denon's have sound quality that clearly puts it in a category of earphones costing $100 and up. 


My initial listen (Tennessee, by The Wreckers) was shocking in the amount of bass these earphones delivered.  So much, in fact, that I went to check the EQ on my Nano.  I had selected the "rock" setting, so I turned the iPod's EQ off.   MUCH better.   Bass was still very pronounced, but much more balanced and appealing to my ears.
Denon's "Acoustic Optimizer" makes use of an open port behind the diaphragm, which results in cleaner bass response - and it obviously works.  One of my favorite young bands is Eisley, and the Denon earphones did their Combinations record justice, especially on the title track that utilizes a dreamy sounding Marxophone.  Stacy and Sherri DuPree's haunting vocals are reproduced well on the Denon's, and the airy harmonies sounded amazing.  Ten Cent Blues opens with a killer guitar riff and tight kick drum groove that was tight and smooth.  Once again, I was amazed at the thick bass that was achieved once the earbuds were sealed in my ears. 

There was an incredible snap to the snare drum in Jonatha Brooke's Steady Pull (from the album of the same name).   I really liked the balance of the AH-C551's on this material.   The high end was a tad crunchy, but not so much that it distracts from the music.  Throughout the song I could hear incredible isolation of the many different vocal and instrumental tracks - everything stayed where it belonged in the mix, which is exactly what I look for in a pair of speakers or headphones.   There was plenty of volume - I was able to get it as loud as was comfortable, and still had some headroom.  

Conclusion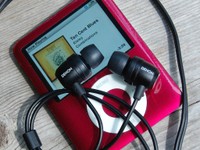 My wife loves these earbuds - they fit her ears, and even though she is not what I would call an audiophile by any stretch, she says that they are a HUGE improvement over her stock earbuds.  (In fact, she wants me to purchase her a pair of the Denon's)  My daughter and I must share the same ear structure, as neither of us can achieve a great fit.   I love the sound/price value of the AH-C551K's because for the money, they sound great.  I have not heard such clean bass response from many earbuds at this price point.
Denon makes quality products, and the AH-C551K in-ear headphones are indeed a quality product that is very well made, and sounds good.  But this is dependent on fit, and your mileage may very.  They do not fit me well.   I have had much better luck with other brands.  If they do fit your ears, you will be rewarded with a very musical experience for your money.  A quick check of street pricing found these earbuds for as low as $60 or less, which is a very good deal.

The Score Card
At Audioholics Gear Corner we give you a quick but comprehensive look at consumer electronics from several different categories. All products in the Gear Corner have been individually evaluated through hands-on testing by our reviewers in order to give you a quick but detailed overview that we hope will help you in your purchasing decisions.
| | | |
| --- | --- | --- |
| The Price: | Bargain | |
| | About right | |
| | Pricey | |
Confused about what AV Gear to buy or how to set it up? Join our Exclusive Audioholics E-Book Membership Program!