Creative GigaWorks T40 Speaker System Review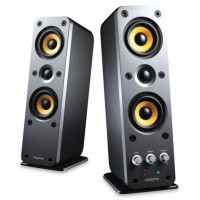 Creative GigaWorks T40 Speaker System
Summary
Power: 14 Watts RMS per channel (2 channels)
Frequency Response: 50Hz ~ 20kHz
Dimensions: 10.4 x 6.1 x 12.9 inches
Warranty: 12 month limited
Box Contents:
2 speakers
Stereo-to-stereo audio cable (2m)
Dual RCA-to-stereo adapter (TV adapter)
Power supply adapter • Quick Start leaflet
Warranty and Technical Support leaflet
Pros
excellent highs and midrange performance
very cool looking desktop speakers
small footprint
Cons
small drivers limit bass response
does not play as loud as some systems
low level from the headphone jack
Gear Corner Review
The Creative GigaWorks T40 speaker system is a great solution for people looking for an upgrade to the lousy stock speakers that came with their PC.  With a street price of around $125 in many places, the GigaWorks T40 speakers deliver great sound without taking up too much space on your desktop.
Design & Features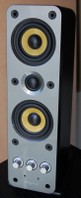 Creative has designed a very good-looking computer speaker in the T40's.  They are tall and lean, and have a decidedly audiophile vibe with their MTM (midrange-tweeter-midrange) design, especially with the grills removed.  The dual woven glass fiber cones have a decidedly high-end look, with the golden cone and black dust caps and rubber surrounds.  The cloth dome tweeter in between the drivers is also black.  I highly recommend you remove the grills.  Doing so changes the look dramatically.  With the black cloth grills in place, the T40's look like a larger version of the cheap stock speakers that came with your Dell or HP computer.  But remove the grills and you have a pretty cool looking set of speakers flanking your monitor.
The cabinets are black plastic, with a platinum-grey front faceplate.  They are swept back, which angles the drivers towards to your ears, no to mention adding a pleasing aesthetic.  The cabinets are ported on the tops, with Creative's BasXPort, which is acoustically engineered to enhance the bass, making up for the lack of a subwoofer.  That is a huge difference in this system and many other computer speaker systems on the market - no subwoofer.  This is not a satellite system, but rather a pair of (powered) full range speakers.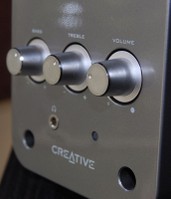 The right channel speaker houses the 14-wattt RMS per channel stereo amplifier, and on the front panel you will find three chrome finished dials that control bass, treble and volume.  The knobs are fairly sturdy, with just the slightest bit of drag that allows for easy and precise adjustments.  Below the dials is a headphone jack and a blue power indicator lamp.
On the rear of the right channel speaker you will find the power on/off switch, stereo mini-jack for Audio Input, a docking station jack (Creative offers a docking station for iPods, sold separately), an RCA left speaker output, and the DC power input jack.  The rear of the left speaker has a fixed 6 foot cable that is terminated with an RCA connector.
Out of the box, each speaker has a base plate that connects via an included screw.  There is also an adapter included that takes a right and left RCA cable down to a stereo mini-jack, which is designed for people wanting to hook the speakers up to a TV with stereo outputs.  Plug the included power supply into the wall, turn the power on after plugging up your source and you are ready to go.  Creative offers a docking station (sold separately) for iPods.
Listening Impressions

I used the T40's for a couple of weeks on my desktop, trying out a variety of source material.  From my computer I listened to music through iTunes, I streamed the AV Rant podcast from the net, and also listened to internet radio via slacker.com.  I found the sound to be very good for a pair of standalone speakers.  When I compared it to a competitor's satellite/sub system, I could hear the lack of bottom end, but felt that the mids and highs were better on the GIgaWorks T40 system.  They provided plenty of warmth at modest levels, and will provide a very nice desktop listening experience for most users.
Creative markets these speakers for not only use with a PC, but also with flat-panel displays.  I set them up in my home, both in my kitchen and in my theater room.  In my opinion, they are not well-suited to a larger room.  You will get excellent results on your desktop when you are sitting in front of them, but the quality degrades considerably when you move them into a bigger space.  They are limited by their size, and just cannot fill a medium to large room with quality sound, which is understandable considering the 2.5" drivers and no subwoofer.
While tuned in to the adult alternative station at slacker.com, I listened to You Can Call Me Al by Paul Simon.  The bass line was tight and bouncy, while the bongos and congas were pretty snappy. I was able to play it pretty loud without any distortion.  Next up was Stay Up Late by the Talking Heads.   What a great song - I had not heard it in a long time.   It sounded very punchy, and the shaker had amazing presence.  Well recorded songs such as this sounded great at my desk, and since it was after hours and everyone had left my office, I was able to really crank this one up.  It was a really enjoyable experience, with excellent reproduction of the mids & highs.  I was very pleasantly surprised with the soundstage created by the T40's on great recordings, even through streaming internet radio.

Moving to my iTunes library, I was really impressed at how well they held up on a few cuts from the new Rush record - Snakes & Arrows Live.  During both "Way The Wind Blows" & "Malignant Narcissism/De Slagwerker", the T40 system provided a pleasing balance while reproducing Neil Peart's ride cymbal work as well as the attack on his toms and kick drum in his solo piece.
Since I was in a bit of classic rock mode, I jumped over to Sheryl Crow's 2002 nod to classic rock, C'Mon C'Mon and listened to You're an Original.  She and Lenny Kravitz team up to throw down a trashy guitar groove and hooky chorus.  This tune was a bit brash sounding, and would have benefitted from a subwoofer.
Wow - isn't that a bit strange?  I just actually complained about a speaker system designed primarily for use on your desktop with your computer, and suggested it could use a subwoofer...  But welcome to the future, where many of us do quite a bit, if not most of our listening at a desk in front of a computer!
The speakers performed similarly when used with my iPod.  I was also able to plug in a pair of headphones using the front panel jack on the right speaker, but found the level very low - in fact, much lower than the level of the speakers themselves.  I tried plugging my headphones directly into the computer and had plenty of volume, but not so when I used the GigaWorks headphone jack.
Conclusion
Overall I really liked these speakers.  For the money I would like to see a little better low end, but with the slim design of the cabinet and the 2.5" drivers, it just ain't gonna happen.  I think this also limits how loud the system will play (although with co-workers, you will probably not be able to play these as loud as they are capable).  It would be nice to see this speaker system priced under $100, but I don't necessarily feel the system is overpriced.
If you are looking for an upgrade to your desktop workspace audio, the Creative GigaWorks T40 speaker system is an excellent choice.  When shopping for speakers in this price range, be aware that you can find 2.1 (satellite speakers + a subwoofer) stereo speakers that will equal or surpass the T40 system for about the same price.  But many people I talk to do not want or do not have the space for a separate subwoofer, and want a decent sounding pair of desktop speakers, the GigaWorks T40 will be the perfect fit.
For more information visit:  us.creative.com
The Score Card
At Audioholics Gear Corner we give you a quick but comprehensive look at consumer electronics from several different categories. All products in the Gear Corner have been individually evaluated through hands-on testing by our reviewers in order to give you a quick but detailed overview that we hope will help you in your purchasing decisions.
| | | |
| --- | --- | --- |
| The Price: | Bargain | |
| | About right | |
| | Pricey | |
| | | |
| --- | --- | --- |
| Category: | Bookshelf | |
| | Tower/Floorstanding | |
| | 5.1 System | |
| | Subwoofer | |
| | PC/multimedia/cube | |
| | | |
| --- | --- | --- |
| Recommended For: | Acoustic/folk/bluegrass | |
| | Rock/country | |
| | Classical | |
| | Jazz | |
| | Home theater | |
| | | |
| --- | --- | --- |
| Styling: | Boring | |
| | Nothing special | |
| | Gorgeous | |
| | Unique | |
Confused about what AV Gear to buy or how to set it up? Join our Exclusive Audioholics E-Book Membership Program!