Monster's The Beats by Dr. Dre Headphones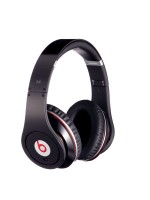 The Beats by Dr. Dre
Summary
Product Name: The Beats by Dr. Dre
Manufacturer: Monster
Review Date: October 12, 2008 17:12
MSRP: $ 349.95
Specifications
Weight: 260 grams
Frequency response: 20Hz to 20kHz
Maximum output: 115dB
Requires two AAA batteries (included)
Headphone cable length: 1.3 meters
In The Box

Monster Cable headphone cable
Monster iSoniTalk™ iPhone enabled headphone cable
Rigid Tour case
Anti-Microbial Cleaning cloth
1/8 to 1/4" Adapter
Two AAA batteries
One Year Limited Warranty
Pros
noise-cancelling
rich sound
very comfortable
Cons
can't be used without batteries
sound leakage issues
noisy isolation circuit
Gear Corner Review
Monster is known for doing things big.  Love 'em or hate 'em, they don't mess around when it comes to their product line.  Think big and bold, not to mention pricey, and you get the idea.  They like to make a statement with their products and company image.  The Beats by Dr. Dre headphones from Monster claim to be designed for today's digital music.  And you know that product with Grammy Award- winning artist and producer Dr. Dre should handle Hip Hop and R&B with aplomb.  These headphones make a statement with their styling, features, and Monster price tag.

The Beats by Dr. Dre are a product that will undoubtably have mixed reviews.  The combination of styling, design, sound quality and price of these headphones contributes to a product that some people will love, and others will hate.  The Beats carry a MSRP of $349.95 and provide plenty of bang for your buck if the styling, features and sonic signature fits your needs. 

Monster set out to create a reference headphone that would provide a full, studio experience that is impossible with today's cheap earbuds that so many people seem to settle for with their digital music.  Dr. Dre partnered with the Monster design team to engineer a headphone that can handle the bass and dynamics that artists and producers work so hard in the studio to capture on their recordings.  In addition, Monster added a powered isolation technology to actively reduce environmental noise. 

Design & Features
The Beats by Dr. Dre are full sized, over the ear-style headphones.  They include an Active Noise Reduction circuit that provides as much as -14dB isolation.  The headphones ship with two removable 1.3 meter cables - both a standard (red) cable and a special (black) iSoniTalk cable with a built-in answer button and microphone for iPhone, Blackberry, and other music-enabled phones.  Also included is a large hardshell touring case with an interior pouch to hold the provided airplane audio adapter and Monster 1/8" to 1/4" adapter with 24k gold contacts.  Plus, you get a nice cloth to keep the glossy finish on the Beats smudge free - but it's not just any cloth, it's a Monster Clean Cloth with Aegis Microbe Shield!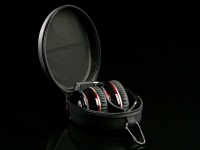 Taking a cue from Apple, Monster has spared no expense in the elaborate packaging, which makes for tons of fun unboxing.  There is a sturdy, matte black finished outer slip cover for the actual box, which is sturdy bright red cardboard that opens like a book, with the Beats in their touring case on the right, and the cables, adapters and instruction booklet and cleaning cloth under a flap on the left. 

The black touring case is a zippered clamshell design, shaped like a big oval.  The headphones fold above each ear, allowing for a nice snug fit in the case.  The case has a black carabiner attached to the top via a cloth loop, I guess so you can clip it to your belt as you walk down the street.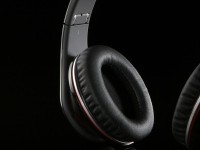 The Beats themselves are primarily black, with soft, plush black ear cushions that are said to be breathable.  There are silver and red highlights around the earpieces, and a "b" silver and red logo about the size of a quarter on each ear.  On the right earpiece, this logo doubles as a mute button so can easily listen to what's going on around you without removing the headphones.  It only mutes while you have it pressed in - it is not a mute on/off button, which seems a little odd to me.  I think it would be weird to stand there talking to someone with your hand on your ear ("ladies and gentlemen, this just in...").  Just below this button is a tiny on-off switch that glows red when the Beats are powered on.  The cord jack is located on the bottom of the left earpiece.  Twisting the outer panel of the left earpiece reveals the battery compartment, which requires 2 AAA batteries (included). 

The build quality is solid, and is what I would expect from Monster.  The 40 mm drivers are (of course) wired with Monster Cable, and both included cables are also high-quality Monsters.  They are considerably more substantial than comparable headphone cables, and are quite flexible.  The skinny plugs at each end are compatible with first-gen iPhones. 

I found the Beats to be very comfortable for a full-sized headphone.  They weigh 270 grams with batteries (about 9.5 oz), and did not slide around on my head (as long as I didn't begin to bang my head).  At just over 4ft, the cables seemed just about right too.  The headband is an inch and a quarter thick, and has good cushioning.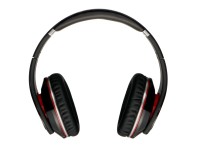 One immediate negative I found with the Beats is that you must power them on in order to listen to them.  Some noise-cancelling headphones still work even with the circuit turned off, but the Beats do not.  So before I even began listening to them, I put them on without even plugging in a cable and turned them on.  While I was met with effective noise-cancelling, I was also met with a slight hiss, and even worse, that annoying buzz that you get when you have your wireless phone too close to your desktop speakers.  Of course, if I moved away from my iPhone, this problem went away, but most of the time my iPhone is on my desk or on the couch next to me.  While the cell phone noise is a problem with most any active speaker product, the hiss from the active noise reduction circuit was troubling, and immediately landed on my CONS list for the Beats.  In a headphone this expensive, I do not want hiss added to my music.  While this might be a by-product of the noise reduction technology, I would prefer to have the option to turn it off for a clean musical signal. 

Another problem with the Beats is the amount of leakage for those around you.  One night while sitting on the couch with my wife, I was testing the Beats with a variety of material.  Dina couldn't believe how loud the music was for her, sitting at the other end of the couch.  While the Beats isolate noise from outside coming in, they do not do any favors for those sitting around you who might not want to hear Wolfmother on a redeye.   

Listening Impressions
The Beats by Dr. Dre provide a lush, rich listening experience.  It should come as no surprise that headphones with Dr. Dre's name on it have a big and beefy bottom end.  The bass is huge.  Hip hop and rap music (yes, I subjected myself to some rap in the name of....something - reviewing?) had a springy, deep bass line that reminded me of that sound you hear when some kid in a tuner pulls up next to and your windows start rattling.  

Even though the bass is pronounced (and maybe even exaggerated), I enjoyed the sweetened sound of the Beats.  The highs and mids are crispy and detailed, and the sound is big.  Although I usually do not like speakers or headphones that color the sound of music, I really enjoyed listening to the Beats.  They certainly have a sonic signature and do not provide what I consider a raw sound or neutral sound, but rather they subtly enhance music in a way that I found appealing.
The Band of Heathens


Going decidedly against the grain, I started off listening to a new record I recently picked up, The Band of Heathens.  I can't even remember how I heard about these guys, but it ended up in my Amazon wish list and as a result was given to me for my birthday.  Apparently these guys formed in Austin over the past few years and have gained quite a following.  The band features three front men, each of whom sings, writes and plays guitar.  Their bio classifies them as  country-soul-rock-and-roll, but I would call them Americana (which, I guess, is country-soul-rock-and-roll).
The record is filled with quality songs and musicianship.  Patty Griffin lends her gorgeous vocal to the Heathens on a few tracks, and 40 Days is one of my favorites.  It starts with a nice acoustic guitar and builds with warm vocals & bass that anchor the song, providing an incredibly full and balanced soundstage.  The Beats immersed me in the sonic landscape of the song, allowing me to get lost in the lyric while enjoying the tasty guitar and dobro licks.
Maple Tears is a bit more uptempo, with plenty of slide guitar, and a twangy chorus of male and female (again, Patty Griffin) vocals that presented more of a challenge to the Beats.  The prominent high-mids of this song did not convey as well on Dr. Dre's cans.  At times the vibrating twang of the guitar strings and even the vocal blend was borderline distorted sounding.  I just didn't particularly like what the Beats did with this song.  I did not experience the same issues on the other songs.  To compare, I tried Creative's Aurvana X-Fi headphones on this song, and there was no comparison.  The Beats blew them away, even considering the handling of the high-mids.  The Beats have a much richer and full quality, and for whatever reason that one track was just a bad (sonic) fit.
Christina Aguilera - Back To Basics

In an effort to bond with one of Dr. Dre's genres, I dug deep into my musical library and pulled out some Christina Aguilera.  I actually really like the Back To Basics record.  I cued up Makes Me Wanna Pray, which features Steve Winwood (I assume contributing the slammin' B3 licks).  This record is cool in that it is a mixture of high tech, modern studio fidelity which throughout the project is combined with the scratchy sound of an old LP, or the low-fi of old mono recordings.  This song has static/scratch throughout, with a rich, thumpin' bottom end.  The gospel choir BGV's sound amazing, and Christina wails like nobody's business.  The Beats were made for this stuff.  

I moved on to disc 2 and the track Nasty Naughty Boy.  Christina is in full raunchy mode here, with this throwback song that evokes a smoky burlesque club from the 20's, complete with crowd noises and groaning horn section.  I loved the texture of the horns on this track. The time and effort put into this recording pays off, and the Beats bring it to life.  While I think she is incredibly talented and made a great record here, I felt like I needed to go take shower after listening to her filthy lyrics.  Geez - somebody get that woman a husband.  (Oh wait, they did!)
Evanescence - Fallen


I went back a few years to the first record from Evanescence.  I wanted to see how the Beats would handle some dark hard rock.  Going Under has a decidedly dark foundation of power chords throughout the song, with Amy Lee's haunting vocal sitting perfectly on top of the track, pulling you down with her.  The deep bass response of the Beats brought the thick power of the track home for me in a very pleasing, punchy way.
Bring Me To Life has a similar tone, but begins with a haunting string pad and piano melody with subsonic booms quietly expanding underneath before the guitars come in and the song takes off.  I liked the way the Beats allowed the cymbals and screams to cut through the crunching guitars throughout the song.  The house loop and string pad at the end of the song is a great juxtaposition to the heavy guitars, and the Beats felt good for this genre of music. 

Conclusion
At the risk of bothering some of you purists out there, I can honestly say that I like Monster's Beats by Dr. Dre.  They sound detailed and clean, and enhanced most recordings in way that was pleasing to my ears.  They have great isolation qualities that are helped by their design and the built-in active noise reduction feature.  For large headphones, they are very comfortable.  The build quality is very good, and they look cool. 

The Beats are priced to compete against the most expensive noise-cancelling headphones out there, but are not very portable.  Although they do fold, they do not fold flat, so the travel case is larger than that of most noise-cancelling headsets in the marketplace.  I also found the noise-cancelling circuit to be, well, noisy!  For a headphone that is geared towards music lovers looking for a studio-quality headphone, I find it odd that there is no way to turn off this "feature."  I would not consider these a "studio" headphone at all.   

Monster is selling the Beats by Dr. Dre exclusively through Apple retail and online stores, Best Buy and BestBuy.com, and the official website www.beatsbydre.com.  I suggest you get out and listen to them.  They will be loved by many, hated by some.  I have enjoyed them.  Take a listen and decide for yourself.  





The Score Card
At Audioholics Gear Corner we give you a quick but comprehensive look at consumer electronics from several different categories. All products in the Gear Corner have been individually evaluated through hands-on testing by our reviewers in order to give you a quick but detailed overview that we hope will help you in your purchasing decisions.
| | | |
| --- | --- | --- |
| The Price: | Bargain | |
| | About right | |
| | Pricey | |
| | | |
| --- | --- | --- |
| Recommended For: | Acoustic/folk/bluegrass | |
| | Rock/country | |
| | Classical | |
| | Jazz | |
| | Home theater | |
Confused about what AV Gear to buy or how to set it up? Join our Exclusive Audioholics E-Book Membership Program!