2007 CEDIA Demo Overview

CEDIA demos
There are certain things in life you can count on. Death, taxes, and yes, the ubiquitous CEDIA demos. It seems everywhere you look, there is a demo happening in a booth on the show floor. Flying home from Denver, I was thinking about the demos, and began to jot down a few generalities about them: Some are slick, some are clunky. Some are in excellent rooms, some are in really horrible rooms. Some are presented by models, some by nerds. Some are stupid loud, some are just not loud enough. Some are heavy on actual film and music, some are 90% marketing hype. Some have long lines because they are so good, some have long lines because you have to sit through them to get the great swag.
Most everyone on the Audioholics CEDIA team sat through at least one or two demos, and I was given the task of reporting back to you after hitting as many as possible and also gathering reports from other members of our team. Gene DellaSala joined me for a few, and his comments are noted below. Sadly, I did not always get detailed information on each piece of gear in the room, as time was short and the show was really crowded. Consider this an overview, just to give you a taste of the demos. Following is a flyby of what we experienced:
Yamaha
The Yamaha booth was always busy, as was the very popular demo of their new flagship receiver, the RX-Z11. Dina & I finally were able to hit the demo on Sunday, less than an hour before we left for the airport. Yamaha had a lovely, conservatively dressed model (let's call her Brandi) welcoming us to their demo room and then proceeding to talk about the receiver in a way that almost (ALMOST) convinced me she actually understood the words she was saying. But soon enough, before the illusion could be shattered, the lights dimmed and we were treated to a short commercial for the RX-Z11 filled with statistics and sound effects, narrated by a guy with a big boomy voice. The voice told me profound things such as "only .00001% of the US population will own one... Pity."
By the time the lights came back up, I had this undeniable urge inside convincing me I HAD to have the RX-Z11. Brandi again reinforced the fact that anyone who doesn't purchase the RX-Z11 and set up their room for 11.2 channels is a loser, and before I knew it, she had dimmed the lights again and the real show began with an audio demo of Yamaha's famous DSP using a jazz tune in the Jazz Cellar Club mode. She gave us the A/B comparison several times to illustrate the full rich vibe that the DSP mode creates. It was cool, but not as dramatic as I expected with all the build-up. But next up was the movie demo using the trailer from "300." Wow - very cool. Huge sound in the room, and it just rocked. It was loud enough and sounded great. True movie theater experience, with completely enveloping sound.
Yamaha's actual room was very nice. It was set up with traditional movie theater chairs, much like you would find at the local cineplex. There were 4 tiered rows of seating, and the room itself was very quiet. It was the last day of the show, and the convention center was not near as loud and bustling as the previous days, but the room seemed to be well insulated and soundproofed, which helped make for a great demo.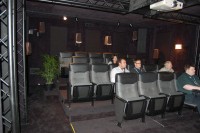 The eleven speakers in the room appeared to be Yamaha's SOAVO-900M's, which are two-way speakers that retail for $999.95 each. They had a pair of subs, which I think were SOAVO-900SW's ($1,299.95). The projector was the Yamaha DPX-1300 DLP which retails for $12,495. Overall, the demo was very good. It was polished, well-rehearsed and did a very good job highlighting the company's new flagship product. I felt the weak link was the speakers and sub, but they did a good job for that environment and were able to create a sonic experience very similar to that small room at your local cineplex.
Gene's Comments:
I was at first a bit underwhelmed by the music demo as I felt it sounded a tad thin while the bass was a bit boomy for my tastes. But once the movie demo of 300 kicked in, the demo took on a whole new dimension. I was very pleased to hear Yamaha DSP adding spaciality and dimension to the sound field without it sounding like an echo chamber. What was most impressive was the panning to the sides and above me despite the fact that all of the surround speakers were behind the listening area. This demo has whet my appetite for my formal review and I am eager to hear this demo at our Audioholics State of the CE Union party next month connected to a full armament of RBH Sound's finest speakers.

Phase Technology/Induction Dynamics
There are several demo "rooms" set up around the perimeter of the show floor in temporary spaces that have been set up for CEDIA. Several speaker manufacturers use these rooms, which generally are not very well soundproofed and have no frills at all. They are usually loud (noise from the show floor seeps in) and are not very big. But more often than not they get the job done. Dina & I snuck in late to a demo being run by Tony Weber, Director of Sales and Marketing for MSE Audio Group. He had just started a demo of Phase Technology's dARTS system, which is a really impressive speaker system that I will tell you more about in a minute. Unlike the slick Yamaha demo, Tony made us feel like we had dropped by his house and were being shown his personal setup. He was very casual in his presentation and description of the gear, and was conversational with everyone in the room during the demo. He even asked us what we wanted to hear or see, rather than relying on specific music or films, which is pretty impressive if you ask me. An immensely likeable guy, his confidence in his speaker system was such that he opened his rather large disc collection up to anyone with a preference for the demo, rather than relying on some obscure jazz tune that is really punchy or some stupid action flick scene that is overused. (As a side note, there always seems to be a couple of clips that are the popular demos of the year. This year, it was Dave Matthews live at Radio City. (Yawn...) It seemed everywhere I went on the show floor, this was playing.)

dARTS stands for Digital Audio Reference Theater System, and it includes a combination of bi- and tri-amped speakers, digital signal processing, and Audyssey's MultEQ XT software that offers a speaker package that corrects a room's acoustic problems for multiple listeners. The (oversimplified) concept is this - the system is not dependent on the room, and as a result creates a calibrated audio experience in any room that maximizes the potential of the speakers, regardless of where you are seated. It really is an amazing system, and it retails for around $17,500. The demo room, including screen, projector, speakers and source hardware priced out at around $27,000 total, which made it that much more remarkable. The dARTS speaker system included L, C, R, 4 surrounds and 2 subs. Included with the system is the DP-2000 16-channel digital amp/controller, which weighs only 21 lbs., but includes sixteen 250-watt channels.

This demo was LOUD. For me, it was right on the edge of being TOO LOUD, but I loved it. It was clean and the imaging was fantastic. Tony played the opening cut from the Diana Krall Live in Paris DVD, and the sonic stage was just electric. I felt the performance as if we were there. He then put in House of Flying Daggers, and went straight to the scene where beans are being flicked at the drums around the room, followed by Ziyi Zhang jumping around and flicking her flowing garb at the drums as she mimicked the pattern of the beans. A fantastic scene full of decaying echoes from every channel in the room. A very impressive system and fun demo. This is a system that I will strongly consider for the dedicated theater we will begin construction on later this year.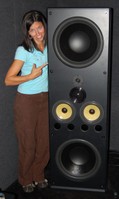 But Tony had something else to show us. The monstrous Induction Dynamics ID1-18 speakers, which stand almost 6 feet tall and weigh approximately 280 lbs. each, were waiting to be demonstrated, and we were all too happy to oblige. They are valued at $19,000 per pair. Tony first played a Tony Bennett cut from a DVD, then let me choose something. I chose "Wasted Time" from the Eagles' Hell Freezes Over DVD, and these big boys did not disappoint. It was difficult to do any critical two-channel listening in such a noisy demo room, but they sounded great. I'm just not convinced that anyone NEEDS a pair of speakers that big!! But hey, if having the biggest speakers in town is what floats your boat, trust me, I can't imagine you finding a better fit than the ID1-18's.
RBH Sound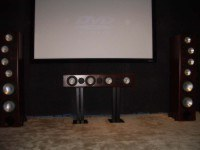 I always try to hit the RBH demo, as it is always going to be impressive. Plain and simple, RBH makes great speakers, and I love to get a chance to hear them, especially their flagships. This year the demo I attended with Gene started off with a Peter Gabriel concert video selection, and I was convinced something was wrong. Not only did his vocal sound really thin and weird from the center channel, but the whole thing was just not right. I was convinced it was the source material - either a media server doing some weird digital mojo, or the actual performance and the way it was mixed. (It was a different concert video than what I have seen before - not the DTS sampler cut that is so popular)
Thankfully, the Master & Commander clip that followed made up for it. The bottom end was stunning, especially considering there were no standalone subs in the room. The cannon shots and explosions rocked the room, and the experience was what I expected from RBH.
Gene's Comments:
RBH sound once again showed off their flagship T-30LSE system with matching center channel and their 66-SE/R dipole/bipole speakers all powered by ADA electronics. The room was done quite well considering the limitations of the showfloor but there was a bit too much echo making it less than ideal for what I consider to be a just demo for a speaker system of this magnitude. There was enough seating for about 15 people or so and we were lucky to get the center seats.
They started off with a demo of Peter Gabriel's Solsbury Hill. I immediately noted how compressed the sound was. The center channel seemed too loud and distorted and the cymbal crashes sounded like digital shrill. Had I not known the capabilities of these speakers from my own reviewing process, I would have walked out of the demo declaring their speakers to be mediocre at best. I asked the folks at RBH Sound if this was a Dolby Digital recording and they confirmed my suspicions were true. It was being fed off a media server and it sounded more like MP3 than a quality multi-channel music source.

Luckily, their demo of Master and Commander was light years better. The room was enveloped in sound so much so that I wasn't even aware I was listening to a 5.1 demo until RBH later told us. The bass was tight and prominent. The cannon fire literally penetrated my chest. Several listeners asked where the subs were, not realizing all of that deep and clean bass was coming solely from the T-30LSE's bottom woofers. I personally felt their demo had the best sounding bass of the show.

I can't wait to hear this demo at our Audioholics 9th Annual State of the CE Union Event on October 6th, paired with the Yamaha RX-Z11 in an acoustically controlled listening space courtesy of Auralex Acoustics.

Equipment List:
ADA Cinema Rhapsody Mach 3 Preamp/Processor
ADA PTM-6150 Amplifier
Matrix Digital Media Server
Toshiba XA2 HD-DVD player
Samsung BDP-1200 Blu-ray player
Runco RS1100
Screen Innovations 1.3 gain fixed screen
APC S-15
RBH SA-400 (2)
RBH T-30-LSE (main)
RBH 6100-SER (center)
RBH 66-SER (rear)

Pioneer
Pioneer had a very impressive booth built around their demo room. The room was one of the quietest on the show floor, which made for a great environment for their demo. They had a couple of guys giving the demo at the front of the room who had sort of a stand-up thing going, and while pleasant enough, I think that they were a bit more entertained with their schtick than we were.

The demo I sat in on was very crowded - in fact they snuck me in the back door as the demo was just getting started, and I stood at the back of the room. The focus of the demo was - you guessed it - Pioneer's new flagship receiver, the Elite SC-09TX, which weighs in with a MSRP of $7,000.

The demo included a scene from Harry Potter - Goblet of Fire, where Harry was chased around on his broomstick by a flying dragon. Next up was a cut from Legends of Jazz with Ramsey Lewis, that had a female vocalist singing "You Can't Take That Away From Me." It was at this point that I noticed that there was an obvious sync problem with the audio and video. Nobody seemed to notice, or maybe nobody cared, but it really bothered me. Pioneer had spent who knows how many thousands for this show, and their demo has a sync problem? For me, this is what I am left with upon exiting the demo. I can't tell you much about the gear or the sound quality, because most of the demo I am sitting there thinking, "Why do they have a sync problem? Why don't they fix it? Why are they not stopping the demo?"
Gene's Comments:
I was also highly impressed by their demo room. When nothing was playing, it was like giving my ears a vacation from the stress of the loud CEDIA showfloor. I had to stand during most of the demo to get a better path between the speakers and my ears since we were sitting in the back row. Overall I thought the demo sounded good. I didn't pay as much attention to the video as I was more focused solely on the audio side of the equation. I think their new flagship receiver has some potential and their high end speakers with Beryllium TAD drivers are certainly no slouches.

JL Audio
JL Audio had a very nice and quiet (until it started!) demo room at their booth, and they were kind enough to let us in for a "command performance" at the end of the day as the show floor was closing. The room included a Sim 2 projector and a Halcro pre/pro.

For the music demo, JL Audio featured a pair of their new Fathom F110s' bolstering the bottom end, and we were treated to Norah Jones performing "Cold Cold Heart." The stand-up bass riff which stands out in this tune sounded rich and commanding, with excellent texture. I very much enjoyed the experience.
For movies, we saw a clip from Mr. & Mrs. Smith, and then one from The Incredibles. Both were filled with action and plenty of LFE activity. These clips were handled by a pair of the massive Gotham G213's, and indeed the room shook with each explosion, gunshot and subsonic engine sweep. All in all, a great demo that we liked.
Gene's Comments:
This was the nicest looking demo room I saw at the show. Carl Kennedy (President of JL Audio) informed us that the walls of the demo room are assembled prior to shipping to the tradeshows. It was beautifully done and had a nice acoustical balance to really show off the system.
I personally wasn't all that impressed with the music demo as I felt the speakers sounded a bit small but the demo of The Incredibles was pretty... incredible, making me realize the sheer power of the Gothams.

Epson
Okay, I know you are thinking, "Epson? In the report on demos?" Me too. I would have never thought to stop at this booth for a demo until one day at lunch someone told me that they had teamed up with Atlantic Technologies and created the ultimate home-theater-in-a-box. So I had to drop in and see what was up with this.

The large booth had a hidden room in the center, that you would almost have to have someone show you to find, and it was set up like a small den in an apartment. But the real star was not the room or even the demo itself, it was this cool package that Epson announced, the Ensemble HD Home Cinema System. Not your father's HTiB, this package comes with a 1080p projector mounted in an enclosure that also houses rear surround speakers. For the front of the room, and electric, retractable screen with LCR speakers built into the enclosure. The system is driven by a digital "receiver" with a built-in DVD player, and is anchored by a 150 watt sub, which contains all 5.1 channels of amplification. So for around $6000, you have 1080p 100" home theater right out of the box - everything you need, including quality Atlantic Technology speakers, is included. And it looks and sounds great! Perfect for someone who wants a turnkey solution, this is aggressively priced and blows away the sound you get from those overpriced cube systems.

Dolby
I will finish my demo report with the first demo I attended. And I will tell you from the start, the main reason I went was that I was told that you had to attend the demo in order to get Dolby's new demo discs. The room was in the center of their booth, and was not very well insulated. As a result, it was very loud inside. You could hear conversations taking place all around the Dolby booth itself, as well as the loud roar of the entire convention hall.

A very sharply dressed and attractive model delivered her intro with precision as she explained Dolby's latest technologies, before starting the demo. The speakers were rather small and nondescript, with no indication of their brand. They were all horizontally oriented and looked more like pro-audio gear than consumer electronic speakers. All I remember is this - I was underwhelmed, the room was not impressive, and I was happy when it was over and I received BOTH a Blu-Ray and an HD-DVD demo disc. Excellent swag makes up for a mediocre demo, every time!
Wrap-Up
You could spend an entire day and not see all of the demos. Every booth has them, some are just more polished than others. We try to hit the big ones, and look for the overlooked gems on the floor. Love 'em or hate 'em, they are part of the gig. For the most part I enjoy them, if for no other reason I get to rest my feet. We walk about 7 miles a day on the show floor (don't ask me how I know that - it was actually measured by one of the geeks in our crew), and trust me, by the end of the first day my dogs are barkin'!

egr2rst posts on September 18, 2007 12:09
Where's the video?

I thought you were going to have video with Tom and the Babe? Where is it?
mtrycrafts posts on September 14, 2007 16:03
Clint DeBoer, post: 308524
If anything, they should tout the black level output at 7.5IRE in a completely black room. THAT would impress me.
Yes, that would be impressive and useful and maybe embarrassing to the makers
Xander posts on September 14, 2007 08:39
video coverage

when do the videos go up?
Audioholics posts on September 13, 2007 13:54
northreign, post: 306997
At least its a little more factual then less even if its totally made up. Why all the hate for the panny? No one put the wrong number on the 50,000:1 Epson.
Absolutely NO hate for Panny. Just funny is all. Contrast ratios are touted as being important by the manufacturer and PR companies but for years we, and every other publication I know of have been educating consumers that the numbers are basically useless. Get your blacks low - period. None of those contrast ratio numbers are real world, or even close to it when you run the lamps in low power mode and shut off the typically useless auto Iris or ambient light settings.
A lot of times increased CR means that the projector simply has more lumen output on the top end - something I don't find important
at all
in a home theater setting. If anything, they should tout the black level output at 7.5IRE in a completely black room. THAT would impress me.
birdonthebeach posts on September 13, 2007 11:20
Thanks. And you are right, Macs ARE better (mine had no problem reading the thumb drives)!!

(Just pickin, clint!!!)
Post Reply
Confused about what AV Gear to buy or how to set it up? Join our Exclusive Audioholics E-Book Membership Program!