Klipsch Image Earphones Review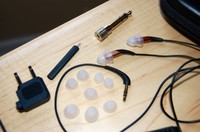 Klipsch Image Earphones
Summary
Product Name: Image Earphones
Manufacturer: Klipsch
Review Date: February 25, 2008 23:45
MSRP: $ 349
Nominal Impedance: 50 ohms
Drive Components: Full Range KG 926
Enclosure: Aluminum body; 50" vinyl cable
Input Connection: 3.5mm
Weight: 0.353 oz., 10 grams
Accessories: Faux-leather carrying case and compact pouch; 1/4-inch adaptor; airline adaptor; five sets of ear gels; ear gel cleaning tool
Finish: Anodized copper
Pros
Excellent noise isolation
Amazing bass extension
Incredibly small, lightweight and comfortable
Cons
Expensive!
Higher priced than an iPod Touch!
Only available in black
Gear Corner Review
The Klipsch Image earphones are purported to be the "world's smallest high performance earphones," and there is no doubt that they are unlike anything I have seen.  I remember seeing them at CEDIA last year and thinking that they would probably be yet another overpriced, mediocre-sounding earbud for the iPod.  Recently Klipsch sent me a pair and I have been using the Image earphones for a couple of months now, and I am pleased to tell you that I had it all wrong.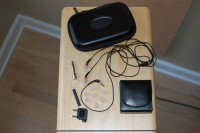 There are few who can say that they never use an iPod, iPhone, or other personal music device. As audioholics, we all want to be at home in front of our big rig listening to music on expensive speakers in a balanced room, but lets face it - we are a mobile society, and we all tend to be on the move these days. If you are like me, your iPod becomes a valuable device for enjoying your music (or maybe the current episode of the AV Rant podcast) while out and about.
We can all agree that the biggest problem with the iPod or any MP3 player is that, well, they compress the snot out of our music, leaving us with crummy fidelity.  Maybe this explains why Apple and every other manufacturer includes such shoddy earbuds. I don't know about you, but I loathe earbuds. They hurt my ears and NEVER stay put.  Seriously, I am not sure if I have deformed ears or something, but standard earbuds will not stay in my ears.  And after 5 minutes, my ears are throbbing, and not just from the compressed music!
I travel quite a bit, and over the past couple of years find myself flying to China frequently.  When you have travel days that approach 30 hours, you want a great pair of headphones or earphones.  I have tried other brands of earbuds, some with different rubber tips, etc., but never found any combination of sound quality and comfort that worked.   While I am aware of some pricey options on the market, I have never pulled the trigger.  I have even considered being fitted for custom earmolds that musicians use for in-ear monitors, but again, my budget is not ready for that.  Where I have landed is with full-sized over the ear style headphones.   And in particular, those with active noise-canceling.  These typically run in the $200-400 range, but you get full, rich sound with very good bass response.  And the noise-canceling feature is fantastic on those airplanes. 

The Klipsch Image earphones promise to bring me everything that my big, bulky headphones do, but in a tiny, lightweight package.  Touted as having excellent noise isolation, I was very excited to find out how they would stand up next to full size headphones, both in sound quality and in blocking out environmental noise.  (note:  by environmental noise, I am referring to ambient noise such as jet airplane engines, not the delusional & hypocritical ranting of certain ex-vice presidents who claim to have invented the Internet.  But if you find a device that will block that, please let me know.)
Design & Features
When Klipsch claims they have built the world's smallest, lightest full-range in-ear earphone design, they aren't kidding!   These things are incredibly tiny.  Without the ear gels, the phones themselves look like tiny tubes.   The cord is black (sorry for you image-conscious people who want the signature white earbud look), and at the tips are copper colored with the Klipsch logo.  Strain relief has been built in to the areas where the cord attaches to the plug and also each earpiece.  Another big plus is that the plug was built to fit the iPhone's tiny headphone jack, so no adaptor is needed.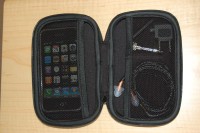 Also included are two carry cases.  One is a very small, square leather box that will easily carry the earphones and airplane adaptor plug.  It has a magnetic closure and is a hardshell design.  The second included carry case is also leather, and will hold an 80G iPod or iPhone, as well as the earphones and all of the included accessories with ease.  This case is also leather, but with a full zipper that allows it to open like a clamshell.
There are five pairs of different sized contour ear gels.  These translucent gels are designed to form an accurate seal inside the human ear canal that results in increased bass response and great noise isolation.  They are translucent, washable, and you are bound to find the right fit for your ears.  They look like little mushrooms, and two of the sets are what I would call a "double-mushroom" design that incorporates dual flanges.  Included are small medium and large gels, and through the Klipsch website you can order extra-small if needed.  It is simple to pop them on and off of the earphones, but as a result of a patent-pending design, the nozzles prevent the tips from getting lodged in your ear.  So they come off when you need to change them, but not in your ear!  Klipsch also includes a tool for cleaning the ear gels.
Listening Impressions
I ended up choosing the medium double-flanged ear gels, and found that if I twisted them into my ears I got the best seal and a comfortable fit. For my first test, I took the Image earphones with me to my son's rec-league basketball game.  Now let me set the stage for you on this. Think middle-school gym, full of kids and adults screaming, balls bouncing, whistles, etc. Seriously, is there a louder place on earth than a school gymnasium?  Since we had to be there early, which meant we watched another game finish up before ours started, I had the perfect opportunity to check out the noise-isolating quality.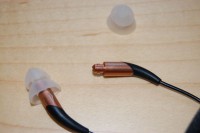 The Klipsch earphones completely shut out the noises around me. It was remarkable. Even before I fired up any music on my iPhone, the loud chaos of the gym was reduced to a completely muffled murmur, such as that in a dream sequence of a movie.  I was shocked at how effective the ear gels were at blocking the noise in the room.  I was watching the ball bounce, the referee's whistle blow, and the kids yelling at each other, but I was in my own cocoon of silence!  And once I turned on the iPod, pure music was all I heard.
Lately I have been enjoying the latest from Little Big Town.  A Place To Land is a fantastic record that is well-produced and engineered with a warmth that you just don't get in many records anymore.  The layered vocal harmonies provide a rich tapestry of sound that will quickly reveal the strengths and weaknesses of your speaker system. 

I started with a song called That's Where I'll Be, that could easily be an Eagles tune from the 70's. Between the electric guitars and Danelectro from Gordon Kennedy and the Dobro from Dan Dugmore, there are tasty tones galore to keep your ears happy, and the Image earphones reproduced them with startling accuracy.  

Next up was Evangeline, which has a haunting intro vibe that reminds me of Dolly Parton's Jolene.  But towards the end of this song which describes a woman who can't seem to pull herself away from an abusive relationship, the vocals take a decidedly Fleetwood Mac turn that is to die for.  I was transported to a wonderfully musical place all my own, right there in the gym!
My next test was to see how the Klipsch's would fare on a long overseas flight.  Typically, I want to have active noise-canceling headphones on a trip like this to take the edge off.   Spend 12-14 hours with the droning of a jet engine, and trust me, you will have a headache.  The problem has always been, it is hard to sleep with a set of huge cans on your head!  And I need my sleep on these long-haul flights.  Plus, I travel very light. I am talking a rollaboard and my backpack.  I can go anywhere in the world like this, for any length trip.  As a result, every single item in my backpack and suitcase is well thought-out and carefully chosen.  So before leaving on this trip, I was faced with a huge decision.  Do I leave my big noise-canceling headphones home (freeing up all kinds of valuable space and weight in my backpack) and trust that the Image earphones would do a good job with the noise isolation? They had performed well in the gym, but would that translate to the droning of the jet engines?  I stepped out in faith, that Klipsch would deliver and I would not regret leaving my big-boys home.
Indeed they did. The noise-isolation quality of the Image was pretty close to the active noise-cancellation effect in my full size headphones.  But the real difference was the comfort.  I could actually fall asleep, head/ears on pillow, and still have them in my ears.  With headphones, as soon as your head turns to the side, you have a big speaker on your nose.  But with the Klipsch's, there was no discomfort, and the ear gels stayed in place.  Add to that I had lost the bulk in my backpack of the big cans!

The sound quality proved to be just as good on the airplane as in the gym.  I listened to music on my iPod, but also listened to in-flight entertainment, including movies, using the included airplane adaptor.  While listening to Genesis Live Over Europe 2007, I could not believe the detail I was hearing in the drums, especially during the entertaining drum duel cleverly titled Conversations With 2 Stools.  I was thrilled with the performance of the earphones during my flights and never missed my full-sized headphones.  

To be honest, I was surprised at the quality I was able to get out of the music on my iPod Nano and my iPhone.  Most of my songs are ripped as Apple AAC files, at a 44.1 kHz sample rate and around 128 kbps bit rate, with a few ripped in lossless format.  I am sure that the Klipsch Image have been designed to extract the best possible sonics from most MP3 files, since that is what the majority of users will be listening to on them.  And throughout my listening tests, they sounded great.
Conclusion
There were actually times while listening to the Klipsch Image earphones that I could swear I felt a kick drum in my chest, much like I would while listening to large speakers paired with a great subwoofer.  That is how great the low end is on these incredibly small earphones! 

The big question is price.  How much are you willing to pay for earphones?  Assuming you have dropped $299 on a new iPod Touch, are you ready to pony up $349 on killer earphones?  Well, I hate to be cliche, but you get you what pay for.  The Klipsch Image earphones come with an excellent set of accessories, including both a large and a small leather carry case, as well as adapters and a wide variety of ear gels that allow you to find the perfect fit.  They are incredibly light and comfortable, and sound great.  It's up to you to come off the dime.
For more information please visit www.klipsch.com.

The Score Card
At Audioholics Gear Corner we give you a quick but comprehensive look at consumer electronics from several different categories. All products in the Gear Corner have been individually evaluated through hands-on testing by our reviewers in order to give you a quick but detailed overview that we hope will help you in your purchasing decisions.
| | | |
| --- | --- | --- |
| The Price: | Bargain | |
| | About right | |
| | Pricey | |
| | | |
| --- | --- | --- |
| Drool Factor: | One drop | |
| | Dripping | |
| | You'll need a towel | |
| | | |
| --- | --- | --- |
| With This Gadget, You Will Be the Envy of: | Anyone who sees it | |
| | Your IT guy from work | |
| | Your buddies | |
| | The soccer mom down the street | |
| | | |
| --- | --- | --- |
| Is it Easy to Use?: | If you have a pulse | |
| | It helps to be a bit geeky | |
| | Not unless you are a rocket scientist | |
Confused about what AV Gear to buy or how to set it up? Join our Exclusive Audioholics E-Book Membership Program!