CEDIA Lifestyle Choices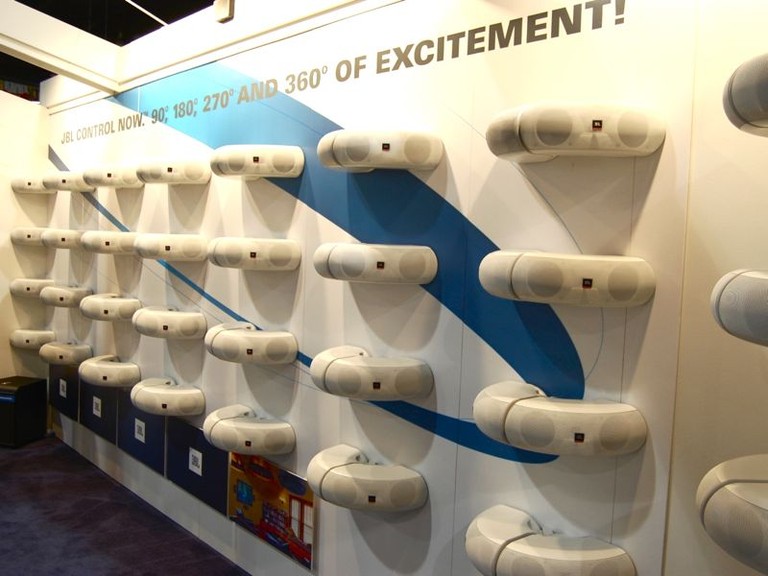 JBL Control Now AW
Lifestyle products are always one of my favorite categories at CEDIA each year. Here you will find everything from the ridiculous to the genius. The 2008 Expo proved this to be true with an array of interesting products on the show floor. Need a tube amp docking station for your iPod? You have more than one choice. How about a flat panel display with a built-in iPod dock? Saw that too. What about a combo charger/speakers/dock for your nifty new iPhone? Oh yeah, it's out there. Keep reading for a few more things I found during my first two days at the 2008 CEDIA Expo.
Fatman iTube Red-i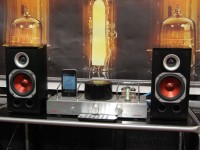 Have you noticed that tube amps are making a bit of a comeback? I smell a trend - and we all know that iPods are dominating the trend market. Fatman has been in the tube amp business for several years now, and their latest offering for the iPod is very cool. The iTube Red-i is a sweet little desktop iPod sound system that comes complete with a tube amp/docking station and a pair speakers. The drivers of the speakers are tinted a metallic red, and are totally wicked looking. The system includes 2 pairs of source inputs (plus the iPod dock), a remote control which handles volume and tonal changes for all three sources (plus all the iPod functionality), and a huge increase in power to 25w per channel. The build quality looks rock solid, and this thing will draw plenty of envious stares while sitting on your desk. It retails for $599 and is now shipping. Look for a full review on this unit in the coming weeks. For more information, please visit Fatman.
SolaraHome SolaTube ST50 Tube iPod Dock and Speakers

Not to be outdone by Fatman, SolaraHome has jumped into the tube iPod speaker system game with their SolaTube ST50 combo, which also includes a tube amp docking station and a set of beefy speakers. This unit is also very retro looking, and the speakers have 4" fiberglass drivers and a unique shape with tweeters protruding above the black piano gloss molded cabinet. There are two audio inputs, and both a composite and S-Video input. The amp outputs 25 watts per channel. The system is priced at $599. Also available is the smaller ST-40 system which also includes a tube based iPod dock and speakers, priced at $299. For more information, please visit SolaraHome.
TiVo HD XL

I have owned a TiVo since it first hit the scene years ago and trust me, a DVR is NOT a TiVo. If all you have used is a cable box DVR, you probably don't understand what could be so much better about a TiVo, or worse yet, THINK it's a TiVo. But if you have for some reason gone from using a TiVo to a cable box DVR, you know EXACTLY what I am talking about. The new TiVo HD XL offers more recording capacity (150 hours of high definition) than any other DVR available, be it satellite or cable. It is also THX Certified to ensure it delivers accurate and exceptional sound and video playback in your home theater. On top of increased recording capacity, the TiVo HD XL DVR offers all the innovative broadband features that TiVo lovers are addicted to such as the ability to download thousands of movies & TV shows directly to the TV, browse and watch endless YouTube videos, listen to thousands of songs from Rhapsody, or view hundreds of music videos from Music Choice. Features exclusive to TiVo HD XL include the 150 hours of HD recording space, THX certification, a Series3 premium backlit remote control and an included HDMI cable. It is compatible with HD digital cable, analog cable and over-the-air digital HD (ATSC). For those of us who can't live without our NFL Sunday Ticket on DirecTV (who have had to leave our HD TiVo behind this season for the new DirecTV HD DVR), I have some incredibly great news: Next year will see the reunification of TiVo and DirecTV. Yes, a new HD TiVo for DirecTV should be available late next year. The TiVo HD XL is available now for $599.99. For more information, please visit TiVo.
Geneva Sound M, XL, L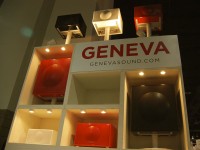 The products on display at the Geneva booth were, in a word, shagadelic. The only way I know how to describe these products is to say that I would expect to find them in Austin Power's swinging pad in London. The company's literature describes "Geneva Sound as 'furniture music' - a renewed fusion of home entertainment and home decor that brings technology and design full circle." I would have to agree that these hi-fi units are indeed stylish (I'm just not sure they would be the style that I would want in my house). Since I am having trouble finding the words to describe these boxy, piano-laquered wooden cabinets with steel mesh grills, let me go back to the brochure text: "With Swiss engineering and design, Geneva Sound is a first: a multi-function Hi-Fi that fits in the home as simply as a lamp." Think of the old console stereo from the 60's or 70's that your parents had, and you get the concept. The Geneva Sound units include FM radio, a CD player and an iPod dock. I have no idea how they sound, as the open booth on the busy show floor did not afford us any real listening opportunity. The units are priced from $849-$1749. Available in glossy black, white or cherry red, this product is a must see for those of you that subscribe to Dwell magazine. For more information, please visit Geneva Sound.

Polk Audio Atrium Sub10 & Sat30

On a more affordable note, Polk was demonstrating their new 2.1 combo designed exclusively for the outdoors. The satellite speakers employ 3-1/2" long throw midrange drivers and a 3/4" dome tweeter in a weatherproof enclosure. They can be mounted on a deck or wall, suspended from a ceiling with a supplied pendant, or driven into the ground with supplied stakes. The downward firing subwoofer looks like a plant stand or pedestal table, and is sturdy enough to be used as either. The 10" long-throw driver is weatherproof and the entire system is built to stand up to every season for years to come. The system was on display and cranking out rock music on the loud show floor, and sounded very good. The Sat30's retail for $179 each and the Sub10 carries a MSRP of $329. For more information, please visit Polk Audio.
JBL Control Now AW Speakers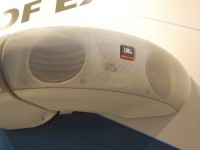 In the JBL booth, the most striking display was the wall of Control Now AW speakers. These all-weather, 2-way dual 4" speakers can be bookshelf, wall or corner mounted. They employ a curved 90 degree design that allows them to be mounted in an endless amount of combinations and orientations. They are sold in a white finish, but also available is a black indoor version. This is a great sounding flexible speaker than can be used all over your home - both inside and out. The outdoor version is not waterproof, but rather weatherproof. You can mount 2 of the speakers for a half-circle design coming off of a wall, or you can mount 4 together in a circle and hang it from the ceiling for a playroom or back porch using a standard ceiling fan mount. The indoor version retails for $249, the AW version for $279. These are available now. For more information, please visit JBL.

JVC Flat Panels with TeleDock for iPod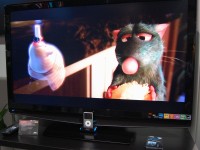 Yes indeed, an iPod dock built-in to your flatpanel display. Although we had seen a prototype of this product at CES earlier this year, the full production models were on display. The units on display were not as thin as some of JVC's displays that did not feature the iPod dock, but were still good looking, typically slim LCD displays. Just pop your iPod into the dock and let it charge while you watch TV, or press the iPod button on the TV's remote control and navigate through the on screen display to find the TV shows, movies or videos on your iPod that you want to watch. The video quality was about what you would expect from an iPod: Nothing exciting. Tom and I witnessed plenty of banding on Ratatouille, but it was very watchable. Great idea from JVC to build a dock right into the set! For more information, please visit JVC.
Escient Vision


We reviewed the Fireball a long time ago and thought it was a pretty good (if pricey) product. Escient has raised the bar with their new Vision line that not only saves music on its hard drives but also DVDs. There are two different server/players (VS-100 holds 100 movies, the VS-200 holds 200), a straight server  (VX-600) which holds 600 movies, and the VC-1 player which can be used to play content streamed from any of the servers. The VS server/players sport a RAID-1 array for loss protection (the VS-100 has two 500gig drives and the VS-200 has two 1Tb drives) and can stream up to five movies simultaneously. The VX has a RAID-5 array and five 1Tb hot swapable drives for the ultimate loss protection and can stream 10 movies at the same time. The entire line is now a cool black with faint graphics that should have no problems blending into a room. The Vision series will also be compatable with the soon to be released Sony Blu-ray changer giving you access to Blu-ray. The VS will be able to connect to four different changers and the VC can connect to one. The VS server/players cost $3999 and $5999, the VX server runs $7999, and the VC player runs $1999. For more information, please visit Escient.

Confused about what AV Gear to buy or how to set it up? Join our Exclusive Audioholics E-Book Membership Program!