Acoustic Research WHT6024 5.1 Wireless Speaker System Review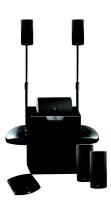 Acoustic Research WHT6024 Wireless 5.1 Speaker System
Summary
Product Name: WHT6024
Manufacturer: Acoustic Research
Review Date: October 23, 2007 10:20
MSRP: $ 899
Surround Speakers

Woofer: (2) 3" Treated Cellulose (magnetically shielded)
Tweeter: 1/2" PEI Dome

Frequency Response: 100Hz - 20,000Hz (+/-3db)
Recommended Amp Power: 15-100 watts
Sensitivity: 91dB
Nominal Impedance: 8 ohms
Finish: Extruded Aluminum
Dimensions: 8" H x 3 1/2" W x 3 3/8" D
Weight: 2.7 lbs.

Subwoofer

Driver: 10" Non-Pressed Paper Cone
Frequency Response: 25Hz - 180Hz (+/-3db)
Crossover Frequency: 40Hz - 180Hz, 24dB/octave continuously variable
Amplification Power Output: 125 RMS into 4 Ohms
Finish: Black Ash Vinyl
Dimensions: 16" H x 10.5" W x 15.5" D
Weight: 36 lbs.
Pros
Elegant speaker design & build quality
Robust wireless system
Cons
Rear speaker stand design
System not great with music
Gear Corner Review
One of the trends I noticed at the recent CEDIA expo in Denver was the emergence of more and more wireless speaker systems.  I saw everything from a portable speaker that you might use out by the pool, to systems designed to be used with traditional full-range speakers.  Probably the most prevalent use of wireless in speaker systems is for rear surrounds in a 5.1 satellite speaker system. Acoustic Research has released the WHT6024, which falls into this popular category.

Design and Features
The idea behind the WHT6024 is a popular one - a small satellite speaker-based system that will blend easily in a family room or den, but without the hassle of running speaker wires to the rear surround channels.  Acoustic Research achieves this with the WHT24, a 2.4 GHz wireless system combined with their HT60 satellite 5.1 speaker system.   
The WHT24 contains a transmitter, and two receivers that are built into the base of each of the included wireless speaker stands.  The packaging resembled an oversized pizza box, and assembling the two stands reminded me of the college days when I was putting together the halogen torch lamps that were essential to 80's single-guy decor.  You have the base, a threaded bottom pole and a smaller upper pole, with speaker wire running through the interior.  And sadly, it was just as frustrating putting these together as I remember with the lamps.  The first one went together just fine, but the second one had issues.  The top and bottom poles are connected via an inner plastic grommet and an outer locking sleeve nut.  The sleeve is plastic, and just did not want to lock down.  The thread was probably stripped, or at least became stripped as I tried over and over to get the alignment right so I could tighten it down.  This is an issue, because it determines the height of the speaker that will be installed on it.  I was finally able to get it tight enough to work, but any adjustment for height was going to be tough due to the weight of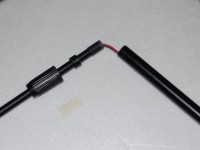 the speaker. I talked to AR about the design, and they were very interested in the feedback.  They explained that there were several challenges in creating such an elegant, slender design for the rear stands, while still controlling costs and functionality. They also felt that most consumers will not be constantly adjusting the height of the stands. This is a good point, because with the design as it is, after repeated use or adjustment the sleeve is going to wear out and this will be a problem for the owner. 

Once I had assembled the stands and attached the speaker cable (which is pre-threaded through the poles) to the standard push-pin type connectors on the underside of the base, all that was left was to plug them in.  Each base comes with an AC brick/power adapter.  This is important to keep in mind with a "wireless" system such as the WHT6024.  It is wireless only in that you do not need to run speaker wire from your amp or receiver. You still must have AC outlets nearby to plug each base into. Still, finding an AC outlet is much easier than running surround cables for most folks.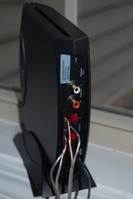 The transmitter is simple, and at first glance looks like an old Motorola Surfboard cable modem or a Vonage router box.  There is a stand included that allows you to mount it vertically, just as you might with your modem.  On the rear are push-pin type speaker connectors that allow you to run speaker wire from your AV receiver to the transmitter.   There are also left/right line level audio inputs for use with rear surround pre-outs if you prefer (you can use either method but not both at the same time).  A power switch, RCA/Speaker selector, "Link" switch and power supply input round out the rear panel.  A green LED on the front of the transmitter lets you know it is powered up. 

The rear surround speakers slide onto the top of the pole stands, and have push-pin connectors for the speaker wire.  Once in place, I plugged in both receivers, and powered everything up.  All the indicator lights (one per base and one on the transmitter) turned green and the wireless portion of the system was ready to rock.  I have to admit, I was expecting to spend a few minutes getting the wireless system "linked," but it was truly plug and play.  There is a link button on the components that allows you to find a clear channel if, for example, the people in the apartment next door to you have the same system, but for most users it will be as easy as plugging it all in and turning it on.
The HT60 satellite speaker system includes four identical vertical satellite speakers and a matching horizontal center speaker.  Each speaker is magnetically shielded, allowing for placement near your CRT-based TV.  Each speaker includes two 3" woofers and a 1/2" PEI dome tweeter.  The speakers have a frequency response of 100Hz - 20,000Hz, and can handle up to 100 watts of power.  The sleek black cabinets are constructed of extruded aluminum and measure 8" H x 3.5" W x 3.4" D, and weigh 2.7 pounds.  The fit and finish is very nice, and they look great.
Tech Note: It is no longer necessary to have shielded speakers for new digital televisions such as LCD, plasma, DLP, or LCoS/SXRD/D-ILA. Shielded speakers are only a safeguard against legacy CRT-type systems (including CRT-based rear projection sets) with which magnetic sources can disrupt operation significantly. Using shielded speakers with newer display technologies is certainly acceptable, just not necessary.

The included powered subwoofer has a front-firing 10" non-pressed paper cone woofer hidden by a removable, black fabric grill on the front.  The black, rear-ported cabinet measures 16" H x 10.5" W x 15.5" D and weighs 36 pounds.  The rear panel sports both line level and speaker level in/out connectors, as well as subwoofer level and high pass crossover frequency controls.  There are also switches for phase and for crossover mode (sub or LFE).  The power switch can be set to On, Off or Auto (which will turn the unit On when it senses a signal).  The sub boasts a 25Hz - 180Hz frequency response (likely in-room).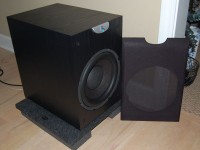 As is the case with standard, old-school push-pin connectors, you will find it difficult to connect a large-gauge speaker wire.  Once I had wrangled my 16-gauge wire into the tiny openings, I had the system set up and ready to go.  I was impressed with the power of the 2.4GHz wireless system.  Acoustic Research boasts of the ability of it to withstand interference from the array of wireless products in the home, not to mention microwave ovens.  And in my tests, it never had a problem with dropouts or interference.  With earlier wireless speaker systems (in particular 900MHz), you would constantly deal with clicks and pops, or dropouts.  But not so with Acoustic Research's 2.4GHz system.  In fact, just for kicks I took the surrounds out to my back porch, away from the listening room and plugged them into the wall.  I put my Emotiva pre/pro into "party" mode (sending music to all speakers) and went back outside.  The speakers were playing fine (except for the lack of bass resulting from no subwoofer).  I moved them into the kitchen and then to our dining room/study, and had the same results.  The range of the wireless speakers should not be a problem in even the largest rooms.

One thing I noticed about the surrounds was that when I had my system turned off, there was a slight hiss emanating from the wireless speakers. I did not notice this when I was using them, but when the room was quiet and the system was turned off, it was very noticeable.  And it is not convenient to power the wireless receivers in the base stands down each time you turn your system off. But there is a way to get around this.  The amplifiers in the base stands are designed to be operating at full output all the time in order to accomplish their job of providing full range sound to the surround speakers.  If they are not receiving a signal from the transmitter, they will mute and go to sleep.  So the solution is to plug the transmitter into a switched outlet (possibly in your rack or the back of your AV receiver) so when you are not using the speakers it will be turned off.

Listening Impressions
It is important for me to state at the outset that I do not like satellite speaker systems for music.  I have rarely heard one that blends well for musical content.  Movies (and sometimes multi-channel audio content) generally sound fine depending upon the setup, but I am rarely satisfied when listening to stereo music.  That being said, I dove into my listening tests.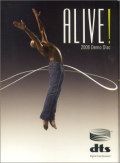 I began by watching clips from the DTS Alive! 2006 Demo Disc, including a bang-up action sequence from The Transporter.  This clip includes shattering glass, machine gun fire, and even a rocket-launcher that creates quite an explosion.  The system handled everything well, creating a fully immersive surround experience. 

My kids always enjoy the clip from Robots that looks like something from a Rube Goldberg dream, so I fired it up.  Once again, the system performed well, with the sub adding impact where appropriate and the system sounding fairly balanced overall as it reproduced a myriad of mechanical noises all around me.

I then moved on to multi-channel music, listening to a jazz piece from Omar Hakim and an old standby for listening tests, Peter Gabriel's "Solsbury Hill."  Multi-channel audio sources such as these sounded pretty good, but the system just can't compete with larger speakers when it comes to music.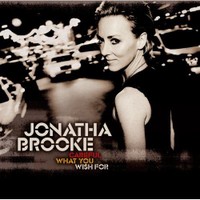 To further test this, I listened to a few stereo CDs such as the The Very Best of the Eagles.  The Acoustic Research system is bright, and this was evident when listening to the wall of acoustic guitars on "Take It Easy."  The sub warmed things up a bit, but for me there was still a gap in the midrange.  It was just very hard to dial in the sub for stereo music on this (as I've found to be the case with most other satellite speaker systems.)

The same was true with Jonatha Brooke's Careful What You Wish For, which is a really well-recorded disc with plenty of warmth and texture throughout.  The WHT24 system struggled to create an authentic reproduction of this record, which in large part is due to the satellite/subwoofer design.

Conclusions
Acoustic Research not only offers this complete packaged system, but also the WPA24 Digital Wireless Transmitter/Receiver System for $299, which allows you to take their robust wireless technology and apply it to your existing setup.  The 5.1 speaker system is also available separately as the HT60, which retails for $599.

My overall opinion of this system is that it is adequate for non-critical use in a family room or den where movies are the main course.  At $899 MSRP for this system, you are paying a premium for the wireless rear surrounds.  There are satellite speaker systems for hundreds less that sound much better, but they do not have the expensive wireless technology included in the price.  The Acoustic Research system does not sound bad - it just doesn't sound great.  The convenience of the elegant wireless surrounds will be worth the premium price to some buyers.  If you need a small satellite speaker system with small, stylish wireless surrounds that you intend to use mostly for TV and movies, this system from Acoustic Research might fit the bill.

The Score Card
At Audioholics Gear Corner we give you a quick but comprehensive look at consumer electronics from several different categories. All products in the Gear Corner have been individually evaluated through hands-on testing by our reviewers in order to give you a quick but detailed overview that we hope will help you in your purchasing decisions.
| | | |
| --- | --- | --- |
| The Price: | Bargain | |
| | About right | |
| | Pricey | |
| | | |
| --- | --- | --- |
| Category: | Bookshelf | |
| | Tower/Floorstanding | |
| | 5.1 System | |
| | Subwoofer | |
| | PC/multimedia/cube | |
| | | |
| --- | --- | --- |
| Recommended For: | Acoustic/folk/bluegrass | |
| | Rock/country | |
| | Classical | |
| | Jazz | |
| | Home theater | |
Confused about what AV Gear to buy or how to set it up? Join our Exclusive Audioholics E-Book Membership Program!