Acoustic Research Home Decor Speaker System Review
Acoustic Research Home Decor Speaker System Review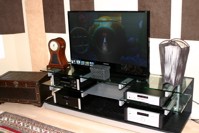 Acoustic Research Home Decorator Speakers
One of the more interesting products I saw at the 2007 Consumer Electronics Show in Las Vegas was the Home Decor system from Acoustic Research (now owned and marketed by by Audiovox).  The system had been named a CES Innovations 2007 Award Honoree, and on the surface I could immediately see the appeal - the marriage of a 5.1 speaker system and a favorable WAF = the combo many a man has sought after!

Introduction
For those of you who are regular visitors to Audioholics, you are very familiar with the WAF - the Wife Acceptance Factor.  And it usually goes like this:  The larger the size or quantity of speakers, the lower the WAF.  In fact, most of our gear has a very low WAF.  There are crummy "cube" systems on the market designed to address the WAF by touting small size and big sound (yeah right...), but they still require speakers (if you can call them that) to be mounted on the wall or shelves. 

Acoustic Research has come up with a product that will have many people scratching their heads thinking, "I can't believe I didn't think of that!"  The Home Decor system combines a high quality satellite speaker/sub combo with a wide selection of designer covers that allow you to integrate a full-blown 5.1 channel speaker system into a living room or den.  There are several faux trunk covers that hide the sub, and the 5 satellites can be hidden in covers that range from floor lamps to sconces to clocks and baskets.  The result is genius, and I quote the great Wile E. Coyote when I say, "Sheer, unadulterated GENIUS!!"

Features
The core of the setup is the HD510 speaker system, which consists of a 10" powered subwoofer and 5 satellites that house 3.5" treated cellulose woofers and 25mm silk dome tweeters.  Standing only 6.2" high, these magnetically shielded little guys are housed in beautiful extruded aluminum pewter-colored cabinets.  (Anything made of extruded aluminum is cool.  In fact, I like the way that rolls off my tongue:  extruuuded aluuuuminum.)  They are actually great looking little satellites - it almost seems a shame to cover them up!
Typical of small satellite speakers, they have push-pin connectors, a threaded 1/4" insert for a mounting bracket, and a flip switch under the terminals that allows you to choose between "cover" and "no cover."  The system also includes J-shaped brackets that connect to a slot on the bottom of the speaker for wall mounting.  The speakers are heavy (2.7 lbs.) for their size and are generally pretty impressive looking.  The grill is steel and non-removable.  

I was immediately impressed with the subwoofer.  It boasts a downward firing, 10" treated cellulose woofer with a thick rubber surround and a built-in Class D, 175 watt amplifier.   It is housed in a slightly tapered pewter colored enclosure that is bottom ported, and it weighs in at 35 pounds.  Underneath you will find the amplifier panel with a signal-sensing, auto-on type power-switch, and both speaker and line level inputs.  There is also a LFE input and output, as well as the power cord (fixed) and fuse.  On one end of the sub near the bottom there is a small logo badge, which can be removed (much like a speaker grill) to reveal dials for level and low pass frequency control, adjustable from 50-150Hz.  There is also a phase switch.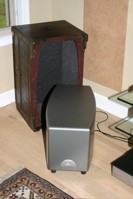 Overall, this is a very impressive satellite system - nothing cheap in the construction or build quality.  I was surprised to find a 10" woofer in the sub - most small satellite systems have a 6" sub, maybe an 8" if you are lucky.  I was anxious to hear what they sounded like.
The real fun, and in my opinion the selling point of the system, is the decorator covers.  Acoustic Research sent me a flyer and allowed me (my wife) to choose the covers for the review.  For the sub, I (my wife) chose a "leather trunk," which is constructed of hardwood with faux leather accents.  The trunk has a dark stain to the wood, and the textured leather accents are black, and it looks like something your wife's interior decorator would drop by the house and charge you about $800 for.  Pick it up, and it is sort of like a hollywood prop - very lightweight, and flip it over and it is just a frame.  It is lined with foam and fits snugly over top of the sub.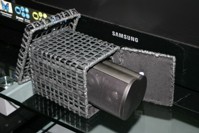 For the satellites, there are many different options, including faux books, wall sconces, planters, and both floor standing and tabletop vases.  I (my wife) decided to try a variety of different styles including a tabletop clock (it actually works!), a horizontal black wicker box for the center channel, a roped floor stand with light (you have see it in the photo to understand), a V shaped rope vase (again, see the photo), and a vertical black wicker basket.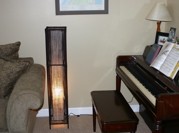 I have to admit, I expected these items to be, well, cheap.   I figured it would be much like going into one of those import stores at the mall where there are tons of knick-knacks from China that are really chintzy.  But each piece is really nice, and very well-made.  Indeed, these are decorator quality pieces that will look great in your casual or formal living areas.   And there are at least 24 different covers to choose from, and Acoustic Research promises more to come.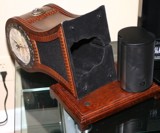 Each cover has it's own unique way to hide the speaker.   The clock consists of a base and the clock itself, which has a form fitted cutout inside for you to put the speaker into.   The front of the clock, under the face, has a cloth grille.  The baskets have hinged caps that have  wire frames inside, perfectly fitted to the shape of the speakers.  The rope light stand and vase have white fabric "cubes" inside that hide the speakers, again with hidden wire frames.  The system is really cool.

Listening Impressions
Oh yeah, I almost forgot.  I need to LISTEN to them and see how they sound.   I started with music, and before I dive in let me state for the record that I am not a fan of satellite speaker systems for music.  I feel they are never balanced quite right, and I always find that they work better for movies than music.   I would soon find out that this is indeed the case for the Home Decor system.
The HD510 speaker system performed well throughout my listening tests, and produced a soundstage that belied the small speakers.  The sizable sub helped to shore things up, and added plenty of tactile bass to movie soundtracks.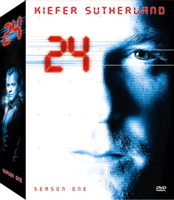 24 (First Season Finale) - DVD
We are big time Netflix people at my house.  We rarely watch TV, so we are always a few years late on the trendy shows like 24.  Only with 24, we were about 5 years late getting in on the action.  As much as I love my Tivo, I love watching shows like 24 on DVD even more - no commercials to zap through, and if you want to watch 4 episodes in one evening, you can.
As we have worked our way through the discs in the first season, I have found the sound design of the show underwhelming - not much happening in the surrounds, and even with all the action, it just never seems terribly dynamic.  (Unless you consider Kiefer Sutherland whispering all his lines dynamic.  Which I don't.)   The final episodes had plenty of action though, and the sub added plenty of oomph (is that a word?) to every gunshot and explosion.  Dialogue was always clear and understandable from the center basket, er, I mean speaker.

Finding Nemo - DVD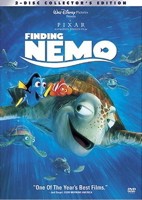 Taking a cue from our favorite AV ranter, Tom Andry, I decided to try the Darla tap scene from Finding Nemo.  Indeed, this will pump plenty of air through a sub's port and show off it's ability (or inability) to go low.  As Darla tapped the fish tank in the dentist's office, my room shook and air chuffed through the bass port, as expected.  But this was not a surprise, and my kids certainly did not notice the chuffing.  I have to admit that I found myself amazed at how big the overall wall of sound was that came from the diminutive speakers placed around the room, hidden in designer furnishings.

Keb Mo - Keep It Simple - CD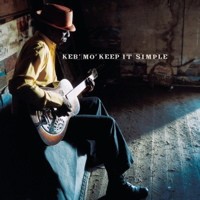 Keb Mo's 2004 release starts out with a simple blues riff on a guitar that sounds as if he is sitting in the room playing right in front of you.  As he begins singing about his baby wanting to take a trip to France, the song immediately builds and the rest of the instrumentation comes in to fill the soundstage.  His voice is rich and full of texture, as are the bass and harmonica.  And it sounded great coming from the clock and vase in the front of the room!
When I really pushed the volume, there were times where the small size of the aluminum cabinets revealed itself, but at moderate levels the room was filled with sound that you would expect from a set of quality bookshelf speakers. 

Mark Knopfler & Emmylou Harris - Real Live Roadrunning - DVD

Just for kicks, I pulled out this disc (that challenges most speakers) to see what I would find.   This music is full of fantastic instrumentation, such as dobros, big fat Gibson acoustic guitars, and Knopfler's trademark electric stylings. 

In songs such as Romeo & Juliet, I could again hear the small cabinets during the opening dobro section.  Something about the timbre of that instrument reveals the sound of the cabinet to my ears, and it sounded a tad tinny, which I feel has a lot to do with the size.  But overall, even on busy tracks such as Speedway at Nazareth, the system sounded very respectable and presented very acceptable imaging across the front of the room.

Conclusion
The Home Decor series from Acoustic Research is an fantastic product.  I (my wife) want to keep it for our great room, as it will add music to room without adding speakers (at least to the naked eye).  The core HD510 is a great little satellite speaker combo perfectly suited for the applications this system will wind up in (such as my great room).  The satellites themselves are well-constructed and produce enormous sound when paired with the large subwoofer that comes with the system.  The sub is a full-featured, powered subwoofer that is fully adjustable and delivers not only the goods needed to round out the lower mid and bass lacking in the satellites, but serious tactile bottom end to bring your movies to life.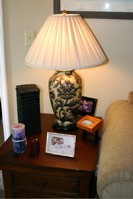 But the real innovation here is the designer covers.   The pieces that I (my wife) chose for our review system are all high quality items that even the most discriminating spouse will not only allow, but enjoy adding to your well-decorated home.  During the testing period, many friends (my wife's friends) dropped by and they all were ga-ga over this concept.   In fact, many of them have not yet added (have not allowed their husbands to purchase) surround sound to their family rooms, and immediately commented that they "would love something like this!"  (He can finally get his speaker system)
Let me be a bit less diplomatic and sum it up this way for the guys out there:  If your wife has kept you from adding surround sound to go with that new flat-panel display you have in the den because she doesn't want to have a bunch of speakers all over the room, here is the answer to your problems.   Although a tad pricey, in the end it is worth every penny because she and her interior decorator will be happy, and you will have your surround sound!
Price: about right...
Home Decor HD510 System: $899
Speaker Covers: $29.99 - $59.99 each
Subwoofer Covers: $79.99 - $99.99 each


Style:
5.1 combo
Recommended for:
rock/countryfolk/acoustic rock/bluegrasshome theater
What sounded great?
home theater movies
What sounded not-so-great?
full bodied music at high volume levels


Confused about what AV Gear to buy or how to set it up? Join our Exclusive Audioholics E-Book Membership Program!
Recent Forum Posts: