Rush - Snakes & Arrows Live DVD Review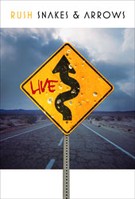 Snakes & Arrows Live
Summary
TRACK LISTING:
Disc 1
1. Limelight
2. Digital Man
3. Entre Nous
4. Mission
5. Freewill
6. The Main Monkey Business
7. The Larger Bowl
8. Secret Touch
9. Circumstances
10. Between the Wheels
11. Dreamline

Extras:
1. What's That Smell (DVD Content)
2. 2007 Tour Outtakes
3. What's That Smell Outtakes
4. Far Cry (Alternate cut featuring rear screen footage)
5. The Way the Wind Blows (Alternate cut featuring rear screen footage)
6. Red Sector A from the R30 Tour

Disc 2
1. Far Cry
2. Workin' Them Angels
3. Armor and Sword
4. Spindrift
5. The Way the Wind Blows
6. Subdivisions
7. Natural Science
8. Witch Hunt
9. Malignant Narcissism - De Slagwerker
10. Hope
11. Distant Early Warning
12. The Spirit of Radio
13. Tom Sawyer

Encore:
14. One Little Victory
15. A Passage to Bangkok
16. YYZ

Disc 3
Oh, Atlanta - The Authorized Bootlegs
1. Ghost of a Chance
2. Red Barchetta
3. The Trees
4. 2112/The Temples of Syrinx

Format: AC-3, Box set, Dolby, DVD-Video, Live, NTSC
Language: English
Region: Region 1
Number of discs: 3
Studio: Zoe
DVD Release Date: November 24, 2008



Pros
It's Rush!
Great sound and video quality
3 disc set with extras
Gear Corner Review
"Thanks to epic songs, fantastical lyrics and extravagant drum solos, [Rush] rocks on through the 21st century…the scope of [their] achievements is undeniable…" 
–Rolling Stone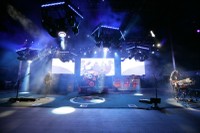 Surely this is a misprint, right?  Rolling Stone magazine has something positive to say about the band Rush?  Snubbed by the publication for years, it seems someone finally saw it fit to do a decent story on the band earlier this year during their most recent tour supporting Snakes & Arrows.  The first leg of this tour began in 2007 and Rush has just released Snakes & Arrows Live on DVD.  The corresponding five-month world tour ranked #12 among the top 100 tours of 2007 as determined by Pollstar magazine, and after seeing the show live and now watching the DVD, it is easy to understand why.
The 2-disc concert DVD was filmed with 21 High Definition cameras in 16x9 widescreen format and is presented in both 5.1 audio and Stereo. Also included is a bonus disc of four songs added for Rush's 2008 American tour, including "Ghost of a Chance," filmed here for the first time. The inclusion is critical to the documentation. "For the second half of the Snakes and Arrows tour, in the summer of 2008, we changed up a few of the old songs, bringing back "Ghost of a Chance", "Red Barchetta", "The Trees", and the beginning of "2112".  We thought it would be nice to film and record them, as well, to fully represent the tour," explains Peart.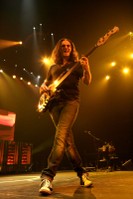 The diverse track list includes many new songs from Snakes & Arrows as well as old favorites like "Tom Sawyer" and "Freewill" plus an explosive rendition of "Between the Wheels."  Among the hidden gems and numerous special tour moments included as extras is the fan coveted "What's That Smell" vignette and out-takes, a skit used to intro the second set, which capitalizes on the still emerging comedic talents of both Alex and Geddy who excel (and revel) in their roles as wild characters.  Featuring collector's quality packaging and a choice of Dolby Digital 5.1 Surround Sound or PCM Stereo for a superior audio experience, the DVD was mixed by frequent collaborator Richard Chycki (Aerosmith, Mick Jagger).  The total running time is 221 minutes.
While previous DVD releases showcase different sides of the band, this DVD offers fans a rare and close up look at the prodigious musicianship for which the band is renowned.  Cameras follow bassist and vocalist Geddy Lee, guitarist Alex Lifeson and drummer Neil Peart, closely, capturing not only their playing, note for note, but also the intimacy they share on stage. The set list for the DVD wasn't determined by considerations of the visual needs of the medium. Explains Lee, "first of all, we choose songs to play live based on two things.  Which ones we would most enjoy playing and which ones we believe will come across the best from a performance point of view.  That takes first priority over presentation."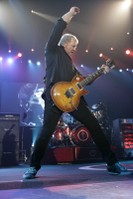 The creative side of mounting a shoot for a concert DVD is a massive undertaking. The teams working on the various elements of production and design needed to tailor their efforts, not only to what worked for the screen, but also what worked for the stage and didn't encroach on the artist integrity of the material or the concertgoers' experience. Continues Lee, "A film idea that works on a small screen does not always translate the same way on a large stage with musicians pumping out loud rock in front of it, hundreds of changing lights and a loud rock audience around it all, so we needed to keep that context in mind during the entire creative process."
The next consideration was one of location. With previous concert DVDs chronicling the band's landmark performances in Rio or Frankfurt, Rotterdam was chosen as the site for, as Peart describes it, "a balance of practicality and opportunity. We had played the Ahoy arena many times and liked it; plus there would be two nights—taking the pressure off of a usual one-night shoot.  That proved to be hugely beneficial, as in fact the first night had all of the qualities we were after, being both accurate and relaxed (a difficult combination to nail in front of an audience, never mind a bunch of cameras and a recording truck), so the second night was just gravy."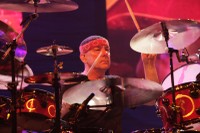 So how does it look and sound?  In a word, fantastic.  I found the mix to be quite a bit different from previous Rush concert DVDs and CDs.  While there is still too much crowd noise in the surrounds (always the case with bands from the 70's and 80's), the mix feels very intimate - I feel like I am on stage with the band rather than in a large concert hall.  This is most evident in Geddy's vocals, which have much different (and better) sound than in previous releases.  It is a very balanced mix with excellent staging.

One of my favorite parts of the release is Neil's drum solo.  Of course this is always a highlight for Rush fans, but he has a section where he plays a dark, melodious pattern on his trigger pads that is just an amazing sonic treat.  And the set list is great, covering a wide range of songs, many that the band has not pulled out in years.
The band has aged well.  While not quite as peppy as they were in the Exit...Stage Left concert video (also available on DVD), they can still rock with the best of 'em.  If you are a Rush fan, this is a no-brainer.  If you are new to the band, this will get you up to speed very quickly and you won't be disappointed.  Also available on Blu-ray.

The Score Card
At Audioholics Gear Corner we give you a quick but comprehensive look at consumer electronics from several different categories. All products in the Gear Corner have been individually evaluated through hands-on testing by our reviewers in order to give you a quick but detailed overview that we hope will help you in your purchasing decisions.
| | | |
| --- | --- | --- |
| The Price: | Bargain | |
| | About right | |
| | Pricey | |
Confused about what AV Gear to buy or how to set it up? Join our Exclusive Audioholics E-Book Membership Program!