Energy Take Classic 5.1 Speaker System Review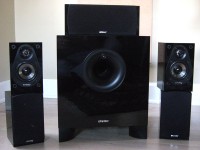 Energy Take Classic 5.1 Speaker System
Summary
Product Name: Take Classic
Manufacturer: Energy
Review Date: November 27, 2007 11:25
MSRP: $ 599
Satellite


System Type: Magnetically Shielded Bass Reflex with Rear Firing Port

Frequency Response: 115Hz-20KHz
Tweeter: 0.75-inch (19 mm) Hyperbolic aluminum-dome

Woofer: 3-inch (7.6 cm) poly-titanium
Crossover Point: 2.9 kHz
Efficiency (Room): 89 dB
Impedance: 8-ohm compatible
Maximum Power Handling: 100 Watts
Dimension HxWxD (grille not included): 6 7/8 x 4 1/8 x 4 1/8 mm: 169 x 105 x 105

Weight: 2.9 lb / 1.32 kg

Inputs: Mini 5-Way Binding Posts


Center

System Type: Magnetically Shielded Bass Reflex with Dual Front Firing Ports
Frequency Response: 110Hz-20KHz
Tweeter: 0.75-inch (19 mm) Hyperbolic aluminum-dome
Woofer: 3-inch (7.6 cm) poly-titanium
Crossover Point: 2.9 kHz
Efficiency (Room): 89 dB
Impedance: 8-ohm compatible

Dimension HxWxD (grille not included): 4 1/8 x 10 1/4 x 4 1/8 mm: 105 x 260 x 105
Weight: 3.2 lb / 1.45 kg

Maximum Power Handling: 100 Watts
Recommended Amplifier Power: 20 - 100 Watts RMS (Continuous)
Colors: High Gloss Black
Inputs: Mini 5-Way Binding Posts
Mounting Options: Built-in keyhole slot and threaded insert (1/4" - 20 TPI) to accept articulating brackets such as Omni Mount

Subwoofer


System Type: Bass Reflex with Front Firing Port
Amplifier Power Output: 200 Watts
Woofer: 8" (20 cm) IM Cone with Patented Ribbed Elliptical Surround
Frequency Response: 33Hz-150Hz +/- 3dB
Variable Phase Control: 0°, 180°
Variable Low Pass Filter: 40Hz-150Hz @ 18dB/octave
Inputs: Line In/Sub In & Speaker Level In
Dimension HxWxD (feet not included) add 2 1/16" (52.4mm) for feet: 12 5/8 x 12 5/8 x 12 5/8 mm: 320.7 x 320.7 x 320.7
Weight: 19.7 lbs. / 8.94 kg.
Colors: High Gloss Blac
Pros
Aggressive, value pricing
Very musical tonal balance
Compact size allows flexible mounting options
Cons
Satellite system is limited by its size
Small speakers were easy to overdrive at higher volumes
Mini binding posts won't accommodate larger gauge speaker wire
Gear Corner Review
I first became personally acquainted with Energy speakers about five years ago when I had moved cross country into a smaller house, where we found ourselves quite downsized.  And downsized for us meant losing a dedicated home theater.  As we spent the first few weeks unpacking, we had no idea where to set up the projector, and there seemed to be no obvious solution.  It finally landed on a small table next to the sofa, from where we would shoot the projector image onto the wall across the great room from our sofa.  Not a great option, but seemingly our only one at the time.  My full-sized speakers, anchored by imposing tower floorstanders up front, would not cut it.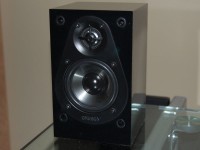 I had dropped by the local custom theater shop to browse and there was a used Energy Take 5 system that I was able to pick up pretty cheap.  It was perfect for this temporary set-up.  The speakers were small enough to be placed around the room on tables and small stands without drawing too much attention and the sound was impressive for a satellite system.  I probably used this setup for close to a year, before we finally transformed another room in the house into a proper theater.  I had no trouble selling the Take 5 system on eBay.
Fast forward to CEDIA 2007 in Denver, where Energy was introducing the Take Classic system.  The Take Classic system picks up where the Take 5 system left off, and adds aggressive (value) pricing that makes this system worthy of a closer look.  I have had the Take Classic system set up in my Reference Theater for the past several weeks, and can tell you that if you are considering (gasp!) a Home Theater in a Box, stop right where you are and take time to read this review.
Design & Features
The four identical Take Classic Satellite speakers are small but well-built little guys that measure approximately 7" x 4" x 4" and weigh about three pounds.  Each contains a 3" poly-titanium woofer and a 3/4" Hyperbolic aluminum-dome tweeter.  They are a rear-ported design, and are housed in a high-gloss black finish that is pretty sexy.  They have a very sturdy cloth grill that has a slight curve at the top that extends above the top of the speaker, adding a touch of style to an otherwise typically boxy speaker.  On the rear there is a keyhole-style hanger and a threaded insert for wall-mounting, and a set of what I thought at first glance were sturdy push-pin speaker cable connectors, which I have been critical of in the past.  But upon closer inspection, I found that they are miniature 5-way binding posts.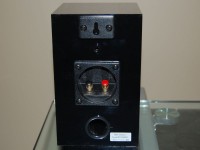 I am noticing a trend now of higher quality push-pins or mini 5-way connectors from some respectable manufacturers such as on this system from Energy.  Earlier this year I reviewed a set of satellite speakers from NHT, and they had very heavy-duty push pins that were actually pretty cool.  Energy has decided to go with a mini 5-way.  Considering the system and its probable use, they seem adequate, although if you are running anything thicker than 14 gauge wire you will have problems.  I guess the jury is still out on these "mini-me" binding posts.
The Take Classic Center channel speaker is very similar to the Satellites.  Utilizing the same tweeter and woofer combo (oriented horizontally), this speaker has dual front ports and is a bit larger, measuring in at approximately 10" x 4" x 4" and weighing a few ounces more.  It shares the same high gloss black finish and high-quality black cloth grill.  Both the satellites and center can handle up to 100 watts of power, and have an efficiency rating of 89 db.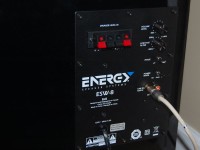 The ESW-8 subwoofer is a relatively small (about 13") cube, with built-in feet.  The box is also high-gloss black, matching the speakers, and has a front-firing port, but no grill.  There is a tiny blue light just above the port to let you know it is powered up.  This little powerhouse contains a downward firing 8" woofer with a patented Ribbed Elliptical Surround.  The sub is powered by a 200 watt amp and has a frequency response of 33-150Hz +/- 3dB.  It weighs in at about 20 pounds.
On the rear you will find both speaker level (push pin) inputs, as well as left and right line/sub inputs (RCA connectors).  There is a selectable power switch (on/off/auto) and a phase switch.  The crossover is variable from 40-150Hz, and there is a volume level.  Setup was simple, and I had it dialed in very quickly with pleasing results.
Listening Impressions
Right out of the box, the system sounded really good.  In fact, I would go as far as to call it a very musical satellite system, which (for me) would normally be an oxymoron.  For such a modest set of speakers, they really sounded great for a variety of programming. 
As I have written here at Audioholics many times before, my experience with satellite speaker systems is that they sound okay for movies but perform poorly for music.  It just always seems hard to get the sub dialed in.  I can typically hear the separation between the satellites dropping off and the sub picking up, and quite often I have to adjust the level of the sub from selection to selection when listening to CD's or multichannel music.  While this was still the case to some extent with the Take Classic system, it performed much better than most systems I have tested, and did so right out of the box.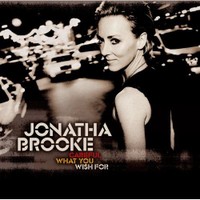 Beginning with some 2-channel music, I found a fantastic soundstage right out of the gates with the title track from Jonatha Brooke's Careful What You Wish For.  This aggressive song begins with a funky, almost low-fi acoustic guitar strumming along with a very dry vocal for the intro.  When the song kicks in with full band, the deep and rich bottom-end from the drums and bass was almost startling.  The sub provided a tight, clean punch to anchor the music, and the satellites sounded twice their size. 
Keep The River On Your Right has a driving pulse filled with tasty Hammond B-3 parts, and of course Jonatha's rich vocal is front and center.  The Take Classic system faithfully reproduced the wonderful texture of both her vocal and the instrumentation of the track.  I was quite impressed that this was coming from a satellite speaker system that consisted of such small speakers.
Next I moved to some multi-channel music, choosing the DVD-Audio version of Mark Knopfler's Shangri-La.  The record opens with the mellow "5:15 a.m.", which highlights Knoplfer's unique, laid-back vocal.  As the track builds, so do the layers of tracks.  The bulk of the information is up front, with guitar licks sneaking out of the side channels now and then.  Overall, very tasty and warm.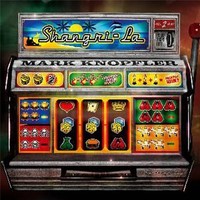 While it sounded very good, I began to get a bit more critical in my listening and found the center channel, in particular the tweeter, to have a limited axis.  As I moved around the room a bit, the sonic quality fell off a bit.  Still, I was surprised at how rich the sound was coming from such a modest set of speakers.  Moving on to "Boom, Like That", I found myself surrounded by guitars and shakers.  Knopfler's vocal stayed anchored in the front center.   I had the system turned up pretty loud, and actually bottomed out the woofer in the center channel at first before I backed it off a bit.  As is the case with most small satellite systems, there is a limit to how loud they will play as a result of the small drivers.  
Since most people will use the system for movies, we popped in the summer blockbuster Spiderman 3 for a family movie night.  The sub provided plenty of rumble as the Sandman wreaked havoc on the city, although I am spoiled by my full range reference system when it comes to action/adventure flicks, and my wife and kids did not seem to notice the slightly smaller soundstage.  Dialogue was clear in intelligible from the center channel, and the surrounds handled the chaos with ease.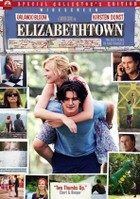 For my final critical listening test with the Take Classics, we pulled out something we hadn't watched in a long time, the movie Elizabethtown.  As a fan of Cameron Crowe's work, I had been very excited about this movie, but when it came out I remember thinking it was just okay - not bad, but not great.  After watching it again last night for the second time, I found myself really enjoying it, much more so than the first time I saw it.  I think part of that was having lowered expectations, and maybe going into it this time realizing that some it was a bit over the top or even campy, which allowed me to just enjoy the story and more importantly the music.  I love the soundtrack(s) from this film - it is filled with music from artists I love, and has introduced me to a few new ones.  
For me, Elizabethtown found a sweet spot with the Energy system.  It is perfectly suited for this type of film.  Zero action, lots of dialogue, and plenty of great music.  When we started the movie, I had not turned it up very much and was having a little trouble with the dialogue.  Once I gave it some juice and got closer to a reference level, boy did it sing.  I never thought about the speakers again.  What I did think about, constantly throughout the movie, was the music.   Whether it was the focus of the scene, or quietly playing in the background, the music just sounded fantastic. 
The scene where Drew views his father in the casket at the funeral home was made incredibly moving and powerful by Elton John's "My Father's Gun".   It completely draws you into the moment of a son's grief as he begins to deal with the complicated reality of his father's death. 
A couple of other musical highlights that stood out include both Kathleen Edward's "Summerlong" (appropriately placed at a moment in the film when the two main characters are surely wondering to themselves if their romance is destined to be brief or maybe something deeper), and Patty Griffin's lovely cover of Henry Mancini and Johnny Mercer's classic "Moon River".
Conclusion
This system blows away everything else I have heard in its class, especially when you consider price.  If you are planning on spending around $500 on a satellite speaker system, you have to consider the Energy Take Classic system.  As is the case with any satellite system incorporating small speakers and a compact subwoofer, you will not get a monstrous soundstage that shakes the walls of your house and is capable of handling reference levels when watching action flicks.  But for most movies and especially music, this system will outperform most comparable options on the market.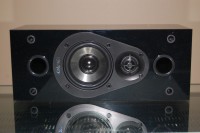 The typical Home Theater in a Box system offered at the big box stores will set you back between $500 - $1000.  With that you generally get a combo receiver/DVD player, a powered sub, and 5 crummy (typically plastic) speakers.  Let me suggest that you could spend $1000 on a system anchored by the (MSRP) $599 Energy Take Classic speaker system and come out MUCH better.  Add an entry level receiver from Yamaha, Denon, Onkyo or Pioneer and a $99 DVD player, and you will be in business - and much happier with the results.
Energy is known for manufacturing quality loudspeakers, and the Take Classic speaker system is no exception.  The real surprise here is the pricing.  It is priced right and packed with value that raises the bar for the competition. 
For more information: 
Energy
3780 14th Avenue
Unit 105
Markham, Ontario L3R 9Y5
 905-480-1900
http://www.energy-speakers.com/v2/
The Score Card
At Audioholics Gear Corner we give you a quick but comprehensive look at consumer electronics from several different categories. All products in the Gear Corner have been individually evaluated through hands-on testing by our reviewers in order to give you a quick but detailed overview that we hope will help you in your purchasing decisions.
| | | |
| --- | --- | --- |
| The Price: | Bargain | |
| | About right | |
| | Pricey | |
| | | |
| --- | --- | --- |
| Category: | Bookshelf | |
| | Tower/Floorstanding | |
| | 5.1 System | |
| | Subwoofer | |
| | PC/multimedia/cube | |
| | | |
| --- | --- | --- |
| Recommended For: | Acoustic/folk/bluegrass | |
| | Rock/country | |
| | Classical | |
| | Jazz | |
| | Home theater | |
| | | |
| --- | --- | --- |
| Build Quality: | Flimsy | |
| | Poor | |
| | Rock-solid | |
| | Average | |
| | Furniture-grade | |
Confused about what AV Gear to buy or how to set it up? Join our Exclusive Audioholics E-Book Membership Program!