Roundup of Portable Travel Speakers
Roundup of Portable Travel Speakers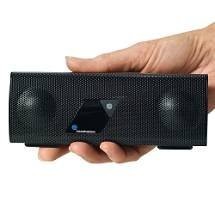 With summer here, many of us will find ourselves on the road.  And we all want to bring our music with us, whether we are road warriors in a different hotel every night, or staying at a summer cottage at the beach or in the mountains.  Lately I have been spending countless nights in hotels, so I thought it was time to bring you a roundup of portable travel speakers for your laptop, iPod, iPhone, or other MP3 player. 
There are a wide range of choices that include tiny solutions that sound tiny, as well as some pricey options that are well worth every penny.  Most of the speakers I tested fit easily into a backpack or small suitcase.  From this roundup, you are sure to find a good fit for your needs.  In no particular order, here are some of the options that you should consider when shopping for small, portable speakers.
SoundMatters FoxL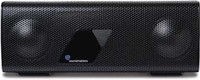 The FoxL from SoundMatters is easily the best combination of sound quality and small size that I have found.  Very well made and filled with unique design features, this small stereo speaker bar fits easily in the palm of your hand, making it one of the most compact and easy to pack options in the roundup.
The sound quality from the FoxL is incredibly rich, loud and detailed - soundmatters claims an 8-octave bandwidth from this little device which is about as big as a king-sized Snickers bar.  The amount of bass is staggering when you consider the size of the unit - often the unit would "walk" itself across a slick table top from the thumping of the bass.  This is courtesy of soundmatters' BassBattery - a lithium-ion battery pack that doubles as an acoustic bass radiator. 
It's easy to connect the FoxL to any device via an included 3.5mm cable.  The FoxL also ships with a wall charger (which doubles the power output, adding 3db of volume compared to the battery), a USB charging cable, a wrist strap and a soft travel pouch.   The FoxL has earned a permanent spot in my suitcase - finally, Audioholics have an ultra-portable speaker system that allows us to take music with us without adding weight to our luggage!  The FoxL sells for $199.99.
Pro:  great sound quality from a tiny, travel-friendly unit
Con:  vibrates itself across the table
Griffin AirCurve

Easily the most low-tech of all the devices I tested, the AirCurve is also not only one of my favorites, but has proved to be a device I use several days a week.  The AirCurve, designed for use with both first and second generation iPhones, is made from clear polycarbonate.  It's essentially an acoustic speaker that amplifies the built-in speakers on your iPhone.  At first glance it looks like a cool stand or docking station for your iPhone.  But it is actually a coiled, waveguide horn that is designed to amplify your phone by 10db.  The design provides a pass through slot for your dock cable so it can act as a charger or sync dock. 
So how does it sound?  Well, it's not exactly hi-fi.  Think gramaphone.  But it is incredibly practical.  Sitting on my desk, I immediately found an almost daily use for it:  conference calls.  Almost every day I find myself on long, corporate conference calls.  I typically use the mute and speakerphone functions during these painful calls.  The AirCurve is the conference call solution for me - allowing me to have a loud speakerphone on my desk!  Priced at $19.99, this unique little device is a winner!
Pro:  incredible for boring conference calls
Con:  low-fi
ZAGG USB Laptop Speakers

ZAGG enters the roundup with a set of USB powered speakers that are aimed at those looking for portable laptop speakers.  The ZAGG speakers are the largest of the roundup, but break down for travel.  There is no power outlet required other than your computer's USB port, which also acts as the audio hookup as well.  iPod or MP3 player users are out of luck - these speakers do not have any alternate audio inputs.  The speakers are compatible with Mac or PC, and have a built in Class-D amplifier and USB audio decoder.  Each speaker has a single 46mm driver in a tall, slender case.
The speakers are simple to hook up - you plug the right speaker's attached cable into the left speaker, and the USB cable from the left speaker into your laptop.  Also found on the back of the left speaker is the power button and a volume control.  Each speaker cabinet has a lightweight (aluminum?) stand that fits into the rear to keep them stable on your desktop.  Overall, these speakers provide a full fidelity audio experience that you would expect from bigger, non-portable computer speakers.  The speakers come with a cushy soft drawstring travel bag.  The ZAGG USB Laptop Speakers sell for $89.99, but at the time of publication could be found for a special introductory price of $69.99 at ZAG's website.
Pro:  desktop sized speakers that break down for travel
Con:  no audio input for iPods or other devices
iHome iHM77 Capsule Speakers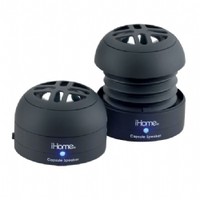 The iHome speakers are the smallest (2" x 2" x 2") in this roundup.  When all packed up, they resemble an oversized medicine capsule.  Available in black, red, or silver, these speakers sell for $49.99 and put out a surprising amount of sound when you consider their ultra-portable size.  The speakers have a magnetic base that allows them to attach to each other for travel.  Take them apart, then twist each speaker's dome shaped top half and the speakers expand and extend, looking like something out of the Blue Man Group's arsenal.  
Outfitted with a 3.5mm jack for connection almost any device, each speaker contains it's own built-in amp and li-ion rechargeable battery.  The built-in batteries are recharged via a strange little cable that incorporates a full sized USB jack (for charging), two mini-USB jacks (one for each speaker) and a 3.5mm audio jack (for your source).  Each speaker has it's own power switch.  The sound is amazingly loud for such tiny speakers, but lacks the warm bass that I prefer at louder volumes.  But considering how portable and inexpensive they are, they are hard to beat.
Pro:  incredibly loud and tiny speakers
Con:  sound lacks warmth
DLO Portable Speakers for iPhone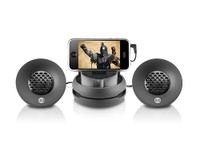 Another product aimed at the iPhone, the DLO Portable Speakers for iPhone can also easily be used for any audio device with it's 3.5mm audio jack.  The setup consist of a base unit (that holds 4 AAA batteries), two speakers that resemble a baseball cut in half, an AC power adapter, and a stand for the iPhone.  The speakers stow for travel by snapping into the each side of the base, creating a ball that measures about 6" in diameter.  Cords are wrapped around the base and tucked away.  The stand allows you to use your iPhone in horizontal or vertical orientation.  While in the stand, the DLO speakers turn your iPhone into a powerful speakerphone.
The sound quality was average for the size of these speakers.  As is almost always the case with a speaker this size, the bass was pretty disappointing.  With your choice of battery or AC adapter, these speakers work as well on your desktop alongside your laptop as they do for travel, although DLO did not include a travel bag.  For their size, I would like to have seen better sound quality.  The speakers sell for $49.99.
Pro:  Although designed for iPhone, can be used with any device sporting a 3.5mm audio jack
Con:  poor sound quality for their size
Logitech Pure Fi Anywhere  2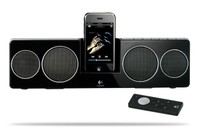 We had previously reviewed the Pure Fi Anywhere here, and the latest version adds several updates to the very solid original.  iPhone support is the most important update, as well as the ability to shuffle and repeat from the speakers and a battery life indicator.  The Pure Fi Anywhere 2 sports a 10 hour rechargeable battery and a built-in iPod/iPhone dock connector.  Using the supplied remote you can control and browse  your iPod from across the room. 
As I noted in my earlier review on the original, the sound from the Pure Fi Anywhere 2 is excellent.  Logitech provides a zippered carrying case that holds the speaker unit, remote and AC adaptor, and the entire package is about the size of a carton of cigarettes.  If you have the room, this is a fantastic portable speaker system.  I was recently in South America for about a week, and I kept the Pure Fi Anywhere set up on the desk in my hotel room and enjoyed great sound throughout my trip.  The Pure Fi Anywhere 2 sells for $149.99.
Pro:  excellent sound quality
Con:  needs more room in your suitcase than most portable speaker systems
Altec Lansing Orbit  MP3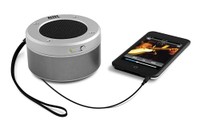 The Altec Lansing Orbit MP3 speaker was easily the biggest surprise of the roundup.  I did not expect a single, round, unassuming looking MONO speaker to be a cool as it proved to be.  An incredibly simple device, the round little device is about 3" wide and 2" high.  It easily connects to your audio device via an attached cord with a 3.5" jack.  The unit plays for about 24 hours on 3 AAA batteries, and comes with a form fitted, zippered travel case.
The sound is remarkably good and plenty loud.  The Orbit MP3 is great for sharing sound from your iPod or laptop with those around you.  On a road trip with the family, my wife was catching up on her video Bible study and wanted me to hear the lesson while we drove, so she hooked the Orbit up to her MacBook and I listened while driving as she watched the video.  The sound was crisp and clear, and plenty loud enough to overcome the highway noise in the car.  There have also been several times where I walked past my teenage daughter's room to see her and a friend listening to a song or YouTube video through the Orbit connected to her laptop.  At $39.95, the Altec Lansing Orbit MP3 speaker is a no-brainer.  You will get plenty of versatile use out of this product!
Pro:  everything about it
Con:  can't think of anything
Confused about what AV Gear to buy or how to set it up? Join our Exclusive Audioholics E-Book Membership Program!
Recent Forum Posts: