Pioneer Pure Malt Speaker Review
Pioneer Pure Malt Speaker Review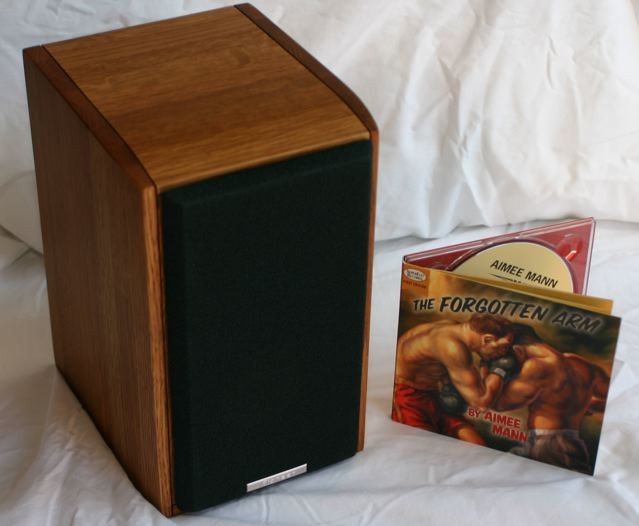 Pour Me a Tall One!
"I'll have a pair of those Pioneer's, straight up!"
That was my first thought when Pioneer asked if I would be interested in reviewing a pair of their Pure Malt Speakers, whose cabinets are made from 50 year old retired malt whiskey barrels.  Apparently Pioneer has sold these speakers for years in Japan, and last year began to offer them for sale in the USA exclusively via their website.
I have never thought of Pioneer as a speaker company.  I am aware that they have made speakers for years, but to be honest, I have never considered them when shopping for speakers.  But how can I resist the opportunity to audition what appeared to me to be a unique custom product such as these?
Listening Impressions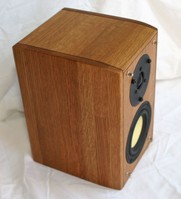 I was really surprised at how small the speakers were when they arrived.  I had not looked at the specs, and figured they would be a medium sized bookshelf.  But they are actually quite small, with the cabinets measuring roughly 6"(w) x 10"(h) x 8"(d).  But from the moment I removed them from their boxes I was smitten.  They are gorgeous to look at, and extremely well made.  I love hand-crafted products, and these are easily described as small works of art.  The finish is well sanded, smooth and full of the character of the barrels.  Although the pair is matched, each speaker has its own unique look due to all of the staves of wood that have been pieced together to create the cabinet.  Pioneer says that it takes an entire whiskey barrel to produce each pair of Pure Malts.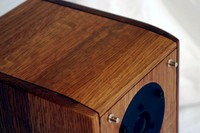 The Malts are incredibly well made - when was the last time you saw a speaker made entirely of hardwood?  Upon opening up the speakers, that is exactly what I found.  Even the extended port protruding into the speaker is constructed from hardwood.  The tiny woofer has a beefy, heavy magnet, and there was a modest amount of damping material covering the interior.  The gold-plated banana plug input terminals were very solid, but I do have a few complaints.  They are spaced too far apart to be able to use banana plug pairs, and the terminals were too small to accommodate one brand of banana plug connectors I have.  I have always assumed that banana plugs are standardized, but apparently not.  This sent me on a side project of testing all of the different banana plugs I had lying around the house.  In fairness to Pioneer, only the one brand did not fit (although it fits in all of the other speaker brands I have tried).
The black speaker grills connect via four solid metal nubs that worked very well and will not break.  The grill itself has a plastic frame, but is very solid - more so than many higher priced speakers I have encountered.  The cabinet itself is deep - deeper than it is wide, and has a port on the rear.  The top and sides of the speaker taper in towards the front ever so slightly, giving the speaker very high-quality design touch.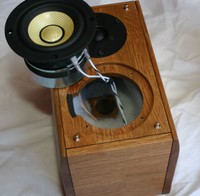 I really did not know what to expect from such small speakers.  The first thing I was very surprised to find was that they actually had some bottom end.  In fact, the more I listened, the more I was amazed at what I was hearing from such a small woofer.  As long as I kept them at a moderate level they really filled the room with a rich, and even warm sound.  My listening room is not a huge room, and this worked in the Malt's favor.  I ran some cable out into my great room, which is very large with 12 foot ceilings, and found a large drop-off in the quality.  They began to distort when I pushed the volume to levels needed for the bigger area.  They simply cannot fill a large room with adequate sound.
Back in my listening room, I found that for critical listening, you could not veer too far off axis before audio quality suffered, particularly frequency response and imaging.  But when sitting on my couch (the preferred listening spot in the room), they were quite respectable.
Using my trusty Lyle Lovett Joshua Judges Ruth disc, I found the speakers to be very musical, providing a very warm tone for the lush vocals found throughout the disc.  I tried out selections from Norah Jones and Tift Merritt with similar results - as long as I kept the volume at a moderate volume level, the speakers did fine.  At times I was startled by the amount of bottom end produced.  They also excelled with similar content from Mark Knopfler & Emmylou Harris (Real Live Roadrunning).
When I moved to more aggressive rock music such as Jet, the Pioneer's size worked against them.  It was hard for the speakers to keep up with the pounding drums as I pushed the volume.
Conclusion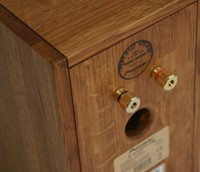 At $598 for a pair, these speakers are not cheap for their size and ability.  But if you consider the aesthetic appeal and high build quality of these speakers, they are a great fit for certain applications.  If you are looking for a conversation piece for your study or small office, these not only look great, but sound very good for a smaller environment where music will be listened to a lower levels.  They are quite capable of filling a 12 x 12 room, for example, with warm and tasty music.  In fact, dim the lights, build a fire in your fireplace, turn on your stereo system, sit back and enjoy listening to your music through speakers that may, in a former life, have been used to age that glass of whiskey in your hand. 

Price:  $598/pair
Pricey!
Style:
small bookshelf
Recommended For:
folk/acoustic rock/bluegrass
jazz
classical
what sounded great?  Norah Jones
what sounded not-so-great?  Wolfmother
Specs:
Woofer:  4" cone

Tweeter:  3/4" dome

Frequency response:  50 Hz to 40,000 Hz

Sensitivity:  84 dB

Maximum input power:  100 w

Crossover frequency:  3.5 kHz

Exterior dimensions:  6 1/16" (W) x 9 11/16 (H) x 8 3/8" (D)

Weight:  8.2 lbs.
For More Information:
Pioneer Electronics
PO Box 1540
Long Beach, CA  90810-1540
800/421-1404
www.pioneerelectronics.com
About Audioholics Gear Corner
Welcome to the Gear Corner, where we give you a quick but comprehensive look at consumer electronics from several different categories.  All products in the Gear Corner have been individually evaluated through hands-on testing by our reviewers in order to give you a quick but detailed overview that we hope will help you in your purchasing decisions.
Confused about what AV Gear to buy or how to set it up? Join our Exclusive Audioholics E-Book Membership Program!
Recent Forum Posts:
orstrong posts on June 12, 2013 22:31
Can they still be bought new now?

Would anyone know where someone in the United States get a brand new pair of these?
MidnightSensi posts on February 05, 2010 06:10
Well, I'm not really interested in them personally to buy, but, the price is actually 1/3 less than what is in the review, which I think is worth mentioning. That makes it perhaps more competitive.
ribonzz posts on February 05, 2010 03:56
I'm not really think that this is really good, but if you are interested with the price, seems fine
MidnightSensi posts on February 04, 2010 20:39
I was interested enough to look on Pioneers website, and it seems list is $598/pair, but suggested retail is $399/pair (able to purchase for that price on their website).

Neat little speaker!
highfigh posts on February 04, 2010 18:10
Buckle-meister, post: 262134
Here, whisky is spelt the Scottish way but…
Interesting- I thought' the Scottish spelling was 'uisge beatha'.
Post Reply