Philips PMC7230 Portable Media Center Review
Philips PMC7230 Portable Media Center Review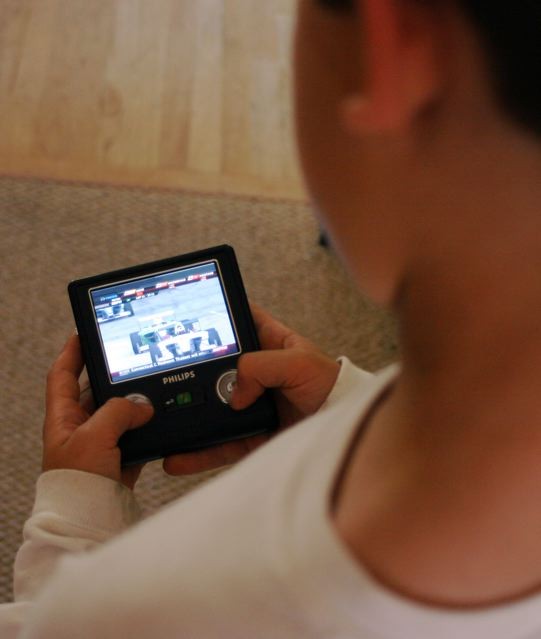 The portable audio/video device market is flooded with choices. Take a walk through any big electronics retailer and you will find everything from tiny flash-based MP3 players to mini-laptop sized DVD player/screen combos. But one emerging class seems to be the personal portable media player. Philips has brought to market an interesting device that they bill as a Portable Media Center - the PMC7230.

Features & Impressions
I recently received a review unit from Philips and decided to put it though the paces. The PMC7230 has 30GB of hard drive storage that allows you to carry up to 130 hours of video or up to 15,000 songs. Let me start out by saying that if you are looking to for a device to use primarily for music, this is not your gadget, as there are better form factors out there for music. But if video is your thing, you might be in business. One feature that sets this unit apart is it's built-in video recording feature, which I will describe in more detail below.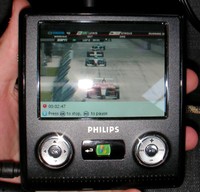 Included in the box you will find a pair of in-ear headphones, a USB cable, an audio/video cable, a protective pouch that doubles as an easel when folded back, an AC/DC adapter/charger, and CD-ROM software and user manual for PC. The PMC7230 is not compatible with Macs.
The size and shape (about 4" x 4") of the PMC7230 reminds me of a folded up Nintendo Game Boy Advance SP. The glossy black plastic casing has silver highlights, and sports a 3.5" LCD screen with a resolution of 320 x 240 pixels. Under the screen are two round rockers with buttons in the center, and between them is a green button with a Windows logo, and next to that a 'Return' button. Underneath the buttons is a small speaker. Not only is it about the same size as a Game Boy, but you end up holding it like one with both hands, operating the rockers and buttons with your thumbs. Trust me, it was all too familiar for my kids when I handed it to them.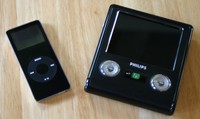 The top of the unit has jacks for headphones, AV IN, AV OUT, and USB. On the left hand side you will find the power on/off/lock switch and the AC/DC adapter jack. The rear of the device has a clever little recessed kick-stand that you can slide to pop out and prop up the device on your desk or table for viewing while you, say, write a review.
Operation is simple - as stated earlier, I handed it to my 13 year old and she powered it up and was watching the videos on it in no time. The device runs on Windows Mobile Software for Portable Media Centers, and my unit was loaded with version 2.1. When I powered it up (It took about 15 seconds to boot), I was greeted with the familiar Windows PMC software menu, and easily navigated up and down through the choices with the rocker button. You can turn sound effects on or off - I liked them on, cause the I liked the clicking sounds as I scrolled up and down the menu. It was sort of like the Tivo sounds on steroids. You know, really tiny wood blocks - that kind of thing.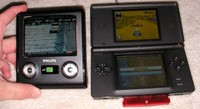 Overall the interface is quite simple. You can browse your music by genre, artist, song, album, playlist; photos can be browsed by date or folder; and videos by date, source or name. While playing music, the large display shows you album art, artist, song and album title, elapsed time and track number.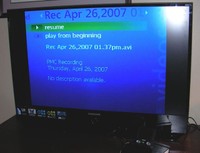 I was most intrigued with the touted video recording feature, so I decided to hook the PMC7230 up to my Tivo and give it a try. I connected the included RCA type red, white and yellow audio and video cable into my Tivo. I selected RECORDING > VIDEO, and the device grabbed the incoming signal and was ready to go. All I had to do was press the OK button (left thumb) and recording began. I recorded some open-wheel racing that was on ESPN for about 25 minutes before stopping it to see how it came out.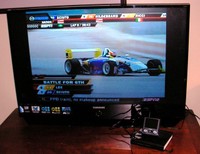 I clicked down to VIDEOS and found my recording - although I could not find a way to name it. The name it had been assigned was "Rec April 26, 2007 01.37pm.avi." Now, call me crazy, but if you record a dozen things on this little unit before taking a flight to Europe, how in the heck will you know what is what? Videos brought over from Windows Media Player 10 on the PC were named though. (There is a built-in timer that allows unattended recording of TV shows, but in the age of DVRs, I am not sure many people will have the patience to manually enter start and stop times on the Philips, then leave their source device turned on and tuned to the proper channel.)

I am a sucker for racing, and found myself forgetting about the review and watching the race. After several laps I snapped out of it and began trying out the transport buttons, which operate much like your DVD player's would. You can hold down the FWD key to fast forward, or click it to jump ahead 30 seconds. You can also pause if you so desire. The image was good and the screen is bright, although taking it outdoors in the sunlight was a disaster. It was almost impossible to see the image in direct sunlight, so don't plan on taking it to the beach.
The image looked great on the 3.5" screen, but how would it look on my Samsung 46" rear-projection DLP? I had to know! To display the content from the PMC7230 on a television, it is necessary to go into the SETTINGS > DISPLAY > TV OUT and select ON - which seemed a bit unnecessary since there is a dedicated AV OUT jack. I would like to see the unit sense when you have a cable plugged in and switch to output automatically. Once I had hooked it up and configured it, I had my answer. Not so good. It certainly was not unwatchable, but don't plan on wowing anyone with the picture quality.

Conclusion
I can totally see this being a decent alternative to one of those large portable LCD DVD player combos if you can handle the smaller screen, because in comparison to a portable such as the Creative Zen V Plus, the screen seems huge. So it falls somewhere between a small MP3 player with video (the Philips has a bigger screen but is not as portable) and a portable DVD player (the Philips has a smaller screen but is much more portable). The Philips PMC7230 is pretty cool, but at $349.99 you will want to make sure it is a good fit for your intended use.
Price: $349.99
pricey!

Media:
video-focused

Form Factor:
large

Styling:
same 'ole, same 'ole

Specs

30 GB
Windows XP only
USB 2.0
.518 lb.
3.75"(W) x 4.2"(H) x .87"(D)
For More Information:
Philips
64 Perimeter Ctr E
Atlanta, GA 30346
800-451-2851
www.philips.com
About Audioholics Gear Corner
Welcome to the Gear Corner, where we give you a quick but comprehensive look at consumer electronics from several different categories. All products in the Gear Corner have been individually evaluated through hands-on testing by our reviewers in order to give you a quick but detailed overview that we hope will help you in your purchasing decisions.

Confused about what AV Gear to buy or how to set it up? Join our Exclusive Audioholics E-Book Membership Program!
Recent Forum Posts:
tomatelol posts on January 10, 2008 16:12
Hi, i bought my PMC too. but when i record from my tv, the screen is with no colors. black and white. why this happens? I pluged everything in the right place. but has no colors. Thank you!

"sorry, bad english" From Brazil.
Post Reply