The Bittersweets – The Life You Always Wanted (2006)
The Bittersweets – The Life You Always Wanted (2006)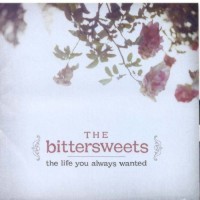 Label: Virt Records
Price:
$13.98|
Get the Best Price
If you are like me, turning on the tv or radio these days can be discouraging. What is passing for music in the mainstream today is depressing. American Idol has actually become a legitimate launching pad for a record deal. A parade of beautiful (and even not-so-beautiful) people singing cheesy songs written by someone else, competing for 15 minutes of fame. Has music really come to this? Whatever happened to true recording
artists
? You remember, those gifted individuals who can really sing (without the help of Pro Tools) and play an instrument. Those bands who have spent years honing their craft. If you are nodding your head and screaming "Yes! Where are they?!" then I present to you The Bittersweets.
The Songs
When the World Ends
Adam
Bag of Bones
Long Day
Houston
Mostly Happy People
Burn Out My Eyes
Shooting Out the Sky
Rapture
Prison
And Death Shall Have No Dominion
Review
Independent labels (such as Virt Records in Seattle ) have become the salvation of the music business. When you pop the disc in and hit play, the groove that drummer Steve Bowman (Counting Crows, Third Eye Blind) lays down in the opening bars of "When The World Ends" lets you know you are in for a musical treat. In fact, there is nothing bittersweet about this debut release from the San Francisco-based band. After listening to The Life You Always Wanted , it comes as no surprise that the band has received countless critical acclaim. They are a five-piece group led by Chris Meyers, who wrote all of the songs and provides vocals, guitars and piano. He co-produced the project with bandmates Daniel Schact (bass) and Jerry Becker (piano & guitar). Hannah Prater provides the lead vocal on most tracks. This combo results in a pleasingly balanced collection of music that is tough to categorize. It's too country to be rock, too rock to be country, too bluegrass to be folk, too folk to be bluegrass, but all with a pop sensibility. Excellent songwriting, tasty instrumentation, and warm vocal harmonies combine for a solid record from start to finish. Think Americana : Tift Merritt, Tom Petty, Kathleen Edwards, Shelby Lynne, etc. This is authentic music; there is nothing hidden here in the songwriting, production, or talent. It's all there waiting for you to immerse yourself in.
The mix is very clean and uncluttered from song to song. There is a warmth to the low end that balances out the delicious twang of the guitar that is present in most of the tunes. The instrumentation is fantastic - featuring acoustic and electric guitars , bass, drums, piano, mandolin, B-3, Wurlitzer, Rhodes and even a Melodica. Prater sings lead on all but two of the songs. Her voice has a subtle, inviting texture that is really appealing. Meyers blends well with her on the harmonies, and does very well with the lead on two songs.
A lot of music today seems so busy - it is refreshing to hear a song like Bag of Bones that has such a dynamic quality. The music is allowed to take the time necessary to convey the lyric. There are several songs presented here that allow the music to breathe with Prater's vocal, weaving a framework around lyrics that seem to yearn for an escape from a life that sometimes seems overwhelming.
I rate the sound quality four out of five stars. There are times, at louder levels, where the mix is a tad on the harsh side. But the strength of the material far outweighs any complaints I might have with the mix, especially considering the fact that this is a self-produced, independent release by a new act.
If you are looking for some fresh, new music (or maybe you just need to be reminded that there actually are some great new artists out there writing and playing great music) this is a record well worth your hard-earned dollars.
Confused about what AV Gear to buy or how to set it up? Join our Exclusive Audioholics E-Book Membership Program!