B&W Zeppelin Speaker System for iPod Review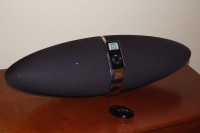 B&W Zeppelin
Summary
Product Name: Zeppelin
Manufacturer: Bowers & Wilkins
Review Date: November 28, 2007 18:00
MSRP: $ 599
Drive units:  1x 5" bass, 2x 3.5" midrange, 2x 1" metal dome tweeter
Frequency range:  -6dB at 47Hz and 22kHz
Amplifier power output:  1x 50W (bass) 2x 25W (midrange/tweeter)
Power input voltage:  100V - 240V ~ 50/60Hz
Rated power consumption:  20W
Standby power consumption:  3.7W
Inputs:  30-pin iPod connector 3.5mm mini jack analogue / optical digital (TOSlink) USB 2.0 slave (software upgrades)
Outputs:  S-video (mini DIN) Composite video (RCA Phono)
Height:  6.8" without tilt pad 7.8" with tilt pad
Width:  25.2"
Depth:  8.2"
Net weight:  16.5 lb

Finish
Enclosure: Polished stainless steel with black trim
Grilles: Black cloth


Pros
Tight, punchy bass
Crisp, detailed highs
Sleek styling
Cons
Funky remote
Expensive (you get what you pay for)
Gear Corner Review
B&W's Zeppelin speaker system for iPod looks more like a piece of modern art than a set of speakers.   Then again, it looks more like a black and chrome version of the Hindenburg than modern art.  So aside from being aptly named, how does it sound?   Priced at $599, B&W calls it "audiophile grade" and "stunning."  I for one was ready for this thing to land at my house so I could find out for myself.
It seems everyone is rushing into the "Made for iPod" market segment.  Enter Bowers & Wilkins, known for manufacturing high quality loudspeakers for both two-channel and home theater setups.  When we heard about their new speaker system for iPods, we had to have a listen.  One look at the Zeppelin, and there was no doubt that B&W had put the quality and engineering you would expect into this product, but a fundamental question remained - are the MP3's in your iPod worthy of a $600 speaker system?  With all the discussion about the poor, compressed quality of digital music, at what point are expensive speakers overkill?  While I realize that while some audiophiles rip lossless files from their CD's, most people are listening to lousy MP3's. 

Design & Features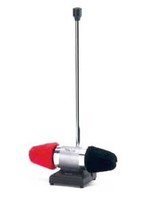 The design of the Zeppelin is stunning.  You have not seen anything like it.  Okay, I take that back.  If you have ever seen one of those old electric shoe polishing machines, commonly found in old barbershops or country clubs, you have seen something like it.  (Add a pole with a button at the top to the Zeppelin and you're there.)  But you have never seen a speaker system like it.   

The one-piece amplified speaker system and docking station makes a serious statement sitting on your desk or shelf.  The design is sleek and simple.  It is about two feet wide, and tapers sharply at each end, giving it an unmistakable "zeppelin" shape.  The entire front of the unit is covered in a form-fitting black speaker grill fabric.  (The grill is not easily removable - B&W suggests you not remove it.)  Rising from the front center is the slender, polished stainless steel dock for your iPod.  Behind the dock arm near the top of the unit is a stainless steel power button, and under it is a volume rocker, also stainless.  Both are flush mounted in a piece of stainless steel trim that runs from top to bottom.

Turn the Zeppelin around to reveal the same polished stainless steel finish, along with two bass ports and a small connection panel. The panel has inputs for a (removable) power cord, a USB slave socket for software updates, an AUX 3.5mm jack input socket for analog or optical digital (with adaptor) source, an S-video output, and a composite video output.  On the front of the unit under the black grill just to the left of center, is a small indicator light that is red when off, and blue when the Zeppelin is powered up.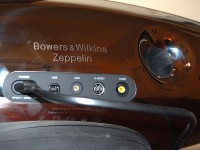 The design is comprised of B&W's renowned aluminum-dome tweeter and Nautilus tapered-tube tweeter-loading technologies.  The passive crossover for the tweeter and midrange drivers incorporates film capacitors and air-core inductors to reduce distortion.  The twin 3.5" midrange drivers utilize glass-fiber cones, and the 5" bass driver is powered by a 50 watt amplifier.  The two-way mid/high frequency sections are powered by two 25 watt amps.
If you turn the unit upside down, you will find a round built-in base with rubber ribs.  Out of the box the unit sits on a shelf leaning back, tilting upwards.  This is ideal assuming you are listening to the Zeppelin while standing up, working around the kitchen, etc.  If you are mounting it higher up on a shelf or need it aimed down a bit, use the included rubber base, which also has ribs and grooves that locks into the unit via friction fit.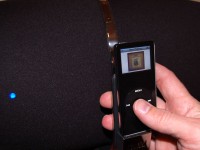 Setting up is just that simple.  In fact, the only difficult part was taking it out of the box, where it was tempting to use the extruded dock piece (which at a glance looks like a handle) to pull it out of the shipping materials.  Thankfully, B&W has a notice in the box warning against this, as it is not meant to support the full weight of the unit.  (And it is pretty hefty, weighing in at around 16 pounds.)  This floating arm design actually makes using the system very easy, as you can put your hand around it (as you normally would away from the system) to operate the controls of your iPod. 

I set the Zeppelin up on our dresser in the master bedroom for the majority of my evaluation period.  Included with the Zeppelin is a strange little remote control, which is roughly the size of an egg that has been squashed a little bit.  The remote worked pretty well from my bed across the room, allowing me to easily control power, volume, mute, play/pause and track forward or back. 

Listening Impressions
It didn't take long for me to find the answer to the question about sound quality.  The Zeppelin filled my modest master bedroom with amazing sound from the moment I turned it on.  I could not believe the detail I was hearing from an iPod.
I have tested several iPod speaker systems, and nothing comes close to the Zeppelin.
I started my listening tests with some dreamy rock from Eisley, one of the coolest young bands out there.  Their new release is Combinations, and if you haven't heard it yet, you need to rush out and buy this record.  From Tyler, Texas, the band is comprised of three sisters (keys, guitars, vocals), their brother (drums) and cousin (bass).  But trust me, this is no Partridge Family.  Their vocal harmonies and tasty hooks will stick with you in a way that music should. 


The opening track, "Many Funerals", gave the Zeppelin a great workout with Sherri and Stacey trading haunting vocals to open the song, before the full band kicks in for a driving rock chorus.  The B&W speaker system brought the recording to life, allowing the gorgeous vocals to float through the room with distinct imaging and clarity. Other speaker systems have tended to have a hard time when the busy chorus kicks in, frequently resulting in a collapse of the soundstage.  But the Zeppelin held firm, and made for a fantastic experience. 

I then went to my favorite track, "Ten Cent Blues", where nineteen-year old Stacy DuPree displays a depth of songwriting complexity that many artists spend their entire careers chasing, often without success.  Stacy weaves her earnest vocal through a fantastic track arrangement that blows me away.  This track showcased the rich bottom end and smooth midrange of the system.
Finally, I went to the Invasion of the Body Snatchers-inspired "Invasion", where I found the cool piano riff in the chorus running around the room, creating a perfect backdrop for the song's semi-paranoid lyric.  The detailed high-end from the tweeter-loading technology in the Zeppelin gave the sound of the pick on the strings of the guitar that "click" and scratch that I long for when listening to a great recording.

With the Zeppelin parked in my bedroom, I found myself listening to music every morning when getting dressed, and again at night before bed.  Just hitting "Shuffle Music" on my iPod brought immense pleasure with such a quality speaker system. 

Everything I threw at it sounded good, most of it sounded great. Death Came a Knockin' by The Duhks was stunning - the Zeppelin provided incredibly authentic reproduction of the percussion and layered vocals throughout the song.  It handled the trashy rock of Jet without any problem, and it sparkled during the soaring guitar solo in "Magnolia Mountain" by Ryan Adams & The Cardinals. 

Conclusion
Without a doubt, this is the best speaker system for iPod I have had the pleasure of listening to.  It is very hard for me to find much to complain about in the system.  The remote is a bit awkward feeling in my hand - the buttons are very small and function labels are hard to read.  Forget about using it in the dark, as it is not backlit nor does it glow in the dark.  The remote is clearly more about style than substance.  And although the price is steep, you get what you pay for.
Many will find this a suitable alternative to a small bookshelf speaker system in an office, kitchen or bedroom.  And it looks great - it really brings a sense of style into your room, while at the same time providing fantastic sound.  If you want the best for your iPod, look no further than the Bowers & Wilkins Zeppelin.

The Score Card
At Audioholics Gear Corner we give you a quick but comprehensive look at consumer electronics from several different categories. All products in the Gear Corner have been individually evaluated through hands-on testing by our reviewers in order to give you a quick but detailed overview that we hope will help you in your purchasing decisions.
| | | |
| --- | --- | --- |
| The Price: | Bargain | |
| | About right | |
| | Pricey | |
| | | |
| --- | --- | --- |
| Recommended For: | Acoustic/folk/bluegrass | |
| | Rock/country | |
| | Classical | |
| | Jazz | |
| | Home theater | |
| | | |
| --- | --- | --- |
| Styling: | Boring | |
| | Nothing special | |
| | Gorgeous | |
| | Unique | |