Griffin Technology Evolve Wireless Sound System for iPod Review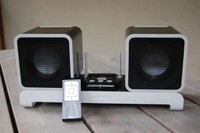 Griffin Technology Evolve
Summary
Product Name: Evolve
Manufacturer: Griffin Technology
Review Date: April 06, 2008 14:59
MSRP: $299
Dimensions:
    ▪    15.7" (400mm) wide x 5.1" (140mm) deep.
    ▪    4.7" (120mm) tall w/o speakers in place
    ▪    Total height 7.5" (190mm) w/ speakers in place.

Outputs:
    ▪    Composite Video Out, S-Video Out (5th gen iPod Only)
    ▪    Right/Left Audio Out (female RCA connectors)

Inputs:
    ▪    iPod universal Dock insert accommodate all iPod models with dock connectors.
    ▪    Right/left Auxiliary Audio in - female RCA connectors.

Power:
    ▪    AC Power: 100-240V AC, 12V/5A
    ▪    Battery: 3.7v/5.2Ah

Operating Range:
    ▪    Operating temperature: 32° to ~104° F (0° to ~40° C)
    ▪    Nonoperating/Storage temperature: -4° to 104° F (-20° to 40° C)
    ▪    Relative humidity: 5% to 95% noncondensing
    ▪    Maximum operating altitude: 10,000 feet (3000 m)
Speakers:
    ▪    Effective range: 150' (45.7m) from Base Unit
    ▪    Dimensions (ea.): 5.1" X 5.1" X 5.1" (140mm x 140mm x 140mm)
    ▪    Self-contained RF module.
    ▪    Broadcast Transmission latency ("wireless delay") < 20ms
    ▪    Internal lithium-ion battery, rechargeable- 3.7v/5.2Ah with overcharge/undercharge protection.
    ▪    Hours of operation at normal listening volume: 10 hours.
    ▪    Built-In Amplifier Power: 12 Watts (RMS)
    ▪    Frequency Response: 120Hz - 20kHz

Remote:
    ▪    4.01" (102mm) long x 1.64" (42mm) wide x 3.9" (10mm) thick.
    ▪    Range: 150' (45.7m)
    ▪    RF-transmits to 150' (45.7m) @ 433 Mhz.
    ▪    Functions: Play/Pause, Volume Up/Volume Down, Next/Fast Forward, Previous/Fast Rewind, Shuffle, Repeat, EQ, System Power
    ▪    Power: Button cell type CR2032 3V Lithium battery.
Compatibility:
    ▪    iPod Touch
    ▪    iPod Classic
    ▪    iPod nano (3rd generation)
    ▪    iPod with video (30GB, 60GB, 80GB)
    ▪    iPod nano (2nd generation)
    ▪    iPod photo
    ▪    iPod with color display
    ▪    iPod nano (1st generation)
    ▪    iPod mini
    ▪    Integrates with: CD, MP3 players, MiniDisc players, TV's, stereo receivers equipped with Aux Audio inputs.
Pros
True wireless - no cords into or out of the speakers
Lithium ion batteries
RF remote control
Can be paired with other Evolve systems
Simple set-up
Cons
Average sound quality, lacking bass
Batteries are not replaceable
Limited volume
Gear Corner Review
The Evolve wireless sound system from Griffin Technology brings yet another iPod speaker system to a crowded market category.  But the Evolve stands alone as the first truly wireless speaker system I have reviewed, and it proved to be a great little product that any iPod owner will be interested in checking out.
Most wireless speaker products aren't really wireless - each speaker typically has power cords that need to be plugged in to an electrical outlet.   The Evolve uses rechargeable lithium-ion battery technology to achieve complete cable freedom around your home or office, with excellent results.
Design & Features
The Evolve has a very modern, modular look.  The front of the base is crafted from polished aluminum with similar curves and a design that mimics Apple's Macintosh Pro tower computers.   The top of the base is glossy black and has two rubbery gray antennas on either side of the docking area for compatible iPods.  Griffin includes an array of adapters for the dock to fit whichever (docking station compatible) iPod you own.  Choosing the proper adapter is probably the most difficult step in the setup process.  Once you have chosen the right style and clicked it into place, all that is left to do is plug in the power brick and set the speakers on the stand.  

The speakers are interchangeable - the unit will automatically assign left and right based on which side of the base you put them on.  The bottom of each speaker has 3 small metal contacts and a square rubber pad that mates perfectly with the grooved  system base.  They are constantly charging while on the base, and a fully charged speaker will give you about 10 hours of listening.

Each speaker is enclosed in a 5.5-inch black cube that has a rubberized back and trim, and has a built in handle on the rear.  There is a single power button on the top of each speaker, centered near the back. Inside of this enclosure is a 4-inch full-range aluminum driver, hidden by a black aluminum grill.   A green LED indicates right or left channel - the LED appears on the left corner if it is the left channel, and the right side if it is assigned to the right channel. It's a pretty cool way of making sure you don't mix the speakers up when undocked.

The build-quality of the entire unit is very good - I felt the speakers were plenty rugged, yet looked very contemporary.  The styling is very hip - much cooler than many of the speaker systems for iPod on the market today.   But the real beauty of the Evolve is the flexibility allowed by the wireless speakers.  They are rated for a range of 150 ft, and I had no problem with reception all over my home, though I doubt it would hit its maximum rating through walls. It was incredible to be able to dock your iPod in the den and begin listening to music, then just grab a speaker (or two) and take it with you to the kitchen while you fix a snack.   Then out to the garage work-bench while I worked on a project there, then back into the house to my bathroom for continuing tunes while I grabbed a quick shower.
The Evolve was built with several well thought-out features.   The base has a power button, as well as volume up and down.   But it also includes a switch for selecting between stereo and mono.  Switching to mono allows you to take each speaker to a different room so mom can enjoy music as she makes trips between the laundry room and kitchen.  The power button on top of each speaker allows you to turn off the music in case the phone rings and you don't have the RF remote nearby - in effect, a handy mute button.  Another great feature allows you to pair two (or more) Evolve systems so that they play the same music all over your house. 

The included remote control matches the system with a sleek black and silver styling.  The buttons are similar to those found on a Motorola Razr phone. Buttons include EQ, power, volume up and down, previous track/fast rewind, play/pause, next track/fast forward, shuffle, and repeat.

I have to confess that I am a typical man in that I do NOT read the instructions when I bust open a new product such as this.   I assumed that the remote was of the IR variety, and while out on the back porch painting one day, a song came on that I wanted to skip.   I thought to myself, "it would be so cool if that remote were RF so I could click through this song..."  A few days later, when I was finally reading through the manual, I realized that the remote IS, as a matter of fact, an RF remote!  Which is so stinkin' great, cause even on the other side of the house, or outside, or in the garage, etc., you CAN control your iPod via the remote! Like the speakers, it has a maximum range of 150 feet.
The Evolve includes connections for both audio and video.   On the rear of the unit you will find RCA audio out, composite and S-video outputs (for use with 5th generation iPods only), and RCA audio inputs (that will allow non-docking iPods and other MP3 players to be used with the Evolve).  While it is great that you can hook up all these things, I think most people are just gonna love being able to drop their iPod in the dock, grab the speakers and go.   It is this simplicity that makes the product great.
Following in Apple's footsteps (a la iPod), there is no user access to the batteries.  I am not sure if Griffin will offer a service for replacement of the lithium batteries once they expire. 

Listening Impressions
I put the Evolve through its paces listening to all kinds of music from my iPod.  I also listened to a few of my favorite podcasts, including AV Rant and The Business.  So how did it perform?  Well, the Evolve's sound quality was average for this type of product.  There are other docking iPod speaker systems on the market that sound better for the same price, but of course they are not wireless. And if you want a high-end iPod speaker system, you can pay hundreds more and get a much better sounding (but wired) system.  

It's not that it sounds bad - the speakers are just limited in their dynamic range, lacking any real bottom end or crispness on top.  Another limitation is volume - it did not play as loud as other comparable (wired) systems. I was hoping for a miracle, which would have been unusually great sound quality from a truly wireless speaker system for under $300. What I got was a quite acceptable reality - a very decent sounding system that is worth the money because of the innovative wireless speakers.

But read this in context, and understand it's intended use.  This is not a product for the critical, audiophile-type listener who wants to plop down in a chair in a tiny, acoustically perfect room to listen to their vinyl.   This is aimed squarely at the iPod generation, who are typically pretty active people who like portable music.  And as a result, the portability of the speakers make this a great product for casual listening around the house.  My wife and kids think it sounds great, and someone always has their iPod in the dock when I get home. 

I have had several similar speaker systems in my house over the past few years, and NONE of them has gotten as much daily use as the Evolve.  It is such a pain to unplug and move even the smallest iPod speaker dock.  But there is no such issue with the Evolve.  It is plenty loud for use in the garage while drilling and hammering away at whatever Saturday morning project I might be immersed in, and it was perfect for keeping tunes flowing while I painted the back porch one afternoon.  My wife uses it in the kitchen while fixing dinner and in our bedroom while she sorts laundry. 

I also found the wireless signal to be very robust.  I did not experience static nor did I ever lose the signal anywhere in or around my 2000 square foot home.  Whenever I docked the speakers or turned them on, they immediately synced up with the system and were ready to go.  The Evolve is ready to plug and play.

Conclusion
To put it simply, I love the Evolve.  It is an incredibly practical and useful product that I can recommend to anyone who has an iPod.  Throughout my review period, there were endless opportunities to use it.  For every imaginable time I wanted to listen to music or a podcast, but didn't want to block out the world around me with earbuds, I could just pop my iPod into the Evolve dock, grab a speaker (or two) and go.  

Griffin Technology continues to produce quality products for iPod.  I have tried many of their products, and can tell you that the Evolve is their best and most versatile to date.  The Griffin Technology Evolve is widely available both online and at local retailers, and is worth checking out.

The Score Card
At Audioholics Gear Corner we give you a quick but comprehensive look at consumer electronics from several different categories. All products in the Gear Corner have been individually evaluated through hands-on testing by our reviewers in order to give you a quick but detailed overview that we hope will help you in your purchasing decisions.
| | | |
| --- | --- | --- |
| The Price: | Bargain | |
| | About right | |
| | Pricey | |
| | | |
| --- | --- | --- |
| Recommended For: | Acoustic/folk/bluegrass | |
| | Rock/country | |
| | Classical | |
| | Jazz | |
| | Home theater | |
| | | |
| --- | --- | --- |
| Styling: | Boring | |
| | Nothing special | |
| | Gorgeous | |
| | Unique | |
Confused about what AV Gear to buy or how to set it up? Join our Exclusive Audioholics E-Book Membership Program!