Auralex Sonosuede Room Acoustics System Review
Auralex Sonosuede Room Acoustics System Review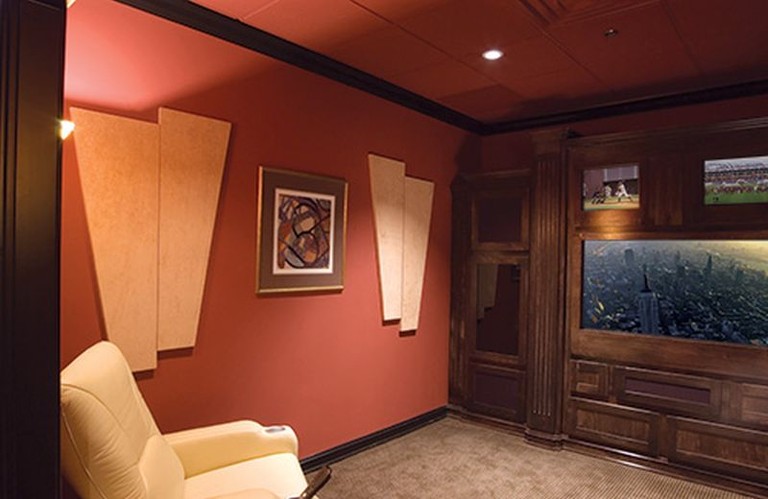 SonoSuede HT Acoustics Kit
Overall NRC flush: 0.14-0.89 for 1" and 0.59-0.91 for 2"
Overall NRC spaced: 0.40-1.06 for 1" and 0.67-1.09 for 2"
Thickness: (8) 1" S3TZ (L&R) and (4) 2" S3CT
Edge: Square-edged S3TZ (L&R) & back-beveled S3CT
Fire Rating: Class A
Pros
Free CUSTOM acoustical room analysis
Multi-purpose acoustics in one package
Improved soundstage and dialogue clarity
Auralex offers additional acoustical products for particular needs
Cons
Additional color choices add cost
Will likely need more than one kit to do a room
Auralex Sonosuede Room Acoustics System Introduction
Many people think that the secret to a great home theater is great gear. And when you ask them what that gear consists of, it will usually be a display, speakers, components, and cables. But the ingredient that can often make or break a home theater is the room itself. My room is an excellent case in point, which is why I chose to bring in the good folks at Auralex.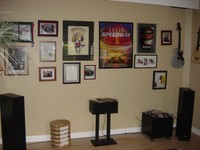 When I moved into my current home almost five years ago, I had some tough decisions to make. My old house back in Nashville had a dedicated room for my theater. Moving to the coast of SC, I lost almost 1000 square feet, and indeed my dedicated room. For almost a year we kept our projector under a side table, and at night would bring it out and set it up on a coffee table and use the wall of our great room as a screen. It actually took me that long before I realized that the sitting room (we call it a "Carolina room" in these parts) off of the great room might be a great place for our theater. The room did not have much going for it - a fireplace, a cathedral ceiling, hardwood flooring, and two walls of windows. But after weeks of deep thought and measurements, we came up with a plan.
I called on my buddy Gary to drive up for the weekend and we set out to create the ultimate multipurpose room. We built a shelf over the windows in the rear of the room for the projector, then created a nicely trimmed out box in the front of the room for the retractable screen I sprung for. Before long, we had a room that was shaping up quite nicely. I covered the walls with music and movie memorabilia, added a fantastic couch and ottoman, purchased room-darkening honeycomb shades, threw down a nice Turkish rug, and we were in business. The room is filled with great gear and a fantastic image on screen, but has always been missing something. I have always had bass problems with the room, and I knew that the only way to fix it was to correct the room itself.

Confused about what AV Gear to buy or how to set it up? Join our Exclusive Audioholics E-Book Membership Program!
Recent Forum Posts:
Warpdrv posts on July 10, 2007 23:01
Nice review on the Aurelex stuff…

I bought the Sonosuede Panels, and the are great. They deffinately helped with my room acoustics and I as well as all of my friends think they look spectacular.
I also got fantastically built products ATS Acoustics. They are also beautiful looking and helped in my very live room. I know I need more room treatment but it has made a huge difference for me.

I also love the look of the Ready Acoustics stuff, Chameleon Acoustic Frames are a fantasic idea, and look great. With all the WAF problems around, its nice to see some companies stepping up to the plate to offer great ideas.

Thought you'd like a pic…
bpape posts on July 08, 2007 12:06
Just remember that there are a lot of other more effective materials than foam. Also, doing ANY material in just 1" and 2" will leave the bottom end untreated. The idea is to use the proper amount (more is not always better) and to balance the absorbtion across the frequency spectrum.

Bryan
pearsall001 posts on July 07, 2007 12:31
jaseman, post: 279536
I don't doubt that room treatments help with the sound… to a certain degree… but the cost is nearly as much as some top quality speakers, etc, etc.

I find it really hard to justify the cost for what amounts to some foam rubber glued to the walls.
Room treatments are the best way to spend your money. Speakers & electronics are simply prisoners in their surrounding room. Unless your room is properly treated, you have no clue as to how good your present rig can sound. Start doing some research. I find it comical that folks will drop thousands on gear & speakers & never bother to factor in the room as the biggest contributer to sound quality.
89 VT HOKIES posts on July 02, 2007 17:03
I was very suspicious of room treatments until I spent the money on 12 2' x 4' 2 inches thick treatments and placed them at the first reflection points as well as the 2nd and it made a huge difference in sound quality. I then used my Denon 5805ci's auto set up and as Emeril would say "BAM". Huge difference.
MDS posts on June 27, 2007 23:42
Thanks J. I will have 12" (high) space for the center channel and was thinking of using the MoPads to angle the center down toward the listening position. If I end up going with the SVS MTS-01 it will be a tight fit as that center is 10" tall but it would still work.

My current JBL center will fit no problem because it is tiny in comparison.
Post Reply