KEF iQ Series 5.1 Speaker System Review
KEF iQ Series 5.1 Speaker System Review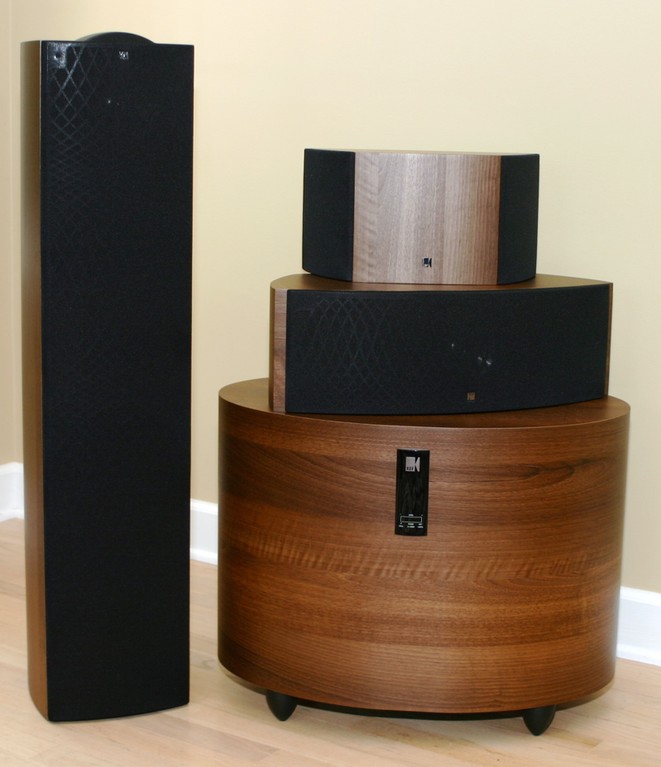 Introduction
Can speakers that look great sound great?   Over the years, the majority of speakers that I have heard that really sounded great all look pretty much the same.  While finishes and grills can make one speaker look better than another, they are mostly all pretty boxy.  I'm reminded of a great line from the old movie "Crazy People," where an ad executive ends up in a mental institution and begins to enlist the patients to come up with ad campaigns.   My favorite was one they came up with for Volvo, and it went something like this:   "Volvo.  They're Boxy, But They're Good."  KEF's iQ line of speakers certainly can't be considered boxy, but trust me, they're good.
KEF is a British company that was founded in 1961 by electrical engineer Raymond Cooke who believed in the power of new materials and technology combined with design ingenuity. The company still occupies it's original site on the River Medway in the UK, pursuing these same beliefs as a leading manufacturer of speakers for home cinema, hi-fi and and custom installation. According to the company, KEF's cornerstones of success are quality, honesty, dedication and innovation.
In 1988 the company introduced it's Uni-Q technology. This technology promised to deliver well-defined stero imaging over a much wider listening area without the need for a "sweet-spot" in the listening room. KEF engineers accomplished this by using a material (Neodymium/Iron/Boron, which was originally developed for the NASA space program) that is 10 times more powerful than a conventional loudspeaker magnet, which allowed them to make a tweeter small enough to fit within the bass unit coil at the precise acoustic center of the cone. The current iQ line represents the fifth generation of this technology that KEF has continued to improve on over the years.

KEF shipped me a full 5.1 surround system from their iQ line. This line was designed with home theater and digital audio in mind, and they are built to handle the power and dynamics typical of an Audioholic's beefy system.

Features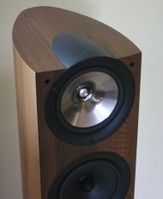 The system included a pair of iQ9 tower speakers for the front left and right, an iQ6 center channel speaker, a pair of iQ8ds dipole rear effect speakers, and the uniquely oval-shaped PSW3500 powered subwoofer. The speakers are very well packaged to prevent damage during transport. The speakers were a bit smaller than I had expected, but this will actually help you with the WAF.
I requested the speakers in the available Apple finish, but received it in Walnut. I must say that I was very disappointed in the Walnut veneer. For speakers that have such a unique shape and design, I found the Walnut to be drab and boring. The finish was not so bad looking on the towers, but I especially disliked the way it played out on the sub. It just looked cheap to me.

I think my distaste for walnut goes back to my youth when the local Radio Shack was the only place I could get to via bicycle where I could peruse gear. I am still haunted by images of Realistic speakers surrounding me in that cheap walnut vinyl veneer...

The flagship iQ9 tower measures just over three feet tall, and is a gorgeous tower speaker. It is not what I would call a large speaker, but I would soon find out it is very capable of producing large sound. The curved cabinets are well-constructed inside and out, and look great. They stand out from typical boxy speakers with their soft curves and rounded rears. Each cabinet houses two 6.5" drivers for low frequency duties, and feature the unique tweeter within a midrange driver technology KEF calls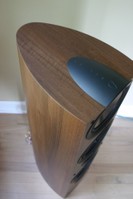 Uni-Q. The 3/4" aluminum dome tweeter is mounted at the acoustic center of a bass/midrange cone. This results of this setup are fantastic imaging with a wide sweet spot and crisp, clean upper midrange and highs to match the tight, distortion free bottom end that these speakers are capable of. The Uni-Q driver is comprised of a Titanium plated cone surrounded by Butyl rubber for improved cone excursion. The tweeter is an aluminum cone with a fabric surround, which is capable of high frequencies output up to 40kHz. One complaint I have with the 9's is the grill - it is a flimsy plastic design that could be improved upon. If you don't have kids, you might want to keep them off, as the speakers look great without them!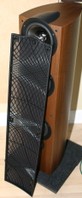 The matching iQ6 three-way, bass reflex center channel speaker combines a 5 1/4" Uni-Q array with twin 5 1/4" low frequency drivers. As with the iQ9's, this speaker sounds much larger than it actually is. The cabinet measures a modest 6.5" high by 20" wide, and is only 10" deep, and has a tuned rear port. Dialogue was dispersed evenly around my listening room and the iQ6 provided an excellent timbre-match to the iQ9's.

Surround duties were handled by the iQ8ds dipole rear effects speakers. These are elegant speakers that each feature two Uni-Q 5 1/4" drivers with integrated 3/4" dome tweeters. They are timbre-matched to the rest of the system, and share the same solid, well braced cabinet quality as well. They ship with rubber bumpers to protect your walls when mounted using the built-in keyhole system on the rear, which made installation easy.

Rounding out this surround system is the elliptical PSW3500 subwoofer. Taking styling cues from the rest of the system, this subwoofer makes a fashion statement in your room. The sub's cabinet is oval, and looks unlike any other subwoofer I have seen. It is a closed box design, with a 12" long-throw woofer and a 300 watt internal amplifier. The speaker fires downward, and has four pointy egg-shaped feet. On the front of the sub there is a display and IR receiver that allows you to make remote control adjustments from your listening position. This should be a required feature of subwoofers - I loved the convenience of the included remote control for adjusting level, frequency and phase. From across the room you can clearly see the LED bars increase or decrease as you tweak levels, then a few seconds after you finish the display turns off (except for a tiny glowing green LED to signal that the sub is powered up).

On the rear you will find left and right RCA line inputs, as well as high pass RC outputs (left and right). There is a SLOPE switch, selectable 12 dB or 24 dB, a selectable LOW PASS/LFE switch, a GROUND IN/OUT, and POWER AUTO/MANUAL. There is an eternal IR input jack (very useful for custom remotes) and level control (up and down) buttons. But my favorite was a switch that was labeled MUSIC/CINEMA. The only explanation I could find for this was in the manual, where it stated that the CINEMA mode "adds extra impact to movies," which I guess is the equivalent to saying that it "goes to eleven," and we all know from our friend Nigel Tufnel that this is indeed a good thing, right?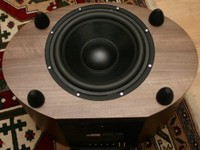 One problem that I found upon turning on the sub, was a ground loop hum. I had never experienced this with my reference Velodyne sub, nor had it occurred in any other sub I had used with the system during reviews. After an hour or so of troubleshooting, I found the culprit to be, surprise, the Time Warner HD cable box/DVR. But the bigger issue was that the KEF PSW3500 was susceptible to this when nothing else in my system, not to mention other less expensive subs from other manufacturers, has been. I was able to get rid of the hum by putting one of those orange plug/adaptor things you get from the hardware store on it - hardly an acceptable permanent solution, but it worked for my review period. I tried flipping the GROUND IN/OUT switch on the back (which KEF recommends for fixing a ground loop hum), tried different electrical outlets, but nothing worked. It was a loud hum that was audible with or without music or movies playing.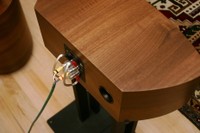 Once it was all set up, it made for a great looking system. I am sure that it is even better looking in one of the other finish options, which include black, apple or maple. All speakers in the series are magnetically shielded, and I feel safe saying that even in a small listening room or theater, you find that the system will fit nicely, and will most certainly draw attention. The curved towers invite visitors to run their hands across the smooth finish in admiration. It's the kind of design that makes people want to touch it - you can decide if that is a good thing or a bad thing.

Listening Impressions
Blue Man Group - The Complex DVD-Audio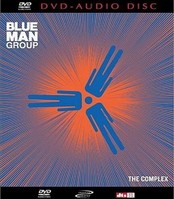 My current torture disk for 5.1 systems is the DVD-Audio version of The Complex by Blue Man Group. I was fortunate enough to see them touring this arena rock show a couple of years ago, and it was a blast. If you are not familiar with them, they are a performance art group, who happen to be amazing percussionists. They create their own instruments using PVC plumbing pipes, piano strings, and other psuedo-drum contraptions. The result is a drum-heavy sort of rock music that is really great. This DVD-Audio disk is one of my favorites - not only is the material great, but the it quickly reveals weaknesses in speakers.

In the song "Your Attention" (Track 5), there is a subtle hi-hat shift around the rear of the room that I had not noticed prior to my listening evaluations with the KEF system. The dipole surrounds handled the shift seamlessly, and I was never aware of where the left and right surrounds where positioned in the room. As the hi-hat circled the room, you could not tell where one speaker left off and the other picked up.

The middle of the song contains a bridge section followed by drum solo breakdown, and even if you already have the volume turned up, this section gets even louder (goes to eleven). The drums are thunderously loud, and I measured the KEF system pushing over 110dB in this section of the song. It is sonic nirvana for anyone who loves rock music, and the KEF system stood tall. The sub handled the extreme workout with aplomb.

Lyle Lovett - Road to Ensenada CD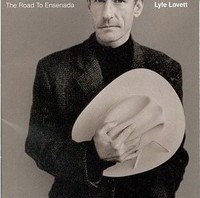 I am a huge Lyle Lovett fan, and one of the many things I love about him is how incredible most of his records sound. (Joshua Judges Ruth is a benchmark disc that I almost always use when evaluating speakers) One notable exception is Road to Ensenada. It sounds better on some systems than others, and usually helps point out for me how much a speaker is coloring the sound of a recording.

I fired it up and went to track 6, "Private Conversation." Sure enough, the track sounded bright and his vocal sounded thin. Lovett's vocal should sound very rich, but I have always felt on this record they just missed it. I'm not sure if it is the recording, the mix or the mastering, but the warmth I usually associate with his vocal and the music is just missing here, and the KEF iQ9's offered nothing to "sweeten" the sound. If the sonic quality of this disc was a picture, it would be faded. While some prefer their speakers to help with poor recordings, I'll take authenticity any day of the week.

Dreamgirls DVD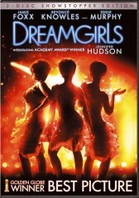 If you haven't seen it yet, I would recommend it for the music alone. I liked most of the music in the movie, and found the mix to be quite enjoyable. I especially liked the music in the first half of the movie when Eddie Murphy's character was performing decidedly James Brown-esque funky tunes with the girls. Loads of driving bass lines and horn stabs that make me feel good! HEY!

In the song "Step Into The Bad Side," there is a section where radio announcers from different stations are piped into the surrounds, and the effect was actually startling. It was as if there were radios placed in different spots around the room with DJ's yapping at me from all directions, while the song was grooving along in the foreground, creating a totally immersive experience. This is why I have a home theater - the thrill of being surrounded by huge, enveloping sound and having a picture just as large to go with it. The KEF system rendered the bright, funky music and rich vocals from the movie with precision, keeping me focused on the film itself.

Conclusion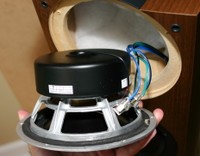 British loudspeakers have their share of fans and critics. It is likely that you cannot change the minds of either, regardless of the product. I thoroughly enjoyed my time with the KEF's. I found them to be very revealing. My best sounding discs and movies sounded great and were imaged well across a wide axis in my listening room. Material that is not so well mixed sounded lousy - they did not "sweeten" it to my ears. The unusually "oval" subwoofer produced thunderous bass that brought soundtracks to life, with as much tactile bass as I wanted during action sequences. And I loved being able to control it via infrared remote.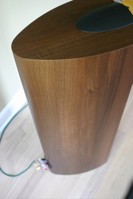 As for looks, with the right finish these speakers will draw attention (in a good way!). The iQ9's are not as large as many flagship towers, but they are capable of tremendous power both as a stereo pair and as the anchors for your home theater. The iQ6 center channel packs quite a punch considering it's size, and the iQ8ds surrounds, while not as curvy as the others in the series, performed their duties well. The PSW3500 sub rocked my house yet displayed very musical qualities as well (save for the ground loop hum issue). This system is priced right, too, at about $3500.  If you are looking at full 5.1 systems, a KEF dealer should be on your short list of places to visit.


Price:
iQ9: $599.99 each
iQ6c: $499.00 each
iQds: $299.99 each
PSW3500: $1199.99
about right...


Style:
5.1 combo

Recommended for:
rock/country
folk/acoustic rock/bluegrass
jazz
classical
home theater

What sounded great? Blue Man Group
What sounded not-so-great? poor source material


Specs:

Impedance: 8 ohms
Frequency Response:
iQ9: 38Hz - 40KHz
iQ6c: 65Hz - 40KHz
iQ8ds: 65Hz - 40KHz
PSW3500: 30Hz-250Hz
Dimensions:
iQ9: 37" H x 8.7" W x 12.9" D
iQ6c: 6.5" H x 20.1" W x 10" D
iQ8ds: 7.1" H x 14.2" W x 6.7" D
PSW3500: 17.7" H x 23.6" W x 15.6" D
For More Information:
KEF America, Inc.
10 Timber Lane
Marlboro, NJ 97746
732-683-2356
www.kefamerica.com
About Gear Corner
Welcome to the Gear Corner, where we give you a quick but comprehensive look at consumer electronics from several different categories. All products in the Gear Corner have been individually evaluated through hands-on testing by our reviewers in order to give you a quick but detailed overview that we hope will help you in your purchasing decisions.

Confused about what AV Gear to buy or how to set it up? Join our Exclusive Audioholics E-Book Membership Program!
Recent Forum Posts:
MarkE posts on August 08, 2007 07:09
iQ6c

Just wondering how the iQ6c would compare against a Ref 100c
I am thinking of swapping out my 100c for an iQ ?
Chevalde3 posts on June 23, 2007 17:14
Got the same setup except that I have iQ3s in the back (all black of course) instead of the dipoles. The Denon AVR 4306 drives all 5 speakers with the front iQ9s biamped. I did the Audissey equalization.
By the way, I had the same low hum as in the article with the PSW3500 at first but by changing the AC outlet, I could lower it much but not completely remove it. This system is very powerful/solid/precise with both BD LPCM audio from PS3 movies and regular audio feed. This setup is a very cost effective high quality system that I compared to higher priced JMLab and B&W 5.1 sets. Unfortunately they are not widely known/distributed as they put more money in research than marketing but I have been a satisfied KEF fan since the early 70s.
KapoostaKid posts on June 12, 2007 06:47
badahab, post: 274294
I like the walnut color. I think its a nice break from the usual blacks, blond, and cherry. I even tried to match it when staining my flexi-rack. The apple looks nice too.

I have the iq7's for the fronts and iq3's for the surrounds. I have nothing but kind words for them. I have the old q9c and it dosent quite match up the the new iq series. Its good to hear that the iq6c sounds so good. I might have to bite the bullet and pick it up.

-Sean
I picked up the iq6c yesterday off ebay to go with my iq3s. From the photos it appears they were reviewed on hardwood floors. That 3500 looks sweet. And it sounded great on the HW floor? Firing down?
KapoostaKid posts on June 11, 2007 09:47
angstadt530, post: 274146
Haha, I know exactly what you mean: my first pair of speakers were those exact ones! They were originally my mother's, but she never used them anymore so she let me hook them up to my very first stereo system. …I still use them occasionally as a sort of "zone 2."
LOL! Walnut prevailed at RS and EJ Corvettes! Wow! That reference took me back!
dem beats posts on June 06, 2007 13:28
I would be proud to be called an energy fan boy!!
lol
They have been a pain to power though… You know this though…

I actualy just fell in love with something in my range that worked in my space. There are much better sounding but not for what I needed in my space. Pluss the look the part in the rosenut… lawdy. Even the GAF was going strong!

I could settle with a nauatalus set up though if you twist my arm I would maybe then give up the RC's
Post Reply