Apple iPod Shuffle Review
Apple iPod Shuffle Review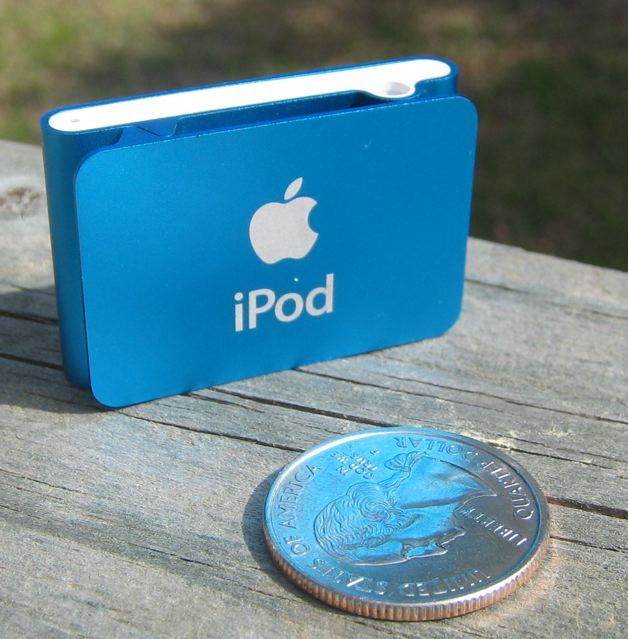 iPod Shuffle
There is a reason that Apple owns the market when it comes to portable MP3 players. Not just the fact that the iPod wrote the book, but how every new iPod continues to pave the way. The completely redesigned shuffle continues the Apple tradition of trend-setting. Ultra-light, ultra-small, ultra-cool, and less than $100. You have not seen anything like it.
If you have purchased an iPod you completely understand where the buzz comes from. Apple stuff is just cool. From the moment you see the packaging for the $79 iPod shuffle, you want one. The styling begs you to open it up and check it out.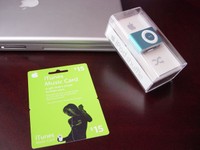 Unboxing Apple products has become the stuff of fetish for some, and the shuffle does not disappoint.

Included in the clear, compact plastic box is the shuffle itself, a pair of distinctive white earbuds, a USB docking station, and a small instruction card, pamphlet, and Apple stickers.
This is one very attractive package.

Design & Operation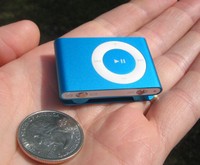 The Apple design team has hit another home run with the shuffle. It is less than half the size of the original, and comes in five colors: silver, green, blue, orange and pink. The casing is rock solid, and appears to be very durable. The rear of the unit has a spring loaded clip that snaps tight, and easily attaches to your collar, pocket, sleeve - anything or anywhere you would want to wear it. And it is very wearable.
The headphone jack on the top doubles as the jack for the dock connector. There is also an indicator light. On the opposite side of the unit is the on/off button, next to which is another indicator light. The lights appear orange when charging, green when fully charged, and can also give system and battery information. The only other button is the "shuffle songs" or "play in order" selector.
The front of the shuffle has a familiar round multi-switch, which is extremely thumb-friendly. The ring has volume up (top) and down (down), and skip or fast forward (right) and back or rewind (left). The center is the play/pause button.
When the shuffle is inserted into the included USB docking station, iTunes automatically launches. The iPod Setup Assistant opens and asks you to name your new iPod. Once you type the name in and hit the "done" button, iTunes chooses songs at random from your library and fills the shuffle to capacity. On my MacBook Pro, it took less than 3 minutes to fill the Shuffle with 240 songs.
You are then given the opportunity to register your iPod with Apple, which is quick and easy - the serial number is filled in for you, and if you already have an Apple ID, so is your name and address. Next you are taken to the iTunes Music Store, and offered the opportunity to begin purchasing music. Of course, any music you have ripped from your CD collection into iTunes is available to sync as well.
The shuffle is a 1GB flash-based MP3 player that will hold up to 240 songs. It has no display - but that is what makes it a "shuffle." The concept of the shuffle is that you are carrying around your own "DJ" who spins you a mix of songs from your iTunes library. And after years of other iPod models (with displays), I must admit that shuffling songs is really great. If indeed your iTunes library is filled only with songs you love (and if it isn't that is YOUR fault..), you are treated to one great song after another, never knowing what is coming next.
The battery life is rated at 12 hours on a full charge (about 4 hours), and as best I can tell in my use this is pretty accurate. You can get an 80% charge in just 2 hours. The base station doubles as a charger, using the USB 2.0 port on your Mac or PC. There is an optional AC adaptor available from Apple.
A great feature that I had not expected is the ability to split the 1 gig of storage space between music and files. From within iTunes you can tell the shuffle how much space to make available for data. The shuffle will appear on your desktop as an external device, and you can drag and drop data files.
Conclusion
My only complaint is the same complaint I have always had with iPods - the cheap earbuds. Earbuds never work for me. They never fit my ear correctly, and they sound like, well, you know... I'm sure Apple earbuds don't sound any worse than any other MP3 player manufacturer's included earbuds, but bad is bad. There is no good way to put it. Invest in some great headphones - whether it be in-ear, on-ear, or over-ear, and you will enjoy your iPod so much more.
Overall, I am blown away with this iPod. I thought it looked cool when I first saw it on the Apple website, but didn't feel like I needed one. After actually seeing one, holding it and using it, I find it to be an incredible value. If you work out, or like to listen to music while riding your bike or walking, it is a perfect second iPod, well worth every penny of the $79 MSRP. Apple continues to keep one step ahead of the pack - this time with their entry-level model.
PRICE: $79
A bargain!
Media:
music-focused
Form Factor:
small
STYLING:
way cool!
what's so great about it? just clip it on and go!
what's not-so-great? um…..
Specs:
1GB
Mac or PC
USB 2.0
1.62" x 1.07" x .41"
.55 ounce
Mac or PC
For More Information
Apple
1 Infinite Loop
Cupertino, CA 95014-2084
408/996-1010
www.apple.com
About Audioholics Gear Corner
Welcome to the Gear Corner, where we give you a quick but comprehensive look at consumer electronics from several different categories. All products in the Gear Corner have been individually evaluated through hands-on testing by our reviewers in order to give you a quick but detailed overview that we hope will help you in your purchasing decisions.
Confused about what AV Gear to buy or how to set it up? Join our Exclusive Audioholics E-Book Membership Program!
Recent Forum Posts:
KC23 posts on April 12, 2007 19:16
I bought both my daughter and wife nice nano creative lab 6 gig mp3 players a year ago.

First my wife and then my daughter both replaced them with the shuffle and have been overjoyed with the shuffle. Small, lightweight and inexpensive won out easily.

Me, I still like my Nano.
Geno posts on April 12, 2007 19:01
I just recently "drank the Kool-Aid" and got an iPod 30G after my Archos GMini died. I previously had a Creative Zen. As much as I'm a contrarian when it comes to fads, I must admit the iPod has the rest beat. That interface and form factor, the display, and the ease of transferring data just can't be beat.
I don't use iTunes, since I have a large CD collection, and rip them at 256VBR. I use a set of Etymotic ER4i canalphones, and the sound quality is excellent, IMHO. There's a reason Apple owns this market.
ddubb posts on April 12, 2007 04:05
This is going to be fun, indeed.

My first player was a Creative (probably same as one previously mentioned). It was slightly thicker and maybe a tad heavier than the competitor ipod, but it cost was about 38% lower. When carried in the leather holder/belt clip (provided) I could access all nav and volume buttons. One dumb prob was the case covered the lcd display so I had to unsnap open to view it. Later I got an updated cover with a vinyl window. Regardless, with the player still on my belt and in the case I could pause/play, turn it off/on, adjust volume and nav forward and back. This was way before ipod covers capable of this came out.

The major selling point was that the sound quality was noticeably better on the Creative. It was built solid and took years of heavy use in a factory environment. I later upgraded from the 30gb to the 40gb. I eventually gave the second one to my bro in Iraq and it continued to hold up when others failed. Customer replaceable battery.

Now I use a direct competitor to the Shuffle. I got it over a year and a half ago for $109. Its a 1gb Samsung YP-F1. Again its slightly bigger than the Shuffle but not enough to matter. Like the Shuffle, the headphone jack is also used for charging the battery and transferring music. It also has a clip - slide-on style metal, very tight and strong. BUT WAIT! This player also loads files by drag-drop folders if not the proprietary app; has a voice recorder; FM tuner; and most importantly missing from the shuffle, a display.

The Samsung displays letters a bit small for my middle aged eyes but its loaded with info: battery charge (12-14 hrs); track number and title, time, eq setting, play mode. My wife and I share it so it is real nice to have his and hers folders on it. Two downsides: 1) battery forms memory so you're supposed to totally discharge before you recharge; 2) doesn't support Audible books file format.

To work around the battery memory issue, when it gets low I put it on settings that will drain battery quicker (bright display, display always on, faster scroll on title, etc). Even so, by now the battery life is closer to 10 hrs on full charge, because there have been too many times when I charged it before it was fully drained. Also, now the toggle switch is starting to give out. I'm glad I got the $30 2-yr protection plan at Best Buy.

Also the Samsung has easy to find and use exterior volume and nav buttons for easy no-look control. One friend of mine says with his Shuffle its easy to move forward/back but its a bit harder to get used to controlling volume. Maybe that's just a personal issue. Sound quality is adequate, not as nice as the Creative, probably no better than the Shuffle.

Another hugely important plus for the Samsung is that it was on market before the shuffle. The downside is I don't think its available any more.

But by now there are plenty of adequate 1gb players for under $80.

But the ipod just looks so coooool. And the commercials are so cool. So anyone supporting Apple, Inc must be soooo coooool and feel really cool wearing that brand.

I wouldn't say I'm an ipod hater but will gladly admit to being a iTunes hater.
jonnythan posts on April 11, 2007 13:48
My girlfriend has an iPod video for hanging out, using in the car, watching shows between classes at school, etc.

She also has a shuffle she uses for working out, snowboarding, biking, etc. She also keeps it in her jacket pocket so it's always on her no matter where she goes
xerotope posts on April 11, 2007 13:35
I didn't know you could set aside some of the Shuffle's memory for storage… but I'm wondering how useful that actually is. Unlike the first-gen shuffle, you no longer have a built in usb plug, and the usb port has been integrated into the headphone jack. This means you need to bring the dock with you if you want to transfer files to another computer.

I think the shuffle is a product that fulfills a specific niche nicely. It's perfect for working out, and that's about it. While running I can't focus on a screen when changing tracks anyway, and being able to clip it to my shirt or shorts rather than getting an arm case is a definite plus.

Otherwise, I'd say take your $79 and get a iAudio U2 or similar. Almost as small, standard USB port, radio, screen. Done.
Post Reply