Denon AH-NC 732 Headphones Review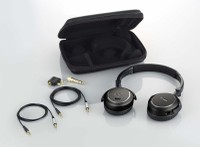 Denon AH-NC732 Headphones
Summary
Box Contents:   
Inflight (Dual) plug adaptor
6.3 mm gold-plated Stereo plug
Detachable cables (0.7 m x 1, 1.5 m x 1)
AAA battery
Carrying case

Drive units: ø 40 mm Neodymium magnet
Input impedance: 40 Ω/ohms (when Power is ON)
Sensitivity: 105 dB/mW (when Power is ON)
Maximum input: 100 mW
Playback frequencies: 5 - 28,000 Hz
Battery type: DC 1.5 V, AAA battery x 1
Battery life (Approx.): 40 Hours (when an alkaline battery is used)
Weight (Approx.): 146 g (including a battery, excluding cable)

Pros
Excellent sound quality
iPhone friendly jacks
Headphones work without noise canceling feature turned on
Cons
On-ear design does not fully isolate noise
Must power up noise canceling feature for best fidelity
Gear Corner Review
The Denon AH-NC732 noise canceling headphones join a crowded category of products that frequent flyers are finding they cannot live without.  It seems that only a few years ago your only choice for active noise canceling headphones was from the four-letter marketing machine, and you were paying top dollar for a mediocre product and lots of advertising.  Denon took it's time entering the fray, but they have delivered some strong competition with the introduction of the AH-NC732 headphones. 

Design & Features
As I have come to expect from Denon, the AH-NC732's are a well built, quality product deserving of the Denon name.  These are on-ear style headphones, with a battery powered, active noise canceling system built in.  They are a medium-sized headphone, and each earpiece swivels and folds for storage in an included faux-leather, rigid zippered storage case that is just a bit larger than a typical paperback book.  The interior of the case is molded, making it easy to fold and swivel the headphones into the proper storage orientation.  There are two pockets inside - a small mesh velcro pocket for an airline adapter plug, and a larger zippered mesh pocket that easily holds a 1/4" adapter as well as the two included cords.  This pocket is not quite large enough to hold an iPhone or iPod Touch, but will easily accommodate other iPods or small MP3 players. 

There are two black cords included, both of which have mini-jacks on each end.  One is 1.5m (around 5') long with a black right angle plug on one end, and straight plug on the other.  The second included cord is considerably shorter at .7m (a bit over 2'), and has straight plugs on both ends and the jack intended for your source device inexplicably has a silver metal casing around it.  Thankfully, the jacks are skinny which makes them iPhone friendly.  There is a small on/off switch on the right earpiece with a pinpoint lamp that glows blue when the headset is powered on.  The AH-NC732's do not have to be powered on in order to work - the power is only for the noise canceling feature.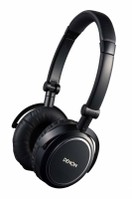 A single AAA battery installs in the top right earpiece, and will typically yield 40 hours of operating time.   The AH-NC732's will retail for $299, which is about $50 less than the leading, heavily marketed and over-hyped brand you always see being hawked at airports and in colorful, kindergarten-reading-level newspapers.

These lightweight cans from Denon feature ergonomically designed earpads with soft leather coverings over high compliant urethane foam.  This all results in a very comfortable fit.  Over the past few years, I have reviewed and tested 4 types of headphones that cancel or isolate noise, using all of them on airplanes as well as in other noisy environments.  In-ear or molded earphones isolate you from noise, and are usually very comfortable and have the smallest form factor, allowing you to easily sleep on a flight while wearing them.   Active noise canceling headphones are most commonly over the ear or on the ear, but I also actually own a pair of battery-powered earbuds (which stink).  Denon has chosen the more compact on the ear design over the larger over the ear style.  I personally find that the over the ear style (headphones that completely enclose your ear) does a better job at isolating you and your music from outside noise than do the on the ear style (headphones that actually rest ON your ears).  This of course, is just a preference.  But the on ear style makes for a more compact package to carry around, as well as a lighter headset.

Listening Impressions
If you are considering purchasing these headphones, then you are most certainly interested in their noise cancelling ability.   The Denon's do an excellent job of noise cancellation for this category.  I tested them on a recent week of flights and found that although some noise seeps in due to the on-ear design, the noise cancellation circuitry was very effective at removing the droning, low end noise of jet engines that is so fatiguing.  If you are a frequent air traveler and have not yet tried this, I urge you to do so.  Blocking the noise, especially on a long overseas flight, will leave you feeling less exhausted, both mentally and emotionally.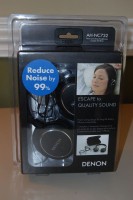 Most active noise canceling headphones I have tested impact the sound quality of the music I listen to.  When you switch on the noise canceling circuit, there is always a transition in the fidelity, and many times you pay a price.  Some manufacturers provide EQ options or fidelity enhancement buttons, but Denon's headphones sport only the on/off switch for the noise canceling circuit.  Sound quality without the circuit is okay, but I preferred the boost in highs and overall fidelity that occurred when I turned on the noise canceling feature.  This is achieved via Denon's Acoustic Optimizer technology which adjusts the sound pressure balance in front of and behind the diaphragms of the 40mm drivers.  Even in the quiet of my home or office, I always used the noise canceling feature because of the boost it gave the overall sonic quality of the headphones. 

Throughout my listening tests I had great results with the Denon's.   I put the Acoustic Optimizer to the test with some Wolfmother (Love Train) to see what kind of thump I could get while listening to rock music, and I was pleased.  Although the bass was not the tightest I have heard, it had a pleasant sonic quality that I would liken to a live kick drum.  I could almost feel the air pressure within the enclosures on my ears, and this was a good thing.  I had the same results when digging back to find Tom Petty's Change The Locks from the soundtrack of She's The One.  The crunchy guitars on this track sounded great. 


Amy Grant has released a new double disc reissue of her landmark Lead Me On record, and it is filled with all the sonic goodness of the original (restored to it's original luster) as well as bonus disc.  After twenty years, the material here stands up well, and I consider it not only her finest work, but a pivotal record for the CCM industry that shaped the way future records in the genre would be written and recorded.  There are interview clips on the bonus disc where Amy describes the recording process she and Brown Bannister employed at the historic Bennett House studios, using natural reverb to create the signature sound of the record.  Listening to the title cut, the Denon's faithfully reproduced the big drum sounds echoing through the old house, especially the kick and snare, as was also the case on my favorite cut, All Right.  By the time the bridge rolled around with the wailing gospel choir styled backing vocals & guitar solo, I was having church right there in the airport lounge, wrapped in my little cone of isolation via the AH-NC732's.  Overall, the Denon's provided a very good listening experience in addition to keeping environmental noise to a minimum. 

Conclusion
When choosing headphones, you need to decide if you want traditional cans or the active noise canceling variety.  I have always felt you sacrifice some fidelity for the added feature of a clear head (noise reduction) on an airplane.  With that in mind, I compared the Denon AH-NC732's to other noise canceling sets, and it stands up very well to the competition. 

You have plenty choices these days when it comes to noise canceling headphones.  My advice? Resist the deluge of bad TV commercials and print ads!  Don't let that gadget salesman in the airport push you around!  Save $50 and buy your noise canceling headphones from a company (Denon) that understands true high-fidelity.

The Score Card
At Audioholics Gear Corner we give you a quick but comprehensive look at consumer electronics from several different categories. All products in the Gear Corner have been individually evaluated through hands-on testing by our reviewers in order to give you a quick but detailed overview that we hope will help you in your purchasing decisions.
| | | |
| --- | --- | --- |
| The Price: | Bargain | |
| | About right | |
| | Pricey | |
Confused about what AV Gear to buy or how to set it up? Join our Exclusive Audioholics E-Book Membership Program!