Fatman iTube Red-i Integrated Amp w/Speakers & iPod Dock Review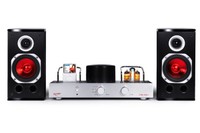 Fatman iTube Red-ifatman
Summary
Power Output: 25Wx2
Frequency Response: 20Hz - 20KHz (±1.5Db)

Harmonic Distortion: ≤0.5%
Signal-To-Noise Ratio: ≥86Db
Input Impedance: 100KΩ
Output Impedance: 4Ω, 8Ω
Valve Type: 2x6N1(ECC85)
1x6E2(EM87)
Power Supply: AC100~120V/50~60Hz, AC220~240V/50~60Hz
Dimensions: Amp: 450x220x210 mm ( WxHxD), Speaker: 330x315x210 mm ( WxHxD)
Weight: Amp: 5.8kgs, Speaker: 6.8kgs
What's In The Box?

iTube Vacuum Tube Amplifier with Dock
High quality directional speaker cables
Aux source audio cable for connection of portable media devices (Phone/MP3/CD) and Computer
Video cable to connect between amplifier and TV screen
Red-i sonically matched speakers for optimum performance
Pros
Excellent build quality
S-video pass-through for iPod video
4 available inputs, including built-in iPod dock
Cons
No bass & treble controls on unit
Remote does not have input selection
Rich bass is not apparent at low volume
Gear Corner Review
The iTube Red-i from Fatman is easily the coolest docking system for iPods that I have
had the pleasure of enjoying on my desk.  So much more than a dock and speakers for your iPod, this system can easily be the heart of your small two-channel listening setup in your home, office or apartment.
If you have ever seen any of Fatman's products, you know they are seriously well-built pieces of gear.  Back in 1993, TL Audio began manufacturing professional audio valve products that quickly became a familiar sight in world class recording studios.  The design philosophy of combining the best qualities of both tube and solid state circuitry produced excellent results, and in 2006 Fatman Hi-Fi products were launched.
Within a few short years, Fatman has established it's reputation as a leader in high-performance iPod audio systems.  All iTube amplifiers have additional inputs for CD or other sources, making them a great choice to anchor any audio setup.
Design & Features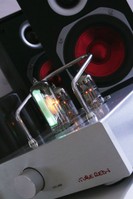 Let's just start out by stating the obvious - having a tube amp sitting on your desk is just flat out cool.  The iTube Red-i base is a gorgeous piece of gear that begs attention from EVERYONE that walks into your office (or wherever you choose to set it up).  The base has a retro-cool design that is really quite simple.  A brushed aluminum faceplate has two large, round knobs - one for volume and one for source.  A push button power switch is the only other control on the front of the unit.  On top there is an iPod dock (with an adjustable backrest, making it compatible with all docking iPods), a large, round, black power supply, and then a trio of tubes.  One large tube in the front has a  fluorescent level meter display built into the tube, and two smaller tubes sit behind it with a warm orange glow.  The unit ships with a black metal "cage" over the tubes that can be easily removed - the instructions suggest keeping it in place because the tubes get hot.  But since there are no babies or kids in my office, not to mention the glowing hot tubes are what look so cool, I took the cage off immediately.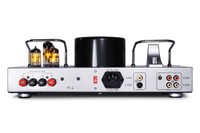 On the rear you will find substantial 5-way speaker outputs, an AC power input (removable power cord), S-video and composite video outputs, and two line inputs.  While many people will just use their iPod with the Fatman, having the three additional inputs creates a fantastic desktop system.  I have my Mac's audio out going into Line 1, and you can add more sources to Line 2 and AUX.  (Aux input is a stereo mini-jack.  Input 1 & 2 are stereo RCA inputs.)  The video outputs will pass video from your iPod to a monitor or TV.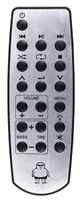 Also included is a full featured remote control, that can operate many (docked) iPod features, including Play/Pause, Power Off, Skip/FFW, REW, etc.  Also on the remote are separate Bass and Treble volumes - more on that later.  The huge missing item on the remote is the ability to select different input sources.

Also included are a pair of nice bookshelf speakers.  The speakers have 1" dome tweeters and metallic red 4" woofers.  There are twin ports on the front under each woofer.  The woofer and tweeter are surrounded with silver borders on black faceplates.  The top and bottom of each speaker have a high-gloss black cap, which add to the heft and good looks of the system.  Suffice it to say, you will not be needing the included black cloth grills.   Just like the tubes, the speakers look better naked!   (But then again, doesn't everything? Wait, as I think about that - nevermind.)

Listening Impressions
As cool as the iTube Red-i is to look at, listening to it is the best part.  I think I was expecting a toasty warm bottom end as a signature of the "tube" sound, but what I found was a startling clarity that I have not experienced on other small desktop systems.  The speakers seem to reveal the mids and highs unlike anything I have heard before in this price range.  Vocals are stunning - the best way I can describe it is that it is as if a blanket has been taken off of a speaker you have been listening to.  Detail and clarity are the words of the day when listening to the Fatman system.
The amplifier pumps out 25 watts per channel, and one thing I noticed right away was that the louder the system plays, the better it sounds.  I first noticed that the fluorescent meter did not pulse much at all - there was only the slightest hint of movement - until I really cranked up the volume.  Then it danced with the beat of the music, adding yet another visual treat to the already vibey orange glow of the tubes behind it.  As you increase the volume, so increases the "throat" of the music, revealing more and more detail as well as punchy warm bass.  This characteristic made it hard to do any critical listening during the day, as I am in an office full of people during business hours and my neighbors would not be happy were I to begin to fill the building with all that tube amp goodness.  But after 5PM, I would let it open up and was thrilled with the sonic results.
Jonatha Brooke - The Works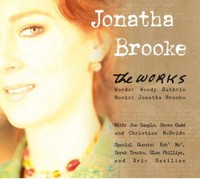 This recent release from Jonatha Brooke is a very intimate record, both artistically and sonically.  Jonatha spent time in the Woody Guthrie Archives poring through his writing, and put music to things she discovered along the way that resulted in The Works.  Produced and engineered by the artistic genius Bob Clearmountain, this record sounds phenomenal.  Keb Mo joins Jonatha on the track "All You Gotta Do Is Touch Me," which has a rich, warm bass line underneath Jonatha's gorgeous acoustic guitar, along with some tasty and twangy dobro from Keb.  "My Flowers Grow Green" sounds as close to a live performance as you can get, with a simple, piano based arrangement with subtle instrumentation that all serves to highlight the wonderfully romantic lyric and her rich vocal.

I had the privilege last year of taking my daughter to see Jonatha in New York City at a small art museum.  We sat on the front row in a beautiful theater that seated about 130 people, and she performed with nothing but her guitar (and a few songs playing a piano), using only the acoustics of the room for amplification.  It was the most incredibly intimate and honest performance I have ever experienced.  (And for the record, she was lovely and gracious to my daughter and me when we met her after the show)  If you have read my reviews in the past, you know I am huge fan of Jonatha.  I urge you to check her out if you haven't already.  She is one of the most talented independent artists out there, and she makes consistently great records that are full of amazing writing and always recorded well.  She is the whole package - an incredible writer, a beautiful and earnest vocalist, and a great player to boot.  Other compelling tracks on this new project include "Madonna on the Curb" and "My Battle."  While the quality of the majority of recordings out there seem to be getting worse, Jonatha Brooke's records just keep getting better.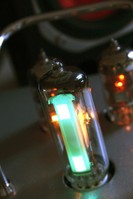 A vocal talent such as Jonatha served as an excellent example of how detailed the iTube Red-i system is.  There was a clarity in her vocal that I have not heard on other systems.  The Fatman brings listening to this record closer to the live experience than that of most systems. 

I do have a couple of small complaints.  The system has no easy way to find a flat response - there is no bass and treble control on the unit itself, only a Treble Volume and Bass Volume (up and down buttons for each) on the remote, so there is no clear way to find the neutral setting.   And as for listening, the system lacks bass at lower levels.  Once you crank it up, it fills out quite nicely, but at lower levels there is no punch.  Overall, these are minor issues that did not detract from my love for this system.  I highly recommend it to anyone who wants authentic sound from there desktop or iPod system.
Conclusion
If you are considering docking speaker systems for your iPod and plan to spend around $500, this is a no-brainer.  For the true Audioholic, this system blows the others away.  Maybe you are considering a small Bose or other "big-name" all in one speaker dock product for your den or office.  I suggest you rethink your purchase and consider that you can have a tube-amp driven system, with bookshelf speakers to do the job for only a hundred or so dollars more.  Why not fill your room with detailed, accurate sound, from an expandable system?  Take a look at the iTube Red-i and all of Fatman's products - you won't be disappointed.

The Score Card
At Audioholics Gear Corner we give you a quick but comprehensive look at consumer electronics from several different categories. All products in the Gear Corner have been individually evaluated through hands-on testing by our reviewers in order to give you a quick but detailed overview that we hope will help you in your purchasing decisions.
| | | |
| --- | --- | --- |
| The Price: | Bargain | |
| | About right | |
| | Pricey | |
| | | |
| --- | --- | --- |
| Media Focus: | Video | |
| | Music | |
| | Multimedia | |
| | | |
| --- | --- | --- |
| Styling: | Nerdy | |
| | Nothing special | |
| | Way cool | |
| | | |
| --- | --- | --- |
| Form Factor: | Small | |
| | Medium | |
| | Large | |
Confused about what AV Gear to buy or how to set it up? Join our Exclusive Audioholics E-Book Membership Program!