Advances in Custom Install Technology
Advances in Custom Install Technology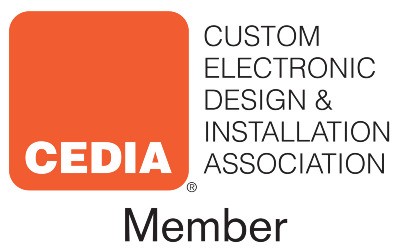 In case you were wondering, CEDIA stands for Custom Electronic Design & Installation Association.  With that in mind, we hit the show floor this year looking to see what was new for custom installers.  From in-wall speakers and subwoofers, to media servers, flashy universal remotes, video scalers & esoteric gear, the Colorado Convention Center in Denver was filled with high margin items for integrators to supply clients with.  These items range from very cool to very expensive to very practical, and in many cases, all of the above.  Below are some highlights from the show.

NACSound for Sonance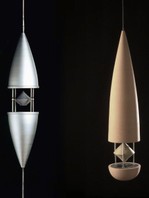 Falling squarely into the esoteric category, the unique, handmade NACSound hanging ceramic omni-directional speakers were one of our favorite finds on the show floor.  Looking more like large hanging pendant lamps than speakers, the NACSounds come in three distinct models.  The Omni has a long teardrop shape and incorporates a wooden central reflector with a downward firing driver and upward facing tweeter.  The Zemi can be suspended or is available in a freestanding version.  The speaker enclosure is round and incorporates a woofer and tweeter.  The Kayak is probably the most unusual, employing stereophonic omni-directional emission.  It can be placed on any surface (wall, floor, ceiling, suspended horizontally, vertically or diagonally with it's own matching aluminum arc).  The speakers are a custom product available in several unique finishes and can be special ordered only through Sonance dealers.  If you have to ask how much they cost, you probably can't afford them.
Link: www.sonance.com/nacsound
Auralex SonicPrint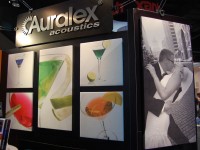 Long known for their innovative sound control solutions, Auralex launced their new SonicPrint.  If you have needed to add some acoustic panels to your listening room but find them boring, this is a product you will be interested in.  The SonicPrint custom-printed Pro-Panels are fabric-covered absorptive panels designed as artwork.  Choose from a huge library of licensed images (with more agreements to come - possibly including the NFL and Disney!) or send them your own digital image and Auralex will assemble your panels that you can easily install, giving you a truly custom listening room aesthetic.  You are no longer limited to single color fabric choices when designing your room, opening up limitless decor options for your home theater.   The booth had all kinds of designs on display, from a brick wall pattern to black and white photographs to stylized martini-glass images.  A very cool concept that I found to be one of the coolest things on the show floor this year.

Link: www.auralex.com

Artison In-Wall Loudspeaker System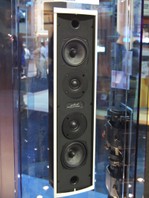 Artison is known for their popular attachable LCR speakers for flat panel displays.  Here at CEDIA the company has introduced new In-Wall versions of the Masterpiece, Portrait and Sketch models.   Artison's exclusive DualMono® Center Channel technology integrates the center channels into the upper portion of both the right and left speaker housing producing an identically matched monaural sound, effectively placing crisp, clear dialogue in the center of the screen, rather than above or below as with a typical center channel speaker. This eliminates the need for a separate center channel enclosure.  Often custom installers have to knock out or re-work a structural stud to install a center channel in-wall speaker, so this is a fantastic solution for many integrators.  The speakers have a self-enclosed acoustic structure.  This is a great solution product - it gives people a way to have a center channel in-wall speaker where it might otherwise be logistically impossible.  The Masterpiece retails for $2,800/pair, the the Portrait for $2,000/pair, and the Sketch for $1350/pair.  All models are available now.

Link: www.artisonusa.com
RBH Sound MC-553 More  In-Walls Loudspeakers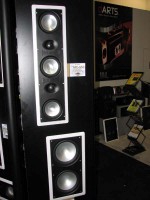 RBH wouldn't be at home if they didn't introduce yet another in-wall speaker product.  I swear they must have an in-wall speaker for every conceivable application known to man.  Their new MC-553 is a two-way design sporting three 5 1/4" aluminum cone woofers and two 1" silk dome tweeters.  This system is designed to play LOUD and provide a wide range of coverage for a large upscale theater room whose focused on unabtrusively  good sound quality.  Pricing and availability aren't yet available and there were no press kits at their booth to speak of.  We love the folks at RBH but it may behoove them to put forth a little more marketing effort in their products as they are still so engineering focused after all these years.  Nevertheless this looks like a killer in-wall speaker and should surely be considered by folks that are serious about getting that "better than being there" experience without plopping down giant box speakers in your theater room. 

Link:  www.rbhsound.com

Universal Remote Control MX-6000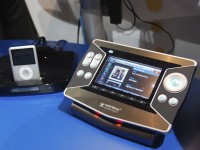 Quite possibly the coolest new remote being introduced was the MX-6000 from Universal Remote Control.  But to call this a remote sells it quite short.  The color 4.3" wide screen display not only will provide IR and RF control of your theater gear and lighting, but will also provide instant access to personalized news, sports, stocks and weather from your home's Internet connection.  But wait, there's more! The MX-6000 is Wi-Fi enabled as well, and when combined with the PSX-1 Personal Server turns your iPod into a full-featured music server.  Dock the iPod into the PSX-1 and you have access to everything you have downloaded, from podcasts to music videos, as well as movies and TV shows.  All of this is selectable on the screen of the MX-6000.  The PSX-1 also includes software for both Macs and PCs to allow you to synchronize content from your iTunes library to your docked iPod.  This is a remote looks and feels great, and is packed with lots of features.  The MX-6000 retails for $1499 and the PSX-1 retails for $349.  Both should be available by the end of the month.

Link: www.universalremote.com

Philips Pronto TSU9800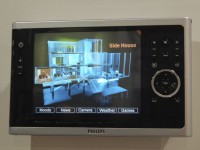 Not to be outdone, Philips demonstrated their latest addition to the Pronto line, the TSU9800 touch screen remote.  This unit boasts a massive 6.4" VGA display that is gorgeous.  The unit is WiFi enabled, and meets the growing need for integrated home automation applications such as lighting and climate control.  With this in mind, another great feature of the TSU9800 is option for direct wall mounting, which is useful not only in homes but also in hotels, restaurants and boardrooms.  A high level of reliability is guaranteed thanks to the unique WiFi-based Pronto protocol, which verifies the command and extender availability prior to transmission - which means that it is flexible enough for the most demanding custom installations.  Philips Pronto EditProfessional software features a number of improvements in it's latest version, including improved wizard-based programming efficiency and overall operational reliability.   The TSU9800 can access audio files from any Windows MCE computer. 

Link: www.pronto.philips.com

Cables to Go HDMI over Cat 5e or COAX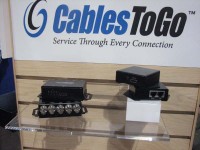 Cables to Go announced two very slick products.  Both are active solutions to convert HDMI to CAT 5e or 5 individual COAX. 

The Cat 5E product has a range of 130-140ft for up to 1080p and will be available by early Q1 of next year.
The COAX product has a range of up to 150 ft when used in conjunction with Digital Rapid run and potentially even longer runs when used with discrete 18AWG RG6 shielded Coax cables.  Expected shipping is also Q1 of next year.
Link:  www.cablestogo.com

Luxul Wireless Pro-WAV Range Extender Kit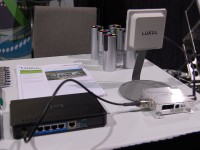 If you have a large home, chances are you have dead spots in your house when it comes to WiFi.  Or maybe you only spent $50 on a cheap wireless router - again, dead spots.  Luxul Wireless was showing a simple product for this common problem.  Their Pro-WAV Range Extender Kit provides everything you need to extend wireless coverage throughout your home or office.  The kit is simple, consisting of a circular polarized flat panel antenna, a WiFi signal booster, adapter cables, power supply and a desktop stand.  Simple to install, and it will blanket your home with WiFi.  The company claims a 400% increase in coverage.  The MSRP for the kit is $374.95, although they were selling it as a show special for considerably less.

Link: www.luxulwireless.com

Colorado vNet - CCTV Module and Video Server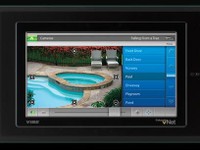 Colorado vNet, known for offering a wide range of whole-house control solutions for lighting, climate, security, and distributed digital audio has added the CCTV Application Module to their lineup.  The company's award-winning design combined with their reliability, scalability and flexibility makes the system a great choice for home automation.  The CCTV module allows users to view up to 20 cameras from any configured Vibe touchscreen, including the ability to pan/tilt/zoom when supported by camera.  They were also offering a sneak peak at their upcoming video server, which should be released early next year.  I am a huge fan of this forward-thinking company that manufactures it products right here in the USA.  We'll continue to keep an eye on them as they grow.

Link: www.coloradovnet.com


Denon DVP-602CI Video Processor & HDMI Switcher
Denon unveiled a dedicated video processor that shares the Silicon Optix HQV technologies found in their flagship AVP-A1HDCI A/V processor.  Now you can scale and adjust and enhance the image of all of your video sources with this device.  This is a great fit for people that own A/V processors lacking HDMI connectivity or video upscaling and processing.  Retail price is projected to be around $2500

Link:  http://usa.denon.com
APC Rack Power Filter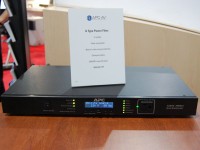 APC, long a leader in surge protection and noise filtering for high performance AV equipment, was displaying their new G5BLK Rack Power Filter.  This piece of gear provides premium rack-mount surge protection and noise filtering for your gear at a very affordable MSRP of $199.  This solid piece includes 9 outlets, all of which are surge protected and filtered for EMI/RFI.  It comes with a lifetime warranty and a $450,000 Lifetime Equipment Protection Policy.  The front panel includes an LCD display that allows you to manage the power filter through a text based display, as well as LED status indicators.  The unit also provides delay settings, so you can power equipment on or off in the right order with the correct amount of delay between each of four stages.  I think this will be a great product from a company we have come to trust for surge protection and filtering - and the price is right.   The unit will begin shipping in November.

Link: www.apcav.com
Richard Gray (RGPC) HouseGuard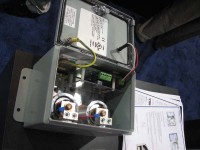 The HouseGuard is designed to protect an entire AV install (to to 200 amps) at the panel for single phase 120/240V installations.  It utilizes two metal oxide varistors (MOVs) but look nothing like conventional MOV's.  To put it into perspective, if the common MOV were a Geo Metro, these would be a Bentley.  The HouseGuard is UL 1449 2nd Edition listed and is said to protect your panel from a surge of up to 140,000 amps in less than a nanosecond.

In comes with a 10 year warranty and is speced to handle up to 250 hits in accordance to IEEE C62, 11 of 500 amp 2 msec square wave.  Operating temperature is between -40 to + 85 degrees C. 

Retail price is a steep  $2,195. 

Confused about what AV Gear to buy or how to set it up? Join our Exclusive Audioholics E-Book Membership Program!