Apple iPhone Review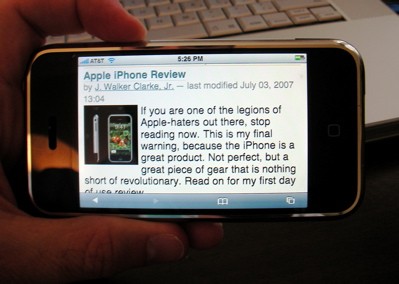 Apple iPhone
About five years ago the company I worked for began offering me a Treo or Crackberry.  (For the record, these devices were selling for around $500 w/contract at the time).  I had played with them, and I chose to pass.  They seemed a bit clumsy and the web browsing stunk.  And I have continued to stick with my relatively low-tech Nokia candy-bar style phone ever since, although at times I was tempted to try one of the so-called "smart" phones.  But I held out, feeling certain that Apple would one day make a phone for the rest of us. 

Yes, I am a fan of Apple products, and I have been ever since I bought a Mac Plus back in 1986 or '87.  I don't like troubleshooting computer problems, and over the years I have been much more productive on my Macs than I have been on PCs.  I was always convinced that if Apple entered the phone market, it would be an event worth waiting for.  Well, the wait is over, and on Saturday I purchased my 8 gig iPhone.  The following review covers my first 24 hours with the iPhone.

Design & Features
My Audioholics secret underground lair is in a small coastal town in SC, and as a result, there are no Apple stores or AT&T stores here.  According to the Apple/AT&T websites, Charleston, SC, would be the nearest outlet.  We have friends there, so on Friday (launch day) afternoon we drove over to meet them for dinner and to try and snag an iPhone.  We arrived at the small AT&T store in the strip mall around 6:45pm (they went on sale nationwide at 6pm) and the store was already sold out. 

The next day, my daughter and I drove to an AT&T store in Florence, SC, where I was told they had plenty, and I purchased the 8 gig model ($599).  Since I am currently in a business plan, grouped in with a dozen or more other phones, I was curious about my eligibility.  I had called AT&T (formerly Cingular) a month or so ago, and was told I would be able to upgrade to the iPhone without any problem.  At the AT&T store I was told that I could indeed update, but I would have to pull my phone and number out of the group plan and pick a package and pay individually. 

If you haven't been reading anything lately, there are a few things about the iPhone's development you should know.  Steve Jobs apparently found in AT&T a willingness to cooperate that was lacking in the other major carriers.   It was widely reported that Verizon passed on the partnership with Apple for the iPhone.  (One of my favorite things that happened last Friday (iPhone launch day) was Verizon issuing a press release that some of their stores would stay open 24 hours.  I'm not sure if that was for the weekend or what, but what a futile and desperate attempt to get some headlines that day...)  AT&T was willing to give Apple something that the wireless providers have never wanted to give up in the past - CONTROL.  Apple wanted to not only have some new technology implemented in the carrier's system itself, but they wanted control over the way the product would be priced and sold, as well as the available monthly service packages.  Perhaps most interesting is the fact that AT&T signed the deal before ever laying eyes on the iPhone.  Say what you want about Steve Jobs, but the man is a salesman!
One thing that Apple customers will tell you is that the experience of purchasing and setting up their products is a good one.  In my opinion, the main reason for the success of the iPod is the user experience.  It is simple and intuitive, as is the case with most Apple products.  You take it out of the box, plug it up to your computer, and it works.  And you don't need a manual.  So it was with great interest that I began the process of unboxing the iPhone to activate it.  Yes, you read that right.  The iPhone is a wireless phone that you purchase at the store, and take HOME to activate.  Purchasing the phone was as simple as walking into the store and asking for one, picking out a leather case, and handing them my plastic.  I was out the door in 5 minutes. 

I knew I had a potential problem with the corporate account situation, so I was prepared for the worst.  Unboxing was fun, as is typically the case with Apple.  A surprisingly small black box, with the iPhone, dock, USB cable, earbuds (with built-in mic), and a very compact USB power adapter.  I popped the iPhone into the dock, and it automatically launched iTunes.  The activation process uses iTunes, which makes it very simple and familiar.  You are presented with an activation screen, and options for current AT&T (or Cingular) customers, or new customers.  As I expected, when I chose current AT&T customer and entered my wireless number, it told me I would need to call in for activation.  It was Saturday night around 10:30PM EST, so I braced for the worst.  After about 20 minutes on hold, I was connected to pleasant lady who walked me through moving my number out of the corporate plan I was under, and then took my credit card and personal billing info.  It took about 10-15 minutes, and she told me everything was good, my old number was going to work fine, and that I now had to wait for the activation.  

So that was the other shoe dropping.  I had a friend in Nashville who had been waiting all day for his activation, and he was not happy.  He had stood in line on Friday night, scored his phone, and then had returned home only to be told his phone would be activated within 24 hours.  I guess Apple had controlled everything except AT&T's servers and their ability to handle the tens of thousands of activations happening all at once over the weekend.  I read this morning a report from AT&T claiming only 2% of customers experienced delayed activation, but I have to doubt that.  I read too many reports on online forums of this happening to people.  I went to bed Saturday night happy to have an iPhone sitting in a cradle capable of doing absolutely nothing.  There were no features that were accessible before completing the activation process, which kind of stinks when you have just dropped $600 clams on a piece of gear.
I spent Sunday afternoon on the beach, and when I got home there was an email that had been sent about 4:55pm saying my phone had been activated.  Interestingly enough, my old phone had continued to work up until the moment the iPhone activation was completed.  I did read in some Apple forums of people who were without service during the activation delay, but this was not the case with me.
avaserfi posts on July 10, 2007 15:44
birdonthebeach posts on July 10, 2007 15:42
Very good points, dvolk. I agree with your observations, and they line up with Apple's recent history of product introductions. Innovate and price accordingly, and they will come.
dvolk posts on July 10, 2007 15:07
GSM-only strategy makes sense for iPhone

There are a few points to highlight when discussing the "shortcomings" of the iPhone. In reality, they may prove to be shrewd business decisions by Apple, but only time will tell. In no particular order…
1. Apple likely chose the GSM-Edge network due to the worldwide size of that market – the vast majority of European and Asian markets use the GSM technology, not the EVDO standard in much of North America. This choice expands the number of markets and potential for rapid growth, economies of scale, and establishing a foothold in multiple regions before competitors copy the technology and introduce their own knock-offs.
2. Feature set – smartphone, email, iPod, video – these features are targeted at the upper end of the consumer segment and not at business users. This segment is highly mobile, has a greater amount of personal time, likely spends more time than average commuting (via public transit or in groups), and has a relatively high level of disposable income. The target is likely the 16-34 year olds who are already users of the iPod and are OK spending >$500 on the latest technology (iPod, PS3, or the original web phones).
3. Manufacturing limitations – you can only build so many units in a given time frame, so why not position your product at the high end of the market and get the feedback from people with a history of using high-end products and make adjustments over time.
4. Mid-market consumers and business users are more price sensitive and less tech-savy than most people realize. If Apple tried to be everything to all people, they would satisfy no one and end up tossing their iPhone on the pile of "nice ideas" like the Newton. Different versions on other networks are likely to arrive in the coming years as the bugs are worked out and the adoption rate increases.

Final comments: The wealth of new technologies in this device are likely to raise the bar for all manufacturers. The key for Apple is to position this device as a good phone with a great combination of iPod and email features. If they are successful, they have a chance at competing in a much larger market – cellphones – rather than being relegated to a niche device manufacturer (iPod).
birdonthebeach posts on July 05, 2007 15:49
I certainly agree that this is a first generation product with things missing. And it is not for everyone. But it is always funny to me that people are saying "don't jump on the bandwagon" and things like that.

It is what it is. Not perfect, not the end-all, but a cool little device. People don't say not to jump on the Treo or Blackberry bandwagons ("they don't have an iPod" or "they don't have visual voicemail" or "the email is not full-featured," etc.).

It's a matter of taste. The price will keep many people away. The lack of alternate carriers will keep many away. The list goes on. Those that buy one will probably love it. Those that don't will probably be pretty critical of it. Both opinions are justified.

The more I use it, the more things I find that I wish were better or different. But I also find more and more that I love about it.
zoran posts on July 05, 2007 13:56
mine got shipped from china, will be here tomorrow
Post Reply
Confused about what AV Gear to buy or how to set it up? Join our Exclusive Audioholics E-Book Membership Program!