A Guide To Audioholics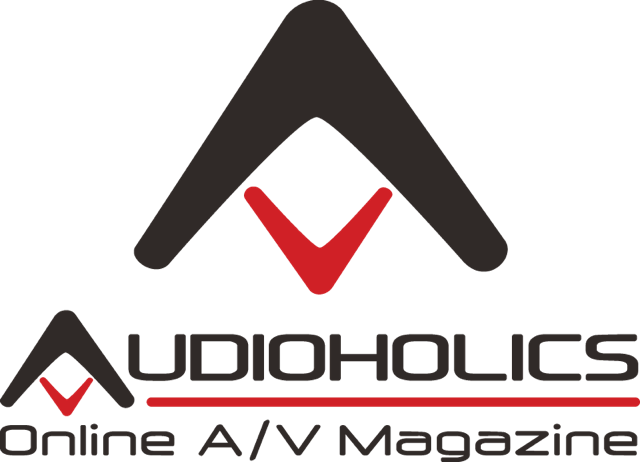 Guide To Audioholics
Audioholics.com is known as THE go to place for in-depth AV reviews, industry updates, and educational articles. What some people don't realize is that Audioholics.com is only one part of Audioholics. We actually have a very large and active forum community, Twitter and Facebook social media pages, Wikipedia page
We also keep an updated YouTube channel containing video reviews shot at our very own HD production studio and industry coverage (ie. CEDIA), as well as a Twitter and Facebook profile. Audioholics is a large ecosystem of AV relevant information and ways to interact with the AV community. But don't think of us as a large corporation, we have a very small, but well versed staff driven by a passion for AV, not profits. This article guides you through each branch of Audioholics in order to help you find what you are looking for and take advantage of everything we offer.
Audioholics.com

Audioholics.com is the most well-known portion of Audioholics. In fact, it's the most read AV publication in the industry according to independently audited tracking from Google Analytics (1 million+ monthly readers) and Nielsen Media Research. Our content is also syndicated on our partner sites like Electronic House.com (including their print magazine) and Ecoustics.com. We put a lot of time and thought into the content we provide and strive to be the most thorough AV publication in existence. There are a wide variety of articles including: shopping guides, reviews, previews/first looks, manufacturer interviews, and educational articles.
Along the top of Audioholics.com is a blue navigation bar that will allow you to quickly find the category of information you are looking for. If you hover your mouse above a category a drop down menu will appear and allow you to choose a sub category. We literally have thousands of articles, so browsing by category and sub-category helps to find what you are looking for. If you are looking for a specific article you can always type it in the search bar on the top right of the page.
The "Pro Reviews" and "AV University" sections of the website are our bread and butter. We have reviews on everything related to AV, from Blu-ray players to headphones to many different types of speaker systems. You will also come across articles labeled as "preview". In these cases we have not had a chance to physically get our hands on the product, so we find all of the information available (and reach out to the manufacturer when necessary) and provide a detailed analysis of how a product should perform and analyze the design and purpose of the product. You might be surprised to find that many of our Preview articles are actually more in-depth than other publications' reviews. Under the AV University section there is years worth of articles that dive deep into AV theory, amplifier design and room acoustics, among other topics. But there are also a number of beginner articles, such as a guide to hooking up a home theater system or basic subwoofer setup tips. If you are looking to learn something about AV, chances are you can find it here.
Visit Audioholics.com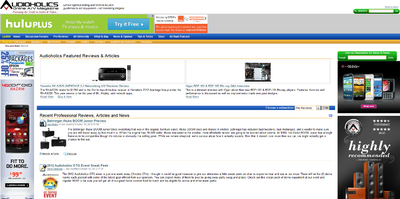 Audioholics.com Home Page
Audioholics Forums
The forums are the heart of the Audioholics community. It is where AV neophytes, professionals, enthusiast, Audioholics staff, and manufacturers come together to discuss almost anything under the sun. Building a HT room, want to show of your system, looking for good demo music, trying to decide on a TV, or looking to sell your gear? This is the place to be.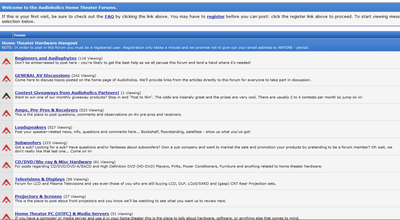 Audioholics Forums Home Page   

The environment is very welcoming and forum moderators ensure it remains clean, positive, and helpful. We are very proud of how active and diverse the forums are. As of writing this article there are over 60,000 registered members, > 100k threads, and > 100k posts. But those stats only show a small portion of the traffic, many more people visit the forums without actually registering.
Additionally, the forums support the content on Audioholics.com because there is a forum thread automatically created for each article we publish. This allows forum members to voice feedback about articles and for the staff and other AV professionals to respond and participate in the discussion. We also have contests on the forums where we give away product and promote an annual Audioholics get to together as a way of giving back to our community of loyal readers. Using the forums is pretty self-explanatory. The home page lists out all of the topic areas, such as "Subwoofers" or "Pros and Joes Systems Gallery".  Once you register you can create new threads and post responses in existing threads. If you run into any issues we have a complete FAQ section to help you get back on track.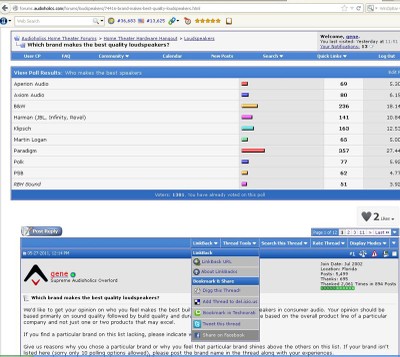 Audioholics Forum LinkBack Feature
You like a thread on the forums and want to share it?  No problem, just hit the "LinkBack" tab on the thread and chose to post it on facebook or twitter.
We also routinely give away FREE product on our forum via sponsored  forum contests from many of the industry's manufacturers.  Check out some recent examples of our forum contest product giveaways and be sure to enter these when they are offered!
Visit Audioholics Forums
YouTube - Audioholics Live

When Audioholics was founded, YouTube didn't exist; however, we have embraced it and use it to bring a different style of reviews to our viewers.  We understand that sometimes it's easier to watch a five minute video than read a long technical review. Our video reviews are created at a level where anyone will be able to understand them and come away knowing the strengths and weaknesses of the product under review.
YouTube is generally known for amateurish home-made videos. In contrast, our video reviews are produced using professional cameras on a professionally designed set.  In fact, we built our very own HD Video Production Studio to shoot our video reviews. We are just as committed to top-notch videos for our YouTube channel as we are for everything else we do. In addition to product reviews, you will find event coverage from CEDIA and other major CE shows.
Our Youtube channel has over 90k subscribers and > 20 million views!
Visit AudioholicsLIVE  YouTube Channel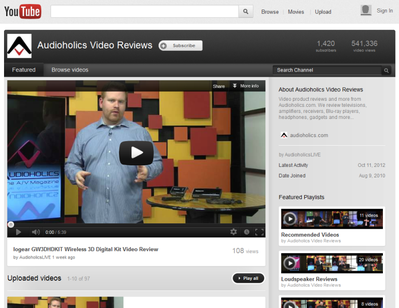 AudioholicsLive YouTube Channel
Social Media
Facebook and Twitter allow readers to connect with Audioholics on a different level than our other sites can facilitate. Readers can post on our Facebook wall or send a direct message in order to share something or ask a question. We also share things we come across that don't exactly fit on Audioholics.com.  For example, you will find pictures of us at CEDIA and of new products when we get them in for review. It is a more personal and informal communication than Audioholics.com because we can interact with people individually. This is true for both Facebook and Twitter. These social media sites are not simply re-posts of Audioholics.com (although we do post some important things), but rather another side of Audioholics.
Through this interaction we have been able to build a substantial following on Facebook and Twitter. We have over 100,000 likes and reach between 30-50k readers per week on Facebook (our "Advertising with Audioholics" page goes into more detail on the stats).
Visit @AudioholicsLIVE on Twitter
Visit Audioholics' Facebook Page


                              Audioholics Facebook Page                                   
Wikipedia
We can't really take credit for the creation of Wikipedia, even though we would love to. We are humbled that our site has a significant of enough presence to have its own Wiki page.  We invite everyone to read the Wiki entry about Audioholics and also update it with relevant information. It provides a great top-level overview of the organization, listing out key personnel and giving a brief history of how we came into existence.
Visit Audioholics' Wikipedia page to learn more

Conclusion
If it's not obvious by now, we love what we do and love being able to share our passion about AV with the world. Each time we write a review it is sent out to the entire Audioholics community of websites via Audioholics.com, Audioholics Forums, partner sites syndication,  social media, and through an Audioholics Store Newsletter. With our content being shared out to so many people though so many media sources, it is always our top priority to create the most thorough, relevant, and well written AV articles for our readers to enjoy. We have grown a lot since we launched in 1999, not only in size but also in breadth of articles and ways to interact with readers. We hope that this guide has given you a better understanding of Audioholics and we also look forward to continue pursuing the truth in Audio & Video for years to come having you as our readers.