Disney Expands Media Empire with 21st Century Fox
Disney Expands Media Empire with 21st Century Fox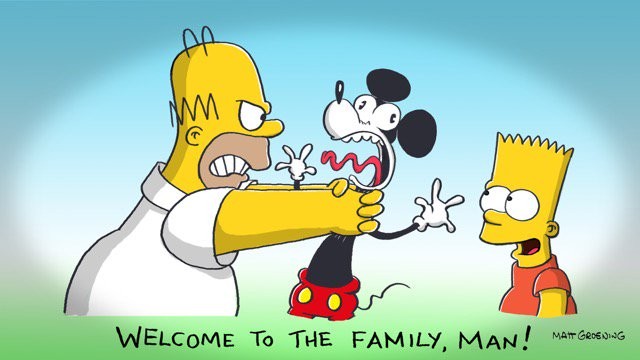 Since hearing that Disney has bought a chunk of Rupert Murdoch's media empire with its $52.4-billion purchase of a majority of 21st Century Fox Studios., my go-to dad joke has been: "We always knew Fox News was a Mickey Mouse operation, now it's official."
But that joke is actually based on the incorrect assumption that Fox News was included in the deal - and it wasn't. Both Fox News and Fox Sports will live on as their own businesses, still owned by Rupert Murdoch. What Disney will get its hands on is a wealth of entertainment properties from Fox TV and movies. Everything from Arrested Development to X-Files, and Avatar and Alien through to X-Men, will all be owned by Disney, and for fans of Marvel comics, orphaned franchises like X-Men and Deadpool may end up joining the Avengers cinematic universe. Some of the smaller pieces in the Disney-Fox deal include FX cable networks and a much of the UK's Sky News network.
Another key ingredient in the deal will be Fox Studios' share in Hulu, the online streaming service owned in partnership with Comcast and Time Warner. Disney will now have the majority share in the service, but will also take on some $13.7-billion in accrued debt.
The Unknown Future of the Murdoch Dynasty
The Disney-Fox deal seems a bit like the beginning of the end for Rupert Murdoch's dynasty. The 86-year-old media mogul made no secret that his intention was to build an empire he could leave to his two sons, Lachlan and James. But, according to the Financial Times, the Murdochs may have lost their will to fight. Key components of 21st Century Fox have been rumored to be up for grabs for years, with suitors that have included Verizon, Charter and Time Warner (the latter having rejected a deal to takeover select portions of Fox in 2014).
This new deal also seems to be raising the stakes in mega-media conglomeration takeovers since Comcast's recent acquisition of NBC/Universal and AT&T's proposed takeover of Time Warner. These types of deals are drawing scrutiny from the White House for antitrust concerns. The AT&T/Time Warner deal is presently under the scrutiny of the Trump administration, and House Democrats have already called for an inquest alleging the Disney/Fox deal transfers too much power to the hands of Disney.

But, provided the government doesn't block the proposed merger, there are a few things for fans of movies and TV to look forward to.

Does Hulu Become Disney On-Demand?

One of the most interesting parts of this deal is Hulu, a major player for cord-cutters as one of the top streaming video services in America. An eMarketer survey conducted in Q1 2017 put Hulu in roughly third place in online streaming services, well behind Netflix but close behind Amazon Prime Video.
Since the survey, Hulu has been busy making itself more competitive by using its connections to "old media" like Comcast and Warner, to launch a new feature called Hulu with Live TV. Live TV gives subscribers the ability to watch live-streaming television. It's a clever offering, considering live TV events like sports games - or New Year's Rockin' Eve with Dick Clark, if you want to be timely - are sacrifices cord-cutters make when abandoning cable TV.
Disney has previously announced that it planned to launch its own Direct-to-Consumer video service by 2019, leaving us to wonder if Hulu will be part of that plan. With its 60-percent majority share in Hulu, Disney has the leverage to turn the #3 streaming service into the exclusive home for all of its most popular entertainment properties, provided it can strike a deal with its high-profile content partners.
The Marvel Cinematic Universe
Speaking of Disney's many franchises, relieving Fox of its Marvel properties will finally unite several key pieces of the Marvel cinematic universe. The copyright division has been a source of frustration for comic book fans, and one of satire for Deadpool who has been known to quip about the quality of the mutant co-stars in both of his hit movies. Finally, Disney will own the X-Men, Fantastic Four and related Marvel characters. For comic fans, this means Disney now has everything it needs for a silver screen rendition of the legendary Marvel Comics mini-series Secret Wars.

There is absolutely no doubt that a Secret Wars film has been mulled over by Marvel movie execs for years, and there's a good chance it's already being built into the Marvel cinematic continuity as you read this. I don't think I'm going out on a limb to say that a Secret Wars film WILL happen. Let the excitement-related gesticulations among Marvel comics nerds commence!
For those interested in learning more about the possible future of the Marvel Cinematic Universe, there are plenty of astute followers of Marvel's various floating theories on how threads may come together in upcoming movies. But suffice it to say, Marvel's Avengers are almost certain to finally meet mutants, and to see that on the big screen will be glorious.

Another Disney/Fox crossover I'd like to see is Alien vs. Predator vs. Darth Maul. Come on Disney, don't let me down. At least let us see a brood of Aliens devour a Jedi training facility, that's a Star Wars sequel I'll stand in line for. Media mergers make crossover possibilities endlessly amazing.

Homer, Bart - Meet Your New Boss

The most humorous response to the news of Disney's takeover of Fox comes from the notoriously sarcastic Fox staple, The Simpsons. Springfield's yellow family has loved making fun of Disney over the decades, but what will happen at the Simpson household knowing they're now employees of the House of Mouse? For starters, Simpsons co-creator James L. Brooks took to Twitter to provide a personalized welcome to the family. It was just too good to pass up as the lead image for this editorial. What will future Simpsons episodes look like? Given the hands-off creative policy Disney has applied to other properties it has acquired, we have to believe there won't be much change at all. The Mouse will probably take Bart and Homer's shenanigans, and those of the rest of the Fox family, in good humor.