Star Trek Discovery - Stranded in Compressed, Two-Channel Subscription Space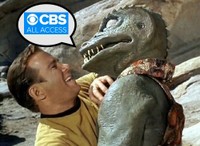 CBS has done it again, they're treating Star Trek fans like a Gorn warrior treats Captain Kirk on Cestus III. CBS/Paramount are exploiting fan's dedication to their favorite TV franchise by holding the new series hostage behind its video-streaming subscription service, CBS All Access. Will die-hard fans be willing to pay for this service to see their beloved Star Trek on TV again? Read on to see our thoughts why we remain skeptical.
The premiere of Star Trek Discovery aired on the CBS network on 9/24/17 and was enjoyed by anyone who could get over-air reception. But episode one was a teaser to make you pay for CBS All Access.