Denon & Marantz Firmware Update Adds DTS:X Pro & Key Audio Feature Back!
Denon & Marantz Firmware Update Adds DTS:X Pro & Key Audio Feature Back!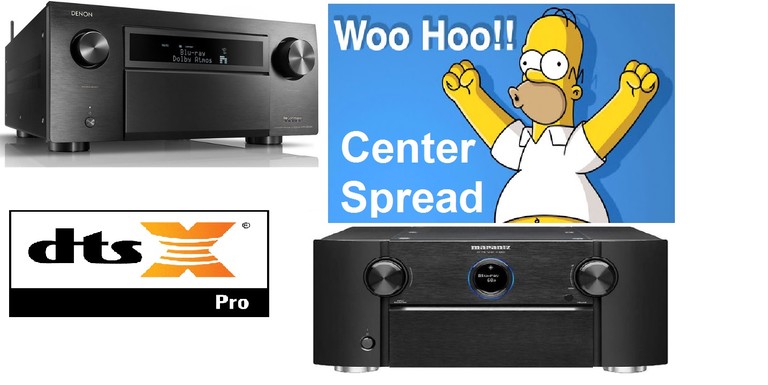 Denon/Marantz 2020 Firmware Update
Sound United has released information on their latest firmware update for their top-end Marantz and Denon A/V Receivers due out this November 11th, 2020. Firmware updates are nothing new. We don't have any problems with updates. Lately, the majority of them have dealt with integrating the latest version or format of immersive audio into your receiver like Auro 3-D which we often push for in our articles on receivers that don't have it. We also pleaded with manufacturers to offer a preamp mode on their models with preamp outputs to assure a purer connection for users wanting to bypass the amp sections in their AV receivers in favor of more powerful, higher quality external amplification. Sound United listened and as a result all of their new 2020 models with preouts now have that feature!
This round of firmware updates for Denon/Marantz mark some key upgrades to home theater enthusiasts going beyond a 7.1.4 speaker layout. But what we like most about this update is the restoration of a key feature that Dolby pulled off their licensing agreement over a year ago when they introduced height virtualization. Center spread is back!
In May 2020 we released the article, Dolby Eliminates Key Feature for Enhancing 2CH Music, and subsequently, in June we released our Youtube video Dolby Atmos Center Spread Update for AV Receivers. We discussed how the "center spread" feature in the Dolby Surround Upmixer (DSU) has been taken out of the new 2020 AV Atmos AV receivers. Dolby updated their upmixer when Atmos was released, replacing PLIIx Music and Cinema modes for what they called the Dolby Surround Upmixer (DSU). The DSU was suited for music and cinema and worked best for 2CH music when a feature called "Center spread" was enabled. Center spread allowed the listener to preserve stereo imaging from the front channels for 2CH sources. Without it being engaged, too much common sound from the FL/FR speakers is sent to the center channel making the end result too narrowly focused sounding and artificial. Dolby Height Virtualization is a DSP based algorithm that simulates height effects in absence of actual height channels. Any AV product that incorporates this feature cannot also simultaneously support "center spread" under the same Dolby licensing.
We informed you the reader about this and you spoke up in droves both on our Youtube videos and direct comments back to Dolby as well as your favorite AV receiver manufacturer. Your requests were heard and today we are happy to report the good news. After Sound United's firmware update this Nov 11th, 2020 to Denon and Marantz receivers model year 2019 and newer, virtually all of their products will again have the Center Spread feature restored.
In 2018, Audioholics released information on how Dolby labs wanted to Restrict Non-Native Upmixing on Atmos Based Products. Shortly after our article was released, Dolby did an about-face on their intentions. In the new Sound United update, third party upmixing on Dolby content will be allowed for ALL 2019 Denon and Marantz AVRs.
Getting two key feature restrictions lifted (3rd party upmixing on Dolby content, and Center Spread for the DSU) originally imposed by Dolby is a big win for consumers and it's good to see all the efforts of Audioholics and our readers have come to fruition. It's equally awesome to see how proactive Sound United has been with its products in offering the features consumers want to ensure the best home theater experience.
IMAX & DTS:X Pro Users Rejoice

Other key updates include: DTX:Pro for 13 channel decoding for DTS:X/IMAX DTS:X Signal. This also allows Neural:X to expand the input signal up to 13 channels. The update also gives their top of the line receivers the ability to support for Dolby Atmos Height Virtualization, Dolby Surround support for Front Wide speakers and adds the ability to have 180 Hz crossovers. New 2020 models will also see FRL (Fixed Rate Link) added to their receivers.
Major Updates Recap for this Firmware Includes:
DTS:X Pro for the Denon AVR-X6700H and Marantz SR8015 as well as the AVR-X8500H, AVR-A110 and the Marantz AV8805!

Adding back Dolby Center Spread Feature for the 2019 and 2020 AVR lineup.
Dolby Surround Front Wide support for AVR-X8500H and AV8805.

Dolby Height Virtualization for the AVR-X8500H and the AV8805.
Adding back DTS Neural:X capability on Dolby content for 2019 AVR lineup (2020 lineup supports it out of box).
180Hz crossover settings.
Change from 70Hz crossover settings for IMAX to 80Hz for the speakers + sub and 120Hz for LFE just like it's done for Dolby Atmos and DTS:X.

Screen Saver function for 2020 AVR lineup.
Power up volume level default fix. In our review of the Marantz SR8015 we found a bug with respect to power up volume not engaging to its preset level but instead, defaulting to minimum.

Note: If you're lucky enough to own one of the many Denon and Marantz receivers getting the update you'll have to turn on your auto update feature on your receiver to get this update. The firmware update will be rolling out NOVEMBER 11th so be ready.
Confused about what AV Gear to buy or how to set it up? Join our Exclusive Audioholics E-Book Membership Program!