Denon X-Series Introduces the World's First 8K-Ready AV Receivers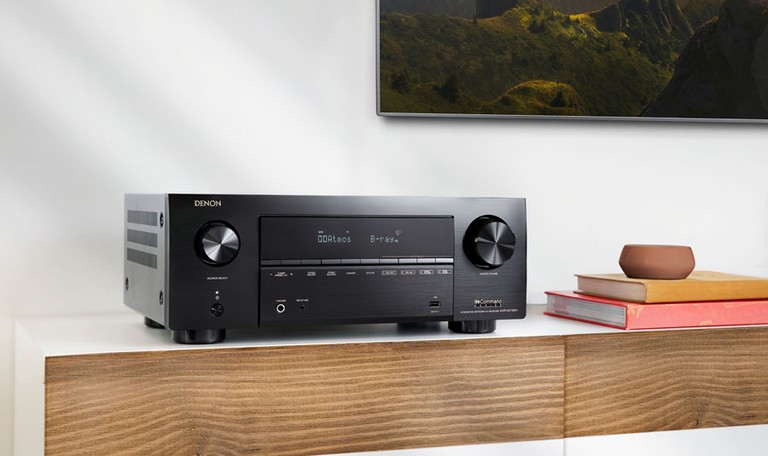 Denon AVR-X2700H AV Receiver
Summary
Executive Overview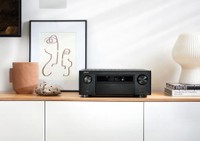 With the 2020 CEDIA Expo Show cancelled, COVID-19 running amuck, and rioting in many cities across the U.S. we're in need of some good news. Denon provided us with some this week with the announcement of the worlds first 8K-ready AV receivers. Building on its renowned line of X-Series AVRs, the Denon AVR-X6700H, AVR-X4700H, AVR-X3700H, and AVR-X2700H usher in the next generation of home theater receivers designed to upgrade gaming, home theater and music to a whole new level.
This is a very big year for Denon. Not only are we introducing the first 8K-ready receivers, but we're also celebrating our 110th anniversary. This company has been on the forefront of technological advancements throughout its entire existence, and the introduction of 8K is the next exciting chapter in our history of excellence. 8K certainly is an exciting update and the new X-Series AVRs offer a suite of new features that gamers, home theater enthusiasts and music lovers can implement straight away. If you're serious about upping your 4K game and getting your home theater ready for 8K, these are the best AV receivers money can buy.
- Jake Mendel, Product Marketing Manager for Denon AVR & Hi-Fi components
Denon 2020 X-Series AV Receiver Features YouTube Discussion

The top model in this new series; the AVR-X6700H will support 11 channels of amplification with 13.2 channel processing, the AVR-X4700H and the AVR-X3700H support up to 9 channels of amplification and 11.2 channel processing. The AVR-X2700H supports up to 7 channels of amplification. A feature breakdown of all the new models is tabulated below.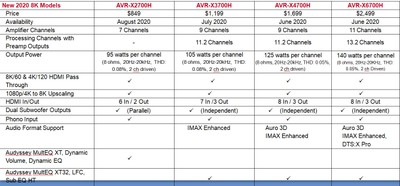 Denon 2020 X-Series AV Receivers Feature Comparison Chart
Video Technology
The new Denon X-Series AV receivers will take advantage of the latest HDMI technologies. This will include a dedicated "8K" HDMI input enabling 8K/60Hz and 4K/120Hz video pass-through, new HDR format support including HDR10+ and Dynamic HDR, and a new HDMI feature called Quick Media Switching (QMS), which allows a source to instantly switch the resolution or frame rate to eliminate screen blackout. The latest X-Series models will still support HDR10, HLG (Hybrid Log Gamma) and Dolby Vision, as well as 4:4:4 Pure Color subsampling and BT.2020 pass-through. The Denon X-Series can also upscale existing HD and 4K content to 8K to compatible 8K ready TVs so more people can experience the power of 8K resolution.
Check out: Everything you Need to Know about HDMI 2.1 for more information.
New Gaming Technology

Several new features give gamers an edge on their competition, including 4K/120Hz pass through and Variable Refresh Rate (VRR) to reduce frame tearing and improve overall precision. This technology will allow you to get a jump on the competition with Auto Low Latency Mode (ALLM) and Quick Frame Transport (QFT), each designed to reduce lag and improve stats. With these new improvements you can see the enemy before they see you all with stunning 8K picture quality.
Stream Movies & TV With Top-of-the-Line Audio Quality
The new Denon X-Series AVRs will continue to support eARC (enhanced Audio Return Channel), which delivers uncompressed and object-based audio from the TV to the receiver via a single HDMI cable. TVs can play video directly from TV apps at best available picture quality—either 4K or 8K—while the receiver identifies the best available surround format for decoding. With eARC and the latest HDMI connectivity up to 8K Ultra HD, the new X-Series AV receivers will help to provide a seamless connection with the latest 8K TVs, streaming devices, gaming consoles, and other source players.
DTS:X Pro
Support for virtually all 3D audio formats is available with the Denon AVR-X6700H and AVR-X4700H, including Dolby Atmos, Dolby Atmos Height Virtualization Technology, DTS:X, DTS Virtual:X, IMAX Enhanced and Auro-3D out-of-box. The AVR-X6700H will also support DTS:X Pro, which will allow users to enjoy up to 13 channels of DTS:X decoding with speaker configurations such as 7.2.6 or 9.2.4. Listeners can also enjoy the latest in IMAX Enhanced films in 7.2.6 or 9.2.4 speaker configurations thanks to newly adopted 13.2 channel processing capabilities with external amplification. The DTS:X Pro feature will be delivered via firmware update later this year. Auro-3D engine is supported by the AVR-X6700H and the AVR-X4700H. IMAX Enhanced decoding is supported by both receivers as well as the AVR-X3700H.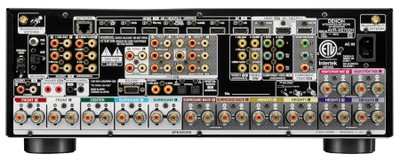 Denon AVR-X6700H AV Receiver Backpanel - note 13CH preouts, 11CH amp built-in
Pre-Amplifier Mode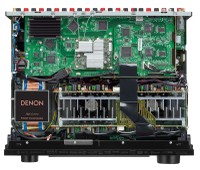 We've been asking for it, and FINALLY Denon now also supports a new "Pre-Amplifier" mode for the AVR-X3700H, AVR-X4700H and AVR-X6700H, previously only found on Denon's flagship AVR-X8500H. Pre-Amplifier mode provides a clear signal path and more tolerance in clipping levels by disconnecting internal amplifiers when the receiver is used as an AV processor and all speakers are powered by external amplifiers.
After years of testing and measuring AV receiver performance, Gene determined the reason why the preamp outputs on most receivers showed high distortion in an FFT plot when driven above 1.2Vrms. The unloaded amplifiers were being driven into clipping causing distortion to be feedback into the signal chain. This can be seen most recently in our measurements of the Marantz SR8012 as well as many other brands and models we've reviewed over the years.
We pleaded with AV receiver manufacturers to offer a "preamp mode" that physically disconnects the signal path to the amplifiers for those wanting to use their receivers as a dedicated preamp by connecting external amplification.  Denon is the first company to heed our call by offering this feature on ALL new X-series AV receivers. Bravo!
Streaming Features & Set Up Assist Updates

Roon Tested and Hi-Res Playback
Denon X-Series AVRs are Roon Tested certified so users can get more out of their music libraries through the advanced Roon music interface on their PCs and smart devices. Denon Roon Tested AVRs can be found and setup easily by Roon via AirPlay 2 or hardwired into a Roon Core device. Each receiver features a front-panel USB port that offers convenient audio playback of MP3 and high-resolution audio formats (WAV, FLAC, ALAC and DSD 2.8/5.6 MHz files).
Voice Enabled Enhancements
We saw a big push at last years CEDIA show for smart home automation and voice controlled devices. The Denon X-Series AVRs work with Amazon Alexa, Google Assistant, Josh.ai, and Apple Siri for voice control. Listeners can use Amazon Alexa for a variety of commands, including switching inputs for different media players, while the Google Assistant and Apple's Siri can be used to adjust the volume, skip to the next track, and more. Josh.ai offers custom integrators greater control over voice integration into a variety of existing smart home platforms.
HEOS Multiroom Music Listening
The new X-series from Denon will come with HEOS Built-in. With HEOS you can stream music wirelessly across compatible HEOS components from a variety of free and premium streaming services, including Spotify, Pandora, Amazon Music HD, TuneIn, iHeartRadio, SoundCloud, SiriusXM, TIDAL, and more. You can also enjoy your favorite music in any room of the home wirelessly. Play the same song in every room or select a different song for each connected room via a variety of streaming sources. Add Denon Home speakers to more rooms and control it all with the HEOS app. Apart from HEOS, Apple AirPlay 2 and Bluetooth are also supported. Apple Music streaming is supported through AirPlay 2.
Denon Setup Assistant
We've like Denon's setup assistant in the past. It does a good job of visually guiding you through each step in the setup process. Because every home theater is unique, Denon uses Audyssey's premium room calibration technology to automatically take precise measurements and optimizes the receiver's performance. Audyssey then tailors the 3-D experience to the acoustic properties of the space. The AVR-X2700H supports Audyssey MultEQ XT while the rest of the lineup supports Audyssey MultEQ XT32, as well as subEQ HT for independent subwoofer calibration for more balanced and controlled bass performance. The Audyssey MultEQ Editor app is available for purchase for those who want more customization options.
Dual Speaker Preset Mode
The 2020 X-Series models also now support the newly adopted Dual Audyssey Preset function which allows you to store and instantly switch between two Audyssey configurations. For example, you can store both the Audyssey calibration result straight from the receiver and a customized MultEQ curve or frequency range made through the Audyssey MultEQ editor app on the receiver simultaneously, allowing you to easily compare differences and select their preference. Listeners can also perform Audyssey measurements for two different speaker settings, including 2.0 for music listening and 5.1.4 for movie surround.
You might wonder why you would need two presets for a receiver that never leaves the room. Denon presented to us a very real scenario where a user might have a drop down screen for a projector and blinds that close to keep out light.  The acoustics of the room would change significantly when the screen was up and the blinds were open against large sliding glass doors. Before the Dual Preset function, you would have to rerun the calibration of the room every time you open or closed the screen or blinds!  Now this can be customized with the pressing of a button to let you optimize your sound for both scenarios.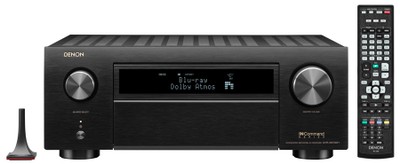 Custom Integration
Custom A/V integration professionals will appreciate the X-Series receivers' smart features, including support for Audio Select functionality or AirPlay OFF feature so it will not appear on every iOS device throughout the home. To best tailor system functionality for each client, integrators can now assign the same HDMI input source over multiple inputs and choose different audio sources for each input. Denon calls it a "Sports Bar" mode. With multizone simulcasting, you can also play full quality surround in the main zone while simulcasting stereo to a second zone or HEOS enable devices.
Integrators can also provide their clients with improved service efficiency and reduced downtime by using Domotz Pro or OvrC remote system monitoring and management technology to remotely monitor and troubleshoot X-Series AVRs. HDMI Diagnostics Mode continues to be available for custom integrators to troubleshoot HDMI-related issues with connected devise and HDMI cables on site.
Our Thoughts...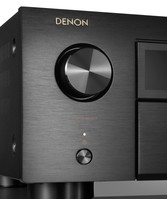 What DON'T we like about the new Denon X-Series? Not much, especially for the AVR-X6700H, the model just below the venerable AVR-X8500H. For $2,500 you get (out of the box) 11 channels of amplification (140wpc x 11) and 13 channels of processing, 8K/60Hz or 4K/120Hz video, 8K upscaling, and all the newest HDMI functionality. Gamers will love the 120Hz refresh rate along with other features to reduce lag time. The new Denon X- Series A/V receivers are heavy on the V side of A/V, so it will be interesting to see how their competition views the buying trends of the future. Sometimes it's good to be the first product released before the fall lineup. Eight years ago it was all about 3D immersive sound, and for the last few years it was smart home integration and voice control. With Denon's push for video technology improvements tailored for gamers, we're thinking this will inspire big changes in ALL the AV receivers being released later this fall.
Stay tuned for our contest announcement so you can win one of these brand new Denon AVRs on Audioholics!

Unless otherwise indicated, this is a preview article for the featured product. A formal review may or may not follow in the future.
Confused about what AV Gear to buy or how to set it up? Join our Exclusive Audioholics E-Book Membership Program!
jbrandoff posts on October 09, 2020 17:24
Awesome thread (well, the parts I understand anyway)! I'm still confused about something (forgive me if this was already answered).

If I run a 7.1.4 setup with a denon x3600/3700/4700, am I better off running only the LF/RF to external amp and use all 9 amps in the receiver for everything else (including center), or will there be a benefit to sending center channel to external amp as well, this utilizing only 8 of the 9 internal amps (I know it can't be shut off, but is there a benefit to not using it)? I have a monolith x7 with plenty of extra channels to use. Are there benefits to using less internal amps and more external? I haven't decided yet which avr I'm buying.

TY!
Timforhifi posts on October 09, 2020 15:52
You need a new avr for sure with newer gear. I can't remember if you said how many channels you need?

avrs are so expensive right now with this pandemic. I'd probably wait till new products come out. Like onkyo, pioneer and Integra with Dirac. Or new Yamahas also. The 818 onkyo was a good avr and more powerful then denon 6700. Probably more power then marantz 8015 as well. Power isn't everything though and your listening room and levels have a lot to do with it.

If I had to buy avr right now I'd definitely buy used. From 800-1500$ you could get a very nice receiver. You really just need hdmi 2.0 with hdr capability. So really anything from 2016 or newer. Try integra drx7.1 or Yamaha 3070 or denon 6300 or marantz 7012 or onkyo rz1100 or pioneer sc801 or denon 4300. All of those would be as good or better then marantz 8015 or denon 6700. Unless you're looking for earc or gaming features. Which I don't think would matter on your epson.
Brad McNeely posts on October 09, 2020 12:42
Thank you sir for this additional information. Hmm interesting you note an onkyo rz920 as you main platform, and the secondary system being the newer denon 6700. I currently have an Onkyo TXNR818 (working flawlessly) and was thinking I might hear a jump in sound performance (movies & music) moving to the newer Denon 6700 or Marantz 8015. Of course there would be improvements in connectivity and 4K/8K etc. in the newer models but am wondering now about actually hearing improved performance in pure sound and dynamic punch from these newer models?

Note I'm upgrading my projector to an Epson 5050UB and dual SVS 3000PB's, which was prompting the receiver upgrade. I looked at Onkyo, but their newest flagship models are currently several years old. Perhaps I should wait to see if they have any new models around the corner? Would be interested in your further thoughts.

PS Thanks Mazer for the reviews of the Marantz 8015, which were actually what got me leaning more towards the newer Denon/Marantz switch over.

Cheers and thank you all again!
Timforhifi posts on October 09, 2020 01:42
I definitely hear a difference from denon 6700 and marantz 7011 I own. I've noticed though that these avrs sound a little different every year though. A marantz 7008 doesn't sound like 7013 from 5 years of tweaking.

Whats interesting to me is denon was excellent from 2005-2009 range. Clear, dynamic and powerful. Almost like you had separates when buying something like denon 5308. Then 4311 came out and sound got thicker and less clear. Maybe xt32 was at fault for most. Denon really struggled with from 2010-2014. So many bought onkyo or pioneer. These onkyos sounded absolutely better but started breaking. Then the pioneer started having ue22 errors, breaking as well. So we started buying Yamaha and realized that they sounded excellent but now we wonder what do denon or marantz sound like again.

So we try again and realize that they've changed again. Now they are sharper again with better clarity. They just really lack power and dynamic ability which causes extreme heat in them. So we again realize that no avr is perfect. You can spend $700 or $7000 and you'll always find something you dislike about it.

My main room I use onkyo rz920. Secondary system denon 6700. Bedroom pioneer elite 502. Office marantz 7011. Onkyo rz720 and pioneer elite sc57 still get used in other rooms as well. Have a few more like onkyo3009, denon 4308, and pioneer sc07 in storage. I can say without a doubt denon 6700 is nice and works well but my onkyo rz920 does everything better. As far as sound quality, power and it has a better pre amp mode.

hopefully this helps
Brad McNeely posts on October 08, 2020 20:00
its great to have to opportunity to bounce thoughts off you. But I was a little concerned about the talk that one excels with movies while the other excels with music, when both are effectively flagship products. Sorry, but I couldn't resist joking about the Igloo thing. Heck still getting great fall weather here today at +20C (68F)
Post Reply