Denon AVR-X3600H 9.2CH IMAX Enhanced AV Receiver Offers Best In Class Features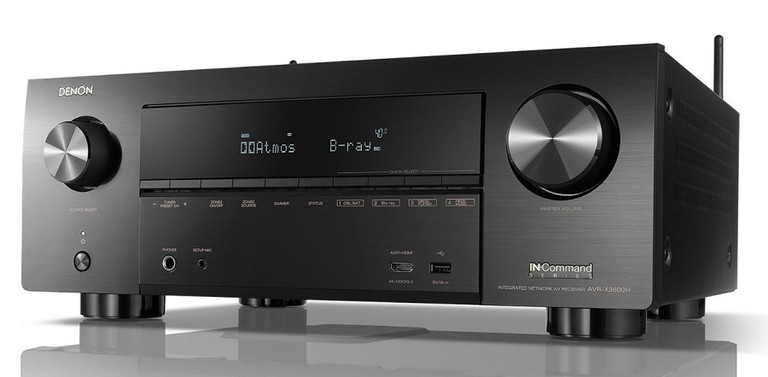 Denon AVR-X3600H 9.2 Channel IMAX Enhanced Receiver
Summary
Product Name:

AVR-X3600H 9.2 Channel IMAX Enhanced Receiver

Manufacturer:

Denon

Review Date:

July 18, 2019 00:00

MSRP: $1,099
First Impression:

Gotta Have It!
Processing: 9.2 channel AV receiver with 105W per channel x 9 and 11.2 channels of processing (preamp)
Formats:IMAX Enhanced Technology, Dolby Atmos, Dolby Atmos Height Virtualization Technology, DTS:X and DTS Virtual:X
Home Automation: Amazon Alexa, Google Assistant and Apple Siri voice control:
Connections: 8 HDMI inputs with full HDCP 2.3 support, 3 HDMI outputs
eARC: yes
Video: 4K/60 Hz, Dolby Vision, HDR10, HLG, 4:4:4 color resolution and BT.2020
Room Callibration: Audyssey MultEQ XT32, Dynamic Volume and Dynamic EQ, LFC and Sub EQ HT
Dimensions (WxDxH): 17.1 x 15.4 x 6.6
Weight: 26.68 lb
Executive Overview
With the CEDIA installers show in just a few months, audio manufacturers are already teasing us with new releases. We were expecting big announcements from Sound United this year having recently acquired Onkyo and Pioneer but didn't expect the home theater conglomerate to already be shipping  new AV receivers from Denon. Denon released their latest iteration of their X-Series AV receivers, the AVR-X3600H 9.2 IMAX enhanced receiver and the AVR-X2600H (7.2CH).  The new AVR-X3600H replaces Denon's AVR-X3500H, which only had 7 channels of amplification and processing. The new AVR-X3600H has 9CH of amplification and 11CH of processing to do a full 7.1.4 speaker system with the addition of a 2CH external amplifier.  At $1,100, the new 9.2 channel AV receiver offers IMAX Enhanced out-of-box, as well as a full suite of three-dimensional audio formats, including Dolby Atmos, DTS:X, DTS Virtual:X, and Dolby Atmos Height Virtualization Technology.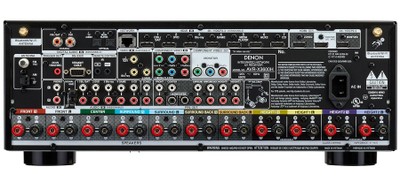 On the video side, it supports the latest technologies and offers eight HDMI inputs and three outputs that support 4K Ultra HD 60Hz video, High Dynamic Range (HDR10), Dolby Vision, Hybrid Log-Gamma (HLG) 4:4:4 Pure Color sub sampling, and BT.2020 pass-through. The new AVR also boasts HDCP 2.3—the latest copy protection standard—on all HDMI ports, which allows users to enjoy copy-protected content uninhibited. Incorporating eARC (Enhanced Audio Return Channel) which ensure you have the latest performance and connectivity options for the future. The AVR-X3600H also supports the transmission of immersive audio from TV apps to the AVR with a single HDMI cable for simple setup. Certified by the Imaging Science Foundation, the AVR features a full suite of video calibration controls (for use by an ISF technician), along with ISF Day and ISF Night video modes.
Denon AVR-X3600H AVR as 11CH Pre/Pro YouTube Discussion

The new X-Series receiver also supports ALLM (Auto Low Latency Mode), which ensures Xbox One users have a more responsive and immersive gaming experience when connected to TV models that also support ALLM.
"We're currently experiencing a dramatic flight to quality as studios, musicians and other creators make really high-quality content that's readily accessible on platforms like Amazon and Netflix, or Tidal and Spotify. As a result, we're seeing consumers choose to move beyond sound bars and basic home theater systems to something better equipped to provide truly amazing experiences at home. With technologies IMAX Enhanced and Dolby Atmos Height Virtualization, the AVR-X3600H will allow people to truly see and hear their favorite movies, TV, and music as the artists intended."
   -  Michael Greco, senior director of global brand management at Sound United.
It is interesting to note that Denon decided against adding Auro-3D immersive sound technology to their new X3600H like they do with their higher end models. They may be able to add it with a future firmware update, but for now, it's just speculation.  Speaking of firmware updates, while Denon lists Dolby Atmos Height Virtualization as one of the main features of the AVR-X3600H, its currently not shipping with this feature but will be available with a future firmware update to be announced.
It's good to see Denon releasing unclipped full bandwidth power ratings with two-channels driven into 8 ohm loads per FTC mandate. Our consistent complaints and our TIP movement to audio manufacturers about this trend and our Power Manipulation in Dolby Atmos AV Receivers articles are really starting to make a difference.  In the case of the AVR-X3600H, Denon has it listed as featuring discrete high-current amplifiers on all channels delivering 105W per channel (8 ohms, 20Hz-20kHz, THD: 0.08%, 2 Ch. driven). In fact, Denon claims their latest AVR lineup also meets the 70% power guarantee found on Marantz AV receivers. In this case, the AVR-X3600H is guaranteed to deliver 73.5 watts/ch with 5CH driven. Denon engineering supplied us with their test data for the AVR-X3600H showing it was able to deliver 81.9 watts/ch with 5CH driven into 8 ohm loads. How's that for exceeding ones specs?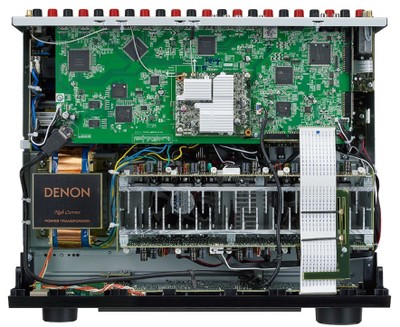 Power and Expandability

The AVR features 9 channel amplification and is also capable of processing up to 11.2 channels to drive a 7.2.4 speaker setup when used alongside external 2-channel amplification. It looks like the power supply of the X3500H and X3600H models are identical between both units, but Denon did beef up the heat sink area and added a cooling fan to accommodate the extra two channels of internal amplification. The power is still shared off the same size power supply but the overall power consumption rating on the back has gone up slightly from 600 watts to 660 watts.
For those just wanting to expand from 9 to 11 channels, a 2CH power amp will be needed. Unlike the Onkyo TX-RZ830, you can reassign the front L/R amplifier channels to the surrounds and use an external 2CH amp for the main channels. Most AV enthusiasts at this level will opt for a good 2CH amp to power the main speakers and use the Denon internal amps for the rest of the home theater. This is a good call.
Here is the procedure for reassigning the front channels to the height surrounds:
Go to AVR`s setup menu
Select "Speakers", enter "Amp Assign"
Select "11.1ch" for "Assign Mode" setting
Select "Front" for "Preout" setting. The other option is "Height". 

Connect an external 2CH amplifier to the Front L and R preouts, connect the rest of speakers (9.0) to the remaining receiver`s speaker terminals (C, SL, SR, SLB, SRB and 4 height channels) for a full 7.1.4 speaker configuration.
With the AVR-X3600H configured to reroute the main front L/R internal amplifiers, the preamp is physically disconnected from the power amp. This allows the preamp stage full capability of delivering up to 4Vrms unclipped when connected to external amplification as can be seen in the following output vs distortion plot courtesy of Sound United Engineering.
Editorial Note about Front L/R Channels Preamp Disconnect

Front L/R channel preamp disconnect ONLY happens in a 11CH speaker configuration. If you have simply 9.1 channel configuration (5.1.4) or less, and you want to drive front L/R speakers out of external amplifier, or L/R/C, or L/R/C/SL/SR speakers out of external 5 channel amplifiers, internal amplifiers will not be disconnected.  There is no selecting or sensing mechanism to allow that unless you activate 11.1 channel Amp Assign mode and select Front L and R for preouts.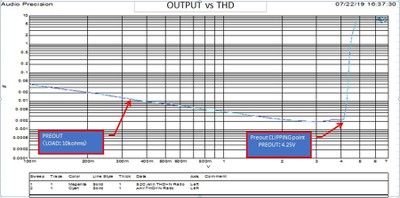 Denon AVR-X3600H Preamp Output Voltage vs Distortion

The AVR-3600H also has full 11CH preouts if you want to run all external amplifier and use this product as a very cost effective, feature packed pre/pro. We recommend looking at one of the Monolith Monoprice or Outlaw Audio Multi-CH amplifiers.
For Hi-Fi enthusiasts, the AVR-X3600H boasts AKM 32-bit D/A converters and features high-resolution audio decoding compatible with multiple lossless file types, including ALAC, FLAC, and WAV at up to 24-bit/196-kHz. It's also compatible with 2.8/5.6-MHz DSD files (DSD is the audio coding format of SACD). You can play them from memory devices via the front panel USB, or over network sources. The AVR-X3600H also supports other file types such as MP3 and WMA.
Home Automation
It's good to see the expansion of home automation options again this year. The X3600H will work with Amazon Alexa, Google Assistant, Apple Siri, and high-end smart home automation, Josh.ai, for voice control. Listeners can use Amazon Alexa for a variety of commands, including switching inputs for different media players, while the Google Assistant and Apple's Siri can be used to adjust the volume, skip to the next track, and more. Josh.ai offers custom integrators greater control over voice integration into a variety of popular smart home platforms, including Creston, Control4, and others.
Of course, the X3600H will come with HEOS built in for multiroom audio.  The AVR-X3600H can stream music wirelessly across compatible HEOS components from a variety of free and premium streaming services, including Spotify Free and Premium, Pandora, Amazon Music, TuneIn, iHeart Radio, SoundCloud, SiriusXM, Tidal and more. Consumers can also enjoy their favorite music in any room of the home wirelessly. Play the same song in every room or select a different song for each connected room via a variety of streaming sources. In addition, the X3600H will work with Apple AirPlay 2.
Custom Integration
Custom A/V integration professionals will appreciate the AVR-X3600H's smart features, including newly added Audio Select functionality, or AirPlay OFF so it will not appear on every iOS device throughout the home. To best tailor system functionality for each client, integrators can now assign the same HDMI input source over multiple inputs and choose different audio sources. Improved service efficiency and reduced downtime is available via a variety of remote monitoring and management technologies like OvrC, ihiji Invision or Domotz Pro. Additional features include a web UI to remotely access the AVR's setup menu, and access to All Zone Stereo Mode, a.k.a Party Mode, via quick selects.
Room Correction

The X3600H comes with the Denon Setup Assistant. With the Setup Assistant, the AVR visually guides you through each step in the setup process. In addition, the X3600H comes with Audyssey MultEQ XT32, Dynamic Volume and Dynamic EQ, LFC and Sub EQ HT.  Audyssey MultEQ automatically optimizes audio for users' unique listening environment, including subwoofer equalization. The X3600H also comes with the option of purchasing Audyssey MultEQ Editor, an iOS and Android app for $20, for further customization of room acoustics.
What We Think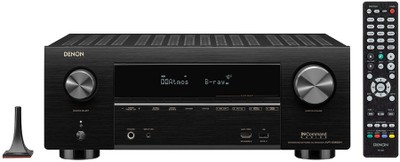 For $1,100 the Denon X3600H comes with 11CH of processing to do a full 7.1.4 speaker system with the addition of a 2CH external amplifier.  The only other receiver that offers this capability is the Onkyo TX-ZR830 which is being discontinued as we await announcement of the TX-ZR840 replacement model. The Denon is the only model in this price class that allows you to reassign unused amplifier channels so you can add a 2CH power amp to the front channels and run a full 7.1.4 or 11CH speaker surround system. Denon has dropped the gauntlet with this model having most of the feature set of it's more expensive brethren, the AVR-X4500H. The AVR-X4500H offers slightly more power (125wpc vs 105wpc), and Auro 3D processing but if those features aren't important to you, then the AVR-X3600H is your ticket. The AVR-X3600H truly offers best in class features at this price point. Impressive.
Confused about what AV Gear to buy or how to set it up? Join our Exclusive Audioholics E-Book Membership Program!