Denon Releases Two IMAX Enhanced 4K AV Receivers: AVR-X4500H and AVR-X6500H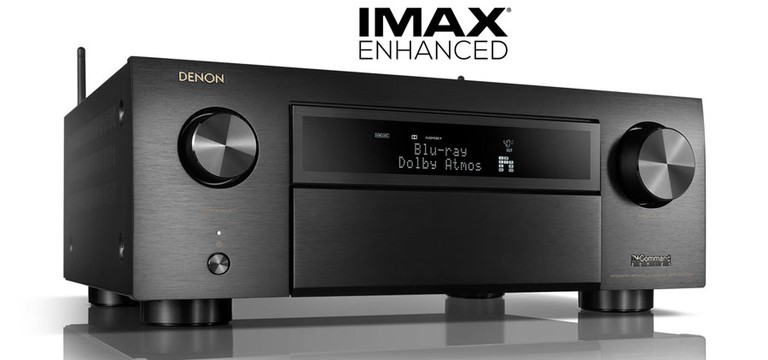 Denon X4500H and X6500H IMAX Receivers
Summary
AVR-X4500H 9.2 Channel Receiver

Power: 125W per channel (8 ohms, THD 0.05%, 20Hz~20kHz) 2CH driven

Amplified Channels: 9
Processing: 11CH
Dual subwoofer outputs with independent delay and level control
HDMI In/Out: 8/3 HDCP 2.2 support
3D Sound Technology: Dolby Atmos, Auro 3D, DTS:X, IMAX Enhanced DTS:X

Video Technology: 4K Ultra HD 60Hz video, 4:4:4 Pure Color sub-sampling, Dolby Vision, High Dynamic Range (HDR10), Hybrid Log-Gamma (HLG), and BT .2020 pass-through support, HDMI 2.1 feature set, ALLM (Auto Low Latency Mode)
Audyssey MultEQ XT32 Auto EQ

Power Consumption: 710 watts

Dimensions:

17.1" x 15.3" x 6.6"

Weight: 29.8 lbs
AVR-X6500H 11.2 Channel Receiver

Power: 140W per channel (8 ohms, THD 0.05%, 20Hz~20kHz) 2CH driven

Amplified Channels: 11
Processing 11CH
Dual subwoofer outputs with independent delay and level control

HDMI In/Out: 8/3 HDCP 2.2 support
3D Sound Technology: Dolby Atmos, Auro 3D, DTS:X, IMAX Enhanced DTS:X

Video Technology: 4K Ultra HD 60Hz video, 4:4:4 Pure Color sub-sampling, Dolby Vision, High Dynamic Range (HDR10), Hybrid Log-Gamma (HLG), and BT .2020 pass-through support, HDMI 2.1 feature set, ALLM (Auto Low Latency Mode)
Audyssey MultEQ XT32 Auto EQ
Power Consumption: 750 watts

Dimensions:

17.1" x 15.1" x 6.6"

Weight: 31.1 lbs

Executive Overview
This week at CEDIA, San Diego, Audio pioneer Denon released the industry's first IMAX Enhanced-Ready 4K AV Receivers.  The AVR-X6500H and AVR-X4500H are some of the most innovative and powerful (processing wise) receivers we've seen on the market today. The 11.2 channel X6500H boasts up to 140W per channel (8 Ohms, 20H-20kHz, 0.05% THD), 2CH driven, and features monolithic amplifier construction. It can drive up to a 7.2.4 configuration. Conversely, the 9.2 channel X4500H can drive up to a 5.2.4 configuration and delivers 125W per channel (8 ohms, THD 0.05%, 20Hz~20kHz), 2CH driven. The X4500H has 11CH of processing and can support a full 7.2.4 speaker configuration with a 2CH external amplifier added into the mix. We recommend getting a meaty 2CH amp to power your front channels and use the rest of the internal amps to do a full 11CH speaker setup in this case.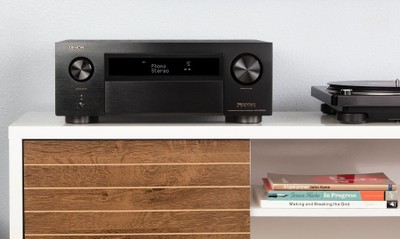 But the biggest news for these two new Denon receivers is the inclusion of IMAX Enhanced Technology. The Denon AVR-X6500H and AVR-X4500H AVR's will be the industry's first audio products to be launched as part of the new IMAX Enhanced program, developed by IMAX and DTS. The IMAX Enhanced functionality will be supported via a free firmware update early in 2019. Marantz fans will be happy to know the new SR7013 AV receiver and likely their AV8805 and AV7705 AV processors will also get the IMAX Enhanced firmware upgrade too.
Denon is a natural leader in the audio space. With more than 100 years of innovation, the industry looks to Denon as a bellwether for the latest and greatest listening and video technologies to help consumers push the boundaries of the home theater experience. As part of our legacy of firsts, the newest Denon IN-Command X-Series AV receivers – AVR-X6500H and AVRX4500H – are the first IMAX Enhanced AVRs to be released and are built around our engineering expertise and focus on audio quality. In addition, we're continuing to offer added benefits for custom installers by integrating Domotz Pro and ihiji Invision compatibility with custom tiles, which we know are critical for today's business needs.
-Yoshinori Yamada, technical category director of AVRs at Sound United
HDMI 2.1 Support Built In and More

Both receivers include support for the latest three-dimensional sound formats such as Dolby Atmos, DTS:X, and Auro-3D, something we didn't see from other rival receiver companies this year at CEDIA.  Additionally, both new receivers will support HDMI 2.1 features including Enhanced Audio Return Channel (eARC) and Auto Low Latency Mode (ALLM), which allow you to easily upgrade your software for years to come.
The AVR-X6500H and AVR-X4500H will both include whole-house HEOS music compatibility, but more importantly, both receivers will feature built-in Amazon Alexa Voice Control.  The Amazon Alexa voice controls will allow you to adjust the volume, skip to the next track, switch inputs to different media players and much more. Additionally, the AVRs support Apple AirPlay 2 via firmware update.  
The Denon AVR-X6500H and AVR-X4500H will of course have built-in Wi-Fi and Bluetooth capabilities plus the added benefit of network and USB connectivity so you can easily stream high-resolution DSD (2.8/5.6MHz), FLAC, ALAC and WAV files in a variety of ways.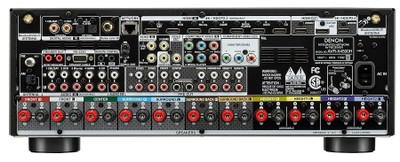 Both receivers will include eight HDMI inputs and three HDMI outputs all featuring HDCP 2.2 support, the AVRX6500H and AVR-X4500H which will allow you to enjoy copy-protected content uninhibited.
On the video side both receivers come with full 4K Ultra HD 60Hz video, 4:4:4 Pure Color sub-sampling, Dolby Vision, High Dynamic Range (HDR10), Hybrid Log-Gamma (HLG), and BT .2020 pass-through support. Additionally, both receivers support newest HDMI 2.1 feature set, ALLM (Auto Low Latency Mode), which ensure Xbox One users have a more responsive and immersive gaming experience when connected to TV models that also support ALLM, as well as eARC (Enhanced Audio Return Channel) via firmware update to support lossless and object-based Dolby Atmos or DTS:X content from TV apps.
For custom installers, both AVRs are equipped with ihiji Invision and Domotz Pro remote monitoring and management technology. Both remote monitoring platforms enable installers to monitor and troubleshoot problems from any location, drastically reducing downtime and improving integrators' ability to service customers more quickly and easily.

Another cool feature of these receivers is that the most advanced Audyssey MultiEQ XT32 room measurement system bundle comes standard, including Audyssey Dynamic Volume, Dynamic EQ, LFC, and SubEQ HT, all of which deliver an easy and accurate setup process. Further customization tailored to the rooms is possible with an optional Audyssey MultiEQ Editor app available for both iOS and Android.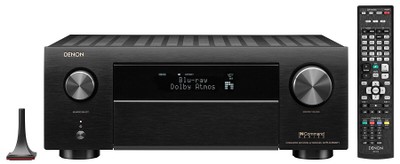 Both receivers also include a full suite of video calibration controls for custom installers along with ISF Day and Night video modes which has been certified by the Imaging Science Foundation.
What We Think
With the inclusion of the new IMAX Enhanced programming, Audyssey advanced room calibration,  HDMI 2.1 support, 11.2 (X6500H) and 9.2 channels (X4500H) and well over 100 watts per channel built-in amplification, either one of these receivers are contenders for best of show at CEDIA 2018.  Will consumers opt in for yet another immersive sound and image protocol, or will Yamaha's Artificial Intelligence programming win out? Share your thoughts in the comment thread below.

Confused about what AV Gear to buy or how to set it up? Join our Exclusive Audioholics E-Book Membership Program!