Integra DRX-4.2 & DRX-4.3 9.2 Channel AV Receiver Review
Integra DRX-4.2 & DRX-4.3 9.2 Channel AV Receiver Review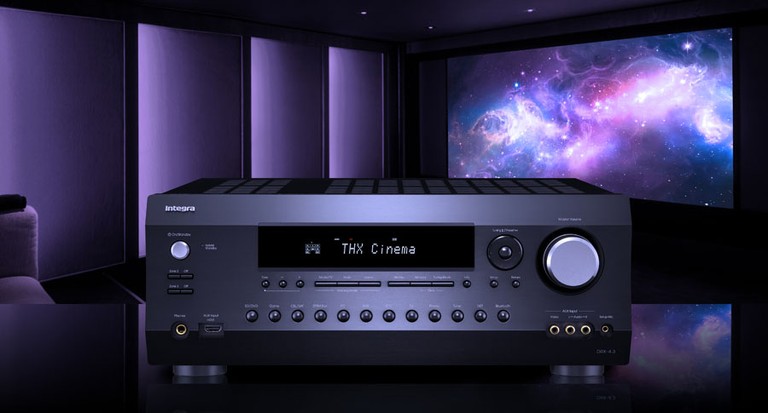 Integra DRX-4.3 AV Receiver
Product Name: DRX-4.2 & DRX-4.3
Manufacturer: Integra
Performance Rating:
Value Rating:
Review Date: July 11, 2019 21:00
MSRP: $ 1,400; (HDB-RX1 $400)
DRX-4.2 & DRX-4.3 AV Receivers
100wpc (2CH driven full bandwidth) x 9 channels (750 watt power consumption)
11.2CH pre-outs so it supports 7.1.4 with external amplification for Atmos, DTS:X
THX certified select with loudness plus for late night viewing
Powered Zone2/3 with DAC support for Zone2 and Net/USB for Zone3
7HDMI IN / 2 HDMI Out
HDBaseT 328 feet distance utilizing cat5e/cat6 cable (DRX-4.2 only)
4K HDR, Dolby Vision & HDR 10 support
Works with Sonos
Chromecast built in with Google Assist
Integra Control Pro & Integra Music Control app lets you stream all your sources (ie. Pandora, Tidal, Tunein, etc) with up to 192kHz / 24 bit resolution
AccuEQ Advance Room correction with manual adjustments
25lbs, 3 year warranty
HDB-RX1 HDBaseT Receiver (optional for HDBaseT installation for DRX-4.2)
HDBaseT certified to transmit 4K/60p/4:4:4 video at full 18Gb per second
Enables IR / RS-232C passthrough for home automation and IP control for initial setup via a connected PC over LAN
Supports POC (Power Over Cable) with compatible Integra A/V receivers and preamp/processors
HDCP 2.2, Dolby Vision (up to 4K/30p), HDR 10, HLG (Hybrid Log-Gamma), WCG (Wide Color Gamut), BT.2020, extended Colorimetry (sYCC601, Adobe RGB, Adobe YYC601), Deep Color, x.v Color, 3D, Lip Sync, and CEC video passthrough
HDMI audio passthrough for Dolby Atmos, DTS:X, Dolby TrueHD, DTS-HD Master Audio, Dolby Digital, Dolby Digital Plus, DTS-HD high-resolution audio, DTS 96/24, DTS-ES, DTS-HD Express, DSD, PCM, LPCM, and AAC
Incorporates 3rd-party control compatibility via IR input/output and RS-232C input other features
Pros
HDBaseT Allows for Flexible Long Distance HD Audio and Video Transmission (DRX.4.2 only)
Great Preamp section for using external amplification
11 channels of processing for 7.1.4 speaker configuration
Cons
Not suitable for 4-ohm speakers
Pricey
Integra DRX-4.2 & 4.3 Introduction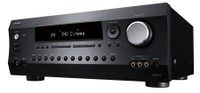 With the recent revamping of the Audioholics Showcase Home with home automation by Control4, I was on a quest for a new AV receiver for my bedroom system. I wanted something that could transmit all of my HD sources from my upstairs theater room using only Ethernet since I didn't have HDMI behind drywall. Integra is currently the only major AVR brand that supports HDBaseT on some of their receiver products. A logical choice for my application was the DRX-4.3 9CH Atmos/DTS:X HDBaseT AV receiver. It's been a number of years since I reviewed an Integra or Onkyo AVR and I kinda avoided them knowing the HDMI growing pains they were enduring. Ever since Onkyo acquired Pioneer and benefited from shared production platforms, I heard less HDMI-related issues being reported on the forums.
Note: The DRX-3.3, 4.3 and 5.3 HDMI boards have been completely redesigned with shorter signal paths for maximum signal integrity.
Does the DRX-4.2 have the goods for its hefty asking price or is the premium blown on the convenience of having built in HDBaseT?  Read the review to find out.
My actual review sample was a DRX-4.2 but during my installation and review process, Integra refreshed this unit with a newer model, the DRX-4.3. The DRX-4.3 has ALL (except HDBaseT) of the same features and performance of the DRX-4.2 with the following inclusions.
Atmos Height Virtualizer (pending firmware update)
IMAX Enhanced (pending firmware update)
A new, much faster quad-core processor
Zone B output that works great for using wireless headphones
White rear panel to make it easier to read the connections during installation
Upgraded clear binding posts
Support for Airplay 2
Wi-Fi capability
Design Overview
The Integra DRX-4.2 and newer DRX-4.3 are feature packed AV receivers that have some features most of their competitors do not such as: HDBaseT support on the DRX-4.2 for transmitting HD audio and video up to 328 ft using Cat 5e/6 Ethernet cable (about 130 ft for 4K resolution). Works with Sonos is another claim to fame for the Onkyo/Integra brand. Integra network receivers are now certified and compatible with the Sonos platform, earning the Works with Sonos badge which is a useful feature if those products are part of your ecosystem. The DRX-4.3 has 2 additional zones of audio which is rare in receivers of this price class these days.  The DRX-4.3 has Chromecast built-in for Audio and Airplay technologies allowing you to stream virtually any audio from a smartphone, tablet or PC to your home theater. The DRX-4.3's HDMI specifications and HDCP 2.2 compatibility support the latest formats. The DRX-4.3 enables transmission of Dolby Vision, High Dynamic Range (HDR) formats, with BT.2020 support, and provides enhanced picture quality by simultaneously enabling greater detail for both the dark and bright parts of an image.
The DRX-4.3 is rated for 100wpc (2CH driven) across all 9 amplified channels with the ability to expand to 11 channels of processing via an external 2CH amplifier. The amplification section is traditional Class AB with a linear power supply and 2 very large fans flanking the rather smallish heatsinks. That's a lot of transistors to cram into a single heatsink like this, which is common these days for Dolby Atmos / DTS:X AV receivers. Realize just a few years ago, these same-sized products had only 7 internal amplifiers. Now receiver companies are cramming 9, 11 and up to 13 channels into similar-sized products. If you were planning on running a 7.1.4 speaker configuration using this AVR, you'd have to add an external 2CH amplifier to power the surround back channels. Unfortunately, you can't reassign the front channels to the surround backs so if you want more power to the fronts, I'd recommend getting a 5CH amplifier to power the front LCR's and surround back channels. This is an especially good recommendation IF you're running 4 ohm speakers for the front soundstage to take some of the pressure off this workhorse.
5CH Amplifier Recommendations: Outlaw Model 5000, Monolith 5X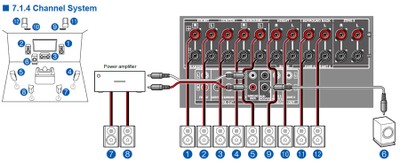 Preout for Surround Back to run full 7.1.4 Speaker Configuration
$1,400 is a big chunk of change to throw down on an AV receiver and quite frankly, in this price class, sister companies to Integra offer more brawn than the DRX-4.3 via the Onkyo TX-RZ830 (currently on sale for $549) and for a little less money, the Pioneer VSX-LX504. However, the Pioneer and Onkyo units have fewer integration features, such as three 12v trigger outputs and multiple IR inputs. Is the DRX-4.2 or DRX-4.3 worth their price of admission? Read the review to find out.
Integra Setup
I haven't looked at an Onkyo/Integra OSD in probably 10 years and I have to say I really liked the interface a lot. It was basic, yet very functional and intuitive to use. I literally found everything I was looking for in the initial setup without having to hunt down into the sub menus.
One thing that really impressed me about the DRX-4.3 is its comprehensive bass management and speaker configuration options. Each speaker group can have independent crossover settings and if you set the mains to "small," ALL other speaker groups default to "small," which is how it should be. Channel trims were adjustable in .5dB increments, distance in .1ft step size, and Integra included LFE crossover adjustment and level control, something some competitors like Yamaha completely dropped from their AVR's. Having LFE level control is really useful to tone down the LFE effects on bass heavy Blu-ray or DVD mixes without having to actually turn the sub level control down. In most cases, we recommend setting the LFE crossover to 120Hz to NOT truncate any bass the producer intended to go to the .1 channel from multi-channel mixes. The only thing I wasn't crazy about during manual setup was that the test tone generator cannot be lowered via the master volume control. It just turns on in BLAST mode, which depending on your room size and speaker sensitivity can be quite loud and uncomfortable. I typically like to see the ability to adjust master volume level with all trims initially set to 0dB. Then, I adjust the master until the mains read 75dB at my primary listening position and calibrate the rest of the channels to that reference with the subs boosted a few dB of course.
Integra DRX-4.3 Bass Management Setup
Impedance Switch - Leave it Alone!
Like most AV receivers these days, two of the nine internal amplifiers can be reconfigured for bi-amping the front channels if your speakers are bi-amp capable. I don't recommend using this feature since the power supply isn't big enough for your speakers to really benefit from it, especially if you're running the internal amps to power the other channels simultaneously. Integra included the dreaded impedance switch in the configuration menu and we highly recommend leaving it on the default 6-ohm setting regardless of actual speaker impedance. Setting it the 4-ohm setting will significantly drop the available output power of the receiver, as you will later see in our test report. It's only there for one purpose: to clip the amp sooner so it will generate less heat by being tested at a lower power level for 4-ohm UL certification purposes. This receiver has two giant fans and lots of nanny controls already built-in aside from the impedance switch. Don't further choke the power by enabling the low setting of this "feature."
Integra DRX-4.3 Configuration Menu
AccuEQ and Manual GEQ
Older Onkyo and Integra AV receivers employed Audyssey XT32 room correction but dropped it in favor of a proprietary design only found on their products. AccuEQ calibration tool built into the chipsets used in their latest AVR's. I believe this was done as a cost cutting method to keep Onkyo a class leader in features and performance for their respected price points.
I was not able to test AccuEQ in this review since the DRX-4.3 was installed in a different room than it was operated in. I wish Onkyo and its competitors would learn a lesson from Anthem and allow their room correction systems to interface via PC and a home network. Then you could utilize the room correction independent of AVR location since you would NOT have to plug the microphone into the AVR but instead directly into a laptop with the room correction software loaded up.
Integra DRX.4.2 GEQ
I continue to scold Denon for including manual GEQ's in their AVR's instead of a PEQ, so it looks like I must do the same now with Integra. This is just such a waste of a potentially great manual calibration tool. A much more useful approach which would especially help for bass calibration and tuning would be to replace this with a PEQ to allow for adjustable frequencies and bandwidth. At least Integra gives you GEQ down to 25Hz compared to Denon's lowest adjustment of 63Hz. I did find the 25Hz and 40Hz adjustments somewhat helpful in tuning my subwoofers in my configuration.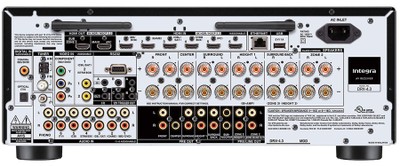 Integra DRX-4.3 Backpanel - note wireless inclusion replaces HDBaseT
The white background really does make the silkscreening easier to read compared to black of the predecessor model, another nod to the brand's commitment to helping installers in the field. The Integra DRX-4.3 has 9-channels of built in amplification (with 5-way binding posts) but 11.2 channels of processing, which is great for those wanting to expand their systems to a full 7.1.4 speaker configuration. For such installs, I'd recommend getting a meaty 5CH amplifier from Outlaw or Monoprice to use for the front LCR channels and surround backs and let the Integra power the rest. The DRX-4.3 has two subwoofer outputs but they are unfortunately parallel connected and don't offer independent channel trim and delay settings. This receiver has 7 HDMI inputs (front HDMI limited resolution) and 2 outputs while the DRX-4.2 also comes with HDBaseT connectivity, which is a unique feature to some Integra AVR products.  Legacy component and composite video cable is still supported which is nice since we are seeing these connections disappearing on most products these days.
HDBaseT (DRX-4.2 model only)

As I indicated earlier, my AV equipment for my bedroom system is located in my theater room upstairs. Up until I installed the DRX-4.3, I had my Marantz UD7007 Blu-ray player located in the bedroom with a direct HDMI connection to my Panasonic 42" THX Plasma display with coax going upstairs to my AV receiver which was limited to 5.1 Dolby Digital and DTS. Replacing my old but trusty Marantz SR6004 AV receiver was tough for me but I wanted to modernize my connections. The Integra DRX-4.2 allowed for this by converting my HDMI sources to Ethernet via the internally built in HDBaseT transmitter.  A single Cat 5e Ethernet cable run through my drywall between both rooms allowed me to terminate to the Integra HDB-RX1 HDBaseT receiver ($400), which is certified to transmit 4K/60p/4:4:4 video at full 18Gb per second to your display. Most inexpensive HDBaseT systems are limited to 10.2GB per second so it was nice to see Integra didn't cut corners here. In fact, they claim this is one of the first products to support 18.2GBs.
I only tested HDBaseT at 1080p resolution since that was the maximum resolution of my Plasma display. Over a period of a few months, I had my Amazon FireStick, Marantz UD7007 Blu-ray and FIOS DVR connected to the Integra DRX-4.3 and I'm happy to report the HDBaseT connection to my display was flawless. I never experienced video dropouts or loss of resolution. This is a pretty bulletproof solution for anyone not able to run an HDMI cable between their AVR and display device. This device allowed me to place my source devices back into the same room as the AVR while also allowing me to now enjoy high-resolution audio on my Blu-rays since I had a direct HDMI connection between my Blu-ray player and receiver instead of using coax like I was using on my older receiver.
Streaming & App Control
Integra Control Pro App
The Integra DRX-4.2 and DRX-4.3 have too many features for me to cover completely in this review. However, it's worth noting that both models employ a very high-quality DAC section from AKM (AK4458) and supports virtually every hi-resolution and lossless format including: 2.8 or 5.6 MHz DSD, as well as gapless playback of FLAC, WAV, ALAC and WMA files. It has Chromecast Built-In with Google assist and Apple Airplay 2 support is coming via a firmware update. With Amazon Music, Spotify, Pandora, Deezer and TuneIn built-in, you can select a station and search for music available on these services via the Integra Control Pro & Integra Music Control app (for Amazon Music) on your phone. The free apps puts a range of streaming options at your fingertips, from universal hi-res audio via network-attached devices to internet streaming services to music on your smartphone and tablet. It even has Works with Sonos so once the receiver is connected to Sonos Connect, any music or source can be sent from the Sonos app to it.
The only negative feature I'd gripe about is the rather Spartan remote Integra ships with this receiver. However, this is somewhat remedied by using the free App control, which gives you streaming, source selection, audio adjustability and volume control of the receiver from anywhere in the house as long as it's configured on your network. The App does offer almost complete control of the receiver including source selection, audio adjustability and most importantly access to the OSD on your display to navigate through the onscreen setup menu.  This is useful if the AVR is located in a remote area from your TV where IR signals won't reach.  One feature that is often buried on Atmos AV receivers is the option of turning on/off center spread when using the DSU to upmix 2CH sources. This can be done using the Quick Menu button, then scrolling down a bit into the options for those that care to fiddle with this.
Custom Installers will appreciate the PC Setup app which is currently designated for dealers only, but Integra is working on hosting it for consumer use in the future.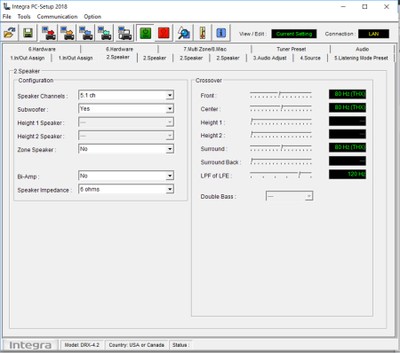 Integra PC Setup App
Once you have the App installed on your PC, you simply enter the IP address of your Integra receiver and load it up. The setup features are extensive and allow you to tweak everything in the AVR, including EQ, speaker settings, audio settings including EQ, the ability to turn center spread on/off for the DSU, etc. I have two minor gripes, one being the tabs being poorly labeled (ie. 4 2. Speaker tabs that should be better labeled to reflect what they are for such as speaker level, bass management, THX settings, etc) and the other being the interface is sometimes slow and unresponsive. Regardless, it's still a very useful setup tool especially if your AVR is in a different room than the speakers and display it is connected to.
Confused about what AV Gear to buy or how to set it up? Join our Exclusive Audioholics E-Book Membership Program!
Recent Forum Posts:
Phase 2 posts on August 05, 2019 12:44
HTfreak2004, post: 1330673, member: 81221
Oopsie
Bro..lolo you do realize Gene has found issues with AVR's from Yamaha, Onkyo and so on that the engineering department didn't even know about from those manufacturers. Talk about mid level up to flagship units. Gene posted up his fact's that he found. Please explain how is Gene bias? I've never met Gene in person, but the one thing I will say Gene will call a spade a spade not a spade or queen. Gene has manufacturers engineering department corresponding with him. You think they would do anything to jeopardize their brand name with someone that's bias? They way I look at it, they owe Gene for finding flaws with their units they didn't know about.
HTfreak2004 posts on August 05, 2019 05:55
Oopsie
gene posts on August 05, 2019 01:19
hk2000, post: 1330367, member: 55934
Dumb? I've been folowing AH for many years, You absolutely had biased reviews- I'll give you 3 examples of your review below:

Onkyo TX-SR383 7.2-Channel AV Receiver Inflates Power but Not Price
Onkyo specs:
All Channels: 155 W/Ch. (6 Ohms, 1 kHz, 10% THD, 1 Channel Driven)
80 W/Ch. (8 Ohms, 20 Hz–20 kHz, 0.08% THD, 2 Channels Driven, FTC)
Pioneer Elite VSX-LX103 7.2CH Atmos AV Receiver Inflates Power Not Price!

Marantz SR5012 / SR6012 4K UltraHD AV Receivers Preview

Gotta Have It!


Marantz specs:
6 ohm, 1 kHz, 10%, 1ch Drive200 W
6 ohm, 1 kHz. 0.7%, 2ch Drive140 W
8 ohm, 20 Hz - 20 kHz, 0.08%, 2ch Drive100 W

How is that any different from what Onkyo did?
Based on your first 2 titles, and you being unbiased of course, the Marantz one should read as follows:


Marantz SR5012 / SR6012 4K UltraHD AV Receivers

[Inflate power and price]!!!!!

Calling me dumb doesn't make you right.
Wow, that is a really dumb post. Glad my first impression was right. You can't even differentiate between a formal review and a preview article. I think you need to take a break from Audioholics forum for a bit. Enjoy the vacation.
HTfreak2004 posts on August 04, 2019 20:33
gene, post: 1329758, member: 4348
Umm interesting, if NOT stupid observation.
Awesome
hk2000 posts on August 03, 2019 16:37
gene, post: 1329758, member: 4348
Umm interesting, if NOT stupid observation.

Were my "Biases" affected when I called out Sound United for misleading power ratings on their AVR's since the advent of overspecing Atmos receivers came about, or when I wrote this article?

https://www.audioholics.com/audio-amplifier/sound-united-receiver-power-ratings

My "biases' are getting Onkyo/Integra to change how they are rating AVR's and they've even solicited me for feedback to improve their products.
Dumb? I've been folowing AH for many years, You absolutely had biased reviews- I'll give you 3 examples of your review below:
Onkyo TX-SR383 7.2-Channel AV Receiver Inflates Power but Not Price
Onkyo specs:
All Channels: 155 W/Ch. (6 Ohms, 1 kHz, 10% THD, 1 Channel Driven)
80 W/Ch. (8 Ohms, 20 Hz–20 kHz, 0.08% THD, 2 Channels Driven, FTC)
Pioneer Elite VSX-LX103 7.2CH Atmos AV Receiver Inflates Power Not Price!
Marantz SR5012 / SR6012 4K UltraHD AV Receivers Preview
Gotta Have It!
Marantz specs:
6 ohm, 1 kHz, 10%, 1ch Drive200 W
6 ohm, 1 kHz. 0.7%, 2ch Drive140 W
8 ohm, 20 Hz - 20 kHz, 0.08%, 2ch Drive100 W
How is that any different from what Onkyo did?
Based on your first 2 titles, and you being unbiased of course, the Marantz one should read as follows:
Marantz SR5012 / SR6012 4K UltraHD AV Receivers
[Inflate power and price]
!!!!!
Calling me dumb doesn't make you right.
Post Reply