Denon Unleashes AVR-A110 110th Anniversary 13CH Audiophile Dream Receiver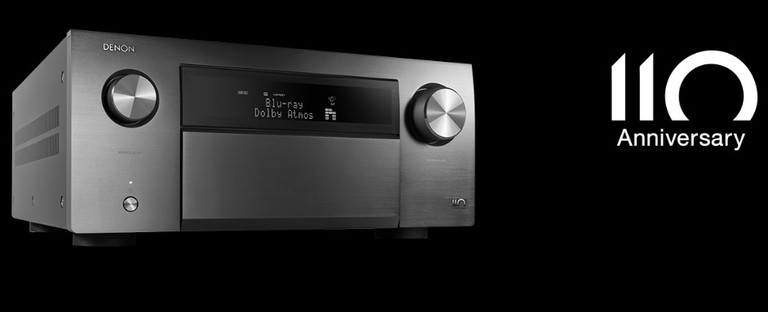 Denon AVR-A110
Summary
Executive Overview
 It's hard to believe that an audio electronics company can reach a centennial birthday much less 110 years, but that in fact is what home entertainment and personal audio company Denon achieved this month.  Since its inception in 1910, Denon consistently pushed the audio industry forward. In its earliest years, the brand produced Japan's first phonograph and later created Japan's first professional disc recorder, which produced the first audio recording of Emperor Hirohito's voice at the end of World War II. Perhaps most notably, Denon introduced the first CD-ROM format in 1985, transforming the future of audio and entertainment. Through its history Denon achieved several industry firsts, from the world's first Universal Blu-ray player capable of DVD-Audio and SACD playback, to the first 8K AV receivers. To celebrate this milestone, Denon released information on its 110-year anniversary edition AVR-A110 A/V receiver that Audioholics President Gene DellaSala says is "Balls to the wall!".
I want to express my most heartfelt thanks on behalf of everyone at Denon to the loyal fans that keep the excitement alive. It's your love for this industry that enables us to continue designing the future of audio to this day,.To properly celebrate the true fans out there, we're thrilled to introduce four anniversary-edition products that honor Denon's core competencies. It is almost crazy how much effort was put into the components, build and cosmetics of each new piece. Every model is specially tuned inside and out just for the 110-year anniversary and are worthy of our fans whose passion burns as bright as our own.
 --Jake Mendel, product marketing manager for Denon AVR & Hi-Fi components
The flagship AVR-A110 is a 13.2-channel 8K AV receiver that is designed to "deliver the most immersive home theater experience yet." The A110 will comes preloaded with  all the popular 3D immersive surround formats such as Dolby Atmos, DTS:X Pro and Auro-3D along with IMAX Enhanced to sweeten the deal.
The AVR-A110 is based on the AVR-X8500H which Audioholics reviewed in May 2019. Audiohlics contributing writer Theo Nicolakis found little to be disappointed with in his review of the AVR-X8500H and considered it to be a worthy "Best AVR of 2019".
 I've fallen in love with Denon's AVR-X8500H. Denon's AVR-X8500H is a beast of a receiver and it puts the world on notice. Denon's reference AVRs are back as a force to be reckoned with.
--Theo Nicolakis,  Audioholics contributing writer
The new Anniversary Edition AVR-A110 is $1,500 more expensive than the AVR-x8500H and after looking at the specs we weren't really sure what you're getting for that price other than the nicer chassis and 110th logo on the faceplates- which by the way, looks really cool!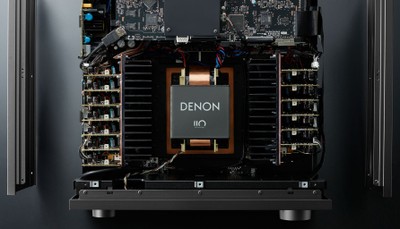 Inside view of Denon AVR-110 with customized E-Core power transformer

After speaking with Denon we got clarification that the A110 does give you a specially tuned receiver by Denon Master Engineer Takahashi, Yuuki, a 5 year warranty (up from 3 years on the X8500H), and upgraded components in key areas that affect sound quality like specialized capacitors, lower impedance traces, and a more rigid chassis.
The functionality remains the same with the AVR-X8500H.  Our goal was not to add $1,500 of additional functionality on the AVR-X8500H. Instead, we went crazy doing the stuff we usually don't do for our regular lineup due to cost limitations, competitiveness and so on. Instead, we made it something unique and special for the anniversary. We just unleashed our sound engineers so that they could make their dream product based on the existing AVR-X8500H platform and we spent a lot of time and effort on the authenticity of the product, not just external cosmetic but inside of the product as well. You will not likely see anything like this in the future from us.
--Yoshinori Yamada, AVR Category Director, Sound United
As mentioned, each AVR-A110 is tuned by a Denon sound master at its component level to solidify its place as one of the most special AV receivers Denon has ever produced. The AV receiver's all-black interior is housed in a limited-edition silver-graphite finish with aluminum front and side panels, custom die cast feet and a copper transformer plate for "superior" isolation.

On the video side, the AVR-A110 provides 8K/60Hz pass-through for upscaling, 4K/120Hz pass-through for gaming and support for the latest HDMI specifications.
The AVR-A110 enables enthusiasts to build the best 4K home theater systems while incorporating 8K compatibility to accommodate future upgrades more easily.
--Denon
For cutting-edge gamers, the AVR-A110 offers Auto Low Latency Mode (ALLM), Variable Refresh Rate (VRR) and Quick Frame Transport (QFT), which minimizes lag and latency and should virtually eliminate frame tearing for more fluid gameplay and enhanced gaming thrills.
The AVR-A110 has a monolithic amplifier design with a hefty 18lb high current power transformer and custom 22,000uF/80V audio capacitors delivering 150 watts per channel (8 ohm, 20 Hz - 20 kHz, 0.05% 2ch Drive). Of course based on our testing of Denon and Marantz flagship products, this receiver should be able to hit 70% of its 2CH power rating (105 wpc) with up to 7CH driven. That's a good chunk of power from an AVR these days.
The A110 also features advanced HDMI connectivity (8-in/3-out) including a dedicated 8K input along with the latest dynamic HDR standard for brighter highlights and deeper black levels. The eARC HDMI feature (through the main HDMI output) enables uncompressed and object-based audio formats like Dolby Atmos and DTS:X to connect directly from a smart TV app to the AVR-A110.
What we think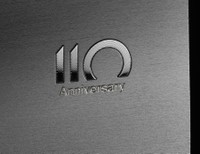 After a full comprehensive review, we loved Denon's AVR-X8500H so there's no reason to think that we will think any less of the Anniversary Edition A110 which is built on the same platform.  For audiophiles and home theater enthusiasts who are already "all in" on the Denon platform and are looking at a 13.2 channel 8K AVR, the A110 will be worth the extra $1,500 just to show your friends the specialized logos and packaging.
The AVR-A110 will be priced at $5,500 and will be available in October from an authorized Denon retailer.

Unless otherwise indicated, this is a preview article for the featured product. A formal review may or may not follow in the future.