Marantz SR8015 11CH 8K DTS:X Pro AV Receiver Review
Marantz SR8015 11CH 8K DTS:X Pro AV Receiver Review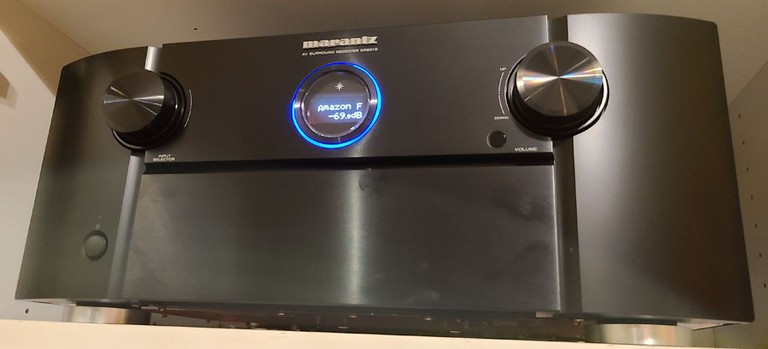 Marantz SR8015 11CH DTS:X Pro AV Receiver
Power:
11-channel amplifier, 140 watts per channel into 8 ohms (20-20,000 Hz) at 0.05% THD, with 2 channels driven
Dolby, DTS, and Auro-3D surround sound decoding
Dolby Atmos processing for use with in-ceiling or "height" speakers for more enveloping home theater sound
Dolby Atmos Height Virtualization and DTS Virtual:X create three-dimensional effects without height speakers
IMAX Enhanced reproduces the full dynamic range of specially encoded IMAX soundtracks from compatible sources
Analog-to-HDMI video conversion
Upscales standard-definition video signals to HD and Ultra HD (up to 8K)
Audyssey MultEQ XT32, LFC, Sub EQ HT, Dynamic Volume and Dynamic EQ & MultiEQ Editor App (optional)
Digital and streaming music options:
Built-in Wi-Fi, HEOS, Apple Airplay 2, Bluetooth headphone transmission
Works with Amazon Alexa and Google Assistant voice controls
Plays high-resolution digital music files via USB storage device or a networked computer (PCM up to 24-bit/192kHz resolution; DSD up to 5.6 MHz)
Multi-room audio/video:
Three room/three-source output
All zone stereo mode keeps all zones in sync when playing the same source
Connections:
HDMI 2.1 /HDCP 2.3 compatible audio/video switching: 8 in (includes 1 front-panel input), 3 out
1 input and 2 outputs support 8K/60Hz and 4K/120Hz video all inputs and outputs support 4K/60Hz video
HDR-compatible for extended picture contrast and brightness with compatible TVs and HDR-encoded content supports HDR10, HDR10+, Dolby Vision, and HLG
Gaming-optimized video processing technologies for a smooth, lag-free gaming experience, VRR, ALLM and QFT
Supports ARC (Audio Return Channel) and eARC (Enhanced Audio Return Channel for lossless audio support)
Component video switching: 3 in, 1 out
Composite video switching: 4 in, 2 out
Digital audio inputs: 2 Toslink optical, 2 coaxial
6 analog stereo RCA audio inputs
MM (moving magnet) phono input for connecting a turntable
13.2-channel preamp outputs with 2 independent subwoofer outputs
Front-panel USB port for audio playback from USB flash drives
Ethernet port for network connection
Outputs for 13 speakers (Front L/R, Center, Surround L/R, Surround Back L/R, Height1 L/R, Height2 L/R, Height3 L/R). (receiver can power a maximum of 11 channels at once)
RS-232C and IR (infrared) remote connections for use with optional third-party controllers
Dual 12-volt trigger outputs
Full-sized headphone jack
Removable power cord
General features:
Free Marantz AVR Remote app lets you use your Apple or Android device as a Wi-Fi remote
Marantz Setup Assistant guides you through the initial connection process and settings
HDMI standby pass-through allows HDMI switching without powering up receiver
AM/FM tuner
Remote control
17-5/16"W x 7-5/16"H x 18-1/8"D (9-13/16"H with Wi-Fi antennas raised)
Weight: 38.4 lbs.
Warranty: 3 years
Marantz ST8015 vs Denon AVR-X8500H: Which Should You Get?
Pros
Supports ALL Immersive Surround Formats
Superb Sound Quality
Excellent Setup Flexibility
13CH Audiophile Processor on-board
Cons
Subpar Remote Control
Audyssey needs to go IP
Runs Hot
About two years ago we reviewed the SR8012 11CH flagship AV receiver for Marantz and found it to offer benchmark performance in almost every measurable category along with class-leading features. It was one of the few AVR's on the market that supported all three immersive surround formats and came packed with a meaty 11CH amplification section on board as well as supporting HDMI 2.0 with a host of streaming options, including their proprietary HEOS music management system. For $3k, that was quite a value proposition that had many enthusiasts questioning the need to go the separates route.
We had a few criticisms noted in that review that the engineers at Marantz took seriously enough to address in that model's successor: the SR8015. Most notable was the preamp output rise in distortion when the unused power amps clipped above a 1.4Vrms input voltage signal. Note, this is a problem that isn't unique to Marantz, since most AVR's we've measured produce similar results.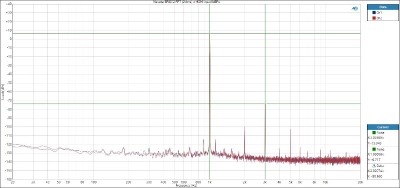 Marantz SR8012 Preamp Output FFT at 2Vrms
Note the 3rd harmonic is only -80dB below the fundamental when the preamp out is driven to 2Vrms. While this is likely inaudible for normal program material, it's still not SOTA performance we'd expect from a flagship Marantz product. With the new SR8015 in hand, we wanted to see if Marantz addressed this issue while also checking out what other improvements they've made along the way.
Marantz SR8015 11CH AV Receiver Unboxing Overview

Key New Features for the Marantz SR8015:
13CH of processing vs. 11CH of SR8012.
Preamp Disconnect for purest output when connecting to external amplification.
Improvements to HDAM SA2 proprietary circuit, which Marantz says improves noise floor and soundstage.
Dual Speaker Presets - allows full independent configurability of bass management and EQ settings and speaker assignments.
DTS:X Pro (pending firmware update).
Front wide channel support.
Auro 3D supports up to 13.1 channel including Center Height and Top Surround i/o 10.1 channel on the SR8012. "Channel Expansion" will allow users to play audio from all connected speakers, which is new for the SR8015.
Web interface for full remote PC configuration.
Some of these new features like DTS:X Pro and Roon compatibility will be revisited in a future article but for now, let's get this puppy on the bench and then hooked into my family room system to see how she performs.
Setup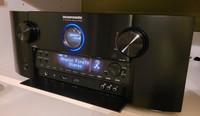 I swapped out my SR8012 but noticed some of the input assignments changed on the back panel for the SR8015, which forced me to remap the input table to compensate. I was surprised to find the IP driver from Control4 for the SR8012 didn't work for the SR8015 so I had to import the new driver to get the SR8015 integrated into my home automation system. Once everything was mapped out, I was good to go and simply plugged in my speaker configuration, distances and levels from the SR8012.
One thing I failed to mention in my SR8012 review was the fact that you can literally configure most of the entire receiver without using the GUI. The front panel display provides enough guidance when using the remote to take you through the setup menus. The SR8015 operates in similar manner, which is quite handy if you just want to do a quick audio setup before even having your display connected up or if the receiver is in a different room and you don't have GUI access. This is an uncommon but welcome trait in most of today's AVRs.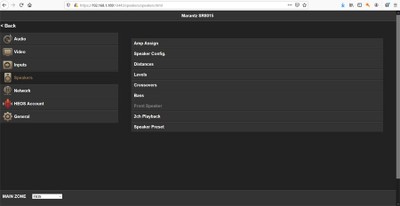 Marantz SR8015 Web Interface
If you want to configure your SR8015 like a pro, you can access their web interface, a feature that wasn't available on the SR8012. This gives you full access to ALL configuration options for your SR8015 from a laptop or PC on the same network. All you have to do is type: http://ipaddress and you're in. This is quite a handy tool for anyone who wishes to do remote configuration if the receiver is located in a different room than the speakers and display.
Of course the same backlit remote from the SR8012 carries over to the SR8015. It's pretty Spartan but it's functional.
Speaker/Amp Assignments
Like the SR8012 before it, the SR8015 has some of the most flexible speaker and amplifier assignments of any current AV receiver on the market. The SR8015 takes it to the next level by adding speaker level front wide support. Preamp mode physically disconnects the entire 11CH amp section from the preamp for the purest possible performance, which should be used ONLY if you plan on converting the SR8015 to a dedicated preamp to use with external amplification.  The SR8015 will still do the preamp disconnect on two channels of your choice depending on how you arrange the speaker assignments. The 13.1CH amp configuration lets you select between 2 preouts: mains or wides, or mains or top middles depending on how you  do the speaker assignments. You can even do a bi-amp mode to biamp all 5 main channels if you so desire. If you want to run a full 13CH speaker system on this receiver, you will need an external 2CH amplifier as previously mentioned. However, you can still connect 13 speakers and switch between front wides or top middles, for example, depending on what surround format you are using. Alternate speaker configurations and calibrations can be stored in the two presets, which is a new feature on all 2020 Marantz models.
Marantz SR8015 Speaker/Amp Assign
RIP Dolby Center Spread
As mentioned in Dolby Eliminates Key Feature for Enhancing 2CH Audio, Center Spread is NO longer a feature in new AV receivers that also incorporate Dolby Height Virtualization. This is a pet peeve of mine since I really feel having this feature is the only way to make the DSU palatable when upmixing 2CH music sources. The workaround is to either turn off your center channel when listening to 2CH music with the DSU, or configure a speaker preset with center channel turned off or at a reduced volume to compensate. Alternatively you can forgo the DSU all together and use Auromatic 2D, though I found that mode also blasts the center channel a bit too loud for 2CH sources for my liking.
Note: Marantz doesn't allow Auro 3D engagement for tops. They have to be configured as front/back height channels.
Video Input Assignments
The SR8015 carries over the flexible input assignability from the SR8012 but with a refresh based on the updated connections and an input mode for easier toggling between connection types. I renamed a few of my inputs to correspond to what I was actually connecting. Unlike many competitor products, you can actually assign analog and digital ports to ANY input instead of having prescribed HDMI ports assigned for specific inputs. This came in handy when I was integrating and configuring my Control4 home automation system.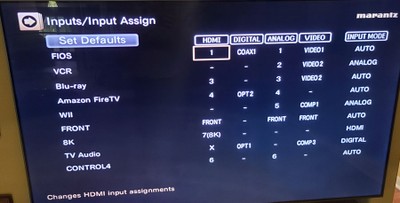 Marantz SR8015  Input Assign
Upconversion Considerations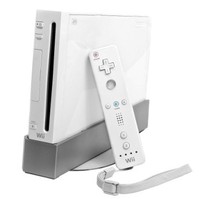 I did run into one unexpected operational hiccup when trying to play my old Nintendo Wii.  I got a component video conversion error that I assumed was a result of me mucking up my connections. However, after twice checking that my corrections were correct the error still persisted, So, I emailed the folks at Marantz to get their thoughts. I was informed that the SR8015 and ALL 2020 Denon/Marantz products are limited to 480i and 576i resolution for HDMI upconversion.
See: http://manuals.marantz.com/SR8015/NA/EN/GFNFSYxchsdjun.php
Bummer, but the solution would be either to reduce the resolution of the Wii to 480i via component outputs or just use composite. Not a big deal, but something worth noting for any vintage gamers out there like me. I'm likely a minority of end users still rocking a Wii in a modern home theater system featuring a SOTA AVR like this.
The Latest in HDMI 2.1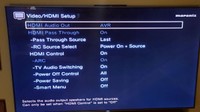 Marantz armed the SR8015 with the latest HDMI 2.1 technology making your system ready for next generation 8K 48Gbps content.  I've seen criticism online for the SR8015 only having one 8K HDMI input, but the best answer to that is to attached your 8K sources to your 8K display and rely on eARC to transmit multi-channel audio back to the receiver. With HDMI 2.1, you can send lossless audio back to your display meaning you will retain full resolution for Dolby Atmos if the source device transmits it over Dolby TrueHD. 
For more information, see: HDMI 2.1 Definitive Guide
The SR8015 has various picture mode settings to optimize picture quality depending on the source (i.e. streaming, ISF Day/Night, Vivid, Custom).  Custom allows you to adjust contrast, brightness, saturation, noise reduction and enhancer. There is even a game mode for low latency to ensure you will take full advantage of your cat-like reflexes so you won't be at a disadvantage when going up against a 12-yr-old boy online playing Fortnite.
Pro installers will appreciate the HDMI diagnostic mode that ALL of the latest Marantz and Denon receivers offer. This is a great tool that will let you test every HDMI cable you connect to the SR8015 to ensure it will pass an 8K signal. We discuss how to access this mode on our Patreon channel.
Connectivity - The Sky is the Limit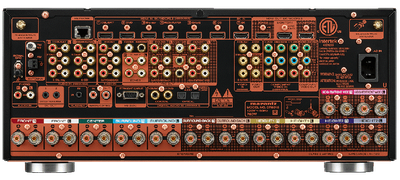 Marantz SR8015 Back Panel
The Marantz SR8015 still supports a host of legacy connections including composite and component video. There are 8 HDMI inputs (one is 8K) and 3 outputs (one can be reassigned to another zone while the other can be used for dual display purposes).
The SR8015 has 13 speaker connections but only 11CH of amplification as previously mentioned. You can switch between speaker assignments depending on the surround format. But, if you want all 13 speakers working simultaneously, you'll need a 2CH external amplifier. I'm not a big fan of horizontal speaker connections since adjacent + - terminals can be easily shorted with bare wire connections. I recommend using banana plugs on all of your speaker wires and pay extra attention to the polarity when making your connections. The detachable power cord is always a welcome convenience but beware of some dealers trying to sell you after-market snake oil power cables. You don't need them.
Speaker & Auto-EQ Setup
I did my initial setup of bass management, speaker levels and delays manually and stored them into the speaker preset #1. I also saved the setup configuration of the SR8015 on an external USB drive, which I highly recommend doing once you have your receiver fully configured to your liking. This is a very cool and often forgotten feature by most end users.
I used my phone to run the Audyssey Editor App feature, which allows you to custom tailor the response and/or limit the frequency bandwidth of correction. The Audyssey Editor App is a bit of a hot mess. It's painfully slow to upload the results into the AVR. But as Benjamin Franklin used to say, "No pain, no gain". Editing the curve is next to impossible via your phone. I wasn't able to use this App on my iPad since my daughter took possession of it so I tried my best to do it on my Samsung S20+ 5G, which has a fairly large screen.
I don't have much faith in auto-setup systems to get the bass management right and sure enough, Audyssey didn't fail to disappoint. It set my small bookshelf speakers cutoff frequency to 40Hz and my top in-ceiling speakers to large. I went in and set all speakers to small and 80Hz crossover except the in-ceiling speakers, which I set to 100Hz. The delays were spot on and the channel trims were close, though I like to boost the center channel 1-2dB to taste. I also noticed since Audyssey sets the subwoofer way too low, so again, I tweaked that to taste after I measured the response to make sure they were properly integrated to my main speakers. I limited the correction to 500Hz for ALL speakers. Note: You have to go to each channel group to do this. Why didn't they have a "change all" setting so this could be applied to all speakers is beyond me. Full bandwidth correction can be problematic since it tends to muck up a good speaker response and really doesn't fix a bad one either. For further explanation, please watch our two YouTube videos on this very topic.
My advice regarding full bandwidth room correction is to trust your ears. If you like the calibration results, especially when comparing it for 2CH music, then enjoy. If not, you have the ability to limit the bandwidth of correction via the Audyssey editor app like I did.

If this message doesn't appear on your display, you're NOT using the Audyssey Editor App
Note: You MUST load the app and let it find your SR8015 on your network so you'll be able to edit the calibration results. If you instead plug the mic in first to do the calibration, it will bypass the Audyssey editor App all together.
Audyssey initial bass calibration was less than optimal in the 50-80Hz region, as you can see in the comparison graph with it on (purple) vs. off (green).
Note: I only show the primary seat for simplicity but it's important to get the best bass integration for your entire listening area by first optimizing subwoofer placement and delays.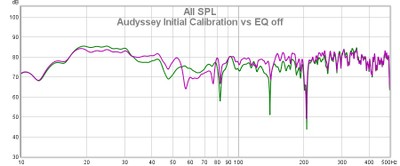 Audyssey (purple) vs. no EQ (green) - Initial Setup Front Speakers with Subs
After tweaking the distance settings for the subs, I managed to get better integration while still using the Audyssey EQ filters. The yellow trace is Audyssey without Dynamic EQ.  I found Dynamic EQ 10dB setting to be most palatable while wanting more impact for movies or music without excessively boosting the subs to annoying loud levels.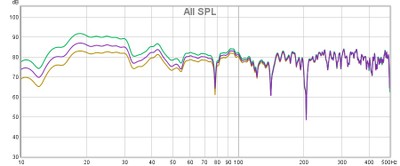 Audyssey Optimized -  Aud - yellow; Dynamic EQ 0dB - green; Dynamic EQ 10dB - purple
Note:  If you plan on engaging Dynamic EQ, you may actually wish to use the default subwoofer levels Audyssey determines during setup, otherwise you may get overloaded with bass when engaging this option.

Marantz SR8015 Inside View - Note the dual heatsinks and 4 cooling fans
Power Section Carried Over
The SR8015 shares a similar power section to the SR8012 including the 835VA transformer, 2x 22,000uF 81V power supply capacitors and dual rows of heatsinks and 4 low noise cooling fans with 11 channels of amplification in monolithic construction. The same 140 watts/ch power rating (2CH driven) is given across 11 channels with Marantz's 70% power guarantee for up to 5 channels driven but our bench tests actually revealed a nice surprise.

Confused about what AV Gear to buy or how to set it up? Join our Exclusive Audioholics E-Book Membership Program!
Recent Forum Posts:
PENG posts on October 08, 2021 07:49
Epsonfan, post: 1508911, member: 89748
Audio Science Review trashed the Marantz SR 8015 . I guess Amir wasn't paid enough by Marantz..

I read that review, and didn't see it being "trashed". Are we talking about the same review linked below?
Marantz SR8015 Review (Home Theater AVR) | Audio Science Review (ASR) Forum
Conclusions
I was pleased to see Marantz remove many of the compromises they had included in their products in the past in the name of "better sound." The only one left seems to be the slow filter which is the easiest to fix: give us a selectable DAC filter like many budget DACs do. Otherwise, this Marantz AVR performs similarly to its Denon counterparts from audio performance point of view with is a major step forward.



I can recommend the Marantz SR8015 AVR.
If I remember right, the SR8015 is the only Marantz AVR that made it to his recommended list.
lovinthehd posts on October 08, 2021 03:36
Epsonfan, post: 1508978, member: 89748
You need serious theraphy dude.

True, but that has nothing to do with this particular conversation
Epsonfan posts on October 08, 2021 03:23
lovinthehd, post: 1508962, member: 61636
How did he "trash" it? He does very limited reviews of pathways in most gear, it's informational for what it is and not a lot more.

PS if its the stupid panthers, fuggedaboutit

You need serious theraphy dude.
lovinthehd posts on October 07, 2021 22:31
Epsonfan, post: 1508911, member: 89748
Audio Science Review trashed the Marantz SR 8015 . I guess Amir wasn't paid enough by Marantz..

How did he "trash" it? He does very limited reviews of pathways in most gear, it's informational for what it is and not a lot more.
PS if its the stupid panthers, fuggedaboutit
Verdinut posts on October 07, 2021 16:58
Epsonfan, post: 1508911, member: 89748
Audio Science Review trashed the Marantz SR 8015 . I guess Amir wasn't paid enough by Marantz..

FYI, Amir does not accept monies by manufacturers to do his reviews, nor does Gene.
Post Reply