Marantz SR8012 11.2CH Atmos/DTS:X/Auro 3D AV Receiver Review
Marantz SR8012 11.2CH Atmos/DTS:X/Auro 3D AV Receiver Review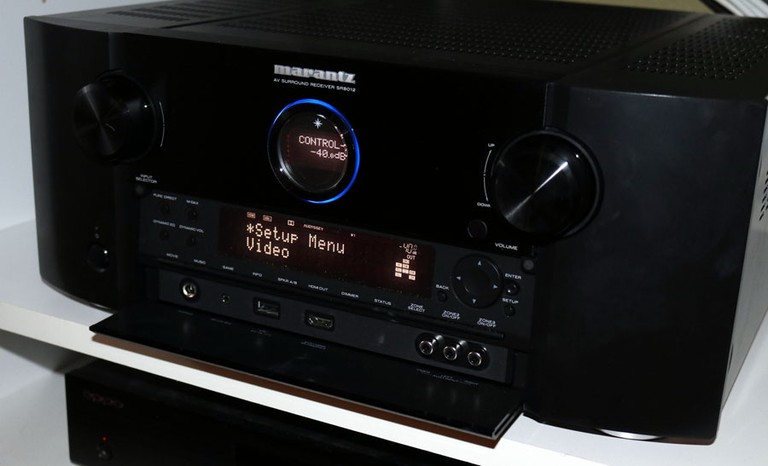 Marantz SR8012 AV Receiver
Product Name: SR8012
Manufacturer: Marantz
Performance Rating:
Value Rating:
Review Date: March 18, 2019 00:00
MSRP: $ 2999
11.2 channel AV Receiver with 11-channels of built-in amplification
140wpc (with two channels driven into 8 ohms)
Support for 11.2 channel configurations including Dolby Atmos, DTS:X 7.1.4 configurations and Auro-3D 10.1 with Voice of God
Alexa voice control along with IP, IR, and RS-232.
4K/60Hz full-rate passthrough, 4:4:4 color resolution, HDR (HDR10, Dolby Vision, and HLG), BT.2020.
8 HDMI inputs with full HDCP 2.2 support.
Assignable amplification channels
Three HDMI outputs. Two parallel and independently switchable Zone 2 HDMI.
Support for eARC

HDMI standby pass-through allows HDMI switching without powering up receiver
Dual-band 2.4GHz and 5GHz Wi-Fi
Support for every hi-res audio format that matters including DSD (2.8/5.6-MHz), FLAC, and ALAC.
Built-in Heos multi-room audio streaming
AirPlay, AirPlay 2, Bluetooth, Internet Radio, Spotify Connect, Tidal, Deezer, and other streaming services
IMAX Enhanced

Three independent audio zones
11.2 channel pre-outs
Audiophile-grade components, HDAM preamp circuits, torodial transformer, etc
Sleek design and footprint
Audyssey MultEQ XT32, LFC, Sub EQ HT, Dynamic Volume and Dynamic EQ
Color-coded speaker terminals, Setup Assistant, Marantz 2016 AVR Remote App
Intelligent ECO mode with off/on/auto setting
Advanced multiroom options; 11.2-channel processing with pre-outs for all channels; RS232 Control; Crestron Connected
Dimensions: 17-3/8"W x 7-5/16"H x 18-1/8"D
Weight: 38.4 lbs
Pros
Supports ALL Immersive Surround Formats
Superb Sound Quality
Excellent Setup Flexibility
Cons
Subpar Remote Control
Runs Hot
Marantz SR8012 Introduction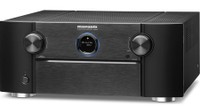 The Marantz name has always been synonymous with hi fidelity since the brand's inception over 60 years ago. Look around the audio discussion groups and you'll find vintage Marantz enthusiasts devouted to the brand. When Sound United purchased the brand along with Denon, Definitive Technology, and Polk, and others, we wondered what they'd do to differentiate Marantz which shares AV receiver platforms with Denon.  This concern was put to rest with the release of their flagship SR8012. Though not quite the super receiver of a decade ago, the SR8012 packs quite a wallop, weighing in at almost 40lbs with a large toroidal power supply, and dual heatsinks with a monolithic amplifier construction rated at 140 watts/ch x 11. That's right, the $3k SR8012 features 11 channels of processing and internal amplification. To sweeten the deal, Marantz recently released a firmware update for full IMAX Enhanced capability, which requires compatible display hardware and software to take advantage of ensuring an upgrade path in the future that many of its competitors do not.  So how good is Marantz's latest and best offering? Read on to find out.
Marantz SR8012 11.2CH AV Receiver Unboxing Video

Build Quality and Features
The SR8012 is built at a level commensurate with its asking price. It's closest brethren from the Denon line is the AVR-X6400H which sells for about $800 less.
Marantz SR8012 Top View (left pic) ; Power Supply Caps (right pic)
Marantz SR8012 Advantages over the Denon AVR-X6500H:
HDAM SA2 current feedback topology between preamp and power amp
22,000uF, 81V capacitors x 2 vs 15,000uF, 73V capacitors (X-6500H)
Torodial 835VA transformer vs 750VA E-Core (X-6500H)
Separated symmetric construction vs single in-line (X6500H)
Copper plated chassis
More rigid top cover
Teflon tape on oscillator circuit for better damping
In my opinion, these are all noteworthy improvements and a justifiable upgrade path if you're a serious audiophile and plan on using the internal amps of this receiver to drive your entire speaker system.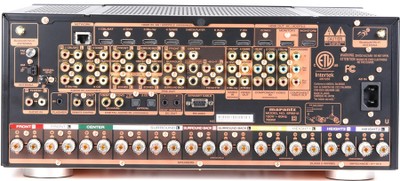 Marantz SR8012 Backpanel View
The SR8012 is equipped with an arsenal of connectivity including 8 HDMI 2.0/HDCP 2.2 HDMI inputs and 3 outputs, component video connectivity for legacy devices, 11 pairs of speaker outputs to run a fully amplifier 7.2.4 speaker configuration and a detachable power receptacle. The SR8012 also features 11.2CH preamp outputs incase you want to use external amplification for ALL channels. It even has a 7.1 multi-ch input should you ever have the need to run an older legacy SACD or DVD-A player that support HDMI.
Menu System & Set Up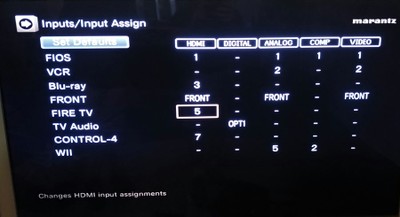 Marantz SR8012 Input Assignments
The SR8012 has some of the most flexible input assignability I've seen in an AV receiver, rivaling even some dedicated AV processors. Unlike many competitor products, you can actually assign analog and digital ports to ANY input instead of having prescribed HDMI ports assigned for specific inputs. This came in handy when I was integrating and configuring my Control4 home automation system.
Daredevil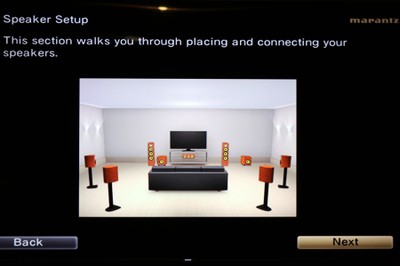 Marantz Receiver Setup Assist
Marantz has put forth quiet an effort to make the setup of their receivers easy for the layman. As with the Denon models, upon initial power up you are asked a series of questions pertaining to your speaker layout, size, etc so the SR8012 can properly configure them.  You can then use the included microphone to have Audyssey equalize and set the delays and levels of all of your speakers. I ran the auto setup on my 5.2.4 speaker system in my family room and Audyssey did a pretty good job at setting delays, and levels, but I had to go in and tweak the bass management since it incorrectly identified some of my speakers as large. This is a common problem with auto setup programs when a speaker is placed up against a wall and the boundary gain tricks it into thinking it's dealing with a more bass-capable speaker. Audyssey also set the sub levels about 4-6dB too low based on how I measured the response with an SPL meter at the listening position and via frequency sweeps using REW. However, Audyssey did a good job of flattening prominent low frequency room modes. Their enhanced calibration of multi-sub really works. It first measures the distance of each sub and then EQ's them together, which is really the best way to do it and the results speak for themselves.
Marantz SR8012 offers 0.5dB channel adjustments and 0.1ft trim increments.
Audyssey Editor App & Auto Setup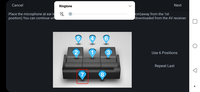 In most situations, I typically use the auto-setup system to configure delay and level for the speakers and then disable the EQ because it usually does more harm than good. This is because the prospect of full range EQ is a nebulous goal at best since the EQ system has no way of distinguishing between the loudspeaker response and effect of the room has on the speaker above bass frequencies (> 300Hz) so it tries to correct it as a system, which can muck things up.  However, I actually liked what I was hearing with the full range auto setup calibration Audyssey did in my family room system after I adjusted the bass levels. The flat curve produced the most palatable results for music and movies while the Audyssey curve tended to roll off the high frequencies a bit too much for my liking.
For those that want more control over the calibration, the Audyssey editor App allows owners of compatible Denon and Marantz receivers to customize the curves and limits of correction. This is an invaluable tool in your calibration bag of tricks.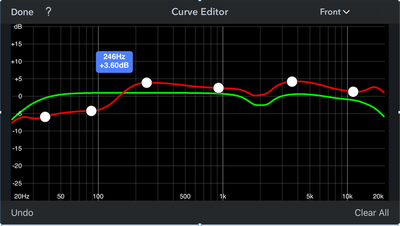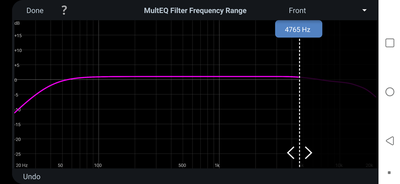 Audyssey EQ Editor App - screenshot taking from mobile device
Note how the correction is limited to < 5000Hz (bottom pic)
This app allows users to:
View the Audyssey MultEQ speaker detection results, to check and modify the configuration, and adjust for any unusual speaker set-ups
View before and after results of the Audyssey calibration, making it easy to identify room problems and see just what changes the system is making
Edit the Audyssey target curve for each channel pair to suit individual tastes
Adjust the overall EQ frequency roll-off for each channel pair
Switch between two high-frequency roll-off target curves
Enable/Disable midrange compensation to make the sound brighter or smoother, perhaps making dialogue even clearer or taming those hard-edged soundtracks
Gives the home theater enthusiast even greater control over the performance of their surround sound system
Save calibration results for 'piece of mind', ready for instant re-loading should one ever need to reset their system
Audyssey Calibration Results & Notes
Audyssey did a great job nailing speaker distances and levels as well as EQing my subs.
If you plan on editing the target curves of Audyssey using this App, make sure you run Audyssey through the App and not the AV receiver. I didn't realize this at first and went through a 25-minute calibration procedure to set up all 11 speakers in my system only to have to redo it again through the App so that I could later make manual changes. If you run through receiver, you CANNOT edit the curve via the mobile app after. Very important!
I ran into some operational hiccups running the Audyssey editor App but plan on doing a dedicated YouTube video and editorial on the procedure after the pending Denon/Marantz update that's supposed to improve its function, so stay tuned...
It took about 20 min to run Audyssey in my 5.2.4 setup using 6 mic positions, with 3 at the primary couch and 3 in front of couch. I always kept the mic positions within a 3-ft radius of the primary measurement position as recommended by Audyssey. Never just randomly place the mic around the room for calibration, else you will get very unpredictable and inaccurate results. If you have a side couch, don't calibrate it. Instead focus on the most important seats that are in close proximity to each other for best results.
Audyssey nailed speaker distances and only needed minor tweaks in levels. It set subs too low, so I boosted it about 4dB for the front sub and 6dB for the back sub.  During the step when Audyssey makes you set the subs within the green range of 75dB, I'd set it towards the higher side towards the red zone and continued with the calibration.
Note: Once you flatten bass out by eliminating problematic room modes, you can actually raise bass levels without it sounding boomy or objectionable. Most people (myself included) tend to enjoy an elevated bass response in such situations.
Note: It's typical for room correction systems to misidentify speaker size, especially if a speaker is placed close to a back wall. Unless your main speakers have the same bass capabilities (output and extension) as your dedicated powered subwoofer(s), set ALL speakers in your system to small with an 80Hz crossover point as a good starting point.

Frequency Response @ Primary Listening Seat with Audyssey Engaged
Red Trace - Audyssey, Purple Trace - phase tweaked on both subs to improve response
I had to adjust phase of both subs to 90 deg to optimize bass response in the 50-100Hz region. This is something you may want to get optimized prior to calibration, since Audyssey has no control over manual adjustments from your subwoofer(s).  Audyssey did find the best subwoofer distances, which is critically important when trying to get the best blend between the subs and satellite speakers.

Frequency Response @ 3 Primary Seats with Audyssey Engaged
Despite the fact that my dual JL Audio E112 subwoofers aren't exactly optimally placed in my family room (diagonal corner positioned), with the help of Audyssey, I was able to achieve 18Hz to 100Hz +-5dB across the 3 primary seats in my family room. This is the best bass response I've ever measured in this room!

Audyssey Dynamic EQ Settings Measured Frequency Response
Dynamic EQ actually increases bass more as you set it lower (0dB) and decreases higher (15dB). 10dB seems like a good setting overall from my listening for sources with anemic bass content.  The "containment" feature is nothing more than a 12dB/oct HPF in its default setting as you can see in the above graph where the bass rolls off below 80Hz.
Editorial Note: Manual GEQ

For those that want to fine tune the equalization of their system, Marantz offers a manual 9-band graphic EQ for each channel.  This is really archaic, and I wish Marantz would update it to a PEQ (Parametric EQ) to allow for variable frequency and Q control. Imagine how slick that would be if they did this via their smartphone App. Then you could fine-tune the bass in your system without ever having to run Auto-EQ at all.  Yamaha has this on their AVENTAGE AV receivers with adjustability down to 15Hz through their receiver editor App.  Come on Marantz!
New Calibration Features
If you hit the option button on the remote, you will note a few new features on the SR8012 that wasn't on prior Marantz or Denon models circa 2012 at least.
Sub Level Control - This setting supersedes the subwoofer levels set during the initial calibration. It's honestly a bit confusing since when I turned it on, it zeroed out both subs instead of retaining the last calibration setting. It essentially boosted the bass in my system by +5dB as a result. Make sure you note what your default calibration settings are and tweak from those reference points as needed.
Dialogue Level Adjust - this feature is just a glorified center channel level adjustment that presumibly changes the default center level by the amount you vary this level + or - starting from 0.
Bass Sync - This feature is a bit puzzling to me. Marantz claims that some Blu-ray's may have recorded LFE out of sync or delayed, so this control provides manual adjustment to compensate. I'm not really sure how to quantify or measure this but in my demo experiences, I never found the need to utilize it.
In the old days, you set your levels and then would have level trim adjustments as a hot-key on the remote to make adjustments. This was more intuitive in my opinion and kind of wish they would have left well enough alone. I'd recommend you set the sub level controls to your post calibration levels if you enable this feature and tweak from there as needed. I'm not a fan of the nomenclature Denon/Marantz chose for Dialogue level adjust which, in my opinion, is a bit misleading term since it implies "dialogue" like the feature DTS promised us but never delivered in software, not just changing overall center level
Speaker Set-Up & Bass Management
Denon and Marantz have always offered excellent bass management on all of their AV receivers, and the SR8012 is no exception.  As mentioned earlier, it offers dual independent subwoofer outputs and has a separate setting for LFE crossover, which we usually recommend leaving at 120Hz to not truncate the LFE soundtrack of Blu-ray or DVD mixes, which can have content above 80Hz that would otherwise be lost if you set the LFE crossover lower.  You can have independent crossover settings per channel groupings as well.
Marantz SR8012 Bass Management
Using our Audio Precision APx585 8-channel HDMI Audio Analyzer, I measured the HPF and LPF responses of the bass management circuits and observed just shy of 24dB/oct slope of the LPF and 12dB/oct slope of the HPF at the selected 80Hz crossover frequency.  In pure direct mode, the LPF does measure 24dB/oct but the setting is based on the LFE crossover, not the main channel setting if the mains are set large. I do recommend setting up the 2CH configuration independently like Marantz allows you to if you prefer to have a lower crossover frequency (recommended) for your front left/right speakers.
Power Amplifier Assignability
Marantz offers flexible amplifier management that will accommodate virtually anything you want to do with its eleven internal amplifiers, including running a full 7.2.4 Atmos setup, or a 5.1.4 setup with the front channels bi-amped, or 7 speakers in the main zone with 2 pairs of multi-zone speakers. 
Marantz SR8012 Speaker Assignability Chart
Eco Mode - ONLY Use "Auto" Mode
Use Eco "Auto" mode or "OFF" settings ONLY to avoid reducing max power  availability to your speakers.

In prior reviews of Denon receivers featuring Eco Mode, I said to never engage this feature. It appears the folks at Denon/Marantz are constantly improving the usability of this feature. The "Auto" mode is the ONLY mode I tested that didn't restrict power when doing full power bench tests. Digging deeper with the engineers at Marantz, they revealed at low power the amp supply is set to a lower rail voltage to reduce heat dissipation. Once the volume level is increased, the power amplifier supply voltage is set to high with no limitation. This is sort of how Class G amplifiers operate, and I did find it useful in cutting down heat dissipation in my rack without hearing any penalty at high sustained power levels. New models such as the SR7013 take it one step further and switch rail voltage automatically with no signal detected for more than a couple of minutes. The only time I'd recommend using the "On" setting for Eco mode is if you're planning on bypassing ALL of the internal amplifiers of the SR8012 in favor of separate amplification.
Caution:  No matter how tempted you may be to do so, DO NOT change the default "8 ohm min" impedance setting of ANY AV receiver.  All this does is starve your speakers of power, simply so Marantz could get 4-ohm certification (at a reduced power level) without making the receiver get too hot during their power tests. We have tested this 'feature' on virtually every receiver that offered it in the past and the results were always the same: the low impedance setting robs your speakers of power. 
For more information, see:  Setting the AV Receiver Impedance Switch
Listening Tests
For the listening tests, I installed the Marantz SR8012 into the Audioholics family room system that features a 5.2.4 RBH Sound speaker system with dual JL Audio E-112 subwoofers and a 65" QLED Q9 UHD Samsung display. The source devices included the Oppo UDP-203 UHD Blu-ray player, Fire TV Stick and the Control4 EA-5 for high-res music streaming Tidal. I did test Denon's own HEOS music management system using the downloadable App as well. The cool thing about using the free HEOS App is you don't need to turn on your display to navigate to all of your streamable music sources. Instead, you simply power up the SR8012 through the App, then select which music source you want to stream from and you can push it to any or all three zones simultaneously. Artwork is incorporated into the App if your streaming source supports it. I got a lot of use out of streaming from Tidal, my 4TB HDD connected to my PC and of course the music stored on my phone.
HEOS App for the Marantz SR8012
Tidal: George Benson Top Tracks
It's been some time since I listened to George Benson but it was a pure delight to hear some of his greatest hits in high resolution audio upmixed to 5.2.4 with the Atmos upmixer. "Give me the Night" projected great ambience of the backing vocals with Benson's guitar anchored towards the front of the room. What a groove he had going on this song."The Ghetto" had my house rockin'. Bass was sublime pumping through the dual E-112 subs properly calibrated and EQ'ed with Audyssey.  The SR8012 had no problem pumping concert level sound into my family room system. Listening to George Benson's tasty riffs as he's simultaneously vocalizing it is just surreal. I know of no other guitarist that does this with such mastery.
Tidal: The Pineapple Thief
The SR8012 had no problem pumping concert level sound into my family room system.
When I heard that one of my all-time favorite drummers, Gavin Harrison, joined The Pineapple Thief, I had to take a listen to their latest works on Tidal. "No Man's Land" starts out with a vocal track that sounds eerily like Steven Wilson, with a nice acoustic accompanying guitar. At 2:32 you realize this band has been Gavinized from the first hits of the little cymbals to the quick and tasteful fills. Once again, bass from the kick drum was tight and the music sounded enveloping through the Atmos upmixer."White Mist" really shows off Gavin's drumming chops and I recommend seeing him actually perform it on this YouTube video. He's just such an awe inspiring drummer. Switching between no Audyssey and Audyssey flat had me appreciating the extra clarity I was hearing with it engaged. The SR8012 was proving its sonic chops with music to me in the greatest tradition many audiophiles have come to love the brand for.
UHD Blu-ray: Thor Ragnarok
I Love love love this movie. In fact, I'd rank it as my favorite Marvel Superhero movie of all time. It has a great storyline and humor, and most importantly, a wonderful soundtrack. It was a truly immersive experience when Thor summoned the thunder to strike lightning bolts at Hela and while the Immigrant song began playing in the background signifying Thor was back with a vengeance. I had to really crank it up when movie scenes featured the songs "What Heroes Do" and "The Revolution Has Begun". The SR8012 really did this movie justice and having the immersive layer of audio with four discrete in-ceiling height speakers proved to be a very enveloping experience. Bass again was accurate and tight across my whole couch. This is such a beautiful movie visually and audibly and it just left me feeling all warm and fuzzy about this Marantz flagship receiver's real world capabilities. 
Netflix: Daredevil
The DSU upmixer often convinced me I was listening to a native Atmos soundtrack.
I have a love/hate relationship with Disney these days. I'm not happy with what they did to Star Wars and now since they've taken control of Marvel, they are largely responsible for why Daredevil was cancelled after three amazing seasons on Netflix. Daredevil is chock full of story, and character development with unparalleled choreographed fighting scenes. It's such a refreshing show in an age of superhero love dramas tied in with deliberate feminist agendas. Daredevil is void of all this nonsense and just sticks to great story telling that often reflects on current events in our time without being preachy about it. The Dolby upmixer does a fantastic job of transforming the 5.1 DD+ audio stream into a fully immersive 5.1.4 spectacle. There are times where I'd swear I was listening to a native Dolby Atmos soundtrack, like when Bullseye would throw projectiles at Daredevil for example.  Despite the show being abruptly cancelled, I would highly recommend watching the all three seasons on Netflix while keeping your fingers crossed that Disney picks it up again after they launch their own streaming App.
Confused about what AV Gear to buy or how to set it up? Join our Exclusive Audioholics E-Book Membership Program!
Recent Forum Posts:
gene posts on January 16, 2020 22:52
savan228, post: 1361531, member: 90516
I just bought SR8012 and upgraded from SR7012. Excited. I am using XPA-5 Gen 3 Emotiva power amp (which I had when I was using SR7012) to power front left, right, center and surround L and right. Power amp works amazing, plenty of power but problem I am having is this static/hum noise from the speakers when there is nothing playing/quite scene in a movie. I have all Klipsch speakers - two towers, center and wall mounted surround.

Anyone can tell me what this could be? Any solution for this? Do I even need power amp with SR8012 - running 7.2.2 system.

Thanks.

Do you have hum or just static noise? If it's hum, you likely have a ground loop. Try disconnecting everything from your power amp but the speakers. If the hum continues, it's a problem with the power amp. If it doesn't, then reconnect the Marantz receiver but make sure you unplug any 3 plug devices that share the same power outlet first. Since the SR8012 and Emotiva amps both are 2-prong power, there must be another device that is setting up a ground loop in your system.
Read:
https://www.audioholics.com/home-theater-connection/ground-loops-eliminating-system-hum-and-buzz
For a point of reference, I'm running an SR8012 in my family room system using the internal amps and get no hum or hiss.
Sleqzypig posts on January 16, 2020 21:59
That looks nice. I would love to have something like this in my own home. I always hear good things about the Marantz brand.
PENG posts on January 12, 2020 14:44
ryanosaur, post: 1361875, member: 86393
This!
I was seriously interested in Emotiva for 6-9 mos, but the more I learn about them, the less interested I become!

I am not a fan of Emo amps, but in this case the Marantz could be the issue. It seems that there are a lot of reports of hum associated with Marantz AVC/P and AVRs. I have a few of them but never experienced such issues though. So I think it is likely a combinations of different factors, one being related to Marantz (probably just a touch more prone..) but that's just my educated guess. It would be helpful if the OP can confirm whether he's getting the 60 Hz or 120 Hz hum. For hiss, as long as it is the quiet type that is only audible from say 2-3 feet at the most, Emo could be right in suggesting Klipsch speakers may be the issue potentially, if the OP's have models with the ones that could have sensitivity as high as 98 dB/2.83V or higher.
ryanosaur posts on January 12, 2020 14:17
laurelkurt, post: 1361836, member: 87743
I also think it's pretty disturbing that Emotiva would tell you that it is normal. What is the sensitivity of your speakers?

This!
I was seriously interested in Emotiva for 6-9 mos, but the more I learn about them, the less interested I become!
laurelkurt posts on January 12, 2020 11:53
savan228, post: 1361531, member: 90516
I just bought SR8012 and upgraded from SR7012. Excited. I am using XPA-5 Gen 3 Emotiva power amp (which I had when I was using SR7012) to power front left, right, center and surround L and right. Power amp works amazing, plenty of power but problem I am having is this static/hum noise from the speakers when there is nothing playing/quite scene in a movie. I have all Klipsch speakers - two towers, center and wall mounted surround.

Anyone can tell me what this could be? Any solution for this? Do I even need power amp with SR8012 - running 7.2.2 system.

Thanks.

I run separate pre-pro and power amps.
I have no hum and only the slightest, barely audible, hiss when I put my ear RIGHT next to the tweeter with the volume maxed and whatever source paused. My fronts are rated 90db sensitivity. It's not normal to have hum or hiss. You must have a ground loop or something else wrong.
I also think it's pretty disturbing that Emotiva would tell you that it is normal. What is the sensitivity of your speakers?
Post Reply