Home Theater Is More Relevant During COVID-19 Than Ever Before
Home Theater Is More Relevant During COVID-19 Than Ever Before
by
Jerry Del Colliano
—
September 21, 2020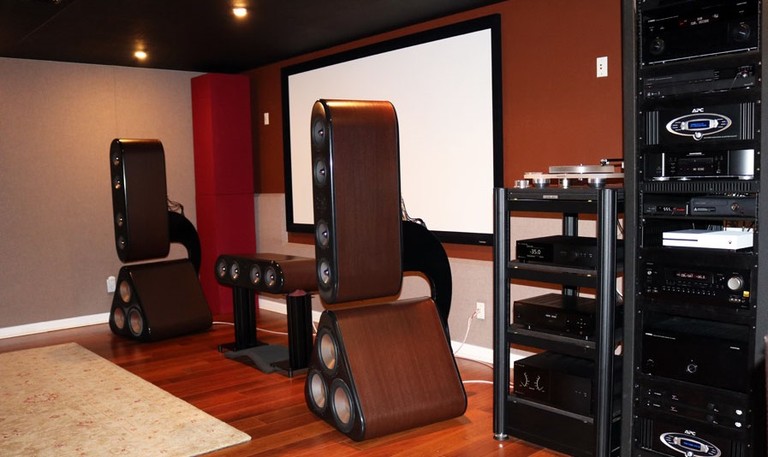 Audioholics Showcase Theater Room
Nobody saw COVID-19 coming until it was ready to kick our collective butts in early 2020. I guess Bill Gates predicted a global pandemic like this a few years back, but nobody took him all that seriously. Obama set up (and the Trump administration defunded) a government office designed to deal with the crisis similar to the one that has helped China's neighbor, Taiwan, have such an impressive response. Compared to our 200,000 dead (and growing), Taiwan has only seven reported fatalities. But even when you first heard about COVID-19, it was hard to think of it as all that different than other viruses such as SARS, MERS, or even Ebola. Those other awful afflictions likely didn't have a direct effect on your life, or maybe even anybody you know. All of us know someone who's been sick from COVID-19. Some of us even know someone who has died. It has changed our economy in ways comparable only to the Great Depression. It has changed our society in ways you can argue that are more impactful than 9/11, be it online schools, the lapse in sports, work-from-home realities, and more.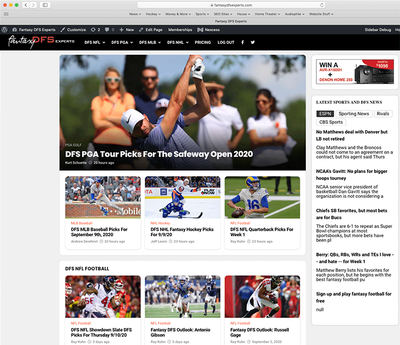 Daily Fantasy Sports advice site (DFS) FantasyDFSExperts.com.
All of us that are stuck at home thanks to COVID have had to change our way of life in so many impactful ways. 20 years ago, owning a home theater was an extreme luxury. The systems back then were big, bulky, often hard to use, and without question, expensive. Today's 2020 COVID-era home theaters are a whole other story. I vividly remember having a heated discussion with an AV installer and close personal friend of mine about installing a $20,000 42-inch (and about three inches thick) Sony plasma on the wall of my old West Hollywood condo, back in the early 2000s. This week, I bought a 70-inch Samsung (6 Series) 4K UHD-LED to give away as a prize on my new Daily Fantasy Sports or DFS advice site, called FantasyDFSExperts.com that can do pretty much everything you ever dreamed of, all in 4K video for a mere $849! BTW, you can enter to win if you check out the new site, as no purchase is needed. The sweepstakes ends on 10/31/20.
20 years ago, back at the old condo, which I very much regret having to sell to this day, I ended up buying a used Sony seven-inch CRT projector and a Faroudja LD-100 line doubler to beam onto a 4:3 Stewart Filmscreen. Not only was the image huge by the standards of the day, the system was a lot less expensive than the noisy, thick, small, and non-HD generation-one plasma.
Audio has gotten a lot better in the modern era too. We used to have tall, clunky speakers to match our gargantuan big-screen TVs, but today things are vastly different. The audiophile speakers of today are often much narrower in their footprint, beautifully finished in colors and woods, and can easily be driven by even the most modest AV receivers. Soundbars don't suck anymore, and easily pair with wireless subs. Standalone subwoofers are often smaller than in the past, yet are able to go very deep, and with powerful SPL output. In-wall speakers can actually be hidden behind the drywall, which is what I did in my new home, using both Stealth Acoustic and Nakymatone  products, paired with Gray Sound in-ceiling, ported subwoofers. Modern room correction might be the biggest game-changer in mid-COVID-era home theater. Everything from under-$1,000 subwoofers to $500 AV receivers to distribution amps from the likes of Anthem can now digitally correct room acoustic issues that black magic audiophile tweaks (yes, voodoo cable industry, we are talking about you) never had a chance to solve.

Where things get even better is the most important part of the new-world home theater dynamic: content. Not enough noise is made about how good content is today. Television is the best that it has ever been. Streaming music gives you access to literally every recording ever made (many in HD) for about the price of one compact disc per month. The growing number of paid streaming sites have fantastic 4K content far superior to what cable and satellite TV offer. Even if you are cord-cutting, you can still expect a bounty of excellent programming, both musical and visual, which is the high-octane fuel for your high-performance AV system.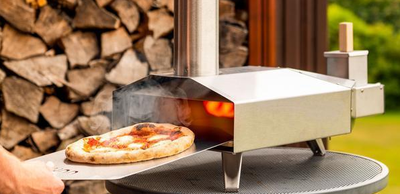 Home Theater Popularity Rising Post COVID-19?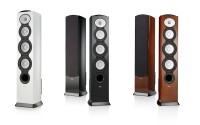 The result is a secret that many AV executives don't freely talk about. The truth is, AV companies cut back like mad when COVID-19 hit. The ones that were smart enough to buy up inventory are reaping big sales numbers now. I've delved into the topic of supply chain in other articles here at Audioholics.com, as it is a gigantic topic in this current market. My former editor at my recently-sold AV publication was trying to help a friend get a better-blacks-than-plasma LG OLED set, and they couldn't find one. Anywhere. In the end, they located one 65-inch set at a distributor in the Southeast and they jumped on it. I am trying to buy a propane-powered, super-cool-looking pizza oven from the U.K., and they are so sold out that the waiting list is more than three months long. But I know of one prominent AV company that sells speakers and subwoofers. They are thriving, because their leader was smart enough to stock up for COVID-19 and they are reaping the benefits. They are back to advertising, and they are having a record year in terms of sales. I recently tried to buy a $7,000 pair of audiophile speakers from a former client of mine, and they won't have another pair for me until November (it is mid-September as I type this article). Other companies that had diversified Asian assembly were able to get around Wuhan-based manufacturing in China, and they, too, are booming.

There are a lot of reasons to be down these days. Unemployment is at record highs, as a nation our leadership thrives on division over unity, we lose 9/11's worth of casualties every three days from COVID-19, and more. These are all facts, but it's also a fact that the home theater market can be argued to be one of the positive stories in the during-COVID world. Much like a $2,000 Peloton (we all should have bought that stock, damn it), and a $59-per-month subscription takes the place of going to a gym for many of us. the same holds true for our increasingly less expensive and increasingly high-performance home theater systems. For less money than ever before, you can have an AV system that is capable of feats not imaginable 10 years ago, and that is something to be upbeat about in these often depressing times.
Jerry Del Colliano is the founder and former publisher of AVRev.com, AudiophileReview.com and HomeTheaterReview.com. Today he is the publisher of the Daily Fantasy Sports advice site (DFS)FantasyDFSExperts.com.
Confused about what AV Gear to buy or how to set it up? Join our Exclusive Audioholics E-Book Membership Program!